Hey.
With immense respect I treat things that are thought out and this can be seen in every little thing. In the village, the lights were turned off, and this became a sign that you need to do household chores, for example, hang hanging pots on the balcony. Opening the package with the pot and collecting all the structural elements, I was surprised like the first time, every little thing, every cog, everything in its place is thought out here. And this explains why I choose such pots, despite their somewhat exorbitant cost (there is an automatic watering system, which is important to me). When every little thing is thought out, in its place, then the confidence in the product automatically increases. It seems that everything is simple and banal, but only a few can achieve such seeming simplicity in this world. While collecting the pots, in parallel, the phone read the news, which is convenient. One of the key events of that day was iOS app crashes, and that's where we'll start. Go!
Content
How Facebook broke iOS apps around the world
Samsung will ditch the fingerprint sensor on all models. And more from charging!
Nvidia overtook Intel in capitalization – advance from investors for the future
Canon adds new R5 and R6 mirrorless cameras to Canon shelf
Winery protection against counterfeiting, another option
Benchmark as proof of the coolness of a smartphone
Why Nokia lost the 5G race – bad decisions
How Facebook broke iOS apps around the world
It all started everyday, Friday like Friday, but then everything went wrong, as if 2020 decided to fight to the end for the title of the year that brought the apocalypse closer to a single planet. Around lunchtime, dozens of applications stopped working on the iPhone, a wave of blackouts swept around the world. The situation looked stupid: you press the application icon, and instead, you are shown a wonderful combination of three fingers. Friday started off fun for many people, they didn't understand what had happened. But we felt for ourselves how much our life depends on the phone and its capabilities.
Vasily got into the car, put the iPhone in the holder as usual, and launched the Yandex navigator to plot the route. Nothing happened because the application refused to open. Something flickered on the screen, and that was all. Repeated attempts to launch the navigator did not lead to anything. Broke! Vasily got out simple, launched a similar overseas application, it worked.
Elena never has enough time for herself, children, work – the Moscow rhythm of life suggests that everything needs to be done on the run. The repeated order at Ozone did not happen this Friday, as the application on the iPhone got tired of working and decided to take a break, at least it seemed to her. Since Lena is a great fellow, she was able to remember her password and coped with the order through the service's web page.
But Lena's namesake, Elena Konstantinovna, was very scared, her Viber stopped working. Messages were not sent or received, my son advised me on the phone to restart the iPhone and iPad, which also did not help. For several hours without communication and on the nerves that finally broke this technique, I didn't seem to even touch it, but it hung up and no longer works.
These people are invented, but such small stories took place not only in Russia, but all over the world, since almost all applications on iOS broke, where the code from Facebook was used. It would seem, what relation Facebook can have to "Auto.ru", the real estate agency CIAN, cards from "Yandex" or the same Spotify, and even more so to banking applications, they did not work for many. The answer is that the largest social network in the world constantly monitors its users, collects data about them and then sells them, directly or indirectly. Man and his digital prints have become a hot commodity. This is important for any company that wants to conduct a successful advertising campaign, fine-tune its goals, and select the audience that can potentially buy its product. Therefore, the same "Yandex" places in its products the program code from Facebook, this is not indulging a foreign social network, but embedding in the advertising model that has developed in the world. Interestingly, in addition to the code from Facebook, in Yandex products you can find similar modules from all over the world, there is never a lot of data.
How much data does Facebook collect? The maximum of what platforms, both Android and iOS, allow. The fact that the failure occurred on iOS and it is not the first (in May there was a similar situation, but it was resolved faster) is more likely an accident, the same Android is almost not immune from this. On my smartphones, I always try to restrict the rights of the Facebook application, because otherwise you will lose 10-15% of the work time, this software eats energy like crazy. Cause? He needs to monitor your every action, and then sell this data so that you are shown ads, and not necessarily in Facebook services, this happens on other sites, in context, almost everywhere. Therefore, for the Facebook application, almost all permissions and capabilities are disabled for me, I do not pamper developers beyond what is necessary.
The story with broken applications is often described head-on, they say, only the software broke where authorization through Facebook was installed and users used this login. This is not entirely true, other applications also broke, the question is in the used code components from this social network. You can read more about Yaroslavna's universal cry here, the developers are delighted with what happened.
In the wake of pressure on Facebook from advertisers, refusal to post materials due to insufficient efforts on the part of the social network to combat hate (!!!), this failure looks like another blow. Unexpected. But I don't think that this can topple Facebook, since the adherence of the speakers is always easily exchanged for additional discounts on advertising and sales guarantees, which makes us forget about previous ideological differences. This is an old California fun – to knock out discounts from Facebook, using flaws in the company's work – last season everyone was worried about the personal data of people that leaked to the side, now it is a question of hatred of some for others. I don't want to be cynical, but, alas, this is how the world works.
I like that the failure itself drew people's attention to the problem, someone will hear what caused it, and think about the fragility of today's technology. A glitch in a third-party vendor's code could shutdown dozens of apps around the world! Just think about it. Sometimes it seems that we do not see massive failures just by some fluke. There is definitely no blame for this iOS crash, this trouble is not on their side. And I really hope that there will be fewer such stories.
From a Russian perspective, this glitch also raises a serious question about the law to pre-install Russian apps on a variety of devices, from smartphones to smart TVs. The FAS pushed through this not the best law, including due to restrictions on competition from the platform owners. But there were also words about the safety of our software, Russian, original and not tainted by Western code. And then an inconvenient thing happened, it turned out that the same "Yandex" puts someone else's code, with which you can turn off its applications. Willingly or unwillingly. The inconvenience here is this, now you will have to add points to the technical regulations that no inserts from such code into applications that go to the pre-installation can be made. And this is minus the data on which the same Yandex makes money. And how the fight of bees against honey will unfold is not clear.
Samsung will ditch the fingerprint sensor on all models. And more from charging!
There are several things in the world that cannot but rejoice, one of them is how perception stereotypes work. But first, the news that will shake the world. "We will kill fingerprint scanners because they are outdated," said one Samsung employee, whose name and title were not disclosed. The agency "One Babka Said" (OBS) is my favorite, it creates millions of news every day in various fields, but they do not stand up to reality checks. The statement about Samsung's refusal of the fingerprint sensor comes from 2017, when such a rumor, with reference to the company's employees, was tried to swing on the network. Here is one of these publications in Russian.
In 2020, any Samsung smartphone owner knows that the fingerprint sensor hasn't disappeared anywhere. In 2017, such rumors were driven by the stereotype that Samsung was copying everything the company did from Apple. Have you abandoned the fingerprint sensor? This means that Samsung should also abandon it. But you see, it didn't happen, there wasn't such a refusal. Do you know why? The answer is trivial – it is a competitive advantage when you offer the user an alternative and he can choose how it is convenient for him to unlock the smartphone. Only today in some Samsung devices we see the rejection of the fingerprint sensor, and then it is dictated solely by considerations of economy, these are budget models.
The current rumors claim that Samsung is in talks with suppliers of chargers in order to completely abandon them in the kit. The story came in the wake of the fact that Apple, according to one analyst, is going to do just that. The reasons why Apple wants and, most likely, will refuse to use chargers bundled with smartphones, is written in a separate article. In short, such a decision will bring Apple about a billion dollars in profit in the first year alone. But it will alienate a noticeable number of people from the company, since such a decision will be perceived badly, this is greed, which does not lead to good.
In the news of this event, I saw a mention that not charging is an attempt to keep prices at the same level, since 5G chipsets are so expensive that this leads to an increase in the cost of smartphones. Several publications that asked for comment on the situation read this moment, he found a grateful audience, since at first glance it explains everything. Not really.
The cost of a charger complete with a smartphone is no more than $ 5. For the prime cost of the flagship, this is at most one percent, for meticulous readers I will say this – 1.84% in the case of the basic version of the flagship. Nothing by any measure, and refusal to charge does not bear any gain. The cost of a 5G chipset depends on its level, but in 2020 we see the release of models in the middle price segment, there are many of them, and they are diverse, next year the cost of 5G smartphones will decrease even more. Exactly the same story is repeated as it was for 3G and 4G, new chipsets consistently go from top to bottom in terms of cost. There is no difference in 5G, everything is exactly the same. But for some reason this stupid explanation surfaced only now, and then it was originally invented to justify Apple's decision to stop charging. I still hope this is just a wild rumor, although its source is credible. I hope that Apple will replay their decision, since production has not yet started and there is time for this. The decision is bad for the company in every sense.
Let's go back to Samsung and try to imagine in which case the rejection of the charger in the kit is justified. In the Samsung lineup, there is a clear division of what technologies devices get in certain price segments. For example, this can be considered on the radio part – up to 20 rubles is the basic option in terms of frequencies, from 000 to 20 thousand rubles – extended, and after 40 thousand rubles – the maximum. The division is arbitrary, in models bordering on cost, there may be both versions of the radio part. Nevertheless, exactly the same approach for any model is a set of minimum characteristics. That is, for such and such a cost, the model must have such and such characteristics.
The chargers that come with Samsung smartphones are of several types – old 5V / 2A, 15W fast charging (basic option for most models), 25W fast charging (most flagships come with it), 45 W (not included anywhere, by and large, not needed, niche accessory).
Starting in mid-2020, almost all new models come with support for USB Power Delivery 3.0 technology, which, in theory, allows you to use the same charger with different smartphones. And you won't see much difference. The puzzle is complete, and that means Samsung can refuse to charge? Not certainly in that way. In the market for Android smartphones, competition is aggressive, and refusal from charging in a set will encourage Huawei and Xiaomi to emphasize that they not only do not refuse, but allow the buyer to save money, there is no need to buy anything separately. This means putting your own sales in jeopardy, creating a negative situation for yourself. And Samsung will definitely not do it, or the company suddenly and sharply got stupid (they did not refuse the fingerprint sensor, which is more expensive, but they will refuse to charge!). I regard this scenario as very unlikely.
But can Samsung refuse the included charger in some models? This can happen for basic models that are intended for emerging markets, it will be an attempt to reduce the cost of the device. There is no talk about any 5G models, these are basic smartphones costing up to 10 rubles or even less. In a smartphone that is inexpensive, the cost of charging in the price almost does not change at all, it turns out to be quite expensive ($ 000 from the price of $ 1.5 is not $ 50 from $ 2.5 of the cost price). And such experiments happen from time to time. But talking about a total, massive rejection of chargers is at least premature, this moment has not yet come.
The logic of market development is such that all manufacturers want to gradually switch to wireless charging, abandon the charger connector. But for this to happen, several things must happen, in particular, such charges must become faster and not overheat, as it happens today in hot weather. The same refusal by Apple from the charger in the kit, perhaps, is dictated by the fact that the company will release a proprietary wireless charger for the first time and will try to say that you have an alternative – to use a wire or charge a smartphone wirelessly. The innovation is so-so, but it will clearly be presented as a breakthrough, however, there is nothing new in this.
I think it's a bit premature to bury the chargers in the kit for Android smartphones. But again, if Apple decides to abandon the bundled chargers, they will expose themselves to a blow from both Samsung and all other companies.
Nvidia overtook Intel in capitalization – advance from investors for the future
For the first time in history, Nvidia's shares rose so much that the company's capitalization amounted to $ 248 billion, which is 2 billion more than that for Intel. Interestingly, Nvidia's growth began just four years ago, along with the development of the cloud and the fact that the company was betting on new niches – autopilots in machines, cloud computing. The aggressive development gave a completely different assessment of the company, this feeling that Nvidia knows what it is doing, and a certain fatigue from Intel, which is great in current sales, but is under pressure from all sides. In simple terms, investors who can hardly be called the Einsteins of our time believed that Nvidia had more chances in the future than Intel. And this is a watershed moment in every sense.
The American stock market in 2020 is a big bubble, a kind of casino in which common sense and data about the real market are denied. In America at the end of June there are more than 30 million unemployed, sales and profits of companies are falling, but who cares? The stock market is showing strong, record growth. Negative news is ignored, and any more or less noticeable positive is inflated to an event of a universal scale. And in this sense, Nvidia got into a wave, this year the shares grew by 68%, for comparison, Intel during the same period of time lost about 3%. Refinitiv estimates Nvidia will sell $ 14.6 billion in goods this year, while Intel will sell $ 73.8 billion. Are the companies comparable in this aspect? Definitely not, they play in different leagues. But expectations from Nvidia are completely different, they are driving the market today. Reality does not bother almost anyone, it seems that money has lost all value, since they are invested in any more or less attractive asset, and there are not so many of them. The entire market is growing, growing by leaps and bounds.
I have no doubt that Nvidia is great and is doing well. But the current growth of shares is an advance for the future, moreover, it is not provided with financial results, this is a consequence of the situation on the stock market. It can be argued unambiguously that PR from Intel lost outright to that from Nvidia, and this is what is important in this story. Faced with different companies because of my work, I can say that Intel's visibility was gradually fading away, the company effectively cut off communication with the market and now it's played out. Nobody expects anything from Intel, and what is good inside the company simply remains unknown to the general public. As a result, no one is ready to invest in Intel as much as they once did.
The outsiders often underestimate the mood within the companies, the way ordinary employees react to such events. This is somewhat akin to a sports match, when people who cannot be suspected of being emotional suddenly begin to react sharply – ours won. The losing side is in a sad mood, morale falls, hands down. This is why PR is so important, it is the key to how corporations are perceived. And the fact that Intel has forgotten about this is sad. They didn't save on that. On the other hand, a number of corporations of that wave behave in much the same way. And they get about the same result.
Canon adds new R5 and R6 mirrorless cameras to Canon shelf
Canon has long promised announcements of new mirrorless cameras – R5 and R6, until they finally showed them in full detail. The R5 becomes the flagship camera, the world's first full-frame mirrorless camera to support 8K internal RAW video recording at up to 29,97 fps. The emphasis is on video, which well shows the evolution of cameras and the direction in which manufacturers are trying to migrate, video has become a key characteristic for any modern camera.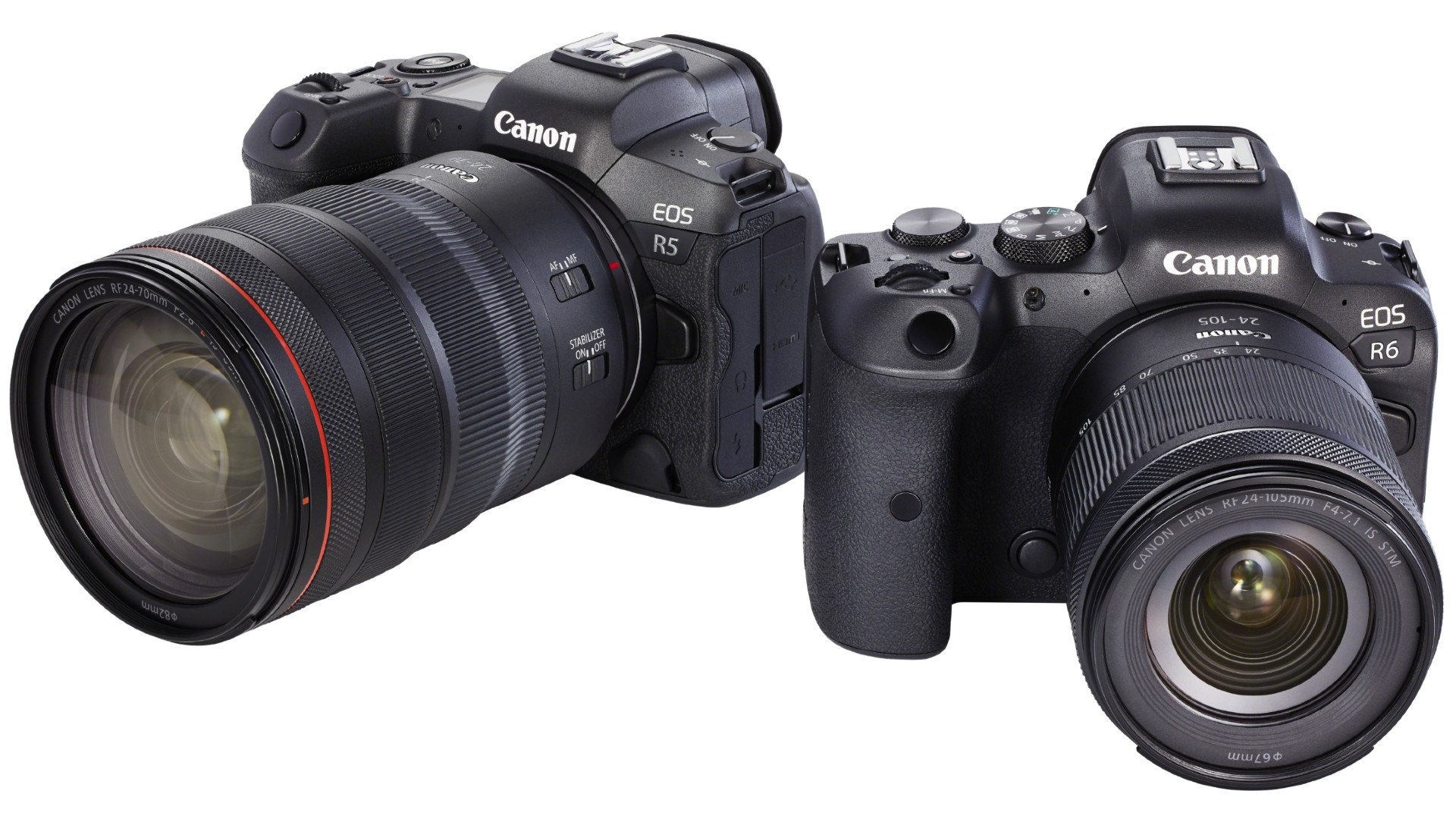 I'm more interested in the R6 camera, the younger model cannot record 8K, only 4K, but the photo opportunities are more interesting here. And they are extremely curious, the DIGIC X processor from the flagship camera EOS-1D X Mark III, the possibility of 10-bit HDR images, which perfectly correlate with modern smartphones and TVs, are fully revealed on them. In general, the cameras have been upgraded to the required level of convenience, here you have built-in Wi-Fi, and the ability to immediately upload pictures to FTP, and remote control from a computer. Everything sounds very tasty and interesting.
I don't see any point in loading you with technical details, I asked Canon for the R6 camera, since I consider it as an option for replacing my DSLR. The first impressions of the cameras on the network (see DPreview) are positive, the glasses for them are interesting. The R5 is priced quite high at $ 3 per carcass (coming out in late July). The younger R899 will be released only at the end of August, the carcass will cost $ 6. Russian prices are still unknown, but they will be higher as usual. Cameras are clearly not for everyone, but the R2 has every chance of becoming popular with amateurs and professionals alike, an interesting machine in every sense. If someone is looking closely at her, then share your thoughts – where do you go, why you look closely at her, it will be useful for everyone to settle their thoughts.
Winery protection against counterfeiting, another option
For the first time I noticed that one of the favorite Spanish wineries began to protect their wines from counterfeiting. A QR code appeared on the neck of the bottle, which can be read by a camera, and immediately a page opens, which describes what kind of wine is in front of you.
And this is how the QR code itself looks like, when you tear it off, it delaminates. It is impossible to open a bottle without tearing off the code.
Wine counterfeiting is widespread, especially in popular wineries, and here is a way to combat this phenomenon. In my opinion, Pingus has found a good solution that will exclude most of the fakes from circulation. Moreover, existing systems in advanced wineries already allow us to trace the path of each bottle, which in the near future will give us a wine passport – you can see when and how it was made, how and to whom it was shipped. This is a big story for collection wines, since for the first time it is possible to track the fate of a particular bottle. And this is all thanks to the digitalization of production, there are simply no old-fashioned methods here. Several Russian wineries are already considering the possibility of creating such systems, but the lack of a clear understanding of how this will be perceived by the consumer is stopped. As for me, this is a good idea, which will increasingly be implemented in certain products. And if even in the application or somewhere you can make an opportunity to look at how this product was created in stages, where it was stored, then the customer's involvement will be maximized. I like this approach and the transparency of the story, it creates trust in the manufacturer. And this is not at all superfluous, not far-fetched in certain product categories.
Benchmark as proof of the coolness of a smartphone
Most virtual parrots that can be measured on a smartphone are needed about the same as last year's snow. They do not give an idea of ​​what the device can or cannot do (that a smartphone gaining 300 thousand in Antutu can do something that a smartphone with 200 thousand cannot?). Each time attempts to find out why users carefully measure these virtual numbers and begin to measure their belly numbers turn into lengthy explanations. Yes, and we are sinful, as in the reviews we indulge and post the results of measurements of the same Antutu. But some time ago, the idea was born to see who likes to take performance measurements on their smartphones, since on Android we have the opportunity to look at application installations, their number, and then it's a matter of technology – to correlate this with sales, market shares for specific manufacturers. The work turned out to be interesting, but I cannot share it in full, since it is unlikely that the company that paid for the research will be delighted with it. But I can highlight some points, especially since I received permission to do so.
The first discovery was that benchmarks can be found for almost any model on the market, there are no exceptions. The only question is the number of installations, here everything is also more or less logical. In Russia, Huawei / Honor is in first place, then Samsung, then Xiaomi. The shares of the companies in piece terms are distributed approximately in the same way, so this is not surprising, the usual cut of the market, which, plus or minus, shows the distribution of shares. But you start to peer at the numbers and notice the first oddity, on Samsung flagships the number of benchmark installations (these are several typical applications, one of them is Antutu, at least one application from the list is taken into account) is very small, the feeling is that the measurement of virtual parrots does not bother their customers absolutely. There are only 10 installations for 000 of these smartphones! We are looking at Huawei / Honor, here the situation is changing dramatically – 4 puzomerok installations. Another thing is that in absolute numbers it turns out not so much, the share of flagships from these companies is low, this is a small fraction of the market.
In budget smartphones priced up to 10 rubles, the picture is very similar for all manufacturers, but most of all the benchmarks are set by buyers of C-brands, here the dependence is direct, the less well-known brand, the more often it is "tested" with virtual parrots. Chinese smartphones are checked very often. But do you know in what price segment customers just love to measure the performance of their devices? This range is from 000 to 15 thousand rubles, here is the maximum number of installations. And if you look at the numbers by manufacturer, then Xiaomi will be the leader, the maximum variety of benchmarks and the feeling that for the buyers of this brand, along with the box, they are given instructions on how to measure performance daily and why it needs to be done. By the way, I will be glad if someone explains what the practical meaning of this approach is. Why run a benchmark periodically, what should it show and how to use this data in real life? On Twitter, I was told that Xiaomi users simply squeeze the maximum possible out of their smartphones. I still don't understand how. From each launch of the benchmark, the phone starts to be proud of itself and does it have additional cores in the processor? Are wings growing? Why is this needed?
It makes no sense to draw any profound conclusions from these data. For us, they are completely applied in nature, it was necessary to find people who love benchmarks and distinguish them among all smartphone manufacturers. Which was done, and the examples described above are a rock dump in search of the necessary information. So I share, maybe it will come in handy for you somehow, and besides, it's just curious.
Why Nokia lost the 5G race – bad decisions
The WSJ featured an article on how Nokia lost the race to Huawei and Ericsson in 5G infrastructure solutions. The material can be interpreted in different ways, for example, as one of the pebbles addressed to Nokia and preparations for the takeover of the company by America. But the stated facts correlate with reality, and that's how it all happened.
When the big telecom companies were just starting the 5G race, there was no clear understanding of which solutions would become the standard. In every generation of communication systems, this is a standard problem, no one knows what will shoot, what frequencies will become dominant. As a result, it is necessary to quickly rebuild equipment and launch new lines. On the part of the operators, orders go one after another, and the requirements for the quality of equipment are imposed on the desire to receive it at the lowest cost.
When manufacturing equipment, you have many options, for example, in the industry it is customary to use SoC, that is, microcircuits that are created for specific technical parameters of the system. They cannot be changed after production, and if you need different frequencies, then you will have to create new SoCs. But these are the dominant solutions in the industry, as they provide the ability to quickly design, launch into series, are quite cheap, and also energy efficient.
Nokia has done anything but business in recent years. The dreamers inside the company optimized the composition of engineers, reduced the staff of the company in order to be as efficient as possible, it began at the time of Nokia Mobile's death and continued exactly the same. The test for the infrastructure direction was the launch of 5G, these are long-term contracts that are signed for many years. Nokia relied on FPGA chips, their difference from SoCs is that they can be reprogrammed at any time, they are much more complicated than SoCs. Intel became the main supplier of such microcircuits, Nokia did not choose any alternatives. The company boasted of the complexity of its own solution, saying that no one can create similar solutions. But they could not answer the question of why such solutions are needed, if they are noticeably more expensive than competitors, and also consume many times more energy. It was a decision for the sake of a solution that allowed to please the ego of top management, to say that the company's engineers create solutions that have no analogues. And this was true, since there were no analogues, or rather, they were not in demand on the market.
The loss of the 5G market for Nokia is already evident, although the company retains a significant share despite its troubles. The first place is occupied by Huawei with a share of 2019% at the end of 28.3, the third place is taken by Ericsson, 13.9%. Both companies are increasing their market shares, but Nokia has lost 0.7% of the market since 2018, the share in 2019 was 16.2% (data from Dell'Oro Group). And this is in a growing market where two other players are growing aggressively today.
The largest operators in the world believe that Nokia is producing bad equipment for 5G, the company gets new contracts with great difficulty. But the most important thing is that the planning mistakes were realized a couple of years ago, they started hiring more engineers, trying to switch to SoC. That is, for about 4-5 years, Nokia spent time and resources on a deliberately dead-end path, in order to then try to catch up. This is typical enough for today's Nokia. Actually, this was the reason for the change in the top management of the company, this is an attempt to catch up. But what is good in the infrastructure business is the duration of contracts, which are concluded for terms of 3-5 years, and here we can say that Nokia has already lost, the share will continue to decline. There are no other options for Nokia anymore. This is a story about the dreams of top managers who more often like to speak at conferences and talk about engineering genius than communicate with partners and hear what they say. The result is quite natural, as I see it.
PS Summer rushes at full steam, half of this wonderful time has already passed. I hope that everything goes as well as possible for you, the mood does not let you down, and the events around you do not evoke melancholy. The year is difficult and interesting, whole countries around are going crazy, but I am sure that we will survive all this and become a little wiser, I really want to believe in it. Have a great week!
I swallowed a small book "Theory of the drone" over the weekend, read it voraciously. I will not write a review, but rather I will make a separate material in which I will touch upon the ethics of murder, war and the use of drones. I really hope that I can squeeze this material into my schedule for this week, look for it in the announcements. And good luck again!
Back to content >>>
Related Links
Share: 





we are in social networks:
Anything to add ?! Write … eldar@mobile-review.com