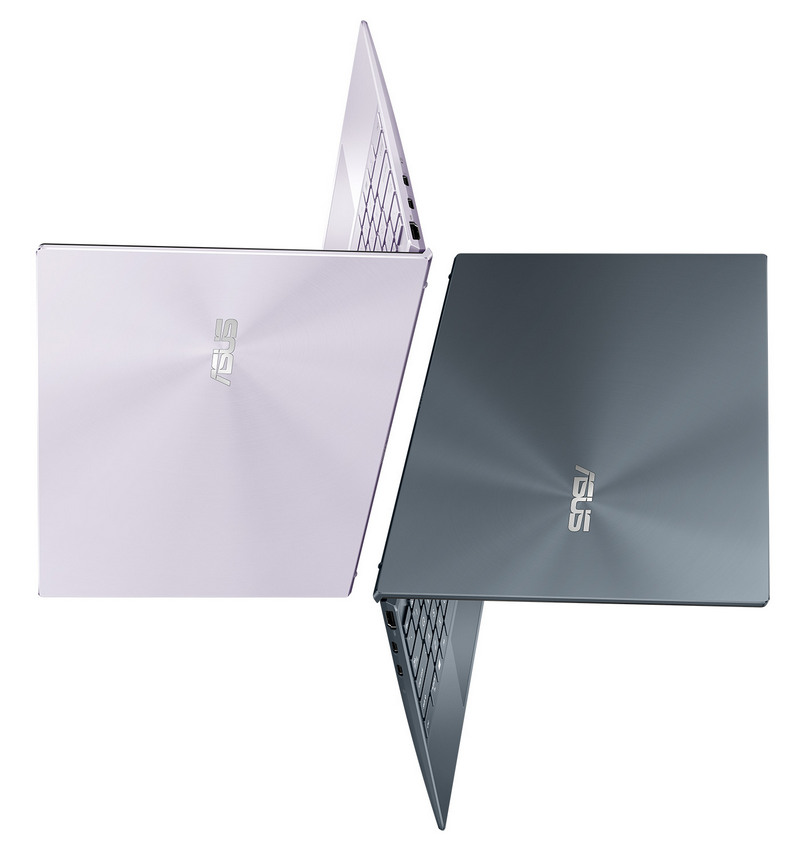 ASUS has always taken the Ultrabook category seriously, fighting for every gram of weight and every minute of battery life. The ZenBook 13 (UX325) and ZenBook 14 (UX425) are the culmination of the lineup. Laptops boast not only long battery life and light weight, but also the lack of compromise in other areas, which manufacturers usually sacrifice for the sake of compactness and portability. But let's start in order.
Content
Combination of weight, battery life and design
High-brightness thin bezel display
Performance without compromise
A complete set of ports
Keyboard and Touchpad
Important little things that make an impression
A combination of battery life / mobility / performance / screen brightness / reliability / convenience
# 1 Combination of weight, battery life and design
This characteristic is perhaps the first thing you pay attention to when looking for a laptop to work on the move. And notebooks from ASUS would be called a work of engineering. Judge for yourself, with a weight of 1.07 kg and a thickness of 1.39 cm, the battery life can reach 22 hours. Almost a day, or 3 full working days for 8 hours. Thus, going on a business trip for a couple of days, you do not need to take a charger with you. The latter is all the more true as the ZenBook 13/14 models can be recharged from a smartphone charger or even from a power bank. And anyone who often travels or just works outside the home knows what a pleasure it is to lay out an extra conventional pound of luggage. Separately, it should be noted that laptops have fast charging, which allows you to charge the battery up to 49% in 60 minutes, which in the case of ZenBook 13 (UX325) and ZenBook 14 (UX425) means up to 12-13 hours of battery life.
Thanks to their compact size, ASUS notebooks also feel like an accessory. Choose between classic business gray light and elegant "purple mist". This matte shade is the perfect match for the ZenBook's classic concentric circle finish.
# 2 High-brightness thin bezel screen
It is generally believed that good battery life means a bad and dim screen. But this is not about the ZenBook 13 (UX325) and ZenBook 14 (UX425). Laptops have an option with a low power display (just 1W) and brightness up to 450 nits. That's significantly higher than the average 300-nit Ultrabook brightness. High brightness coupled with excellent anti-reflective coating allows you to work with your laptop in any place convenient for you – even in the office, even on a sunny day in the park.
One of the features of the ZenBook 13 (UX325) and ZenBook 14 (UX425) is the ErgoLift hinge, which lifts the back of the laptop when the lid is open, creating the most comfortable printing angle. Along the way, ErgoLift improves cooling efficiency and enhances the sound of the built-in speakers.
# 3 Performance without compromise
If the high brightness of the screens and the long battery life, then the suspicion arises that performance has been sacrificed. This is not true. What's more, ZenBook 13 (UX325) and ZenBook 14 (UX425) feature top 10th Gen Intel processors with the most powerful Intel Iris Plus integrated cards. Such graphics are more efficient than the entry-level discrete cards. From a work tool, ZenBook 13 (UX325) and ZenBook 14 (UX425) are ready to transform into your personal entertainment center.
Speaking about performance, it should be noted that ASUS, firstly, laptops support up to 32 GB of LPDDR4X RAM with an increased frequency of 3200 MHz. Secondly, they use some of the fastest SSDs at the moment, connected via the PCIe NVMe 3.0 x4 bus. And for models with 512 GB or more, Intel Optane memory is also available in 32 GB. This is a separate fast memory that allows, as they say, to put the most important files and applications in quick access.
Of course, laptops use Wi-Fi 6 and Bluetooth 5.0. Wi-Fi 6 is even faster data transfer rates. So, having updated your laptop, you can think about changing your router.
# 4 Full set of ports
We have seen stories more than once when the manufacturer, in pursuit of compactness, abandons ports, leaving only a couple of USB Type-C. Of course, Type-C is the future, and it's a wonderful, versatile port. One problem is that we live in the present and there are many devices around, for which you need the usual classic ports – USB, HDMI, a slot for memory cards. ASUS did not sacrifice functionality for the sake of fashion. Laptops also have a classic big USB of the latest version 3.2, there is HDMI for connecting external monitors, there is for microSD memory cards. And two USB Type-C, but not simple, but Thunderbolt 3, that is, providing bandwidth up to 40 Gb / s and allowing you to connect two 4K monitors or one monitor with a resolution of 5K at once. Thus, when you come to the office, you can always connect your compact ZenBook to a large monitor and work with maximum comfort.
# 5 Keyboard and touchpad
The keyboard and touchpad require special attention. Despite the compactness of ZenBook 13 (UX325) and ZenBook 14 (UX425), ASUS engineers have managed to fit a desktop-sized keyboard into laptops. So the keyboard has an increased key pitch of 19, which is typical for desktop keyboards. It also has an ideal travel depth of 1.4 mm. This arrangement and depth not only reduces the number of typos to a minimum, but also allows you to type large amounts of text without getting tired.
No matter how good ASUS engineers are, physics cannot be fooled, and laptops do not have the usual digital block. However, ASUS came up with an elegant solution, combining the touchpad with a digital pad, calling it NumberPad 2.0. Moreover, even when the additional function NumberPad is activated, the touchpad continues to work according to its original purpose: an intelligent algorithm automatically detects whether you enter numbers or control the cursor. Nobody will embellish by saying that the virtual number pad is just as convenient as the classic one. But NumberPad 2.0 allows you to work with it blindly, helping to quickly enter significant amounts of digital data.
# 6 Important little things that make an impression
ASUS laptops come with a minimal amount of software pre-installed, giving the user an ad-free product. ASUS also has one of the best proprietary MyASUS apps. It allows you to customize the laptop at your discretion: set how the function keys will work (for most laptops you need to go to the BIOS for this), increase the battery life when the laptop is supposed to work from the outlet for a long time. Also in MyASUS there is software for connecting a smartphone and other applications that allow you to get the most out of your device.
Another important feature of the ASUS ZenBook 13 (UX325) and ZenBook 14 (UX425) is that ASUS tests most of its laptops to meet the military reliability standard MIL-STD 810G. Despite their light weight and thickness of only 13.9 mm, notebooks are not afraid of heat, cold, shaking and falls. And the top cover of the device can withstand pressure up to 22 kg, so the laptop can be safely checked in.
# 7 Combination of battery life / mobility / performance / screen brightness / reliability / convenience
Often, laptops have one main advantage, as they say, for all the money, and the rest is formed according to the leftover principle. If the battery life is good, then the screen is bad and the performance is poor. Powerful hardware and a good screen are often equal to the fact that you can't leave the power outlet from a laptop. The increased reliability of the case means massiveness and significant weight.
The ASUS ZenBook 13 (UX325) and ZenBook 14 (UX425) strike the perfect balance to create arguably the most advanced Ultrabooks on the market. Just in the end I will give a list of all the main characteristics:
Weight from 1.07 kg
Thickness 13.9 mm
Up to 22 hours of battery life
Ability to recharge laptops from smartphone chargers and power banks
Thin bezel display up to 450 nits brightness
10th Gen Intel Processors with Most Powerful Integrated Graphics Intel Iris Plus
Full size keyboard
Touchpad with NumberPad 2.0 function
Full set of ports – USB 3.2, HDMI, microSD card reader, 2 pieces Type-C Thunderbolt 3
Proprietary MyASUS software that allows you to flexibly customize your laptop to your taste
MIL-STD 810G military-grade protection, making the laptop withstands temperature extremes and drops
Back to content >>>
Share: 





we are in social networks:
News:
01.03.2021/XNUMX/XNUMX Roskomnadzor accuses Twitter of malicious violation of Russian law
01.03.2021/6/XNUMX EZVIZ CXNUMXW – "smart" home panoramic video surveillance camera with True-WDR sensor
01.03.2021/60/600 Video on the channel: Correct gaming TWS headphones Saramonic SR-BHXNUMX-B and SR-BHXNUMX
01.03.2021/XNUMX/XNUMX LG patented sliding OLED TV
01.03.2021/XNUMX/XNUMX Xiaomi reports a shortage of Qualcomm chips
01.03.2021/2021/14 Apple iPad Pro 1 with AXNUMX chipset will be as powerful as Mac based on MXNUMX
01.03.2021/9/XNUMX Release date of OnePlus XNUMX series smartphones has become known
01.03.2021/21/XNUMX A database of XNUMX million users of VPN services put up for sale on the Darknet
01.03.2021/XNUMX/XNUMX Casio Launches New MT-G Watch Inspired by the Beauty of the Blue Phoenix
01.03.2021/XNUMX/XNUMX A revision of the criteria for entering software into the register of domestic
01.03.2021/XNUMX/XNUMX Microsoft is working on the next generation Surface Duo
01.03.2021/5/3.5 The number of 2026G users will grow to XNUMX billion by XNUMX
01.03.2021/XNUMX/XNUMX Mir cards will be available in Apple Pay
28.02.2021/3/XNUMX World's Largest Video and Computer Gaming Exhibition EXNUMX Will Not Be Live This Year
27.02.2021/XNUMX/XNUMX Bill Gates said he prefers Android over iOS
27.02.2021/8/XNUMX Lenovo is preparing to release the third generation Lenovo Tab MXNUMX tablet
27.02.2021/5/XNUMX Leak revealed the design of the smartphone Samsung Galaxy XCover XNUMX
27.02.2021/19/1200 OPPO F90 Pro + will receive a Dimensity XNUMX chipset and a display with a frequency of XNUMX Hz
26.02.2021/XNUMX/XNUMX Chery demonstrates the salon of the flagship crossover for the Russian market
26.02.2021/600/XNUMX Telegram must return $ XNUMX million to investors by the end of April
26.02.2021/870/XNUMX Video on the channel: OPINION | SSD SAMSUNG XNUMX evo
26.02.2021/6/XNUMX Nubia revealed the design of the Nubia Red Magic XNUMX smartphone
26.02.2021/60/60 Global versions of Vivo X870 and XXNUMX Pro smartphones will receive Snapdragon XNUMX chipset instead of Exynos
26.02.2021/3.9/XNUMX The loss of the online rental service Airbnb in the fourth quarter amounted to $ XNUMX billion
26.02.2021/XNUMX/XNUMX March Games for PS Plus Subscribers Announced
Subscription