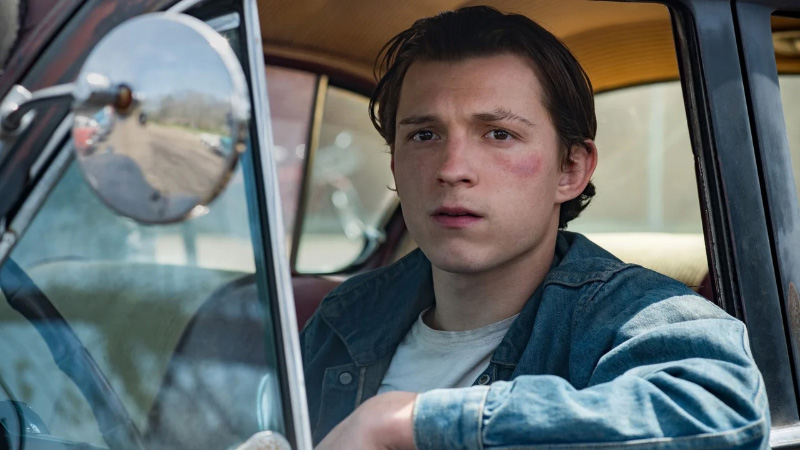 Content
Introduction
Unknown Origins
Raised by wolves / Raised by wolves
Mulan
I'm Thinking of Ending Things / I think about that in the end
Away / Far
The third day
Hope Frozen: A Quest to Live Twice / Frozen Hope: Finding How to Live Twice
The Devil All The Time
Jurassic World Camp Cretaceous / Jurassic Park: Cretaceous Camp
Enola Holmes / Enola Holmes
Secret Society of Secondborn Royals
Utopia
Conclusion
Introduction
In September, the season begins, and an abundance of new products are released on the screens. If you are wondering which 3 films and 3 series I have singled out as the main ones, then go to the conclusion. By the way, do not forget that in addition to the Internet, cinemas have started up again, and you should go and at least watch Nolan's Argument.
You can also revisit Marvel's Black Panther. A couple of days ago, Chadwick Boseman died, who played the main role. He was 43 years old. I think from the 2018 film you remember how great he was, but it turned out that he had been fighting cancer since 2016. Boseman deserves admiration for the fact that he did not fold his hands, having managed to act in 2016 films since 9, not counting television projects, and the physical form in which he kept himself, despite the illness, and an active life position on social issues, and back in 2019 managed to get married.
Unknown Origins
Where: Netflix
When: August 28
This film was not originally scheduled for August. Apparently, Netflix just bought the tape and immediately posted it online. I haven't seen the movie yet, but the trailer looks quite interesting. The idea of ​​a plot about a serial killer evokes a bunch of associations at once – both "Zodiac" and "Seven", and "From Hell" with Johnny Depp. In short, the topic is fertile, and with minimal costs for special effects, with only straight hands and a good script, you can make an interesting picture. Check out the 2 minute trailer below. Helps to form an opinion. Not a bad movie for the evening in my opinion.
About the plot:
Madrid, 2019. Serial killer wreaking havoc. There are murders of different people without visible connection, while the first appearances of the most famous superheroes are imitated. Cosme is the best detective in his lot, but he is being forced into retirement. David is his replacement. He is young and impulsive. Of course, they are made partners. In this adventure they will be assisted by Jorge Elias, son of Cosme, a lovable nerd and comic shop owner, and Norma, their boss, who loves manga and cosplay.
Raised by wolves / Raised by wolves
Where: HBO Max
When: September 3
September's premier fiction, directed by Ridley Scott, tells the story of two androids raising children on an unknown new planet after Earth was destroyed in a great war. As a growing (in every sense) human colony threatens to be ripped apart by religious differences, androids learn that controlling people's beliefs is a treacherous and difficult task.
There have been no interesting sci-fi series for a long time, and then there is Ridley Scott, who understands something in this matter, so everything is obvious: you have to watch. From curious solutions. One of the androids is African American. And the question is, who will make the black android? First, given that androids are, in fact, slaves, then it smells of racism. Secondly, theoretically, black androids should be more difficult and more expensive to manufacture. You need a lot of black pigment …
Mulan
Where: Disney +
When: September 4
On September 4, one of the main Disney films, Mulan, is released on a platform that is still not officially in Russia. Disney is certainly pinning their hopes that the tape will help attract new subscribers. Initially, the film was supposed to go to cinemas in March, but due to the pandemic it was postponed several times, and now they decided to immediately send it to streaming platforms. For those living in Russia, the news is more than joyful, because you can download from a torrent with a clear conscience. But know that as a Disney shareholder, I condemn this behavior.
I'm Thinking of Ending Things / I think about that in the end
Where: Netflix
When: September 4
By genre, it is a psychological horror movie.
Plot:
Despite doubts about their relationship, the young woman decides to travel with her new boyfriend to the farm with his parents. Trapped on a farm due to a blizzard, the girl begins to question everything she knew about herself, her boyfriend and the world. The film is dedicated to the issues of the fragility of the human spirit.
You probably weren't impressed by the plot. Basically, it really sounds dull. However, the film is written and directed by Oscar-winning Charlie Kaufman (Eternal Sunshine of the Spotless Mind). The film is based on the bestseller novel of the same name. And judging by the abundance of news and critical reflections in the Western press, Netflix believes that this is one of the main projects of September. The film has already received decent reviews on Rotten Tomatoes and Metacritic, praising the actors' "stellar performance" and "masterpiece" directorial work.
Well, and before you write off the film, watch the trailer. It is much better than a meager description of the plot, it helps to understand the mood of the film.
Away / Far
Where: Netflix
When: September 4
The series' first season airs on Netflix on September 4. I decided to add to the collection only because of the plot, because the implementation is interesting.
A few words about the plot. Astronaut Emma Green must fly to Mars, leaving her husband and daughter on Earth at the moment when her family needs her most. "Far Away" tells that sometimes you have to leave home to reach the stars.
I think you yourself understood what was unusual in the plot. So it's interesting to see if Netflix managed to do everything smoothly or whether it turned out to be a "snotty" melodrama unworthy of gaze.
The third day
Where: Amediateka
When: September 15
Serious dramatic miniseries with Jude Law. I will watch because I like Jude Law. Although the trailer, frankly, looks strange.
"The third day" is two stories of people who arrived on a strange island near Great Britain. The first is called "Summer" and is dedicated to Sam (Jude Law), a man who is trying with all his might to prevent a dangerous ritual of local residents. The second story, "Winter", tells about Elena (Naomi Harris), who arrived on the island to understand herself, but in the end is forced to save her life.
Hope Frozen: A Quest to Live Twice / Frozen Hope: Finding How to Live Twice
Where: Netflix
When: September 15
This is a documentary on the subject of cryo-conservation. Netflix talks about a two-year-old girl who died, but her head and brain were placed in a special cryo tank. The girl's father is a scientist who wants to give her a chance for a second life by placing her brain in a new body.
The description of the film sounds like science fiction, right? But this is a documentary, and there is such a girl in the tank, and a scientist, and he also has a son, a child prodigy. And I just want to see what is happening there. Is it legal in general?
The Devil All The Time
Where: Netflix
When: September 16
It is a psychological thriller based on a rather successful 2011 novel. Young Arvin Russell battles evil forces that threaten him and his family.
The film stars Tom Holland (Spider-Man), Robert Pattinson, Bill Skarsgard and Sebastian Stan (Marvel's Winter Soldier). The film is set in the United States between the Second World War and the Vietnam War.
As you can imagine from the cast, this is one of the top September movies for Netflix. He should attract fans of the MCU. The film is also important for the actors. Especially for Holland, who needs to do his best to prove that he is not only Spider-Man.
Jurassic World Camp Cretaceous / Jurassic Park: Cretaceous Camp
Where: Netflix
When: September 16
Animated series on the theme of Jurassic Park. From the trailer I could not understand whether it was complete or incomplete nonsense. Just in case, I put it on the list.
Enola Holmes / Enola Holmes
Where: Netflix
When: September 23
Another loud new movie of the month. Because Sherlock Holmes is always interesting, and he is played by Henry Cavill, but in the center of the plot is the detective's sister played by Millie Brown, who you remember from Stranger Things. The action takes place in London in 1884. Enola Holmes is a daring and wayward girl, breaking free from the care of her older brothers (do not forget that Holmes had an older brother, Mycroft). A girl rushes around London in search of her mother (her role is played by Helena Bonham Carter, who is already 54 years old, but for me she will forever remain Marla Singer from Fight Club), along the way, she uncovers a certain crime (ahead of her brother), which was supposed to turn the course of history.
Secret Society of Secondborn Royals
Where: Disney +
When: September 25
This is a movie that was originally intended for the streaming platform. The plot tells about a princess who thinks how boring it is to be a princess, because her older sister will take the throne. But everything changes when she learns that all the second heirs to the throne have superpowers and must protect their kingdoms.
Disney knows how to make superhero movies, which, moreover, are now in a super trend. I don't know what they did, but the picture in the trailer looks good.
Utopia
Where: Amazon Prime
When: September 25
In 2013, the BBC released the TV series Utopia, a fantastic story about a group of people who had at their disposal a book with the novel of the same name. It is supposed to describe a way to create deadly weapons. The heroes of the series "Utopia" soon attract the attention of a certain secret non-governmental organization called "The Network".
Amazon decided to relaunch the idea, refresh the plot, and shoot its own version of the series. The trailer is "unclear", but the series is worth taking on a pencil.
Conclusion
September turned out to be a pretty good month. There are not too many premieres, but on the whole everything is interesting either by the plot, or by the director, or by the actors. It is possible that nothing will fire.
From the films I will definitely try to watch: "Unknown origin", "Forever the devil" with Tom Holland, and "I think I'll finish it all" (for Kaufman). And from the series – "Raised by Wolves", "Enola Holmes" and "Utopia".
As a leftover, if I have the strength, I will skim through Mulan, the series with Jude Law (Day Three) and a documentary about the head of a Thai girl preserved in a cryo-chamber.
In any case, do not forget that September 28 is the 4th season of "Fargo" (if you are watching), and the Amediateke spin-off "Power in the City at Night" is released.
Back to content >>>
Related Links
Share: 





we are in social networks:
Anything to add ?! Write … eldar@mobile-review.com