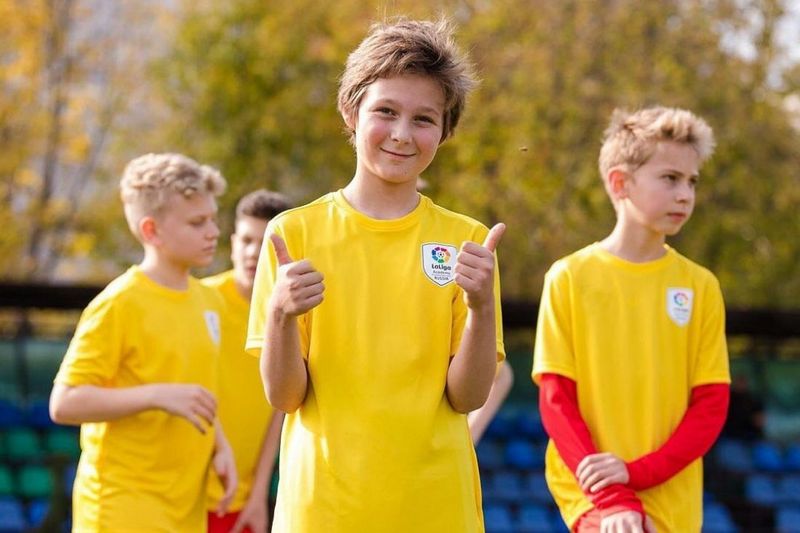 It would seem that it is enough to simply kick out the losers from the coaching work, who themselves do not know how to play and do not give others. When they were "up-and-coming" footballers for ten years, they got it into their heads that football was about endurance. It's like football is hitting the ball hard and running fast, then falling and yelling, and at the end … and at the end explaining to ourselves and others why we once again missed the championship.
Where is the teamwork? Where is the analysis of the situation on the field? Where is the mutual support and coherence of the players? Where is the ability to learn from mistakes experience?
Yes, today's coaches are not to blame for being taught to run and hit, and not to work in a team and analyze the situation on the field every second. But now these coaches are teaching young footballers the same thing: hit and run, run and hit, and then explain why we went on. Even if the current coaches want to act differently, they do not know how.
How to break a system that reproduces itself and cannot get out of an ineffective closed loop? So the answer has been known since the time of Peter I, or even Rurik: you need to find people who ALREADY CAN act differently, and drag these people to yourself to share their experience.
Well, good news for the youngest football players and for the parents of boys 3-16 years old: the first Spanish children's football academy LaLiga has opened in Moscow. LaLiga is a professional football league that has nurtured Messi in particular. The LaLiga includes 42 of Spain's most renowned football clubs, including the legendary Real Madrid and Barcelona.
In LaLiga, the emphasis is on team play. Children are taught, first of all, INTELLIGENT football – control, analysis, interaction, work for the result. They are also taught to run across the field and hit the ball, but precisely in order to achieve results, and not as an end in itself.
Right now LaLiga accepts children who will become future stars of Russian and Spanish football clubs for training. Licensed UEFA coaches from Europe teach young footballers using Spanish methods.
Let's find out exactly how all this works and why, with the advent of LaLiga, Russia finally has a chance to raise football players who will bring us victories in football championships.
How LaLiga Works: A TRUE Academy of TRUE Spanish Football from Spanish Coaches
LaLiga did not just "buy a franchise" and use a logo – it is a real football academy with foreign coaches, participating in football championships and giving children the opportunity to qualify for Spanish football clubs.
Spanish football techniques from Spanish coaches
Methods of training and teaching pupils according to the principles of Spanish football. "Smart football" – from a young age they train precisely technique and ball control, and do not engage in general physical training, as in ordinary sections. Future football players are taught first of all to think, assess the situation and find creative solutions, and only then "hit and run".
The main goal is to work for the future of children, to open up maximum opportunities for them
LaLiga trainees train according to the principles of top professional Spanish football clubs. This is not just a section, but a football academy that prepares future athletes for Russian and foreign football clubs.
Principles and values ​​of Spanish football – LaLiga has a real club atmosphere: from the design and attributes that set the right football mood, and ending with the approach to training and participation in matches – everything is done as close as possible to the real conditions in real Spanish football clubs.
Football that changes the mind of a child! Focus on nurturing personality – parents often do not recognize their spoiled and capricious children after a couple of months of classes at the Academy: children are socialized, respect for others is brought up, responsiveness and willingness to help a comrade.
Advantages:
Foreign and Russian coaches with UEFA license.
Head coach – Spaniard Borja Lema Benito. Professional with vast experience in coaching foreign football clubs, youth teams and working with children.
7 coaches – from Spain, Cameroon and other countries, most of them with experience in foreign clubs.
Real football is a sports future for children
LaLiga is not just a sports section. For talented and persistent students, the LaLiga Academy opens up many opportunities in Russian and foreign football clubs.
The nearest plans include participation of the strongest teams of the Academy in serious tournaments, for example, the Moscow Championship. Usually, non-state football academies and sections do not participate in such competitions – they cannot qualify, they are afraid of losing.
For other players of the academy, participation in commercial tournaments, for example, the Moscow Children's League. In order to gain experience and practice.
Pupils of "LaLiga" participate in international tournaments held in Spain, which are attended by children's sports schools from different clubs from all over the world.
"Growing with our players"
Nowadays at the LaLiga academy, admission is under 16, but new categories will be added every year – the children will not be abandoned. In many "club schools" a child is trained until the age of 14, and then he is left to himself: he must look for himself where to continue training (or not to continue). Young years, decisive in the preparation of the future athlete, are lost, and what to do next is not clear at all.
This is not the case in LaLiga: the Academy will "grow" together with the best players, the logical completion of training will be the transition to professional sports – youth / youth teams of professional Russian and foreign football clubs.
There is an opportunity for all pupils to continue playing in the amateur league and gain experience – thus, there are prospects and a future for all players, regardless of talent and skill level.
Motivation and grants for young footballers
At the end of each season, a meeting of the coaching staff makes a decision on awarding the best players with grants – the opportunity to train for the next season (from September to June) for free. A player from the "commercial" department can get into the "free" one and vice versa – everything depends only on the results of each individual pupil, everything is in his hands.
Trips to the review and selection in Spanish football clubs at the expense of the academy
If "LaLiga" sees real prospects and talent in its students, it organizes a trip to Spain at the expense of the organization, without additional fees from parents.
Basically, football schools, branded with the names of famous football clubs, in principle, do not provide an opportunity to get into foreign football clubs. Or they give such an opportunity, but at the expense of the pupil's parents, and it costs a large sum (which includes not only the costs of the trip, but also the "interest" of the organizers of the trip).
In general, parents who send their children to school with the logo of a top foreign football club on the signboard, as a rule, will be disappointed when it becomes clear that, apart from the logo on the signboard, this school has nothing to do with foreign football and has no real prospects even in Russia. football does not. Enterprising businessmen simply cash in money under the guise of a well-known European club. LaLiga is a completely different approach.
In "LaLiga" everything is grown-up – like in real clubs
Everything in LaLiga football academy is organized like a real training base for Spanish football clubs. From symbols and paraphernalia in dressing rooms to the format of training and games.
The team arrives to the away game (no matter whether it is a commercial or an official tournament) in an organized manner, in about fifteen hours – in order to have time to prepare for the game.
Before the game, the coach and the team watch an analytical video on the opposing team – they study the tactics of the future opponent, remember his strengths and weaknesses.
T-shirts are laid out in the dressing rooms before the match, as is done for professional club players in adult football.
It is these details that create the atmosphere of professional football!
All conditions for professional training
Cheaper than "club academies", although they give more
The cost of training a child at the LaLiga Academy is 18 thousand rubles per month. For this money, the child receives:
3 workouts and 1 game day per week;
2 theoretical lessons per month to study game tactics and develop football intelligence;
Upon receipt, inventory and uniform are provided:
2 personalized T-shirts with the logo of the LaLiga academy;
Shorts, leggings;
Sports suit;
Raincoat;
Thermal underwear;
Named water bottle;
Backpack with a personalized keychain.
And all this – for 18 thousand rubles a month, 2 times cheaper than classes in some football sections, branded by individual eminent football clubs – where the cost reaches 40 rubles a month. At the same time, these schools do not have ANY foreign coach – the overpayment is purely for the sign!
Almost 40 rubles for a regular section with Russian coaches and the logo of a fashionable FC on the signboard, or 000 for an academy that teaches real Spanish football and prepares professional athletes with a future in the atmosphere of a professional football club?
Younger playpen + open field for children over 8 years old
Many other (even more expensive!) Football academies, clubs and schools do not have the opportunity to train on a real open field. Because of this, older children (12 years and older) do not have practice in conditions close to real football matches.
LaLiga also has an arena (indoor arena 30 * 48 m with artificial turf Euro Grass M60, as on professional grounds), and an open area 96 * 54 m with gates 7,32 * 2,44 m and 5 * 2 m. Trainings are held at the Luch football stadium, located next to the Otkrytie Arena stadium of Moscow Spartak in the Tushinsky district of Moscow.
Spanish football is smart football
Think first, then hit and run
In LaLiga training, there is no senseless physical education, running without a ball, pull-ups – children are taught FOOTBALL, and most of the exercises are with a ball.
Children are not taught to be robots who follow orders unquestioningly – they are taught tactics and taught to analyze the situation, make decisions as quickly as possible on the field, and work not only with their feet, but primarily with their heads. Intelligence and creativity are integral parts of Spanish football, enabling Spanish club players to stay ahead of the pack in terms of performance and awards.
Classes in regular sections are often similar to a regular physical education lesson – children run in circles, squat, pull up. Physical education is, of course, good, but future football players need correct, football training!
Brain development first, then physical training
The Spanish teaching method is based on the principle of smart football: children from 3 years old are taught how to control the ball. They develop reflexes, teach simple dribbling techniques (the skill of "dribbling" and moving the ball). And only after 12 years serious physical training is connected. In general, the emphasis is on quality, not quantity – the measure of training efficiency is not training fatigue (as in the usual Russian football section), but real results.
If you start training a future football player with running and exercises without a ball, aimed only at developing muscles and other physical parameters, it will be more difficult to learn FOOTBALL in the future. There is a great risk of becoming "wooden", not dexterous, flexible and fast enough, to lose the ability to learn in principle.
This is an important difference between Spanish and Russian football: in Russia it is customary to put physical training in the foreground. For example, as the rising star of youth football Sergei Pinyaev (he underwent an internship at English Manchester United three times, and is now being bought for 40 million euros), the Russian football agent assesses: something shines. " And here is a review of a foreign agent about the same player: "They talk about him as one of the brightest talents from Russia and Eastern Europe in general," Manchester United "are determined to take him to their club."
Actually, undersized and puny Leo Messi would hardly have passed the selection to Russian football schools. And in the youth teams of Barcelona, ​​he played from the age of 13, later he became one of the best footballers of our time and is recognized as one of the best players of all time.
Little Leo Messi (127 cm at 9 years old) would definitely not be liked by Russian football schools …
Raising a harmonious personality and education, knowledge of the language at the household level
Socialization and respect
Many modern children are self-centered. Even if parents try not to pamper their children, children sometimes have the position "I am the most important here, the rest owe me," which leads to big problems and disappointments in later adult life.
LaLiga Football Academy helps children develop healthier social scenarios. Friendship, mutual assistance, team spirit, healthy rivalry without resentment, envy and anger – all this is acquired in football. Let's tell you a secret – for many children, socialization and communication skills, life in society are even more useful than sports "skill".
There is no "barracks" atmosphere in the LaLiga Academy, there is no rudeness – the most professional respectful relationship between coaches and students, as well as between players.
Pupils are instilled in respect for other players and other people in principle.
Socialization: even the most capricious, spoiled and self-centered children are imbued with a team spirit, learn to live in harmony and understanding with others, and respect others.
The basic principles of the LaLiga Academy that underlie the education of students:
Language environment
Foreign expats living in Moscow prefer to send their children to LaLiga Academy. First, the coaches speak English, Spanish and French (the main training language is English). Secondly, the academy is geographically located next to the Anglo-American School, AAS, this is a private educational institution established by the embassies of Great Britain, Canada and America to train children of employees of departments and employees of American companies.
There are many foreigners among the LaLiga coaches, and among the pupils there are many expatriate children, therefore, during training, English is used as the main language, and Russian children naturally learn to understand English and Spanish. First, with the help of translators or comrades, then they get involved and speak for themselves.
The admission of children 3-16 years old to the REAL academy of REAL Spanish football – follow the link.
Share: 





we are in social networks: