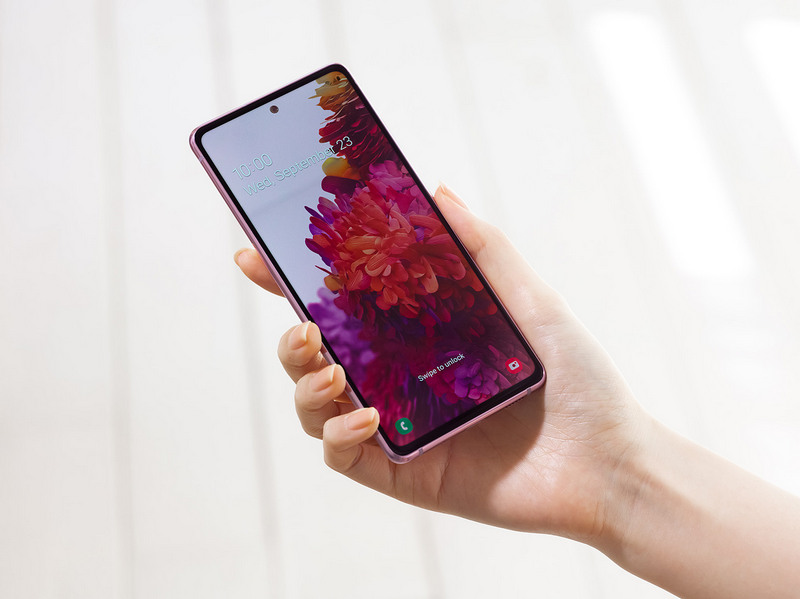 Hey.
For a long time, Chinese smartphone manufacturers have taken an approach where they have created many models with minor differences, and as part of this strategy, we have always had new products. For many buyers it did not matter that such new items were often inferior to the previous models of the same brand; novelty as the quality of the product came to the fore. Samsung could have adopted this strategy, but didn't because it thought it was spraying marketing efforts. Plus, it should be noted that the leader of the smartphone market considers only one company to be a competitor – Apple. The reason for this is simple, in the premium segment, Apple's sales are higher than Samsung's, although the situation has been slowly changing over the past year. But in order to reverse this situation, we need products that will knock the earth out from under Apple's feet, for example, in the base model of the iPhone 12. And this is exactly the device that is the Galaxy S20 Fan Edition, it comes out shortly before the iPhone 12, has the best characteristics and it is also a novelty.
Почему аппарат назвали Fan Edition? Ответ кроется в том, что это маркетинговый ход. Было необходимо оставить принадлежность модели к семейству флагманов, отсюда имя S20. А вот Fan Edition — это отсылка к тому, что именно таких характеристик хотели потенциальные покупатели, то есть это глас народа. И это более изящный ход, чем приставка Lite, которая намекает, что в аппарате урезаны характеристики по сравнению с базовой моделью. Тут же вроде как все наоборот — просили именно так, а значит, получите и распишитесь.
Первое и главное изменение, которое мы видим, это корпус — он выполнен так же, как в Note20, это матовый пластик (glastic). Тесты на прочность показали, что такой тип материала очень надежен и выигрывает по прочности у Corning Gorilla Glass 7, а главное, можно не использовать чехол. Кто-то считает, что подобный материал не очень хорош, но это вкусовщина и другие представления о прекрасном. Корпус отличный и практичный.
Different body colors allow you to choose the one you want. And this is to some extent a youth device, there are colors for both girls and guys.
The next moment that pleases me is the absence of a protruding camera unit, you can carry the device without a case! Nothing touches the edge of the pocket. But the flip side of that is that the telephoto camera is here with 8 megapixels. And despite the announced Space Zoom x30, you need to understand that the optical zoom will be the usual x3, you shouldn't expect something like that.
The camera block provides the quality of the flagships of previous generations, this is a good quality, but, of course, you need to try it in practice. So far, I only praise in absentia, since I have not tried devices that will be sold at retail.
The next relative simplification is the screen, it is SuperAMOLED, but not Dynamic AMOLED, as in the usual S20. The diagonal has increased to 6.5 inches. There is 120Hz, but FullHD + resolution. In its class, the screen puts on the shoulder blades of all competitors, loses only to older models. Bright, comfortable, with accurate color reproduction. And a small plus is that it will have a flat display, no rounding.
The battery is 4500 mAh, that is, everything is exactly the same as in the S20 +, 500 mAh more than in the regular S20. We haven't removed wireless charging and reverse charging, they are there, and this is a big plus for the device. For a day of work it will be enough calmly. Includes 25W fast charging.
The device is delivered to Russia only in the 4G version (on the Exynos 990), 6 GB RAM, built-in 128 GB. Of course, there are memory cards. And here everything looks at the level, no worse than in older models.
Look at the rest of the device's characteristics:
Galaxy S20 FE specifications
Screen
6.5-inch FHD + Super AMOLED 2X
Infinity-O (1080 × 2400), 405ppi, HDR10 + Certified 
Supports 120Hz display refresh rate

* Measured diagonally, the Galaxy S20 measures 6.5 "without corners and 6.4" with rounded corners. The actual field of view is smaller due to the rounded corners and camera cutout.

Dimensions and weight
74.5 x XYUMX x XYUMX мм, 159.8 г
Camera
Frontal
32 MP selfie camera
— Размер пикселя: 0.8 мкм
— F2.2(80°)
Triple main
12 MP ultra wide angle
— Размер пикселя: 1.12 мкм
— F2.2(123°)

12 MP wide angle
– Dual Pixel autofocus, optical stabilization
— Размер пикселя: 1.8 мкм  
— F1.8(79°)

8 MP telephoto camera
— Размер пикселя: 1.0 мкм
— F2.4(32°)

Space Zoom
— 3x оптический зум Optical Zoom
— Зум Super Resolution до 30x
– OIS (optical stabilization)
— Трекинг автофокуса

* The Galaxy S20 FE's Hybrid Optical Zoom combines a high-resolution image sensor and lens.
* Super Resolution Zoom enables digital zoom, which can distort the image.
Processor
7nm 64-bit Exynos 990 octa-core processor
– 2.7 GHz (maximum clock speed) + 2.5 GHz + 2 GHz
Memory
[LTE]
6 GB RAM (LPDDR5) with 128 GB internal storage
* May vary by model, color, market and service provider.
* Actual available memory depends on preinstalled software
Expandable memory and SIM card
Dual SIM Model (Hybrid SIM Slot)
– One Nano SIM slot and one Nano SIM or MicroSD (up to 1TB)
* SIM card sold separately. Dual SIM availability may vary by country and carrier.
* MicroSD card sold separately. Availability may vary by country and manufacturer.
* ESIM usage on Galaxy devices may be enabled or disabled in certain markets where the device was purchased. The availability of eSIM mobile rates depends on the carrier.
Battery
4500mAh (Typical)

* Typical value tested under third party laboratory conditions. Typical is the calculated average based on the variance in battery capacity among the samples tested in accordance with IEC 61960. The nominal (minimum) capacity is 4370 mAh for the Galaxy S20 FE. Actual battery life will vary depending on the network environment, smartphone usage and other factors.

Charging
Super fast wired charging (25W)
Fast Wireless Charging 2.0 USB PD 3.0 (PPS) certified for wired charging (AFC and QC2.0 compatible)
* Wireless charging compatible with WPC
* Reverse wireless charging
* Fast Wireless Charging 2.0 is currently available with Wireless Charger Stand, Wireless Charger Duo Pad and other devices that support 10W or more wireless charging. Sold separately. Actual charging speed may vary due to usage, charging conditions and other factors. The wireless charger requires a network connection. It is recommended that you use the charging cable supplied with the device and / or the power adapter. Third-party devices can damage the Wireless Charger Stand and Wireless Charger Duo Pad or slow down charging speed.
* Reverse wireless charging is only compatible with Samsung or other brand smartphones that support the Qi standard. Check Samsung.com for compatibility. May not work with certain accessories, cases, third-party devices, or certain Samsung wearables. May affect the operation of communication services, depending on the network environment. Charging speed and energy efficiency vary by device.
OS
Android 10
Networks
[LTE] Enhanced 4 × 4 MIMO, up to 5CA, LTE Cat.19 (1.6Gbps), download speed up to 2.0 Gbps / Download up to 200 Mbps
 [Wi-Fi] Wi-Fi 802.11 a / b / g / n / ac / ax 2.4G + 5GHz, HE80, MIMO, 1024-QAM, download speed 1.2 Gbps / Uploads up to 1.2 Gbps
[Bluetooth] Bluetooth® v 5.0, USB type-C, NFC, geolocation (GPS, Galileo, GLONASS, BeiDou)
* Actual speed may vary depending on market, service provider and usage environment.
* Requires optimal 5G connectivity. Actual speed varies by market, carrier and environment.
* Galileo and BeiDou coverage may be limited. BeiDou may not be available in some countries.
Payments
NFC, MST

* Available in select markets. Payment solutions and available features vary by market, operator and service providers. 

Sensors
Optical Fingerprint Sensor, Accelerometer, Barometer, Gyroscope, Geomagnetic Sensor, Hall Sensor, Proximity Sensor, Light Sensor 
Authentication
Lock types: pattern, PIN, password
Audio
[Stereo sound with AKG technology]
Surround sound with Dolby Atmos technology (including Dolby Digital, Dolby Digital Plus)


* Headphones: hybrid channel type, two-way speakers

[Ultra high quality audio playback]
UHQ 32 bit and DSD64 / 128 support
PCM: up to 32 bit, DSD: DSD64 / 128
* Playback of DSD64 and DSD128 may be limited depending on the file format. 

[Audio playback formats]
MP3, M4A, 3GA, AAC, OGG, OGA, WAV, WMA, AMR, AWB, FLAC, MID, MIDI, XMF, MXMF, IMY, RTTTL, RTX, OTA, APE, DSF, DFF

[Bluetooth]
Dual Audio: Connect two Bluetooth devices to the Galaxy S20 to play audio through two devices at the same time.
* The two connected devices may produce slightly different sound.

Scalable Codec: Enhanced Bluetooth connectivity in RF interference environments.
* Only available with select Samsung accessories.

[Entries]
Recording quality is enhanced with the High AOP Mic, which minimizes distortion in noisy environments. 
* AOP: Acoustic Overload Point

Video
[Video playback formats]
MP4, M4V, 3GP, 3G2, WMV, ASF, AVI, FLV, MKV, WEBM

[Connect to TV]
Wireless: Smart View (1080p screen reflection @ 30 fps)
Wired: Supports DisplayPort when connected via USB Type-C. Supports video output when connected via HDMI adapter.
(DisplayPort 4K UHD @ 60 fps)

Water protection
IP68

* IP68 rating based on test conditions up to 1.5m deep in fresh water for up to 30 minutes. Rinse and dry the device thoroughly if necessary. Not recommended for beach or pool use. 
Brief impressions and perspectives
Начало продаж 9 октября, стоимость — 49 990 рублей. Много это или мало? Стоимость базового S20 составляет 59 990 рублей, на сером рынке его можно найти дешевле (то же самое случится и с S20 FE через какое-то время). Цена адекватна тем характеристикам, что предлагаются, и этот аппарат понравится молодежи, тем, кто не готов покупать старшие модели. Мне модель чем-то напоминает S10e, который снят с производства, такой же упрощенный флагман, который нашел массу покупателей и стал популярен на рынке. В этом году модель выходит через полгода после основной линейки и несколько иначе позиционируется.
Первоначальные продажи S20 FE будут уверенными, но в полный рост эта модель встанет в момент выхода iPhone 12 в ноябре. Сравнение базовой версии iPhone 12 (не Mini, а именно базовой, что приходит на смену iPhone 11) покажет пропасть между этими аппаратами. Веселые цветовые решения, практичный корпус, адекватная стоимость — все вместе дает нам потенциальный бестселлер. Но главное, что перед Новым годом в рамках скидок и аттракционов невиданной щедрости этот аппарат можно будет купить по 40-45 тысяч рублей. Что сделает его безальтернативным выбором в этом ценовом сегменте.
Related Links
Share: 





we are in social networks:
Anything to add ?! Write … eldar@mobile-review.com
News:
01.03.2021/XNUMX/XNUMX Roskomnadzor accuses Twitter of malicious violation of Russian law
01.03.2021/6/XNUMX EZVIZ CXNUMXW – "smart" home panoramic video surveillance camera with True-WDR sensor
01.03.2021/60/600 Video on the channel: Correct gaming TWS headphones Saramonic SR-BHXNUMX-B and SR-BHXNUMX
01.03.2021/XNUMX/XNUMX LG patented sliding OLED TV
01.03.2021/XNUMX/XNUMX Xiaomi reports a shortage of Qualcomm chips
01.03.2021/2021/14 Apple iPad Pro 1 with AXNUMX chipset will be as powerful as Mac based on MXNUMX
01.03.2021/9/XNUMX Release date of OnePlus XNUMX series smartphones has become known
01.03.2021/21/XNUMX A database of XNUMX million users of VPN services put up for sale on the Darknet
01.03.2021/XNUMX/XNUMX Casio Launches New MT-G Watch Inspired by the Beauty of the Blue Phoenix
01.03.2021/XNUMX/XNUMX A revision of the criteria for entering software into the register of domestic
01.03.2021/XNUMX/XNUMX Microsoft is working on the next generation Surface Duo
01.03.2021/5/3.5 The number of 2026G users will grow to XNUMX billion by XNUMX
01.03.2021/XNUMX/XNUMX Mir cards will be available in Apple Pay
28.02.2021/3/XNUMX World's Largest Video and Computer Gaming Exhibition EXNUMX Will Not Be Live This Year
27.02.2021/XNUMX/XNUMX Bill Gates said he prefers Android over iOS
27.02.2021/8/XNUMX Lenovo is preparing to release the third generation Lenovo Tab MXNUMX tablet
27.02.2021/5/XNUMX Leak revealed the design of the smartphone Samsung Galaxy XCover XNUMX
27.02.2021/19/1200 OPPO F90 Pro + will receive a Dimensity XNUMX chipset and a display with a frequency of XNUMX Hz
26.02.2021/XNUMX/XNUMX Chery demonstrates the salon of the flagship crossover for the Russian market
26.02.2021/600/XNUMX Telegram must return $ XNUMX million to investors by the end of April
26.02.2021/870/XNUMX Video on the channel: OPINION | SSD SAMSUNG XNUMX evo
26.02.2021/6/XNUMX Nubia revealed the design of the Nubia Red Magic XNUMX smartphone
26.02.2021/60/60 Global versions of Vivo X870 and XXNUMX Pro smartphones will receive Snapdragon XNUMX chipset instead of Exynos
26.02.2021/3.9/XNUMX The loss of the online rental service Airbnb in the fourth quarter amounted to $ XNUMX billion
26.02.2021/XNUMX/XNUMX March Games for PS Plus Subscribers Announced
Subscription