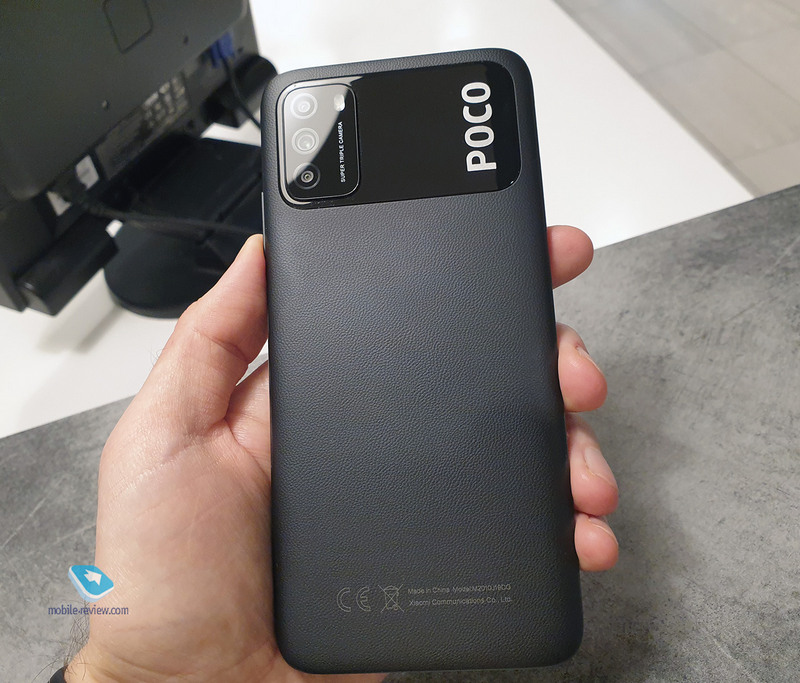 Content
Positioning
TECH SPECS
Appearance
Screen
Performance
Battery life
Camera
POCO shell
Conclusion
Positioning
The phrase "better than you think" is perhaps the slogan of all POCO smartphones, and it definitely fits the brand. Frankly speaking, when Xiaomi changed the positioning of the Pocophone, changing its name to POCO and saying that instead of the flagship killers, there will be just comfortable smartphones with "exactly the power you need", I was upset. I think most potential buyers, and just fans of the brand, are also discouraged. However, after getting to know the POCO X3 NFC, I can say that this is a super successful reboot of the brand.
POCO smartphones really have exactly the power and balance that the user wants. At the same time, the devices are pleasing, as they are definitely better than expectations.
The POCO M3 is no exception. It is already obvious from the start that the smartphone will become a bestseller. It's good, no matter how you look at it. Firstly, users will receive a high-quality smartphone at a fair price, and secondly, POCO M3, having made noticeable sales, will force other manufacturers to catch up in quality and characteristics.
The main advantages of POCO M3:
AI triple camera, 48MP + 2MP + 2MP
6,53-inch screen with a resolution of 2340 by 1080 pixels (while most competitors have 720p)
High quality screen (TUV Rheinland Certified + Widevine L1 Certified)
Stereo Speakers (Hi-Res Audio Certified)
6000mAh battery + 18W fast charging
Improved battery quality: after 1000 charge cycles, the battery capacity remains almost at the starting level. Battery stays reliable even in high temperatures
11nm Snapdragon 662 chipset, 8 cores up to 2GHz and 610rd generation AI Engine, Adreno 4 graphics, LPDDR2.2X RAM, UFS XNUMX storage
Slot for 2 SIM-cards and 1 microSD up to 512 GB
Unusual design, back panel made of leather-like textured material, which does not leave fingerprints
Three colors (black, blue, yellow). Take the yellow one! It's a hit!
USB Type-C connector, FM radio, IR sensor, 3.5 mm jack, fingerprint scanner in the side button.
The phrase on the side of the box "about the presence of Google applications that you are used to" looks like a slight joke about one of the competitors without Google services
TECH SPECS
Processor: Qualcomm Snapdragon 662 (11 nm), Octa-core (4 × 2.0 GHz Kryo 260 Gold & 4 × 1.8 GHz Kryo 260 Silver), Adreno 610 graphics
Operating system: Android 10, shell MIUI 12
Memory: 4 GB / 64/128 GB, separate microSD slot
Screen: 6.53 inches, IPS LCD, 1080 x 2340 pixels, aspect ratio 19.5: 9, dot density 395 ppi, Corning Gorilla Glass 3, brightness 450 nits
Battery: Li-Po 6000 mAh, fast charging 18W, reverse charging
Main camera:

48 MP, f / 1.8, (wide), 1 / 2.0 ″, 0.8µm, PDAF
2 MP, f / 2.4, (macro)
2 MP, f / 2.4, (depth)

Front camera: 8 MP, f / 2.1, (wide-angle), 1 / 4.0 ″, 1.12µm
SIM card: 2 Nano-SIM
Network and data transmission: GSM 900/1800/1900, 3G, 4G LTE, Wi-Fi 5, 2.4 GHz & 5.0 GHz, Bluetooth 5.0, A2DP, LE, A-GPS, GLONASS, BDS, IrDA, USB Type- C 2.0
Sensors: fingerprint scanner, accelerometer, proximity, compass
Other: there is an FM radio, there is an IR camera
Materials: Gorilla Glass 3, plastic frame and back
Dimensions: 162.3 x 77.3 x 9.6mm, 198g
Price: 13 490 rubles / 14 490 rubles
Includes case, 22,5W charging and Type-C wire, SIM card tray clip and documentation
Appearance
One can only applaud POCO for how easily and naturally the company creates new designs. POCO X3 NFC, now POCO M3 – each smartphone has its own unique and, most importantly, a good look.
The highlight of the POCO M3 is the backrest with a leather-like texture. This is not leather, but probably some type of plastic. However, the choice is very good. The result is a tactilely pleasant device, on which fingerprints are almost invisible. A black version was sent for the test, but I urge you to take cheerful colors – yellow and blue. Yellow, in my opinion, will be a hit. Judging by the pictures, it turned out to be a very bright, juicy and cheerful device.
Another feature of the smartphone is its Hi-Res certified stereo speakers. The smartphone has quite a good volume reserve, so it can be used at a summer picnic as a portable speaker.
The back cover is textured under the skin
I wanted to find fault with the glossy camera block, but quickly realized that this is an excellent mirror to take selfies with the main 48 MP camera
At the top there is a microphone, a 3.5 mm jack and a speaker. As well as an infrared port to control home appliances
At the bottom there is a microphone, USB Type-C and one more speaker
We can only praise that the smartphone has two slots for SIM cards and a separate slot for microSD up to 512 GB
The screen is protected by Corning Gorilla Glass, and a protective film is glued on top. The film is not bad, the finger slides well, you can play shooters
The fingerprint scanner is combined with the power button. Great scanner. In terms of design, the location is correct. In my opinion, if the scanner were placed on the back cover, the appearance of the smartphone would immediately become dull
On the left side – only the SIM card slot
Screen
The smartphone has a 6.53-inch screen, IPS LCD, 1080 x 2340 pixels, aspect ratio 19.5: 9, pixel density 395 ppi, Corning Gorilla Glass 3, brightness 450 nits.
The screen is really perceived better than it might seem if you look only at the characteristics. By the way, most smartphones in this price segment have 720p resolution, while POCO M3 has 1080 x 2340 pixels, that is, Full HD +.
It is better to keep the screen in auto brightness mode, since then the maximum brightness of the backlight reaches 450 nits. And this is quite a good value that allows you to work with a smartphone on the street.
Separately, it is worth noting that the screen is certified by TUV Rheinland for low blue light emission, and there is also Widevine L1 certification, thanks to which you can stream Netflix and other online cinemas in the best quality.
Separately, it should be noted that the minimum screen brightness is only 2 nits. We add a dark theme here, as well as the absence of PWM (that is, the screen does not flicker at low brightness) and we get an ideal smartphone for reading in the evening.
As always, I recommend ReadEra for reading (free, nice design, many settings, no ads)
The screen has all the right settings: a schedule for filtering blue and setting a dark theme, the ability to choose a color scheme, customize the desktop and icons to your liking.
Performance
The smartphone is smart and pleasant to use. Key components of success: Snapdragon 662 (11nm), LPDDR4X RAM and UFS 2.2 storage. The chipset has enough power, and the memory in synthetic tests shows results above average. This creates the feeling that the smartphone is more productive than you initially thought. Everything is in accordance with the slogan.
RAM and storage show values ​​above average for this price segment
At the end of the section on performance, the results of synthetic tests will be placed so that there is no feeling of deception or suppression. However, I emphasize once again that this is not a gaming smartphone or a device aimed at records. This is a smartphone with a long battery life, a good camera, and a performance that is comfortable for the user.
The interface flies. POCO engineers have tried, and the smartphone is practically not subject to throttling, that is, its performance does not drop under load. By the way, we cannot say that the device heats up seriously.
With the current hardware on your smartphone, you can play any of the games available in the Google Play Store. The same Call of Duty Mobile flies.
41 FPS in Call of Duty Mobile
And finally, the results of synthetic tests.
Battery life
The smartphone has a 6 mAh battery. I really hope that POCO will create a new trend in the field of batteries. For example, about the POCO M000, the company says that it has a battery of increased reliability compared to average smartphones. So, the manufacturer promises that even after 3 recharge cycles (and this, taking into account the size of the battery, about 1000 years of operation), the battery will practically not lose its capacity.
Separately, I am glad that the battery remains reliable even under high heating conditions, that is, if the room temperature is above 25 degrees. Under these conditions, the battery life of the POCO M3 is 20% longer than other smartphones. It is always good when a manufacturer declares certain quality standards that he promises to observe.
The smartphone comes with 22.5W fast charging. Unfortunately, the smartphone only supports 18W charging. It would be great if the device was charged with 33 watts. However, this is already a characteristic for much more expensive devices (around 20 thousand rubles).
18W is fast, but not when you have a 6000mAh battery. According to my measurements, a full charge takes almost 3 hours. I am glad that 50% of the charge can be obtained in about an hour. Here, by the way, the size of the battery must be taken into account. So, 70%, which can be obtained in about 1.5 hours of charge, is 4200 mAh. Many smartphones have smaller batteries.
Finally, I left the most interesting. Battery life indicators:
Video viewing (maximum brightness in manual mode, airplane mode, Wi-Fi) – 17 hours of operation;
Updating the page via Wi-Fi (maximum brightness in manual mode, airplane mode) – 21 hours;
3D game (maximum brightness, Wi-Fi) – 8 hours.
And finally, a screenshot of the PCmark test, which simulates various daily workloads. With such indicators, you will charge your smartphone approximately once every 2-3 days.
Camera
In POCO M3, the main camera consists of 3 modules: 48 MP + 2 MP (depth) + 2 MP (macro). The 48 MP module is a six-element lens with Super Pixel 4-in-1 technology.
The glossy surface on the back is great for taking selfies with the main camera
POCO has one of the best camera apps out there. It is simple and straightforward, and there are many useful modes. For example, shooting documents when the sharpness of the text is straightened, or time-lapses, or the ability to shoot video clips (short videos of 15 seconds, which are ideal for Instagram Stories format).
The quality of the camera is really "better than you think". 48 MP + algorithms allow you to get good footage both during the day and in the evening. Portraits also come out great, and having a glossy block on the back that can be used as a mirror is great for taking selfies with the main camera.
The smartphone also has a 2 MP macro camera. Probably, it was added to POCO M3, since it is not appropriate to release a smartphone with a dual photomodule in 2020, but let's be frank: 2 MP is not enough for good macro photography. You can get a good shot, but you need excellent lighting and a stationary subject, that is, ideal conditions.
A couple of features at once. The smartphone has artificial intelligence. It is up to the user to enable it or not. For some frames, it may be useful, while others, on the contrary, spoil them. AI basically makes the image more contrasting and brighter. Overall, AI is great for Instagram.
The second important point is to remember to use the night mode. Without night mode, the frame is dark and flat. Night mode made candy!
The third point – use a glossy surface to take portraits with the main camera.
The selfie camera is, of course, inferior to the main module.
Here are some more examples of photography.
POCO shell
POCO M3 runs on MIUI 12. The POCO M3 has a very clean skin with a minimum of pre-installed apps.
Separately, it is worth noting what all potential buyers of Xiaomi smartphones have been waiting for for so long. Yes, the smartphone has a call recording! Conversations can be recorded!
Nice feature of the smartphone. POCO did not skimp on the compass, unlike other manufacturers. Thanks to which the map reflects the direction in which the smartphone is looking
MIUI is a great shell with a lot of features and a high degree of optimization. I recommend reading the full review.
Conclusion
POCO has once again made a hit that will make many people think. The apparatus turned out to be extremely successful. An unusual and eye-catching design, a large battery, modern hardware and a 48MP camera.
What could be better? Only one!
At the start of sales, you can grab a smartphone with a discount of 2 thousand rubles, that is, the price of the 4/128 GB version will be 12 490 rubles. For this money, POCO M3 smears any competitors on the wall, and you need to take two pieces at once. But there is also a fly in the ointment. I will leave a link to the sale price, but the website states that the sale time is from December 22 to 24 (or while the devices are in stock), and the text according to the editorial plan should be released on December 25. The yellow ones have already sold out, and the blue and black ones are still in stock at the time of delivery. So check it out. Suddenly lucky.
Back to content >>>
Share: 





we are in social networks:
Anything to add ?! Write … eldar@mobile-review.com