China has entered the race to create super-heavy launch vehicles, one of the tasks of which will be to get people to the moon. The growth of space ambitions of the Celestial Empire does not allow it to lag behind the United States and Russia, which are ahead of China in creating super-heavy launch vehicles. The Chinese super-heavy launch vehicle will be able to deliver at least 100 tons to low-earth orbit and will become the basis for the creation of a Chinese lunar station.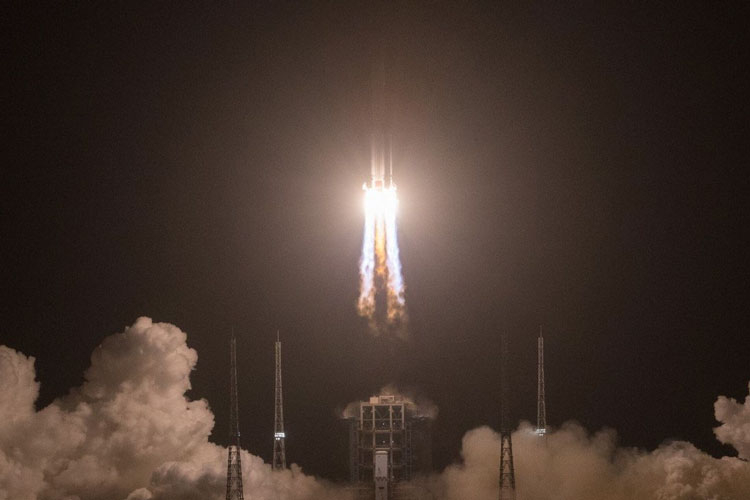 Today, the Chinese media reported that the project of the domestic super-heavy launch vehicle has successfully passed the feasibility study stage. Engineers will begin detailed development of the new launch vehicle in the next five years. This rocket will be able to put into orbit much more cargo than the modern record holder in this area – the American Falcon Heavy LV from SpaceX (up to 64 tons of payload). However, if the SLS rocket project is brought to the stage of operational launches, the United States will have a super-heavy launch vehicle with the ability to launch up to 130 tons of load into orbit.
The heaviest rocket in China remains Changzheng-5 with the ability to launch 25 tons of loads into Earth's orbit. This rocket last year helped deliver soil samples from the Moon and delivered a Chinese probe and rover to Mars, and by the end of spring the modified Changzheng-5B will launch the main module of the future Chinese orbiting space station into Earth's orbit. The new missile will quadruple the capabilities of Changzheng-5. Ultimately, it should help China build a lunar station by 2045.
If you notice an error, select it with the mouse and press CTRL + ENTER.