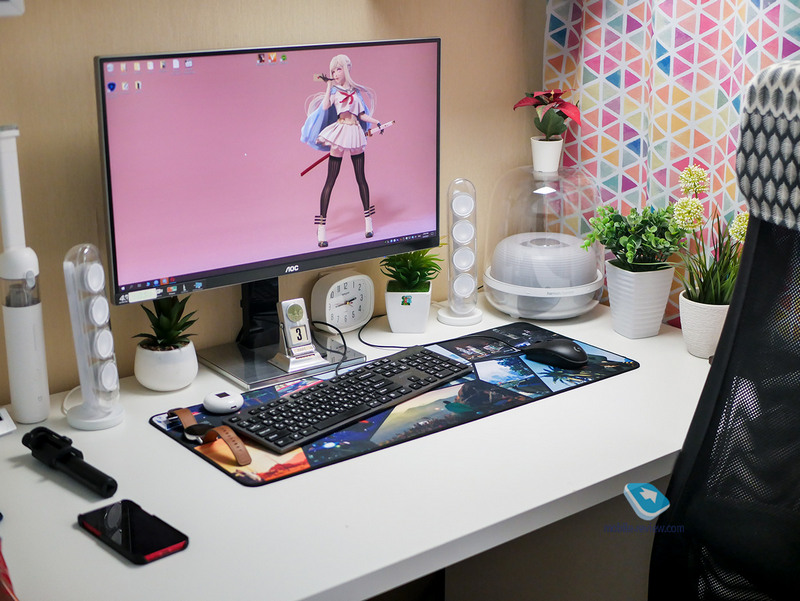 Content
Positioning
TECH SPECS
Contents of delivery
Graphic Design
Разъемы
About sound
Impression
Positioning
The Harman Kardon SoundStick audio system is legendary. I won't go into details, but back in 2000, at the Worldwide Developers Conference, Jony Ive, then vice president of industrial design at Apple, worked with Harman Kardon to develop the SoundSticks audio system. It consisted of two speakers and a subwoofer. The main feature of the system is a completely transparent case.
As the name implies, SoundSticks 4 is the fourth version of this model. The second version was tested by Sergey Kuzmin already in 2010, but the third one somehow passed us by.
Each model received minor design changes, but remained futuristic and unusual. In my opinion, the new, fourth, version has become a little simpler compared to the previous SoundSticks, but more practical, more convenient and of better quality. In addition, there is support for a wireless connection via Bluetooth.
I liked this audio system because it is made in white (my office is decorated in light colors, I try to buy accessories in white), belongs to a well-known company and costs relatively adequate money. The result is a beautiful set with a well-known name.
By the way, finding white speakers is not an easy undertaking, especially if you need an A-brand and compact dimensions that will not be opposed to sound quality. You can write in the comments a model of audio systems with similar parameters.
It should be understood that SoundSticks 4 is not a portable system, it connects to a 220 V network, connects to a PC using a 3.5 mm audio cable or via Bluetooth. Theoretically it can be used as a 2.1 soundbar.
At the moment, Harman Kardon SoundSticks 4 costs from 15 rubles.
TECH SPECS
Power: 140W (total RMS)
Woofer diameter: 5.25 inches
Speaker diameter: 1.4 inches
Frequency response: 40 Hz – 20 kHz
Weight: 4.4KG
Speaker dimensions: 27×4,5×5 cm, stand 8.3 cm
Size "saba": 27cm height and 21cm diameter
Contents of delivery
Audio system
Power cable
User's Guide
MSDS
Warranty Card
Graphic Design
The audio system consists of two speakers and a subwoofer reminiscent of Aura Studio 3. The final speaker is a work of art, a very stylish thing, and the sound quality is beyond praise.
The two SoundSticks 4 speakers are almost completely transparent, unlike the SoundSticks 3, where you can still see the speaker connections, their shape and type, see the "sub" stuffing and much more.
It is likely that Karman Kardon engineers removed some of the parts in the cases, since the aesthetics of the SoundSticks deteriorate over time. I've seen these systems with oxidized wires, corroded metal on the speakers. Or, perhaps, the idea was completely different.
One way or another, but the legs of the two speakers, speaker cases, cable channels and even the inner part of the "sub" are opaque.
Both speakers are mounted on flat round columns with a slightly concave shape. The mount looks neat and is designed as a thin tube connecting the main body to the stand. The structure is stationary, you cannot change the angle of inclination or rotate it. On the upright, you can see the inscription SOUNDSTICKS 4.
The speaker capsule is made of transparent plastic. On the front side it is sloping and smooth, and on the back side on the inside it is embossed.
At the bottom there is a gray translucent inscription "harman / kardon".
Each of the four speakers has a white plastic rim and is protected by a very thin plastic mesh on top. As far as I understand, the SoundSticks 3's speakers were protected by large round holes in the "tube" body. It seems to me that such a solution is more practical than a thin plastic mesh in SoundSticks 4. I haven't tested it for strength, but it's very scary to accidentally break through the mesh, because the "marketable" appearance will be lost instantly.
The loudspeakers are "packed" in translucent "cocoons", and you cannot see the internal circuitry. The speakers are held together by white plastic plates connected to a vertical stand.
At the bottom of the leg there is a rubberized material for greater stability.
By the way, at first glance it seems that the structure with the speakers is light and airy, but in fact, each of them weighs 600 grams!
White cables with a thickness of about 4 mm extend from the racks. They have an RCA plug (tulip) at the end.
The subwoofer almost completely replicates the Aura Studio 3: a large closed-top bulb with an opaque white plastic rim.
The internal structure of the components is not visible, as a matte "tent" with a hole inside is "stretched" from above. A truncated cone protrudes from this hole, at the end of which there is a metal platform with a polished edging.
There are about 30 LEDs under the platform, which light up in a circle depending on the set volume level. In standby mode, the "garland" does not light up, including during music playback. In short, it does not distract from work.
Under the subwoofer, you can see a white radiator diffuser.
Разъемы
They are located on the back of the subwoofer.
Convex device on / off button
Convex Concave Bluetooth pairing button
AUX 3.5 mm for connecting to a PC using a cable. There is no cable included, which is somewhat sad.
Two RCA (female) speaker outputs
Service connector microUSB
Power connector
About sound
Each rack contains four 1.4-inch drivers. The subwoofer is equipped with a 5.25 "driver.
Power according to the passport: 5 W per speaker and 100 W per subwoofer. Naturally, this is the rated load. The resistance of the "sub" is 2 Ohms. The total frequency range is 40 Hz – 20 kHz.
Apparently, before you Aura Studio 3, "divided" into three parts. Only there were 6 speakers of 40 mm, and here 8 of 35 mm. The woofer is either the same, or a little more literally a few millimeters.
The sound experience of the Harman Kardon SoundSticks 4 is exactly the same as the sound of the Aura Studio 3, down to the smallest detail.
The first thing you notice is deep low frequencies. If you use the equalizer on audio equipment, you can squeeze out a few more hertz (from 40 Hz by ear). In Aura Studio 3, it seems to me, the bass is even lower – from 20 Hz.
The "lows" of SoundSticks 4 are pleasant, not crushing, not buzzing. They are enveloping, soft, voluminous, without rattling. Yes, there are a lot of them, some may not like it, but I love this sound with a predominance of low frequencies.
The mids are accurate, especially the upper mids. Just due to the two speaker stands. However, the upper bass and lower mids fail slightly. The male parts sound a little muffled, but with the female ones everything is just fine. For example, on Marilyn Manson's "Personal Jesus", the vocalist is heard well, but not very expressively. But in "Do It So" by Linda – everything is super.
The upper highs are transmitted moderately and restrainedly. Usually I raised them a little, that is, the very "hi-hat". In general, SoundSticks 4 does an excellent job of conveying the sound of guitar, violin, saxophone, flute, drums and cymbals; worse – with the piano.
As a result, unlike Aura Studio 3, the new product transmits low frequencies a little worse: 20 Hz versus 40 Hz. However, the stereo panorama is much wider due to the spaced speakers. This is where the differences end.
I like this layout: those who wanted the sound of Aura Studio 3 for PC can now purchase SoundSticks 4. In addition, there is still the possibility of connecting a smartphone via Bluetooth to an audio system.
Impression
Every time I sit down on my computer, my eye is delighted with the interior thanks to the Harman Kardon SoundSticks 4 installed on the desktop. I think the SoundSticks series was created for exactly this: aesthetic pleasure. This is a really beautiful device that is not at all ashamed to be shown both in photos and videos.
In terms of sound, everything is very good here. But you should understand that this is not a pure home speaker system. In fact, they are advanced computer speakers for watching movies and music.
For those looking for beautiful acoustics for their study, room or hall, take a look at the Harman Kardon Aura Studio 3 – this is some kind of space.
In white, there are very few wired and Bluetooth 2.1 computer speakers. I have not found any direct competitors.
And if we take into account the acoustics of 2.0 white, then you can find a lot of options. But this is often without Bluetooth and subwoofer. In addition, they will be made in the classic type of body.
Therefore, the Harman Kardon SoundSticks 4 sound system looks optimal for PC, iMac, MacBook, Windows laptop or even as external speakers for TV.
I am happy to read your comments: tell us what beautiful audio devices do you have or which ones you used before?
Back to content >>>
Related Links
Share: 





we are in social networks:
Anything to add ?! Write … eldar@mobile-review.com