Many smartphone manufacturers have their own fan base, actively supporting their favorite manufacturer. It seems that Apple became the first such company – iPhones were actively protected and protected by the owners until they lost their pulse. Then came the imitator companies. For example Xiaomi. If you visit the presentation of their smartphones, you will periodically think that you are afraid of people looking at slides with technical characteristics with such love and tenderness.
And then came OnePlus. And this company also focused on its community. But it didn't seem to be that scary. Just geeks who wanted to buy an excellent flagship for cheap.
Time passed. After 5.5 years, the company released OnePlus 7 Pro. I watched the presentation of this smartphone, which had almost everything, like the competitors, but still "glorius" and "beautiful". The audience moaned and screamed as if they were playing The Beatles, and now it's 1964. What is going on?
I didn't like that presentation at all: they tried to hide banal characteristics with a lot of marketing. The reason is clear: a smartphone is expensive and needs to be sold. And it even kind of helped – in China, the entire batch was sold out, which is why the company deployed containers with smartphones that were heading to Europe and the United States to sell them on the local market. True, the size of the party is not specified. But this means that the company is doing well.
But, despite this, we got the British version of the smartphone. This is the most minimal version at 6/128 GB. And here are my impressions of this OnePlus 7 Pro.
Design
The smartphone looks top. From the point of view of contemplation, there is nothing to complain about: a huge screen, curved edges. The OnePlus 7 Pro looks really cool.
Then you take it in your hands and drag your thumb towards the scanner located in the screen. And then I realize that my index finger closes the lower module of the main camera. That is, in my case, it will always be splattered. But I have long fingers, our editor-in-chief Sasha Pobyvanets has shorter fingers, and he does not put them on camera.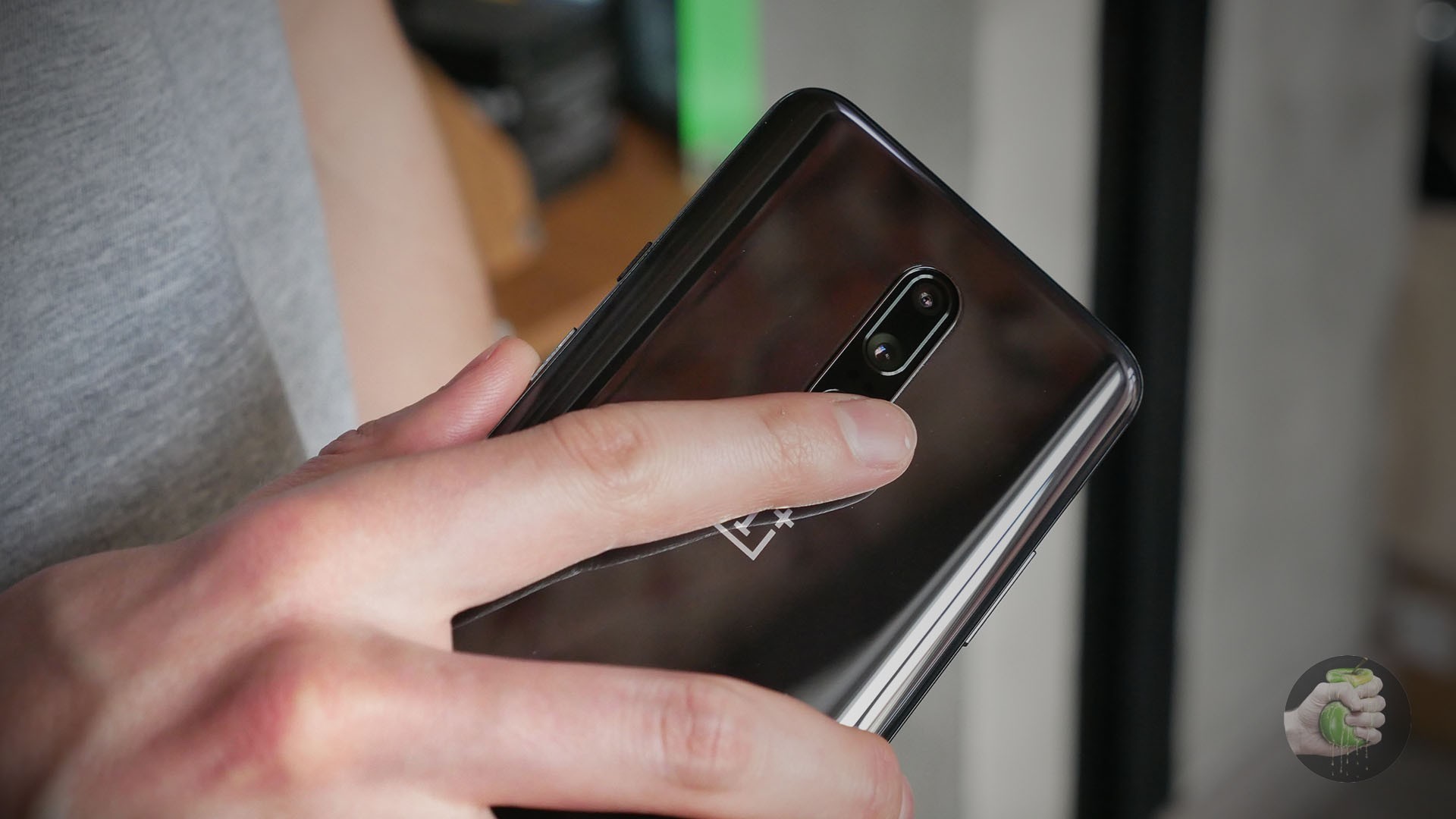 The smartphone is very heavy. This is the first thing that those who take it in their hands note. It seems that Xiaomi Mi 9 weighs half as much.
A special buzz is the mute rocker. Top solution. The regulator is always at hand, works perfectly.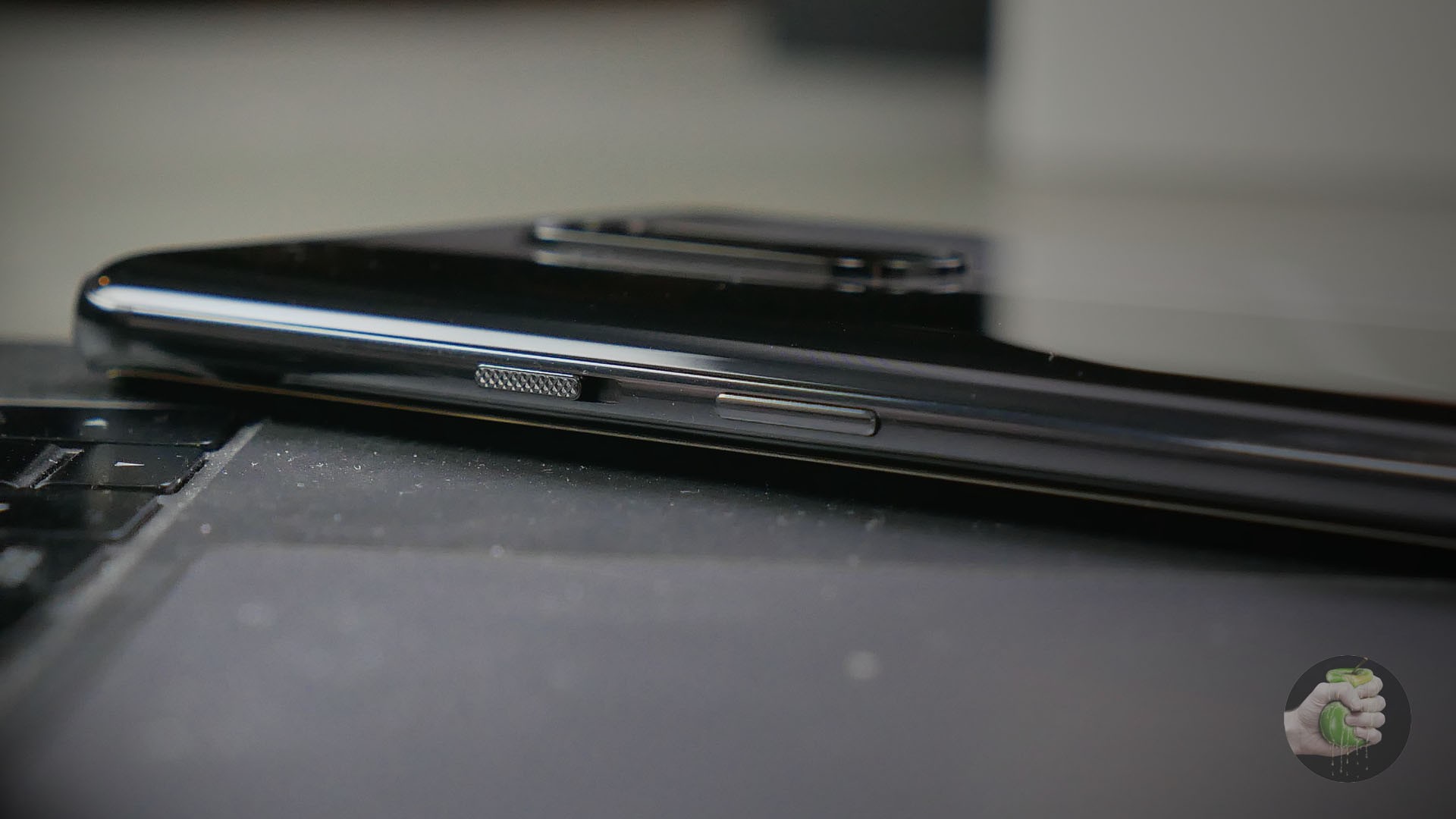 Camera
It just so happened that I'm more interested in the camera in the smartphone. I turned it on and took a selfie – a pop-up module immediately. And I saw something strange: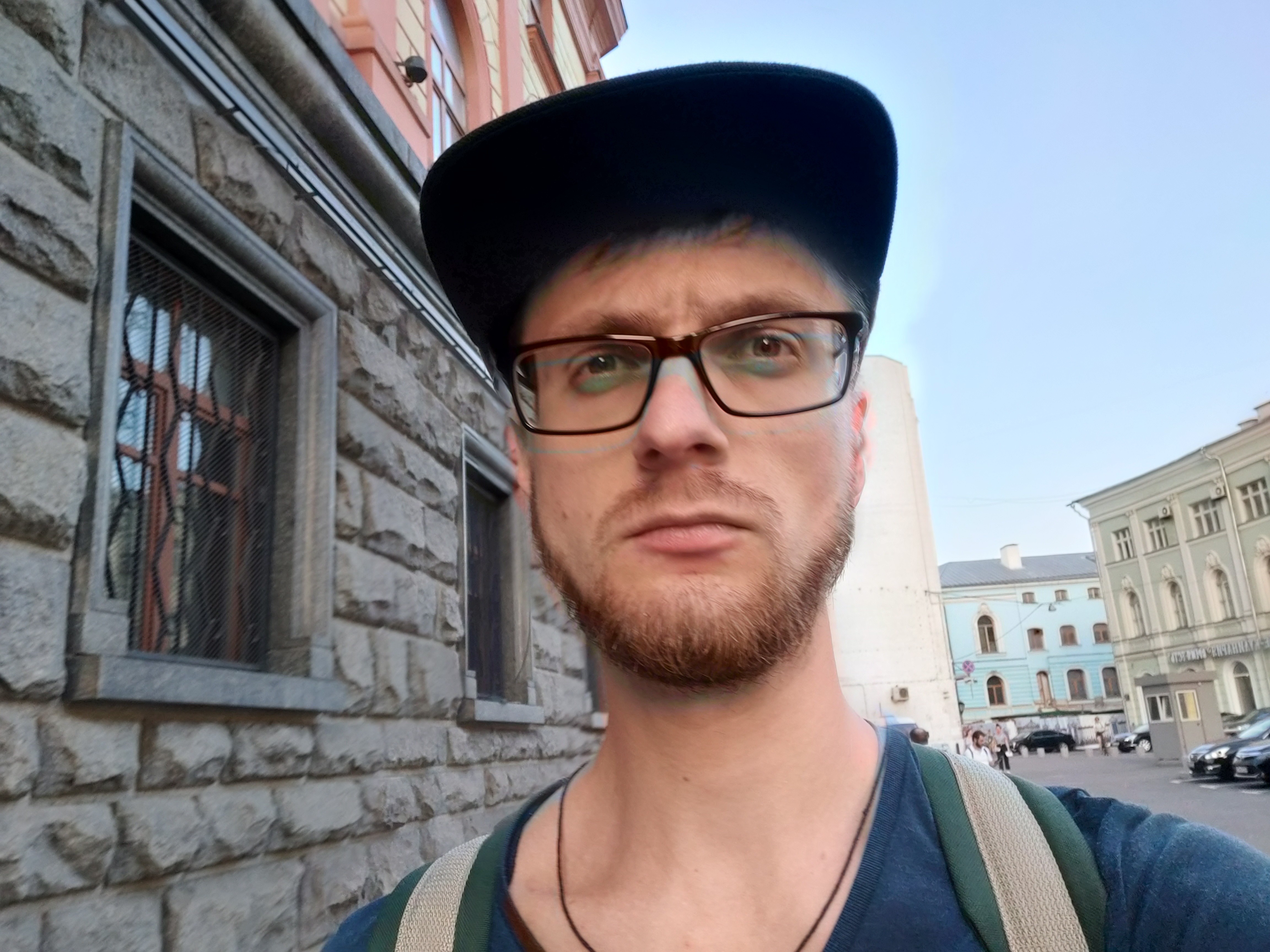 First, why did the photo come out so blurry everywhere except for the straps of the backpack? Secondly, what is that green halo near the glasses? Third, what is the blur border behind me? Fourth, what is that brown stain on the collar of my T-shirt? Fifth, where do my ears begin and end? Is this a Glorious Camera? Seriously?
This is not an HDR glitch – it has been disabled. These are not the consequences of poor lighting – at the end of May at seven in the evening it is not dark. It's just that the camera decided to shoot like that. I don't understand what was the problem.
OnePlus 7 Pro received four camera modules:
Sony IMX586 wide-angle 48 MP with seven lenses, and an aperture of f / 1.6. There is optical stabilization;
Ultra wide-angle lens with f/2.2 aperture. Its angle is 117 degrees. Resolution – 16 MP;
The optical 3x zoom in the third module produces 8 megapixel images. The aperture of this lens is f/2.4. But there is a problem with him, about which below;
The front camera takes pictures with a resolution of 16 megapixels. Aperture – f / 2.0. It is hidden in a periscope-type case: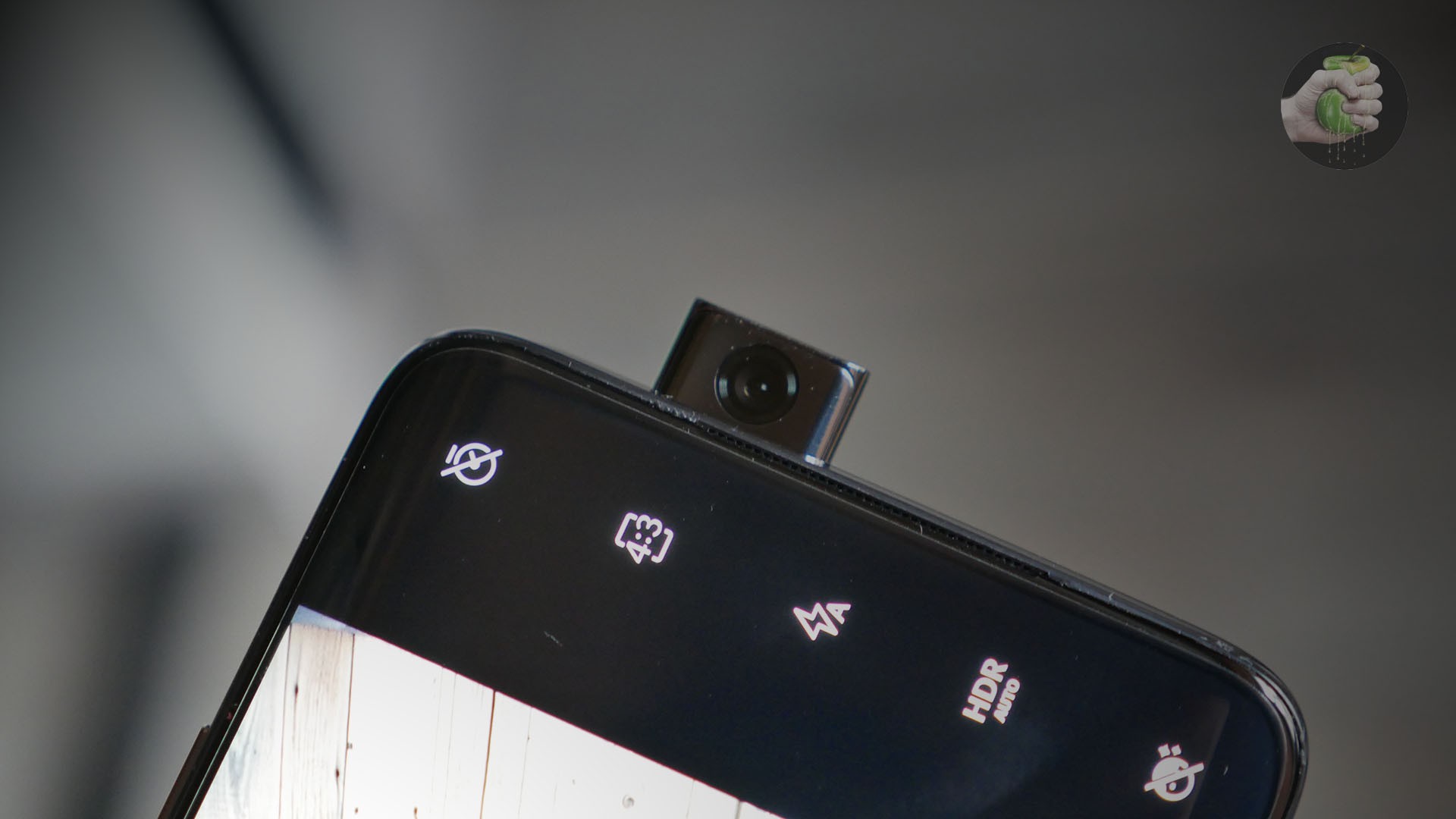 There was a small problem with the three main cameras. It seems to me that it would be logical if, when shooting a video, they would allow me to choose which module to shoot with. If, for example, I shoot how my friend rides a cool skateboard or BMX, then I will turn on the "wide" – it will look much more spectacular. But: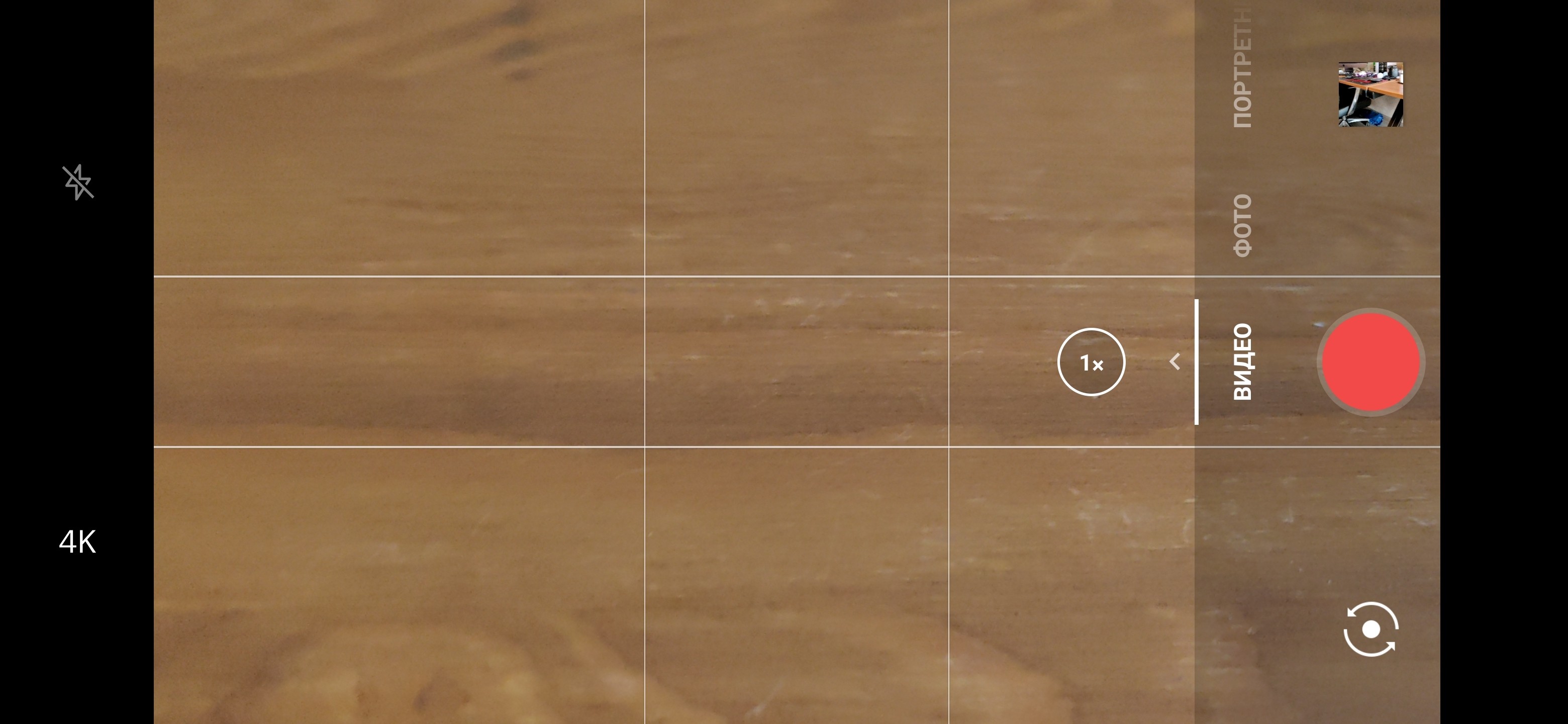 OnePlus 7 Pro allows you to shoot video with only one camera! What??? Yes, even Xiaomi Mi 9 is capable of shooting ultra-wide-angle videos! And it costs 20 thousand rubles less!
And here is an example of the vaunted optical stabilization of the OnePlus 7 Pro. I just walked with a smartphone in my hands:
Video here can be shot with a maximum resolution of 4K 60fps. At the same time, the smartphone does not remove them for more than five minutes. Want to shoot something authentic, but forgot about the restrictions? Reshoot – the smartphone does not divide the captured objects into pieces for five minutes. Filmed this passage – start the camera again. However, Xiaomi Mi 9 quietly shoots longer videos.
Or the story with the same triple optical zoom. In fact, its optical approximation is 2.2, and everything else is a crop figure . This has never happened before, and here it is again !
These and subsequent examples of images are clickable so that you can view them in the original.
Then I turned on the main camera and started taking pictures on it. The main module here is the Sony IMX586. The same is in Xiaomi Mi 9, ASUS Zenfone 6, Honor View 20. I think next week I will write down a comparison with Xiaomi for sure.
And this is what I got: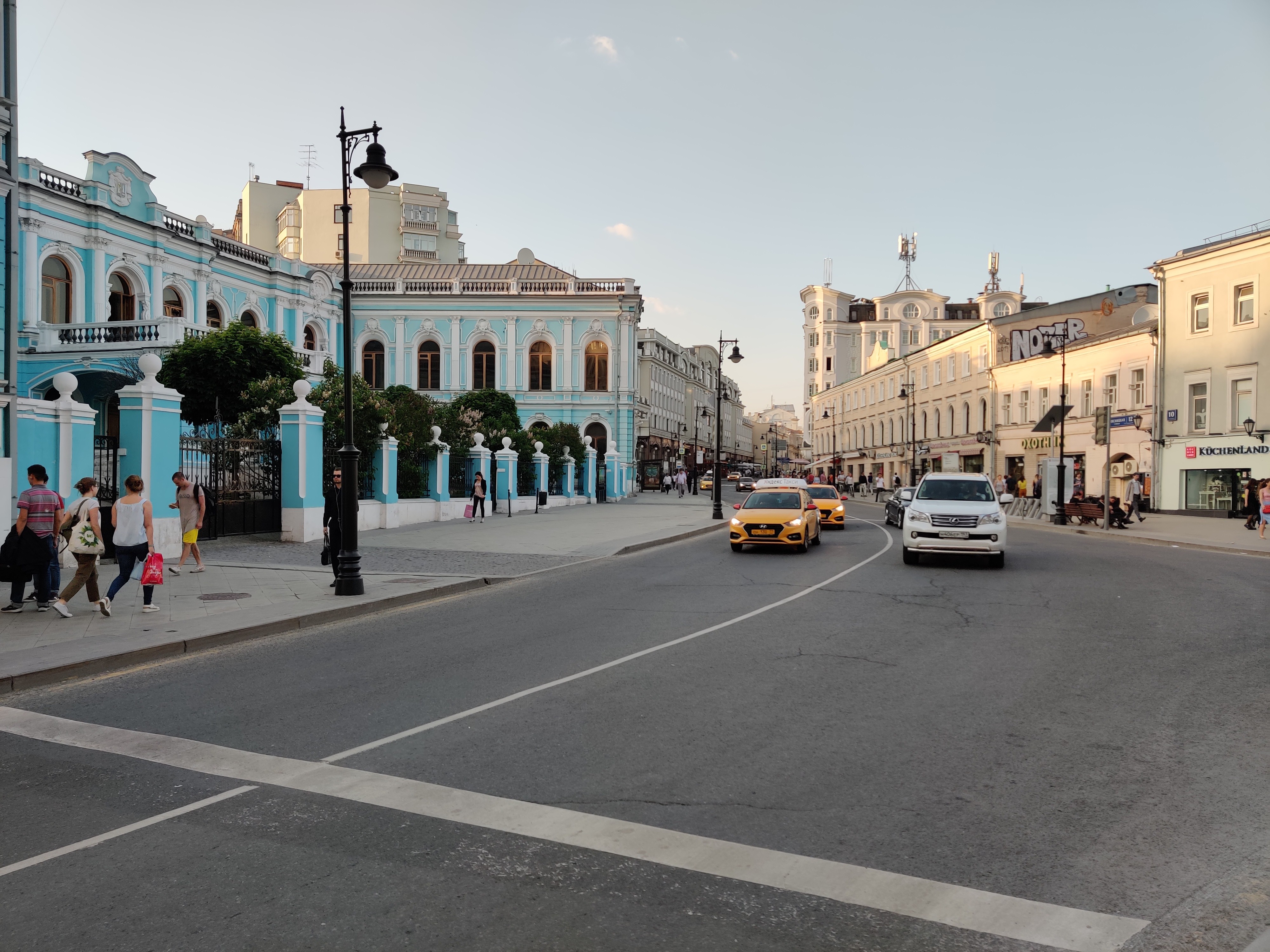 It is important to understand here that the buildings are not painted so flat. They have a texture, slightly changing color from lighting. However, the camera decided that I needed HDR, and did not do it very well. The result is just a flat photo.
Let's make a crop: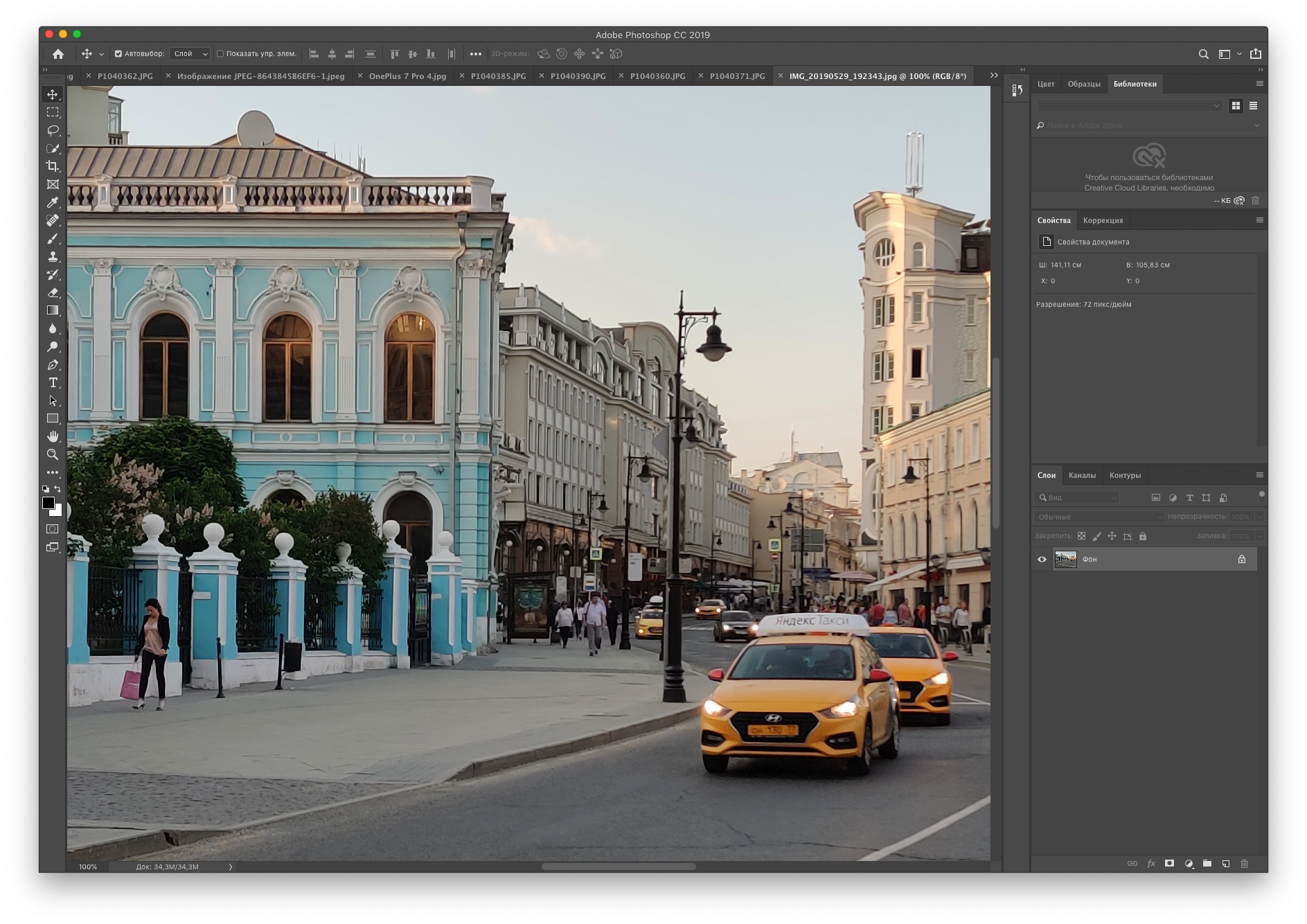 Noise reduction eats up all the details, which creates a watercolor effect. The sky suddenly took on a slightly too warm hue, although it was distinctly blue. The white balance is a big lie in this picture. The camera also oversaturated the blue color of the facade of the Saltykov-Chertkov estate.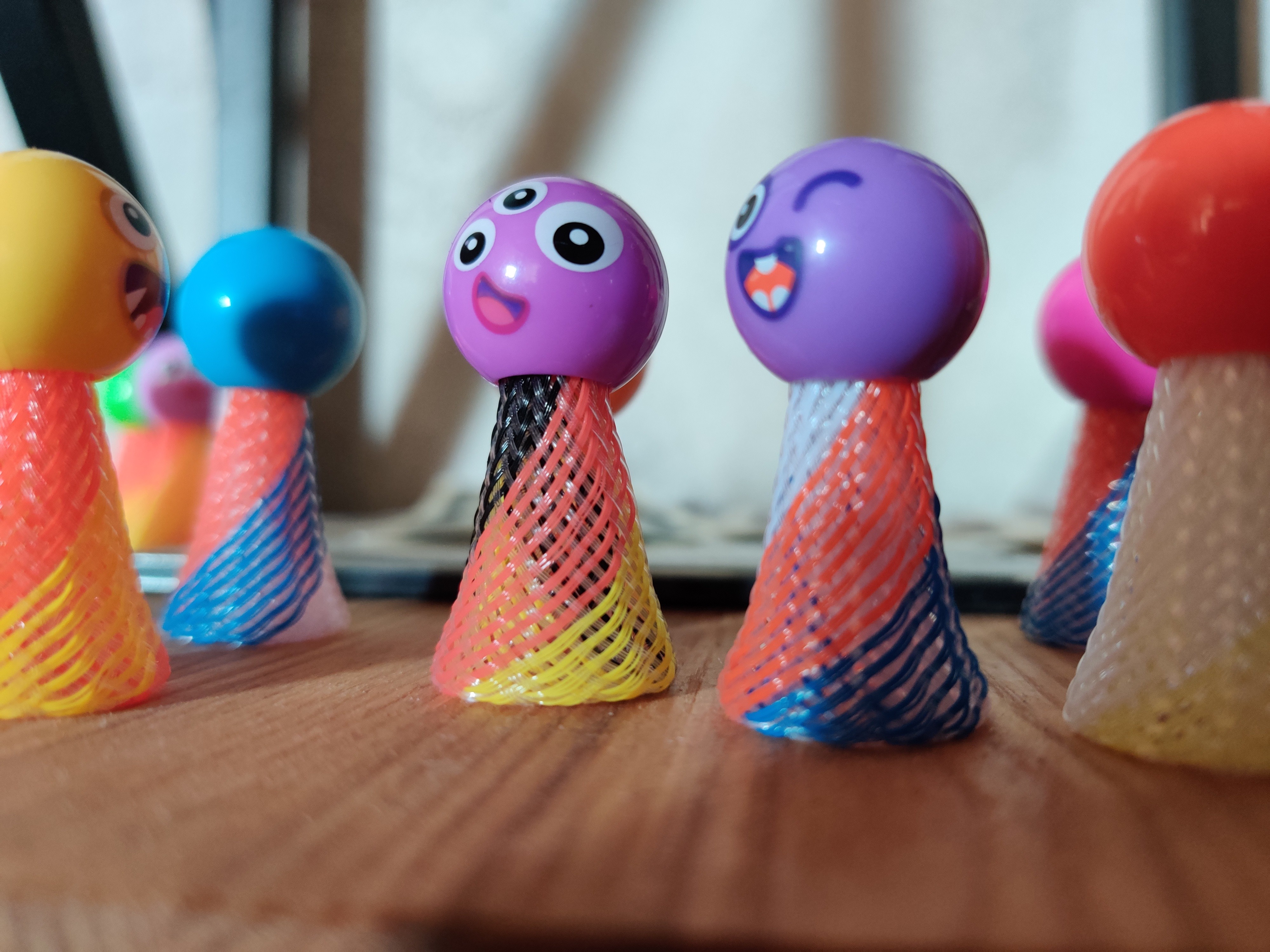 Here I built a trick on a three-eyed figure. Where he went is unclear.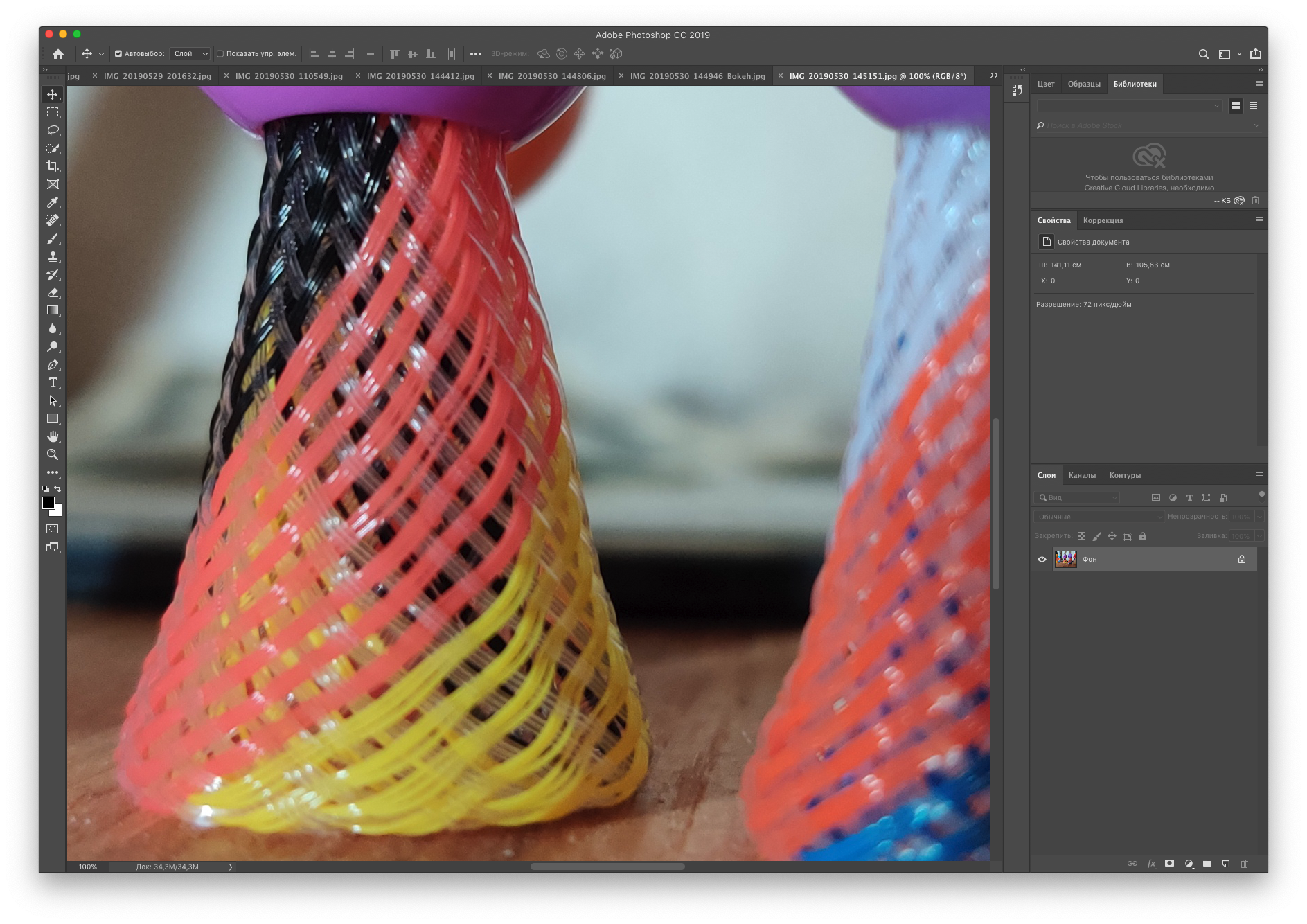 On a crop of 100%, it is clear that the focus is generally not clear where.
It was conditionally macro. Autofocus in this mode works very badly: it focuses in the wrong place, cannot focus in the right place, even when you poke the screen in the right area.
The first picture was taken in the evening. The sun had not yet set, but it was already relatively dark. At the same time, it is clearly overexposed, and the grass on the right is oversaturated.
The second picture is an example of the operation of the ultra-wide-angle module. That moment when it coincided: the sun is not too bright, but there is enough light, the sky looks dramatic, and the building fits into the frame cool.
Let's look at crops:
Portraits: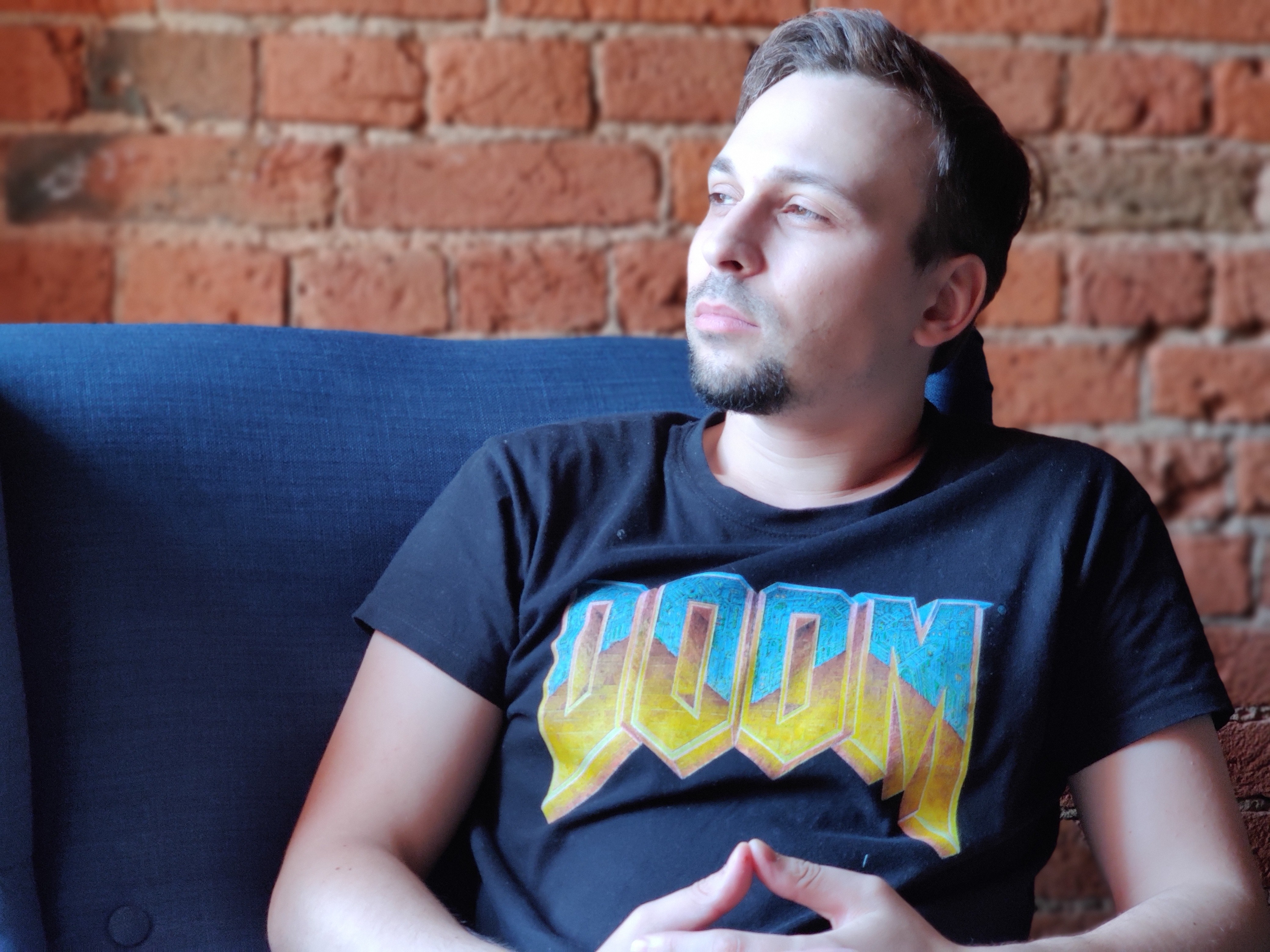 The lighting conditions were very good: a bright sunny day, our streamer Pasha is sitting right by the window and looking thoughtfully into it, deciding what to bend his opponents into today. The smartphone identified Pasha as a person. The smartphone saw his face and focused on it. But where is the focus? And the focus is on the wall under the left armpit!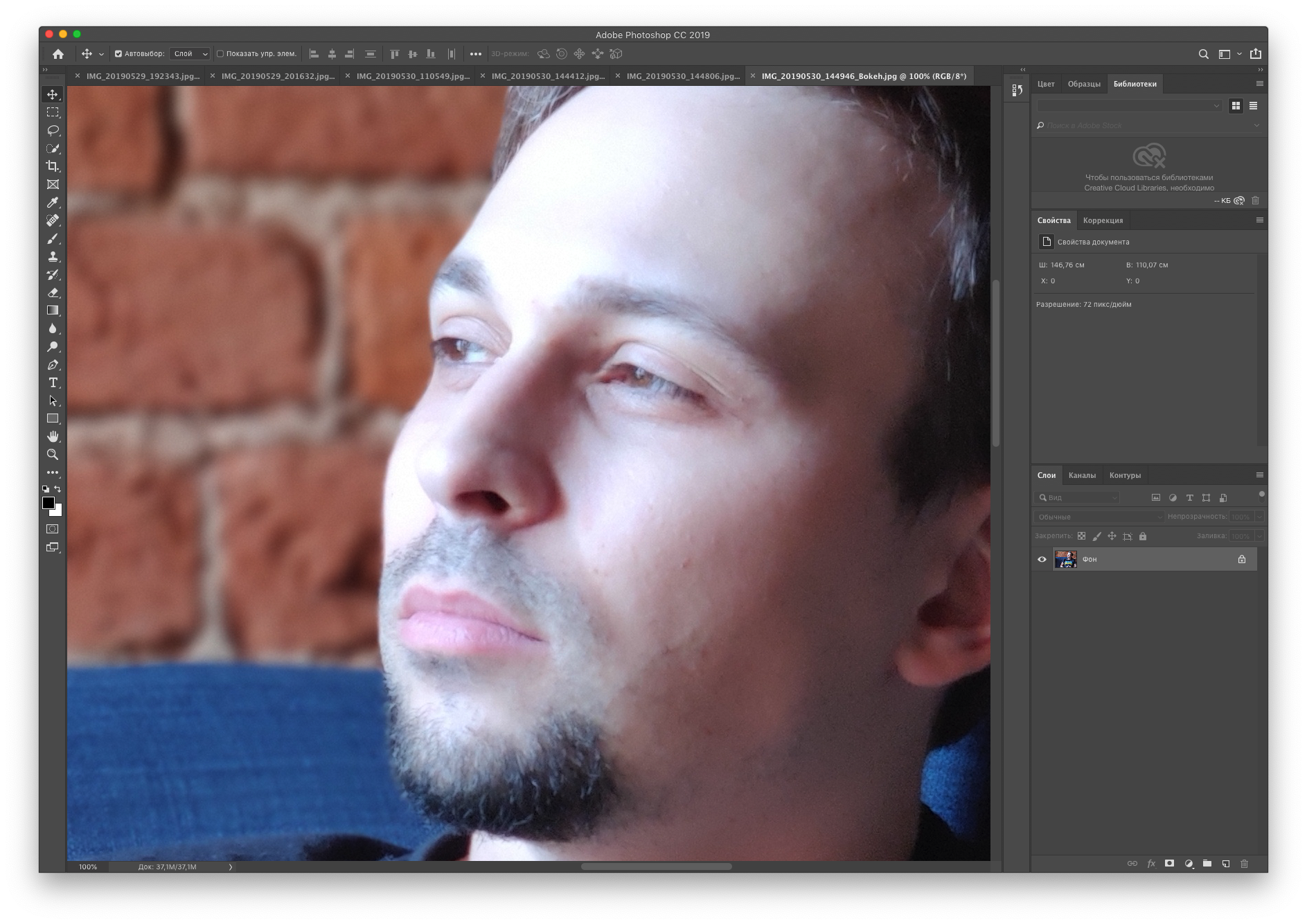 The picture was taken with the beautifier disabled. But Pasha recently turned 31 years old. On his forehead there are shallow, but wrinkles. Do you see them in the photo? In general, it is difficult to see anything in this photo, but there are clearly no wrinkles here.
Also, the white balance constantly smears: in one place the picture is oversaturated, in the other – undersaturated. There is a manual mode, but there you will not be able to set the correct temperature.
True, in the night mode it quite hits: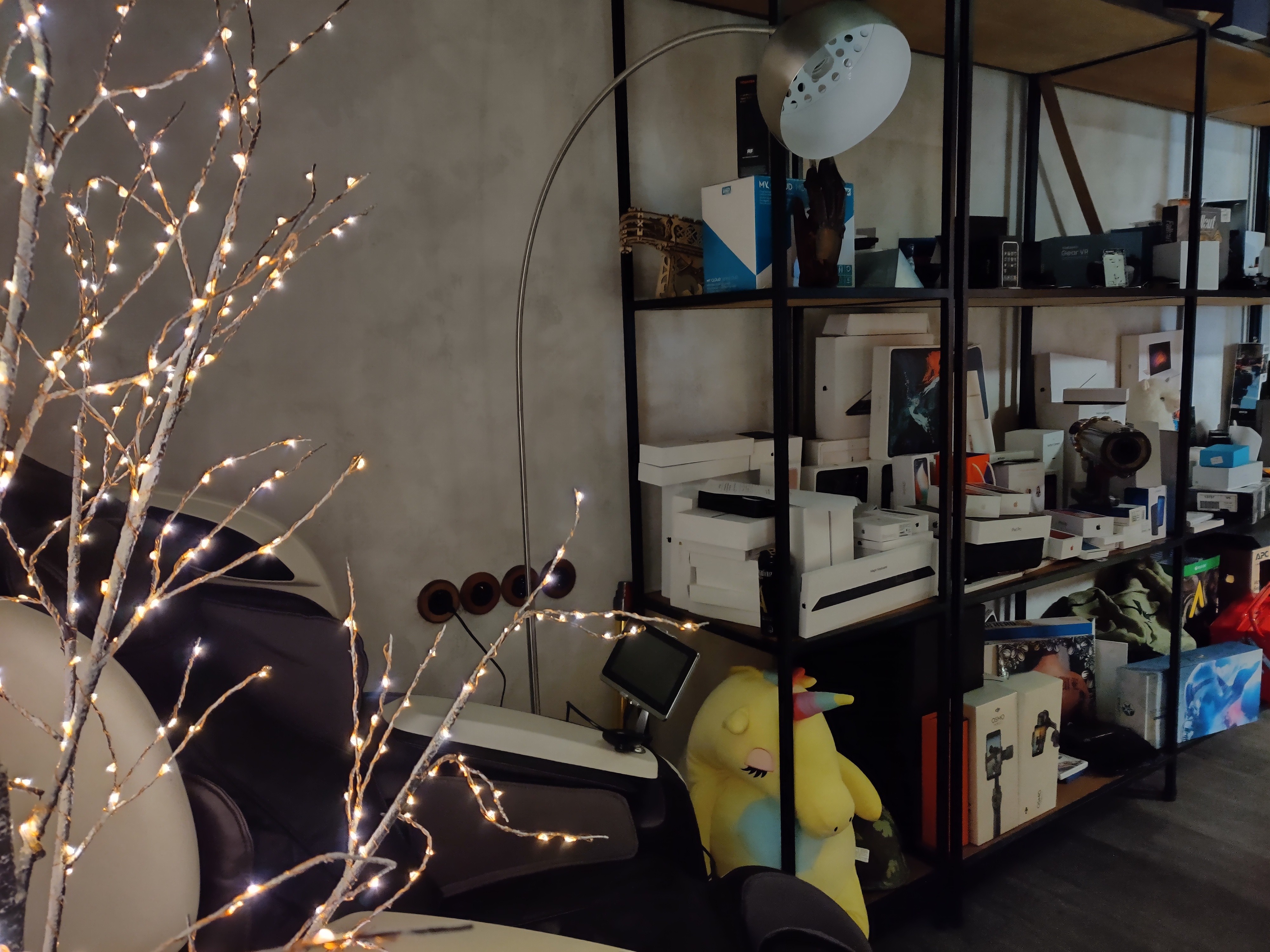 But the noise reduction in the vaunted night mode ate almost all the details: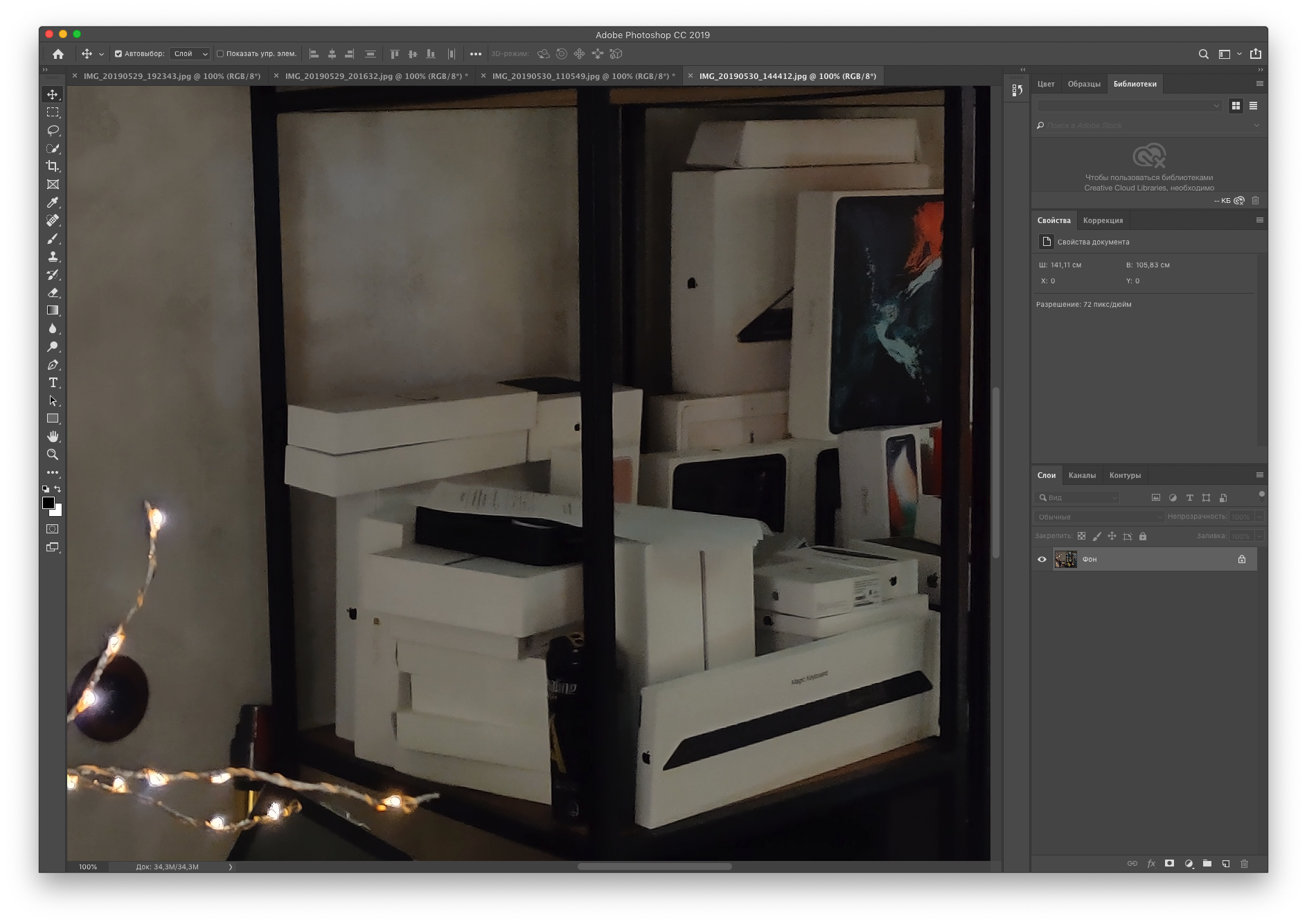 In general, photographing, I constantly shouted: what the hell is going on? Why so bad? OnePlus needs to work very long and hard on photos. While this is not the level of a smartphone for 50 thousand rubles.
Scanner
There is an optical fingerprint scanner. He works as he pleases. At one point, he simply refused to read all my fingers. I washed, wiped them, wiped the screen – it's useless. Only a pin code. After 15 minutes everything was fine. What was it? Unclear.
Works fast. Plus or minus the same with the lightning-fast scanner Huawei P30 Pro.
Screen
The AMOLED display occupies 93.22% of the front panel. This is a huge 6.7-inch screen with a resolution of 3120 × 1440 pixels.
Here's a consumer tip related to this screen: if you really want to buy the OnePlus 7 Pro, but your fingers are small, then don't buy it. I have pianist fingers, but I find it very inconvenient to use this smartphone with one hand. By the end of the evening, my right thumb was falling off.
The maximum brightness of the display will not cope with a bright sunny day. Even in cloudy weather, when the sun is hidden behind clouds, the image is very dim. My iPhone XS does better in bright sunlight, not at full brightness.
On the curves of the screen, the colors go very green: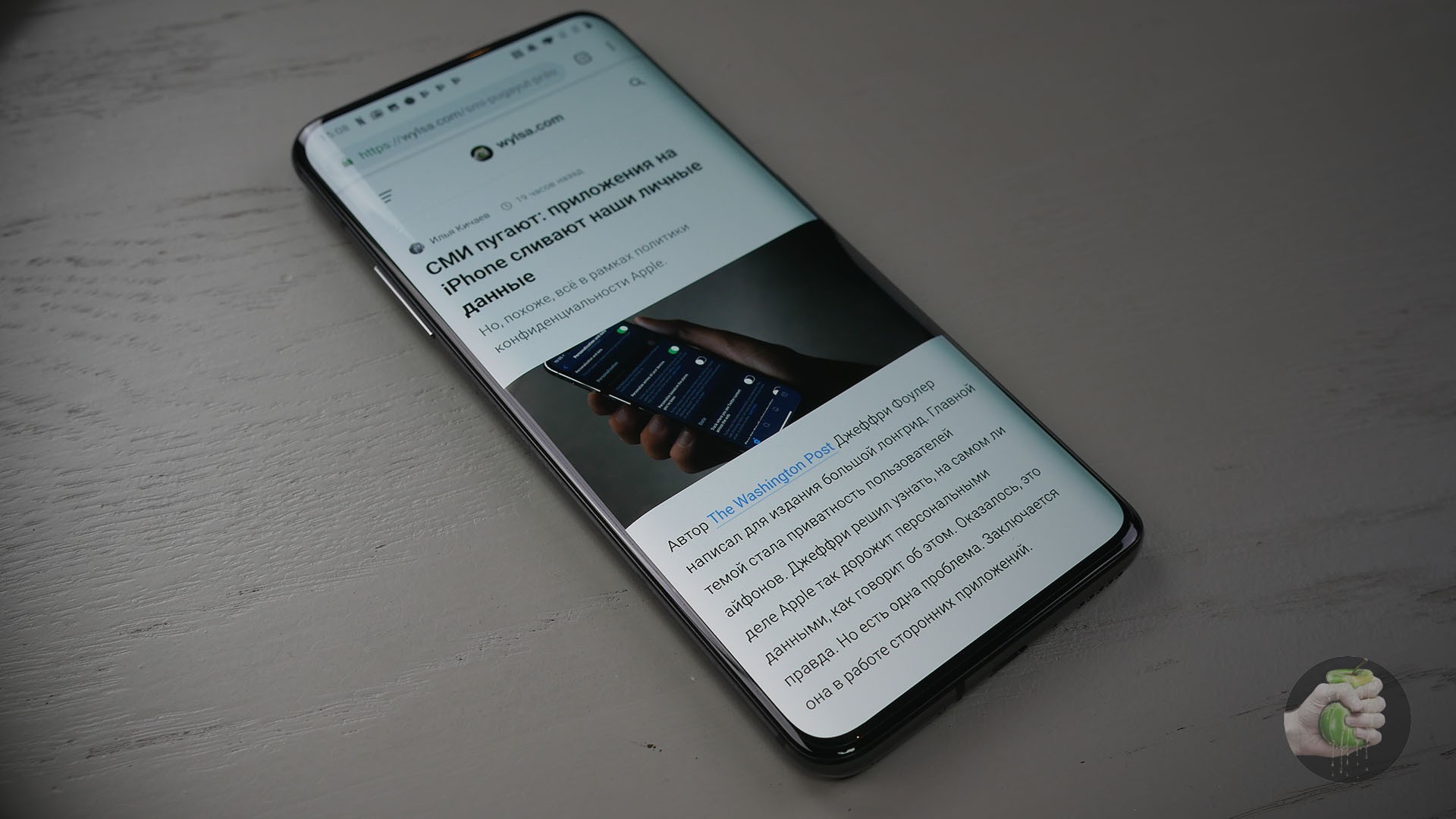 90 Hz
An interesting feature. When scrolling in the browser, it really looks good. It is very reminiscent of the feeling when watching a movie shot at 24, but synthetically "improved" to 48 or 60 fps. If you like it, then okay. I don't see any special killer feature in this.
Performance
The Qualcomm Snapdragon 855 flagship processor is installed here. We have a 6/128 GB version. There is no doubt about the power of the smartphone: OnePlus has always been famous for its speed and performance. Any games will pull without problems. Especially for numbers lovers, I launched a benchmark on a smartphone:
Memory
Probably the main and really cool feature is LPDDR4X RAM and UFS 3.0 permanent memory. Applications run at lightning speed, everything works very clearly, without any freezes. Until you open 12 tabs in Chrome. At this moment, I saw that the smartphone began to think a little, but it was not critical – here OnePlus 7 Pro confidently pulls ahead of Xiaomi Mi 9.
Battery
The smartphone has a 4000 mAh battery. My OnePlus 7 Pro sample was 48% charged. I took pictures, ran one update, surfed a bit on Chrome. At ten in the evening, I no longer touched the smartphone.
Picked it up at 10 am when I went to work. Took a few more pictures. At 12 days, the smartphone showed 9%. It seems to me that this is not the best energy efficiency. I looked at the reviews of colleagues working in other countries, and no one praises the 7 Pro for its battery life.
I emphasize that there was no SIM card in the smartphone.
Charger
OnePlus 7 Pro received a proprietary 30W WARP Charge. Charges really quickly – there is honor and respect.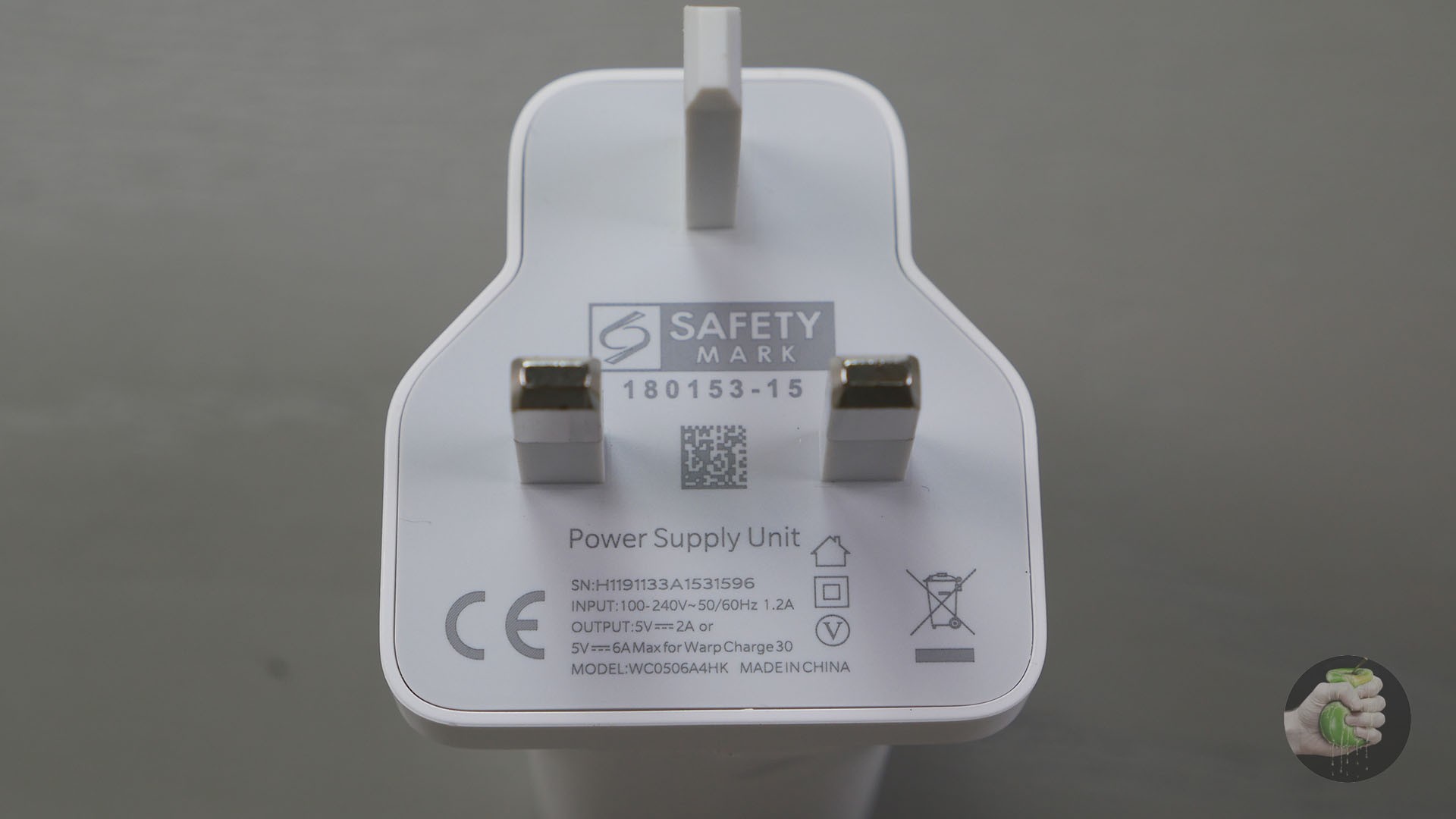 Vibration
The presentation mentioned a redesigned vibration motor. I asked my colleagues how much they like it. They say it's very nice, at the level of "Pixels". But Apple motors are very, very far away.
Outcome
To sum up without knowing the prices is quite difficult. In fact, the smartphone is good in everything except the camera – I would not sing any epithets to it. Therefore, if you are looking for a camera phone, then look towards other devices.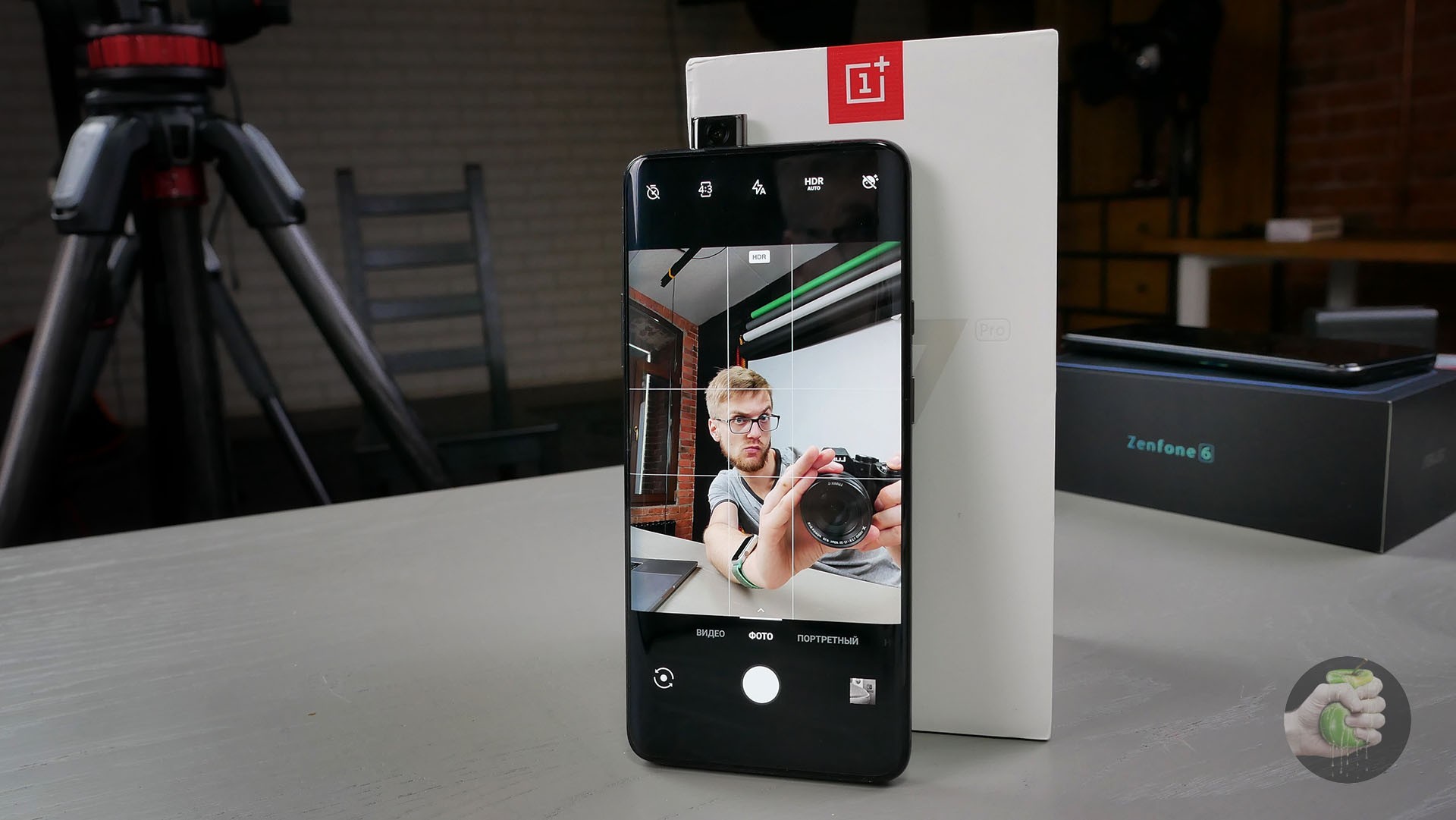 In China, a version identical to ours costs $580 (about 38,000 rubles). In the UK, where it was bought, the price is slightly higher – £ 649 (53 thousand rubles). In Europe – a little lower: 709 € (slightly more than 51 thousand rubles). And with us it will cost about the same, if not more.
I think it's overpriced. Especially for a smartphone with such a bad camera. For Xiaomi Mi 9 in version 6/128 GB in Russia they ask for 38 thousand rubles. But here the camera is better, Xiaomi records the sound better (it's shocked itself), it's lighter, you won't touch the cameras with your fingers, the screen doesn't turn green on the folds (they simply don't exist). Yes, Xiaomi doesn't have the Oxygen OS that OnePlus fans drool over, the 90Hz screen you won't see anywhere else.
The 7 Pro has amazingly fast memory – this is the main thing that really works on a smartphone. At the same time, except for launching applications, you will not notice this anywhere. The smartphone does not allow you to shoot video in 4K 60fps longer than 5 minutes. Why? What is the problem? And I'm afraid that using this smartphone, you will often ask the same questions.