The music streaming service Spotify, which had previously announced its withdrawal from Russia, stopped providing services for 2.1 million users from Russia. Just under a third of them lost access to the service in April.

During the report on financial results for the first quarter, Spotify announced that during the reporting period it managed to increase the user base with a paid premium subscription by 15% – now there are 182 million of them. The company achieved this result, despite the termination of work in Russia: in In March, 1.5 million users were disconnected from the service, and in April another 600,000 people were disconnected.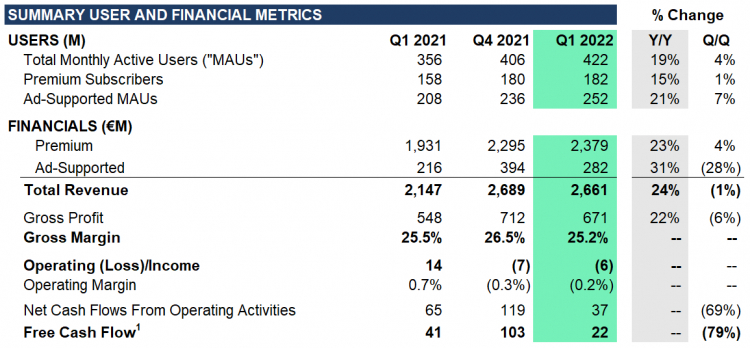 Overall, Spotify now has 422 million monthly users, up 19% from a year earlier. According to the company, the number of listeners who use the free version of the service with ads and various restrictions is 252 million people.
Swedish music streaming reacted to the Ukrainian events quite quickly: already on March 2, Russian users began to complain about the inability to renew their subscription. The next day, Spotify announced the temporary closure of its office in Russia, and at the end of the month announced its intention to completely stop its work in April – the last day of the service in the country was the 11th . In the middle of the month, the application was removed as unnecessary from the Russian sections in the Google Play Store and the Apple App Store.
If you notice an error, select it with the mouse and press CTRL + ENTER.