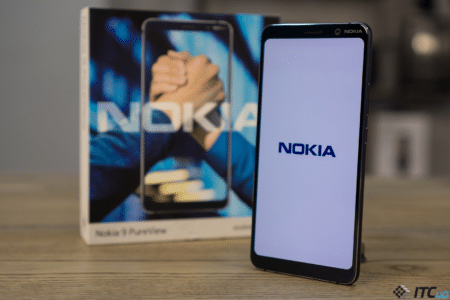 We've seen a race in smartphone thickness, synthetic benchmark scores, and now it looks like it's time for a rivalry in camera numbers. And so far, the victory in this competition is for Nokia, which outplayed everyone by installing 6 cameras at once in its flagship smartphone. But are they really needed in such quantity by a modern smartphone? Rather no than yes, but the Nokia 9 still shoots very, very well. As a smartphone, this model is also quite interesting, albeit not without flaws.
Message from the editor: Our defenders from the 115th brigade, which is now fighting in the east, need a pickup truck . Details for transferring funds to a monobank card – Polyanskaya Karine Sergeevna, card number 5375414101372265. We ask you to take part in the fundraising.
Glory to Ukraine!
Nokia 9 package bundle
In addition to the standard set of USB Type-C cable and 5V/3A charger, the Nokia 9 comes with a Type-C to mini-jack adapter. Yes, the latter is not here. And a small bonus is a wired in-ear headset, which, oddly enough, is connected via 3.5 mm. It sounds good, but it lacks high frequencies.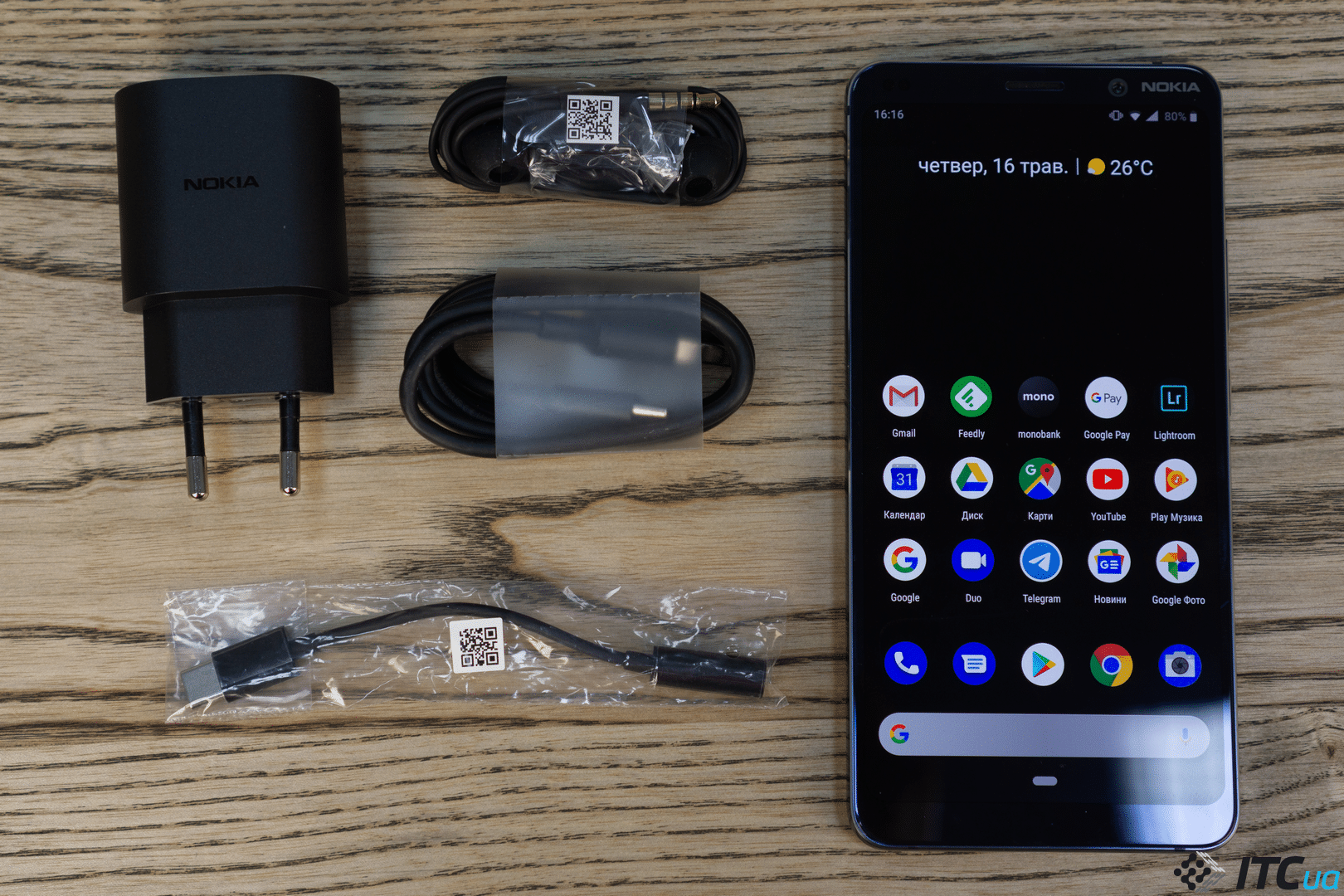 Design, assembly, materials
With the undeniable trend towards thin bezels, the Nokia 9 stands out, in both good and bad ways. On the one hand, there are no monobrows, drops and other essential attributes of smartphones of the last year. On the other hand, such a design cannot be called particularly modern, especially after a year.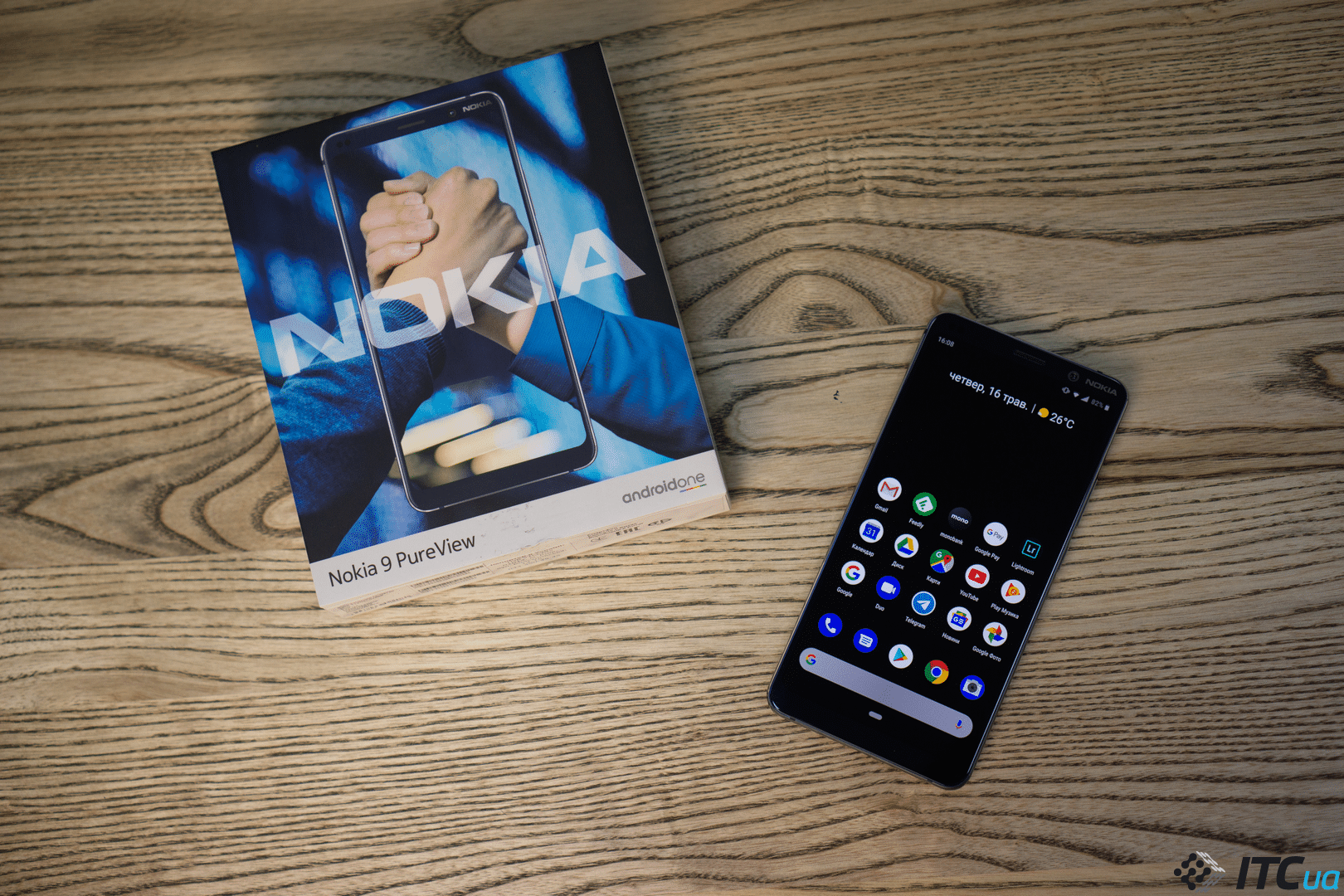 But I like the way Nokia 9 looks – restrained, but with a twist, expensive and stylish. Not the last role in this is played by the dark blue color, which in low light looks like black, and in bright light it changes to inky blue. So far, this model is only available in this color.
The back panel is made of Gorilla Glass. It is moderately soiled, scratches appear on it, but only with really inaccurate use. The sides of the smartphone are metal, they are slightly convex, thanks to their shape, the case is comfortable and quite secure in the hand. But it's still pretty slippery.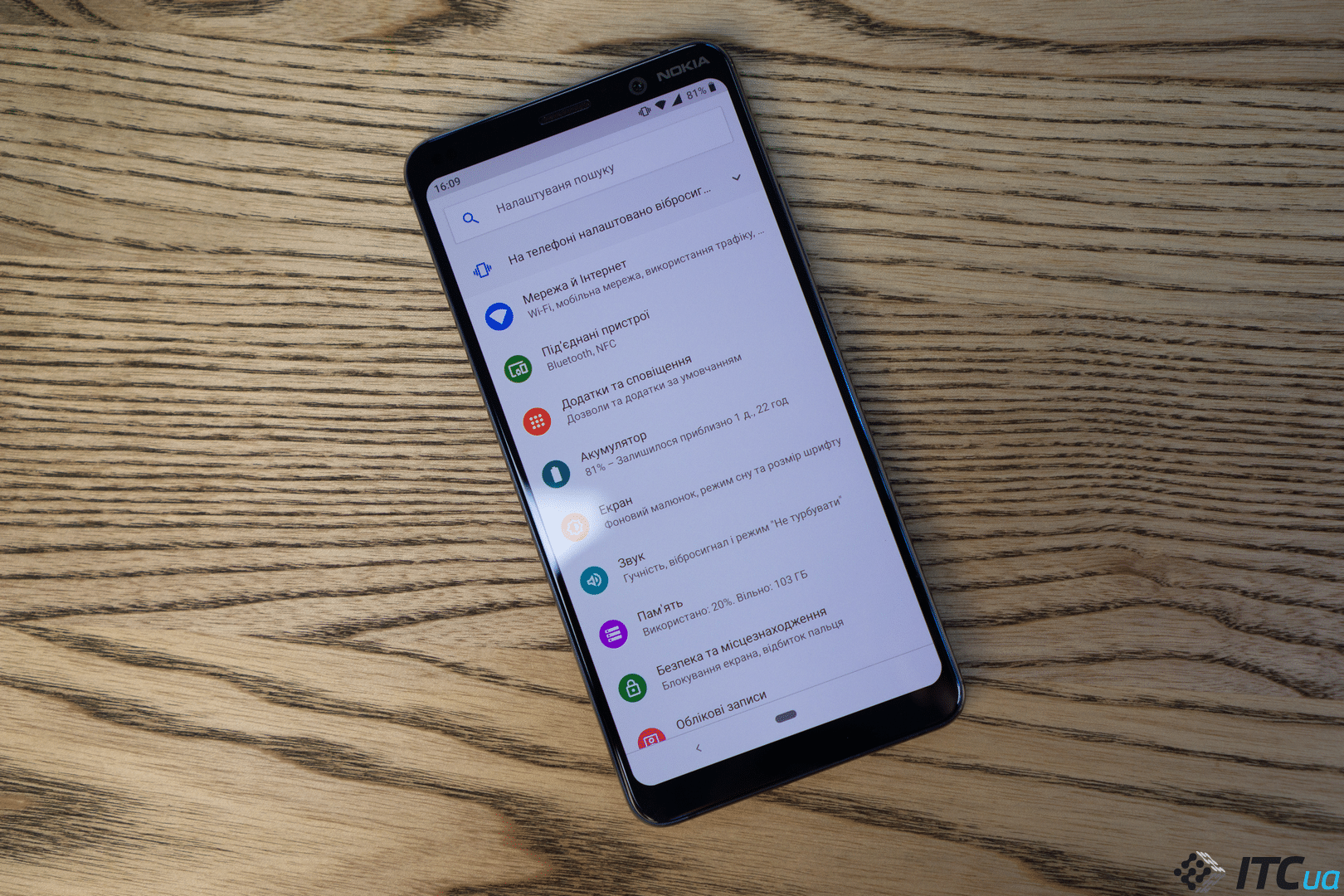 The location of the cameras is another design detail that makes the smartphone stand out from the rest. Fortunately, Nokia decided not to make a protruding insert a la the iPhone 10 and arranged the lenses in a hexagonal group. All of them are recessed into the case, which makes the back panel smooth. This allows the smartphone to lie on the surface and not sway. But on the other hand, the cameras are covered by the same glass as the rest of the back, so they do not have additional protection. If you do not use a case, the glass can quickly become covered with small scratches that will interfere with the lenses. In addition, this design increases the chances of damaging the camera modules if the smartphone is unsuccessfully dropped on a hard surface.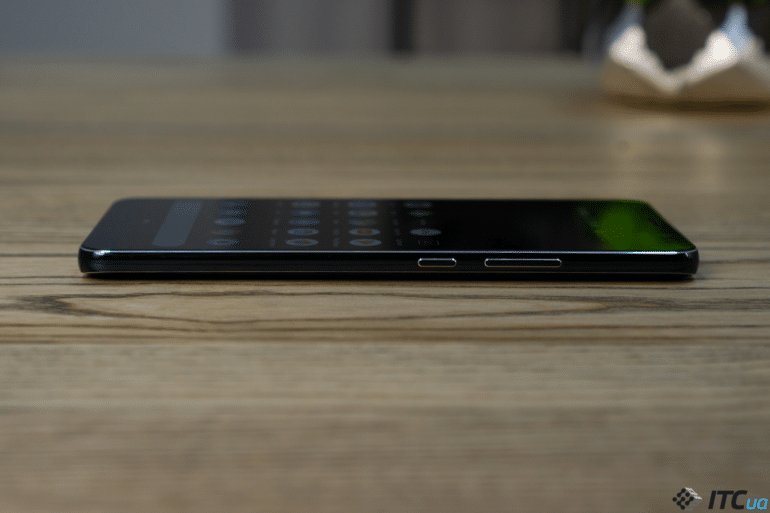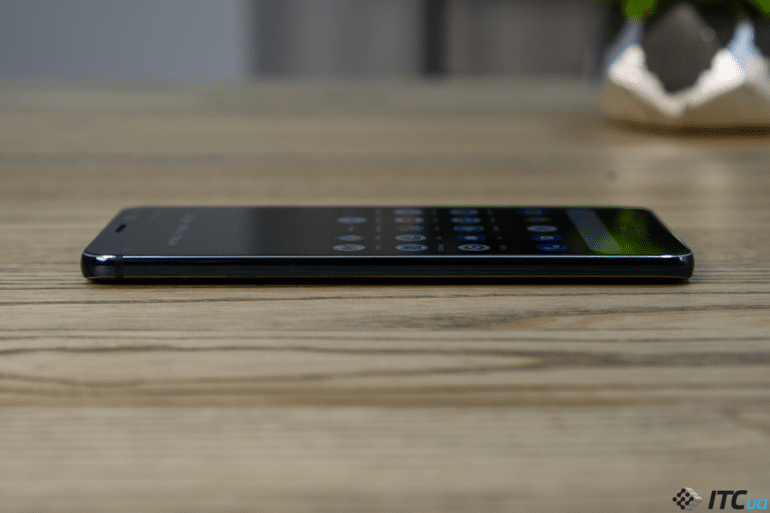 Connectors, interfaces
There is only one physical connector in Nokia 9 – Type-C on the bottom. Nearby is a microphone and a multimedia speaker. He is alone, loud, but his sound is just good, nothing more. Especially at volume levels up to 50%, distortions already begin above. Of the wireless interfaces, Nokia 9 has Wi-Fi 802.11ac, Bluetooth 5.0 with AptX and NFC. I didn't have any complaints about any of them. NFC works seamlessly with Google Pay.
Security
To protect user data, there is a fingerprint scanner in the display and face unlock. The latter works well, even at dusk and quite quickly. But the fingerprint scanner disappointed completely. During use, it worked correctly only 1 time out of 10. Moreover, you also need to press your finger hard enough against the display. In general, after honestly suffering for 3 days, I switched to face unlock, although this is also a compromise option, because it does not work very well for people with glasses.
Display
The smartphone is equipped with a 5.9-inch pOLED display with a resolution of 2880×1440 pixels. It's a decent screen, with good viewing angles and deep blacks. There are several gamma presets in the settings: bright, cinema, basic and adaptive. The most juicy picture is obtained in bright mode, and muted – in the basic one. For editing photos taken with the built-in camera, I recommend using the bright mode. The display of Nokia 9 has a good margin of brightness from 3 to 450 cd / m2, so the picture is clearly visible on a clear sunny day, and at night it does not hit the eyes.
Basic, bright, cinema
Equipment, performance
Despite the fact that Nokia 9 is formally a fresh flagship, this model has last year's filling. We are talking about the system-on-a-chip Qualcomm Snapdragon 845, which is equipped with a smartphone. Of course, there is nothing wrong with this, because its capabilities are still enough for any tasks, the main thing is that the software part does not let us down. But more on that later.
During use, I repeatedly noticed a strong heating of the case, especially in games and camera mode.
As a result of 4 test runs, a noticeable drop in performance due to overheating
The smartphone has 6 GB of RAM and 128 GB of internal memory. There is no option to expand the memory. There is support for two nanoSIM SIM cards. I have almost no complaints about the speed of work and application launch. "Almost" because often, after active use of the camera, even animations in the menu slowed down. And to see this on a smartphone with such a productive chip is strange. But it seems that saving photos in RAW is not an easy task for a smartphone.
The Nokia 9 runs pure Android 9 with minimal extras. The settings in the system are minimal, the speed is good, except for the cases mentioned above, and from the pre-installed applications there are only Google utilities.
In everyday life, the smartphone proved to be on the good side, I had no complaints about the stability of the software. To the quality of communication too. The speaker is loud, its sound is clear. There are no questions about the microphone, even next to a noisy road, it transmitted sound as it should be. The vibration motor is powerful, you feel it well even in your pocket. A nice bonus is the feedback motor that works when you use the standard Android keys when navigating.
Nokia 9 cameras
So, the smartphone has 6 modules: two RGB, three monochrome, one ToF sensor that measures the distance to objects. The resolution of RGB and monochrome cameras is the same – 12 MP, aperture – f / 1.8. According to Nokia, this should improve the quality of images in low light and make HDR more spectacular, because in the process of shooting in standard mode, 5 modules are occupied at once.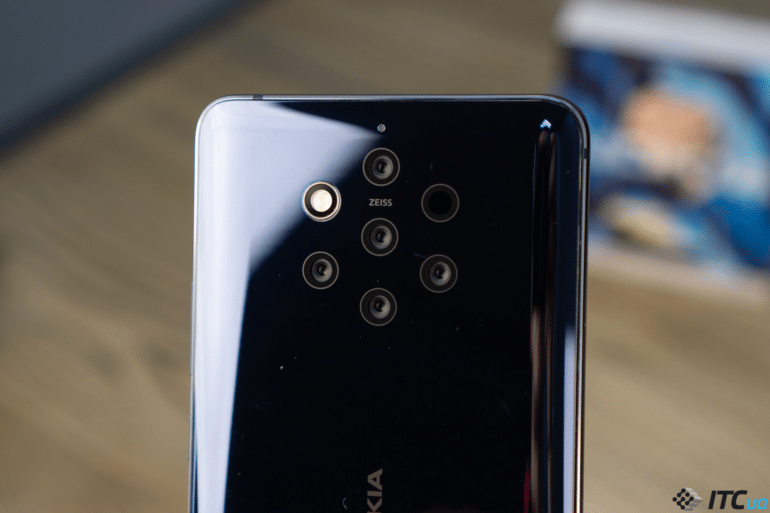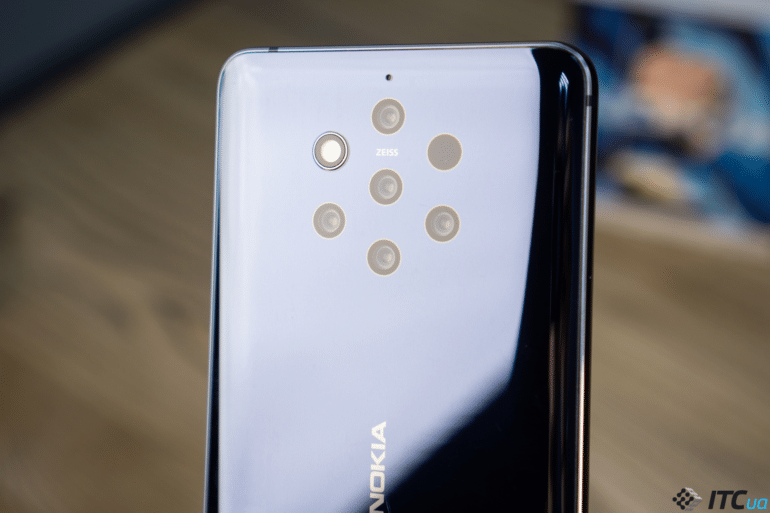 All modules have the same focal length. Nokia went its own way and ignored the current trends in the installation of wide-angle lenses and zoom telephoto lenses. From a technical point of view, such a set looks good, but my main complaints arose about the operation of the software.
Firstly, the launch of the camera takes a long time, sometimes up to 3 seconds. Secondly, switching shooting modes also takes a long time. And this despite the fact that it uses a powerful processor. Thirdly, there is no optical stabilization in any of the modules. True, this is not a software problem, but one of the complaints about the camera. And finally, the fourth disadvantage is the long-term saving of images, especially if you are photographing in DNG. And there is such a possibility. And in principle, you can really pull something out of the pictures in Lightroom later. But is it really necessary in a smartphone? In my opinion, it will be useful to a very small number of users.
In addition, keep in mind that there can be a lot of memory in a smartphone – 128 GB, but there is no possibility to expand it, and if you take pictures in RAW, then each such picture takes from 10 to 40 MB.
Showing examples of shots, I'll start with the simplest conditions for the camera – natural daylight. Here's something, and the Nokia 9 is pretty good at it. There is good sharpness, saturation and natural color reproduction. During the day everything is fine, almost no fault. True, HDR cannot be turned off, and if you want softer colors, then for this you will then have to work with the originals in RAW. You can see their examples at this link .
Night shots are just fine, there is no noticeable soap or color degradation. All the same, at least some benefit from additional modules is.
In monochrome mode, the pictures look stylish, but I have doubts about how much three cameras are needed for this at once.
https://www.youtube.com/watch?v=BifMiUQhxDw
As for video, the only drawback would be the lack of optical stabilization. Otherwise, the quality is good. HDR mode is also supported during video recording. The maximum resolution is 4K at 30 frames per second.
The front 20-megapixel camera takes good pictures, but no more.
autonomy
Inside the Nokia 9 is a 3320 mAh battery. Supports fast and wireless charging. With active mail synchronization, using instant messengers, several dozen photos and a couple of hours of listening to music, the smartphone works stably all day, from morning to evening. If you get carried away with games, then the charge will not be enough until the evening. Full charge from the supplied charger is achieved in 1 hour 45 minutes from 10 to 100%.