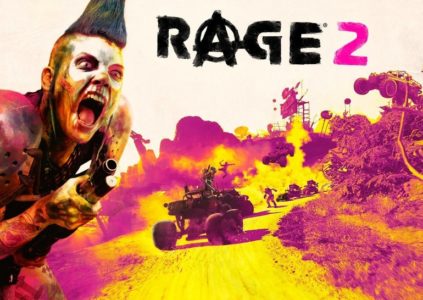 The amazing thing that has just appeared on sale RAGE 2 can be described in the same words as the RAGE that came out eight years ago. This is a really chic shooter, but overall a very weak game.
Message from the editor: Our defenders from the 115th brigade, which is now fighting in the east, need a pickup truck . Details for transferring funds to a monobank card – Polyanskaya Karine Sergeevna, card number 5375414101372265. We ask you to take part in the fundraising.
Glory to Ukraine!
Genre action/RPG, first-person shooter
Platforms Windows, PlayStation 4, Xbox One
Languages Russian, English
Developer Avalanche Studios, id Software
Publisher Bethesda Softworks
Steam site
Back in the review of the failed Generation Zero , we expressed serious concerns that Avalanche Studios, even working in conjunction with id Software (which in fact is not THAT id Software for a long time), will cope with the revival of the RAGE series. Well, we weren't wrong. RAGE 2 feels more like a compilation from the studio's previous titles, Mad Max and Just Cause 3 , with a touch of Borderlands 2 and Bulletstorm , than RAGE itself. And it would be nice if there were no certain claims to each of the components of the game, except for shooting.
So, another 30 years have passed in the world of RAGE, that is, according to the time scale of this universe, it is 130 years after Apophis. The remnants of humanity, who survived after the collision with the asteroid, got out of the Arks and defeated the Government, are gradually rebuilding a new life. The heroes of the first part have grown old. Nicholas Rain is lost somewhere in the wasteland, by the way, he can be found in the game not only in the form of a monument. The completely gray-haired Captain John Marshall runs a bar in the Trunk and is the informal leader of the community. Luzam Hagar didn't die in the game book (who even believes those books!), but became Mayor of the Source, a powerful woman. Her rival is Clegg Clayton, the narcissistic and spoiled son of the same mayor of Clayton. Dr. Anton Kvasir completely went crazy – he leads the life of a hermit and uses a trained mutant named Nogi instead of a wheelchair.
And, of course, General Cross did not die at all, for 30 years he saved up his strength to return at the head of an army of heavily armed cyborgs and mutants. He intends to restore the Government and destroy all the Arkists. And the evil cyber general begins with the rangers' settlement. Cross will manage to destroy the town and kill most of its inhabitants, only the general infuriates a guy / girl named Walker, who / oh gets the armor and the title of the last ranger (Ranger Walker, this is so cute!), As well as parting words from the head of the rangers and his / her adoptive mother, Erwin Prowley, to restore and launch Project Dagger, created by the leaders of the Resistance in case of such a return of the Government. The hero must contact Captain Marshall, Luz Hagar and Dr. Kvasir and, by completing their tasks, build a weapon against General Cross and finally (twice "ha"!) Kill the bastard.
However, the story has never been a strong point of games id Software and, what really there, Avalanche Studios. 100% of the missions in this game can be summed up simply as "go in there and kill them all". Yes, quests, as a rule, have verbose descriptions, but I'm afraid this work of scriptwriters and translators was superfluous, no one will read these opuses, because … in the end, you still need to kill everyone in the specified location. Yes, this time the hero/heroine seems to have motivations to avenge his adoptive mother and kick the bastard's ass, but, as in the first part, this is rather a slightly veiled version of Porthos's invariable "I'm fighting … just because I'm fighting!"
However, it is with this part of RAGE 2, as in the original RAGE, that everything is more than in order. Shooting is the best thing in this game. Inventive, sparkling, very dynamic, using the Afterburner and numerous special abilities of the hero, perks, different types of weapons with several alternative firing modes (normal, alternative and a variation with the Afterburner turned on), with the canonical wingstick (plus upgrades to it), melee, using the environment and so on and so forth. At the same time, the opponents are protected by armor, which beautifully falls off when destroyed, large and very large creatures have weak points that need to be hit, some bandits use invisibility and move very actively. Shooting in RAGE 2 is a DOOM (2016) gunplay on steroids or, if you like, Bulletstorm, which also cannot be called leisurely, in Turbo mode, and you expect points to fly to the sides for especially successful combos.
It's just an incredible, frantic pace of firefights. A medium-sized fortification of bandits can be cleared out in … a minute and a half, without stopping for a second in the process. Kill a hefty mutant in 20 seconds by dancing around him. And this, by the way, is one of the problems of the game. It is quite possible to complete the plot of RAGE 2 in 6-7 hours – this is very little. At the same time, it is not at all necessary to look for all the Arks with nanotite abilities and weapons. It is not even necessary to upgrade abilities and perks, with a fairly good command of the keyboard and mouse at a normal difficulty level, the game can be completed with basic weapons and characteristics. By picking up a shotgun (alternative mode turns it into a long-range rifle) and a rocket launcher, you generally become the god of death himself. On normal difficulty, there is no challenge in RAGE 2 – it's almost a casual game.
After the campaign is over, the player is offered to entertain himself in the spirit of Just Cause. Here you have a bunch of interesting weapons (what a gravity gun or an incendiary gun cost), a bunch of abilities (Whirlwind and Push are very good), a huge sandbox with dozens of activity points plus cheat codes that can change game parameters, physics, add an announcer, etc. . The problem is that all these daily activities, monthly tasks, etc. in RAGE 2 are all the same repetitive clearing missions. Kill them all and kill them all again. Clearing the map is boring, even despite all the charm of the local shooting, and even after the passage of the story campaign, even more so.
No, there's a lot in the game, like the good old Kill a Mutant show, but how many waves of monsters can you handle before you get completely bored? There are also races, but the handling of the cars in RAGE 2 is simply disgusting, and the cars themselves feel like coffins on wheels. To pass even a single plot race, you need to overpower yourself. But what is definitely good is the chases and battles with convoys, this part seems to have completely moved to RAGE 2 from Mad Max. But, again, after five or six chases, this entertainment will become boring to you. Moreover, only one vehicle can be upgraded in the game, and convoys are needed only as a source of spare parts.
By the way, about the role-playing elements in RAGE 2. It seems that Avalanche Studios and id Software played a little and did not notice how they turned the role-playing shooter into a full-fledged action/RPG. There are five or six types of experience / resources in the game, for which you can pump literally everything. Each weapon has its own development branch with different unlockable abilities. Each nanotrite skill has its own branch with its own bonuses. Plus three types of perks at three levels, plus gear mods, plus vehicle mods, plus cyber augmentations… Many RPGs have far fewer options. The problem is… most of these upgrades look completely unnecessary and far-fetched in a game that's all about shooting. There is so much experience and resources that you start to get confused in them, again, you can go through the game without paying attention to pumping at all. Then the question arises, why is it GENERALLY needed?
RAGE 2's world is comparable in size to Far Cry New Dawn 's. There are five different, but in fact almost visually indistinguishable, regions, now three "big" cities, where you can get tasks, information, buy and sell resources. Plus, in the story DLC, they should add a couple more areas, their edges are already visible on the map. Journeys are longer compared to RAGE, but still, the game's worlds are easy to drive around the perimeter in 10 minutes.
The whole world, including cities, is now one location, no subloads are required. RAGE 2, like other Avalanche Studios games, is made on the proprietary Apex engine, which copes well with large spaces and is capable of delivering stunningly realistic images, as, for example, in theHunter: Call of the Wild . The problem is that Apex is very weak in the display of rooms, as can be seen in the same Generation Zero , so most of the buildings in the game look pale, and many buildings in general are closed boxes that cannot be entered. Indoors, you can also find textures of fairly low resolution.
Another problem with the game is the change in graphic style. Instead of the restrained gray-green and slightly gloomy gamut of the original RAGE, the colors are rampant in the sequel, both in the design of bandit fortresses and merchant cities, and in character design. Brand posters do not lie, there is too much purple in this game, not as much as, say, in Far Cry New Dawn, but it is also noticeable – these new colors will seem inappropriate to someone in the post-apocalyptic world. In the case of New Dawn, we were at least given an explanation for this change in hue, but here it seems to be just following the fashion for poisonous "youthful" colors. The graphics are also spoiled by some blurring of textures and the general soapiness of the picture. Partly to blame for this modern anti-aliasing effects, partly, I think, the quality of the textures. No, RAGE 2 is still able to produce a very good picture, especially with anti-aliasing turned off in 4K mode, but personally, the restrained style of the first part seems more appropriate to me.
RAGE 2, released on Steam, initially used Denuvo protection, which, of course, caused the traditional dissatisfaction of the players. Adding fuel to the fire was the fact that the Bethesda store released the game without any protection, which led to its appearance on torrents the very next day. As a result, after a few days, Bethesda removed the protection from the Steam version, but the sediment, as they say, remained (as well as the blow to the ratings of players on Steam and Metacritic).
Bethesda really wanted to turn RAGE 2 into an extended support game, Game as a service. The GaaS structure for a single-player project implies a certain device of the game world and, as a result, is reduced to a formula that is successfully exploited by the same Ubisoft. Some people like the "tower" structure, some don't. Basically, I am a fan of such games, but in RAGE 2 the motivation to continue playing after the end of the story is minimal, there is nothing worth fighting for in the game – no higher-level weapons and equipment, or at least cosmetic items for the character. No, there are skins for weapons, but they are very few and make little sense, given the exclusively single-player campaign, they do not.
However, Bethesda has already unveiled a plan to support the game before the end of 2019 , because such roadmaps are another hallmark of GaaS and exactly what players are waiting for. So, in May we will have a new challenge, a world event and a weapon skin, in June – a big patch, a new type of vehicle, a weapon skin and new cheat codes, in July – a vehicle, event, enemy, skin. The first story DLC is scheduled for release in August, including a new region, faction, missions, abilities, etc. The second DLC should appear in the fall. All this, of course, is good, but, frankly, I don't think that RAGE 2 will be able to keep players for such a long period of time, all the tasks here are the same and there is no motivation to complete them.
This year we received several post-apocalyptic shooters at once. Far Cry New Dawn, Tom Clancy's The Division 2 , RAGE 2. Borderlands 3 will be added to this list on September 13, 2019. And something tells me that the winner in the confrontation between games about the end of the world will not be RAGE 2 at all. Yes, this is a great fiery shooter with frenzied gameplay, but everything that is not related to shooting is done in it a little casually. RAGE 2 will keep you entertained for a few evenings, no more.
After the disastrous start of Just Cause 4 and the debacle of Generation Zero, Avalanche Studios may not survive another failure. And apparently, RAGE 2 will not become a big commercial success. It's a pity, this studio had very good games, although the last of them came out already in 2015.