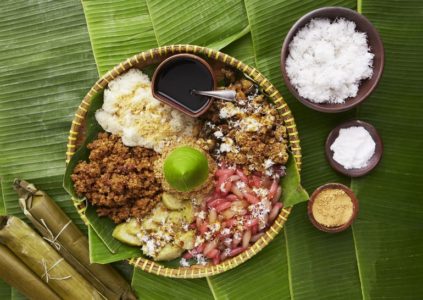 Every self-respecting TV channel should have its own cooking show, and preferably several. Viewers, for reasons that are not fully understood, love to watch others cook and taste food (Chinese vlogs in which hosts simply eat are a real cultural phenomenon). There are plenty of similar shows on Netflix too: Salt, Fat, Acid, Heat; Zumbo's Just Desserts; Nailed It; Cooking on High; Ugly Delicious; The Mind of a Chef; Million Pound Menu; Chef's Table. The new documentary series Street Food from the creators of Chef's Table differs from other shows in that it is not even street food that is at the forefront, but the people who cook and sell it, their personal stories.
Genre documentary series
Creators David Galb, Brian McGinn
Netflix channel
Release year 2019
Series 9
IMDb sites
To be honest, I am not a big fan of cooking shows, although sometimes, for one reason or another, I watch them, for example, on the Discovery channels. But Street Food captivated me literally from the first episode. And it's not just that I love street food and try to taste local dishes on the streets of the cities I visit, it's about serving. Where other shows focus on the ingredients, the nuances of cooking and serving dishes, David Galb and Brian McGinn focus on the people behind the counters. Whether it's a young girl who quit a prestigious job in the US, gave up her dream and returned to Singapore to help her parents run a tiny street food stand, or an old, aged Indonesian woman who spent her whole life sitting on the side of the road and cooking only one dish, but reached in this process of real enlightenment. Listening to these stories and watching people work, and this is really very hard, exhausting work, is incredibly interesting.
In terms of mood and presentation, Street Food reminded me of another Netflix documentary, the Losers sports show. Both here and there it is people who are in the spotlight, and people who were defeated lost everything, but were able to rise and find themselves in another area. Yes, many of the street chefs inherit their parents' business and continue to sell food from the same stand, cart or tray that their grandparents did 50, 70, 100 years ago, but almost all of them did not originally plan to do this. By the way, in this similarity of stories, and of course, people sell food on the street not from a good life, lies one of the problems of the show – the Street Food series are built according to the same scheme, and you roughly know what to expect from the next episode.
Part of the problem is that the first season of the show focuses on Asian street food. Yes, in this region street food is a cult, a ritual, an invariable attribute of life, in many large Asian cities there are no kitchens in apartments at all, people constantly eat on the street. But still, I would like some variety, because in the same Europe, South America, the USA have their own characteristic food that you can eat on the go. Let's hope that in the next seasons the creators of the show will go to other regions.
In the first season of Street Food, we will be shown the street life and food of nine Asian cities: Bangkok (Thailand), Osaka (Japan), Delhi (India), Yogyakarta (Indonesia), Chiayi (Taiwan), Seoul (South Korea), Ho Chi Minh City (Vietnam) , Singapore, Cebu (Philippines). Each episode has one main character and the dishes he cooks, and several minor characters with their own dishes. The series does not claim to fully cover the culinary traditions and habits of each of the countries shown, each episode is a kind of small window into the world of street food, a fragment from the life of people on the other side of the world.
Unlike other cooking shows, Street Food probably won't make you salivate profusely and make you want to immediately rush to the kitchen to eat something, but it will definitely make you want to travel more by paying attention to what is being sold on trips. from small stalls along the road, and try everything you can reach. After all, passing by an unprepossessing eatery with metal tables and not the cleanest tiled walls, you may risk missing out on the most delicious food in your life. And, as the Street Food series shows, such an unsightly eatery may well have a Michelin star.