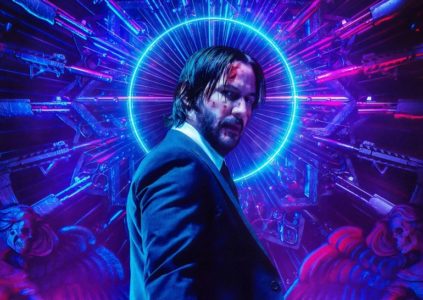 John Wick 3 is a movie with little to no dialogue, a rudimentary plot, and serious holes in logic. Nevertheless, it is simply impossible to break away from it – this is an action movie elevated to the rank of high art.
Action genre ,
Directed by Chad Stahelski
Cast : Keanu Reeves (John Wick), Halle Berry (Sofia), Ian McShane (Winston Lawrence), Fishburne (Bowery King), Mark Dacascos (Zero), Asia Dillon (Ajudicator), Lance Reddick (Charon), Anjelica Huston (Director) ) and etc.
Thunder Road Pictures Studios , Summit Entertainment
Release year 2019
IMDb website
Si vis pacem, para bellum
(Whoever wants peace, let him prepare for war – lat.)
Flavius Vegetius
So, John Wick: Chapter 3 – Parabellum starts literally five minutes after the end of John Wick 2 . Wick has broken the law of the criminal community and has a huge bounty on his head. He has an hour to get out of New York.
Actually, you can forget about the plot of the film on this: John Wick rushes around New York in search of a way out, trying to use old connections (you will never believe what nationality and what country Wick really is from, and how his real name sounds). Goes to the other side of the world. Accepts an offer that cannot be refused… And refuses it. In a word, John Wick remains John Wick – he continues to break through walls that do not exist with his forehead, leaving hundreds of corpses in his path.
Wick, as always, is laconic: it is unlikely that the hero of Keanu Reeves speaks more than a hundred words in the entire film. But you empathize with him more than with the characters of long-winded psychological dramas. You are worried, but not afraid for him – it is clear that Wick will destroy everyone who dares to stand in his way.
John Wick 3 is the quintessential action film. The fight here is interrupted only so that the operator and specialists in digital processing of the frame can also, like actors and stuntmen, demonstrate the level of their skills. If John Wick 2 at one time seemed to us too mechanical, predictable and monotonous, somewhat reminiscent of a level from a mid-range shooter, then in John Wick 3 the directors of the fight scenes gave out everything they are capable of – ingenuity, diversity, variability, originality. John Wick fights in various fighting styles, uses edged weapons of all types and sizes, uses environmental objects, equipment, animals (not a single horse was harmed during the filming of the film!) … and, of course, shoots a lot and in a variety of ways. His opponents have pumped, but John is not far behind. The scene in the hotel with SWAT in full armor is something.
Members of the crew of John Wick: Chapter 3 – Parabellum claim that 98% of everything you see in the frame, Keanu Reeves does himself. We willingly believe them. And although in some hand-to-hand fights there are still slight hitches between blows, there are no questions about shooting. And in general, all the stunts in the film look real. It's probably this obsession, the involvement of the actor in the filming process, as well as Tom Cruise's similar obsession in the Mission: Impossible series, that make these two franchises the best action films in Hollywood history.
It is said that Halle Berry herself came to Chad Stahelski and asked for any role in John Wick 3, no matter what. So the character and the whole story arc in Morocco were written specifically for her. And you know, it seems like it was a very good investment of the writers' and crew's time. Despite the fact that Halle had to train for almost six months, pulling up her physical form (even in Extant , it was noticeable that the actress had softened a little), learning martial arts and shooting; despite all the difficulties that arose during the filming of scenes with shepherds because of … Moroccan cats; despite the hours spent practicing interaction with Keanu in the frame … It was definitely worth it, because the output we got is probably one of the most spectacular and impressive action scenes in the history of cinema. Bravo, Hallie.
Connoisseurs of classic martial arts films will certainly like the appearance in John Wick 3 of Mark Dacascos (American Samurai, Double Dragon, Drive), and fans of Indonesian action movies – Yayan Rukhyan (The Raid and The Raid 2).
John Wick had many imitators who, after the release of the first part, tried to repeat the seemingly simple, at first glance, formula of the picture. Atomic Blonde , Hotel Artemis , Polar … All by. Lacked Chad Stahelski, Keanu Reeves and a bit of madness. Well, then, we will wait for John Wick 4, there is no doubt that he will definitely appear, because after the preparation for the war, the war itself necessarily comes.
PS There is a scene in the middle of the movie where John Wick 3 says hello to the spin-off Ballerina, which has been in development since 2017.