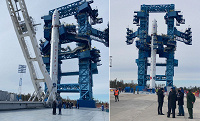 SpaceX announced the successful launch of the Falcon 9 rocket, which launched another large batch of Starlink Internet satellites and landed on a floating platform. This was a record launch in terms of the time that had passed since the previous launch of a particular rocket.
The Falcon 9, carrying 53 Starlink spacecraft, lifted off from the Space Force Station at Cape Canaveral in Florida. About 8.5 minutes later, the rocket's first stage returned to Earth and landed on SpaceX's unmanned Read the Instructions craft, which was in the Atlantic Ocean off the coast of Florida. Meanwhile, the Falcon 9 upper stage continued to deliver Starlink satellites into low Earth orbit.
According to the official description, it was the sixth launch and landing of the first stage of a Falcon 9. The booster also helped launch two GPS satellites, another batch of Starlink, and two groundbreaking private crewed missions – the September 2021 Inspiration4 low-Earth orbit flight and the Ax-1 , the first private astronaut mission to the International Space Station.
Ax-1 launched on 8 April. It turns out that the rocket was launched into space again just 21 days after the last launch. The previous record was broken by 6 days.
To date, SpaceX has launched about 2,400 Starlink satellites. 10 of the company's 17 launches this year have been dedicated to Starlink missions. The next-generation version of the network could include up to 30,000 spacecraft, according to SpaceX.
It was the company's fourth launch in the last twelve days, and the second in just three days. Falcon 9 launched a mission for NASA on Wednesday , April 27, sending four astronauts to the International Space Station.
In addition, the Ax-1 returned to Earth this week. The mission's Dragon capsule splashed down in the Atlantic Ocean on Monday, April 25, bringing home four astronauts, three of whom were paying customers.