The BBC News Russian Service app is available for IOS and Android . You can also subscribe to our Telegram channel.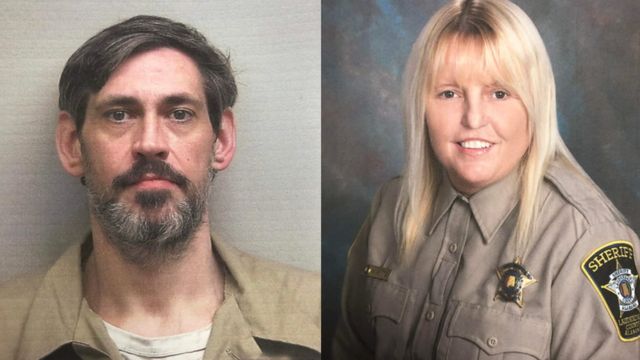 In the state of Alabama, 38-year-old recidivist Casey White escaped from prison, who faces the death penalty. At the same time, prison employee Vicki White disappeared. The authorities do not exclude that the criminal could take the guard hostage, but it is also possible that she helps White of her own free will.
The escape took place last Friday morning. 56-year-old Vicki White herself took the recidivist out of prison, telling the authorities that she was taking him to court for a consultation with a psychiatrist. As it turned out later, no consultation was scheduled that day, and White herself did not act according to protocol – according to the rules, two guards must accompany a dangerous criminal outside the prison.
White told her colleagues that if she left the criminal in court, she would go to the doctor herself because she felt unwell. Later it turned out that she had not been scheduled to see a doctor that day either. There was no scheduled examination by a forensic psychiatrist, to which she allegedly took Casey White.
Now the criminal is probably armed: Vicki White carried a nine-millimeter pistol with her at work. The U.S. Marshals Service said in a statement that White poses a serious danger to the community and to the corrections officer.
The service is offering a $10,000 reward for any information leading to his capture and the location of Vicki White.
"Exemplary Employee"
Vicki White has worked in the Alabama Department of Corrections for 25 years and is the Associate Director of the Lauderdale County Penitentiary Department of Corrections. Her job includes bringing prisoners to court. Her position implies free access to all prisoners.
The guard and the perpetrator left the prison around 9 am on Friday, and at about 11 am, her empty patrol car was found in the parking lot of the mall.
White tried to get through, but her phone was switched off. She never made it to the doctor.
On Saturday, police reviewed footage from where they found White's car but found nothing of substance, Lauderdale County Sheriff Rick Singleton told a news conference.
"I can tell you that all the employees of this department are shocked by her disappearance and in general by what happened," he said at a press conference.
Singleton emphasized that he was not ready to accuse Vicki White of complicity in the escape of a repeat offender without strong evidence. Vicki White, he said, was a "model employee" of the prison and received the title of employee of the year several times.
"All of her colleagues, all of the sheriff's department, the judges – they all had a lot of respect for her," Sheriff Singleton said.
"Did she help him escape? This is obviously not excluded. We consider this as one of the versions in the investigation. Perhaps she was kidnapped on her way to court? Captured against her will? This is definitely another version," he said. .
"Knowing the fugitive, we can say that she is in danger, regardless of the circumstances," the sheriff added.
Who is Casey White
White is accused of killing 58-year-old Connie Ridgway at her Rogersville home in 2015. For a long time, the authorities did not want to bring him precisely these charges, which, according to state laws, can lead to the death penalty, but in 2020 this nevertheless happened after a series of public speeches demanding justice for the murdered Ridgway.
White confessed to the murder and told police he was paid for it. In the Lauderdale County Jail, he awaited trial.
According to Sheriff Singleton, White had previously planned to escape from prison by taking a hostage, but in 2020 his plan was revealed – he did not have time to make an attempt to escape.
To keep getting BBC news, subscribe to our channels:
Download our application: