Diana Kuryshko
BBC News Ukraine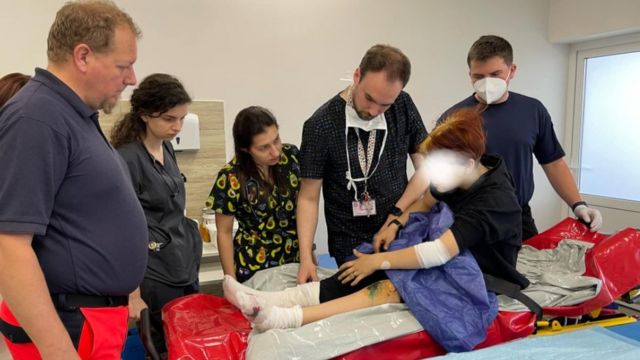 The injured 15-year-old Lisa Chernyshenko took four injured adults by car from the town of Popasna in the Luhansk region.
She was told about it at the First Medical Association of Lviv, where the child is currently being treated.
How did it happen?
The city of Popasna has been under fire for many weeks. He has been tried several times by Russian troops.
People continue to flee from there.
Lisa Chernyshenko fled the city by car, but the car was shot by Russian troops. Two men, including the driver, were seriously injured by shrapnel.
And the girl had to get behind the wheel and bring them to Bakhmut.
"They needed urgent help so they wouldn't lose a lot of blood," Lisa said of why she decided to get behind the wheel.
The road to Bakhmut was mined. Mines were everywhere. It was very difficult to go around them, Lisa recalls.
And then the car was fired upon again. Lisa was wounded, but she continued to move.
She told her story to doctors while an ambulance took her to a Lviv hospital. Lisa was brought from the Luhansk region to the West by evacuation train.
Lisa has two penetrating leg injuries, a shot in the knee, and a torn toe.
"On the road lay a pillar and the corpse of a woman. They also had to go around. It was very painful, but somehow I was driving. I would not throw them under fire," – says the girl.
Lisa drove about 30 km to Bakhmut. Most of this distance is with shot legs.
And then the car stopped. A bullet hit the battery.
The wounded were later taken from the car by the military and taken to a hospital in Bakhmut. Lisa lost consciousness.
Everyone in the car survived.
Lisa's mother taught her to drive a car. She died a few years ago. Lisa remained baptized in Popasna.
Popasna is one of the hottest spots in the region. The city is being shelled and stormed by Russians, but is controlled by Ukrainian troops.
Want to get top news in messenger? Subscribe to our Telegram or Viber !