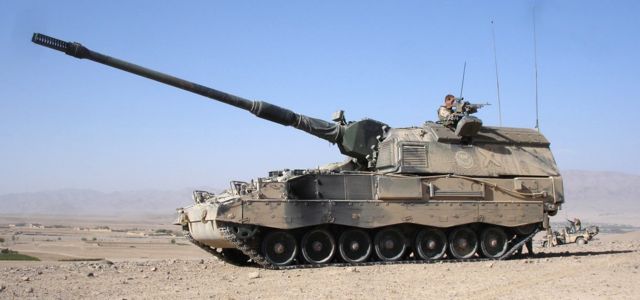 The Armed Forces of Ukraine will soon receive one of the best artillery units of today – the German Panzerhaubitze 2000.
This self-propelled howitzer can hit targets at a distance of more than 30 km with standard projectiles.
Up to two divisions of such ACS may soon appear in the Ukrainian army.
Rapid-fire and long-range
Panzerhaubitze 2000 (PzH 2000, from German – "tank" or "armored howitzer") – German self-propelled tracked artillery installation, developed in the second half of the 1990s by the Munich concern Krauss-Maffei Wegmann.
Like all similar Western ACS, it is designed for "NATO" caliber 155 mm.
PzH 2000 can fire standard projectiles at a distance of up to 30-36 km, which exceeds the performance of most Soviet guns and howitzers, which are in service with the Ukrainian and Russian armies (except, perhaps, guns "Hyacinth B" and "Peony", which were considered the most long-range in the USSR).
But with the use of active-jet projectiles, the combat range of the Panzerhaubitze 2000 can increase to 67 km, which is a record for such barrels.
Thanks to a fully automated reloading system, this German ACS can maintain a firing rate of 10 shells per minute. Despite the fact that its own arsenal is 60 shells, which makes PzH 2000 a fairly autonomous artillery system.
"Tank Howitzer" is also equipped with a fire control computer with the possibility of ballistic calculations and connection to the artillery control system of its headquarters, and has an automatic system for detecting and extinguishing fires of the crew compartment and engine.
The ACS team consists of five fighters.
"PzH 2000 meets all international requirements for modern artillery – the armed forces of eight countries now rely on its versatility. To date, more than 360 such systems have been manufactured and shipped," says Krauss-Maffei Wegmann.
In addition to Germany, the NATO countries have the Netherlands, Italy, Hungary, Croatia, Greece and Lithuania.
Since 2015, PzH 2000 is in the Qatari army.
At the same time, there are not many cases of actual combat use of the Panzerhaubitze 2000, and it is limited to the use of international forces against the Taliban during the war in Afghanistan in the 2000s.
There were also shortcomings of German technology – vulnerability to dust and heat, which can be a problem in the Ukrainian Donbass and southern summer.
How much PzH 2000 will Ukraine receive?
Kyiv has repeatedly asked Berlin to transfer or purchase Panzerhaubitze 2000 since the Russian invasion.
However, they replied that there were not enough combat-ready ACS for the Bundeswehr itself (according to the German newspaper Die Welt, with 119 PzH 2000, only 40 of the German army are ready to perform operational tasks).
But in late April, German Defense Minister Christine Lambrecht said that the Germans would teach Ukrainian calculations for the Panzerhaubitze 2000, which the Armed Forces would hand over to the Netherlands.
This was the first official confirmation of the future appearance of these ACS in the Ukrainian army.
However, it is unknown exactly how much PzH 2000 will be transferred to Ukraine by the Netherlands.
"This country has up to 38 units in stock, and another 18 on combat duty. However, even a few divisions of PzH 2000 can be a very effective strengthening of our artillery units," – said the Ukrainian profile site Defense Express.
And on May 6, the same Christine Lambrecht confirmed other press reports that Germany itself will provide Ukraine with seven PzH 2000 installations.
According to her, the training of Ukrainian calculations on these ACS may begin in Germany next week.
It should be noted that seven self-propelled artillery installations will be enough to form a battery. Berlin's decision to give us PzH 2000 does not cancel a similar decision of the Dutch government, especially since the Germans promised to give shells for the Armed Forces to "Dutch PzH 2000". in Defense Express.
"In some sources we can see the statement that the Netherlands is ready to give us only five ACS of this type. But we hope that the Armed Forces or Ukraine will eventually get enough PzH 2000 to form a" full-blooded "artillery division with three batteries," they added. there.
Want to get top news in Messenger? Subscribe to our Telegram or Viber !