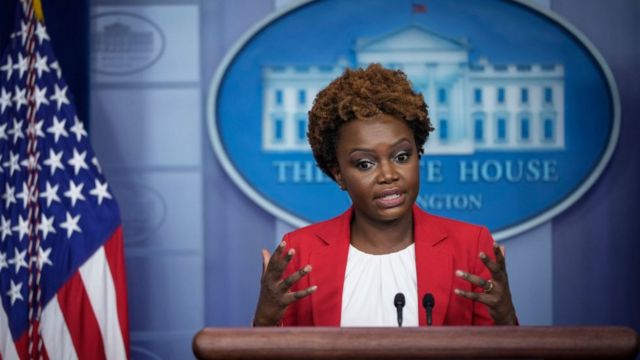 US President Joe Biden has appointed a new White House spokeswoman. Karin Jean-Pierre, 44, will replace Jen Psaki late next week and become the first black woman to represent the LGBT community.
Since the beginning of Biden's presidency in 2020, Jean-Pierre has held the position of Psaki's first deputy.
Jen Psaki, who has held various positions in the Barack Obama and Joe Biden administrations for many years, is leaving the White House to host the liberal-liberal MSNBC.
Jean-Pierre must bring to the work of the White House spokesman "his own style, brightness and elegance," recommended Psaki's successor.
Complex and risky work
Anthony Zurker, BBC correspondent
White House spokesmen are the face of the administration, addressed to the media, and with them – to the country and the world.
A person who holds this position can instantly become a famous figure during crises or political scandals in the country. Often they have a kind of fan group, and for some they become the object of ridicule.
For the first time in US history, this position will be held by a black woman and an open lesbian.
The move underscores the Biden administration's policy of promoting African-American women, who are an important part of the Democratic Electoral Coalition but remain "politically invisible" by many commentators.
These women include Vice President Kamala Harris, newly appointed Supreme Court Justice Ketanji Brown-Jackson, Home Affairs Director Susan Rice, US Ambassador to the United Nations Linda Thomas Greenfield, and several other important politicians and judges.
White House spokesmen do not make political decisions. They form a public image of the administration. Jean-Pierre has a difficult and in a sense risky job ahead of him.
Karin Jean-Pierre, a former analyst at Psaki's MSNBC, has worked with the Democratic Party for more than 20 years. She also served as one of the political directors in the Barack Obama administration.
She was born in the Caribbean island of Martinique, an overseas department of France, and grew up in Queens, New York.
In 2016, she was a representative of the liberal movement MoveOn.
Before joining Biden's team, Jean-Pierre headed Kamala Harris's staff.
In November, the United States will hold important midterm elections to Congress, which could determine the course of Joe Biden's first term.
Want to get top news in Messenger? Subscribe to our Telegram or Viber !