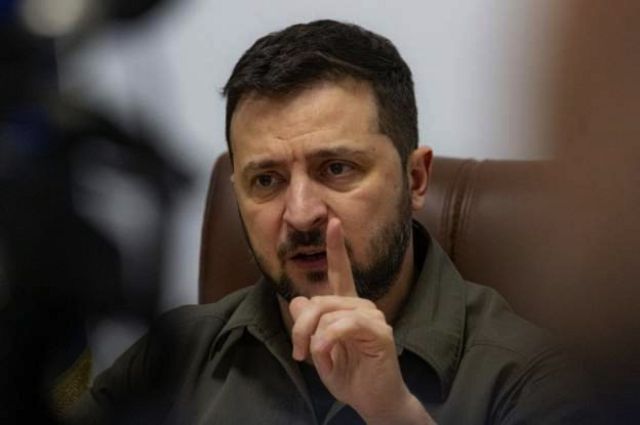 During a video conference at the British Chatham House Institute, Ukrainian President Volodymyr Zelensky spoke about the conditions under which Ukraine will agree to peace and what will put an end to negotiations with Russia.
According to Zelensky, Ukraine will agree to such a peace agreement, according to which Russian troops will return to the positions they held before the February 24 invasion.
BBC correspondent Frank Gardner asked the Ukrainian president what the "minimum" concession to Russia in exchange for peace would be.
Volodymyr Zelenskyy replied: "Return of Russian troops to where they were on February 23."
"But this requires diplomatic dialogue," he added. "Not all of our diplomatic bridges have been burned."
Zelensky did not mention Crimea, which Russia annexed in 2014.
It is also unclear what this will mean for the Donetsk and Luhansk regions, which have been under pro-Russian separatist control since 2014.
"Point in the negotiations"
However, during the meeting, the President of Ukraine stressed that the destruction of Ukrainian military and civilians on the territory of Azovstal will put an end to peace talks.
"If they kill people who can now be humanitarianly exchanged, if they are military, or released if they are civilians, or help the wounded, whether military or civilian, they have nothing to talk about at the diplomatic level." , – the president emphasized.
According to him, thanks to the efforts of Ukraine, the Red Cross and the United Nations, it was finally possible to find a format for the evacuation of civilians from the blocked Azovstal plant.
Zelensky also said that the blockade of Mariupol by the Russian military was a deliberate step, a manifestation of hatred and terrorism.
Earlier on Friday, the Azov Regiment said that the Russians had destroyed an evacuation vehicle on the territory of Azovstal, as a result of which people were killed and injured.
Meanwhile, according to Russian media, three civilian buses left Azovstal on Friday. One of them has already brought people to the village of Bezimenne on the territory of the self-proclaimed "DPR".
Want to get top news in Messenger? Subscribe to our Telegram or Viber !