Oleg Chernysh
BBC News Ukraine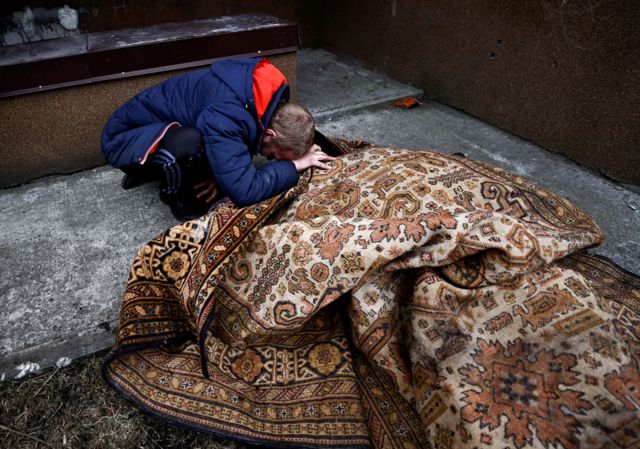 "Concentrated evil has visited our land." This is how the President of Ukraine Volodymyr Zelensky called what he saw in the Kyiv suburb of Bucha after the departure of the Russian military.
He added: "They deserve only death after what they have done." BBC News Ukraine has investigated who the first suspects in these crimes are.
The town of Bucha, home to about 40,000 people before the war, is less than 10 km from Kyiv. The Russian military began capturing it in the early days of the full-scale invasion and held it until the end of March.
When the soldiers of the aggressor country left the territory, Ukrainian law enforcement officers were able to get there.
What they saw was shocking. On the streets of the city, in houses and basements lay the bodies of killed civilians, mostly with their hands tied behind their backs. Several mass graves were also discovered in Bucha and numerous cases of torture and rape were established.
According to the end of April, 412 citizens died and were killed during the occupation. This is a third of all victims of the war in Kyiv region.
The Russian government denies the involvement of its military in these crimes and calls the "Bucha massacre" a fake and a provocation. However, the Kremlin did not provide evidence of its words.
Who of the Russians was in Bucha
According to Ukrainian law enforcement and international investigators, several units from various Russian security forces may be involved in the crimes in Bucha.
The Main Intelligence Directorate of the Ministry of Defense of Ukraine reports that torture and killings were committed by soldiers of the 64th Motorized Rifle Brigade of the 35th All-Russian Army.
This military unit is stationed in the village of Knyaze-Volkonskoye in Khabarovsk Krai, 7,000 kilometers from the Ukrainian Bucha.
Soldiers of this brigade were withdrawn from the Kyiv region in early April and were stationed near the town of Mozyr in Belarus. They were later returned to Ukraine, but to the Kharkiv region.
Prior to that, Kremlin leader Vladimir Putin managed to award the brigade the honorary title of "Guards".
"Such a schedule indicates that the" 64th Brigade is waiting for "special tasks". MOU.
Another possible reason for the return of the Khabarovsk military to the combat zone is an attempt to "remove" them as witnesses and participants in crimes in the Kyiv region.
Soldiers from the 5th Separate Guards Tank Brigade, representing the Russian region of Buryatia, namely its capital Ulan-Ude, were also stationed near Bucha.
Besides them, fighters of the Russian National Guard can be involved in offenses. Some of them have already been declared suspects in absentia.
This law enforcement agency was established in Russia relatively recently – only in April 2016. The Rosguard should not be used in military operations at all, as its function is to fight organized crime and terrorism, as well as to maintain order on the streets.
Reuters journalists, who conducted their own investigation into the Bucha crimes, believe that the 234th Guards Assault Regiment from the city of Pskov, fighters of the Vityaz Special Forces of the Rosguard near Moscow, and unidentified individuals were in the Kyiv suburbs.
How criminals killed and how they were searched
The Security Service of Ukraine reports that almost 900 Russian servicemen who committed crimes against civilians in Kyiv region have been identified.
More than 2,500 Russians whose units were based in the area are currently being investigated.
In addition to SBU officers, Ukrainian prosecutors, police officers, civil society activists and journalists are also working to identify criminals.
The Ministry of Digital Transformation, for its part, uses face recognition technology to identify Russians.
Ruslan Kravchenko recently headed the Bucha Prosecutor's Office. This young prosecutor is known to have filed charges in court against former President Viktor Yanukovych. The latter in 2019 was sentenced to 13 years in prison for treason.
In an interview with Nastoyaschee Vremya, Kravchenko said that most of those killed in Bucha had gunshot wounds. The information that many people died as a result of hitting flash drives – metal darts, which are used to launch artillery or tank shells – has not been confirmed.
"We found that there is no mass in this. We checked all the examinations again, talked to an expert. We only found that two such items (flashcards, – Ed.) Were found in only one victim," – said the prosecutor.
According to him, the Russians simply laid many prisoners on the ground and shot them in the head. The reason for the execution could be their comment on social networks in support of Ukraine, volunteering or found hunting weapons. Sometimes the killings of civilians did not have any explanation at all, Ruslan Kravchenko emphasizes.
At the end of April, the joint efforts of law enforcement officers yielded the first results. The names of specific individuals suspected of atrocities in Bucha were named.
The top ten
On April 28, Prosecutor General of Ukraine Iryna Venediktova released a list of the first suspects in the Bucha crimes.
All of them – 10 men – represent the 64th Guards Motorized Rifle Brigade from Khabarovsk Krai.
From ordinary soldiers to suspects became:
Junior Sergeant Vyacheslav Lavrentyev (29 years old),
Private Hryhoriy Naryshkin (30 years old),
Private Vasily Knyazev (24 years old),
Corporal Semyon Maltsev (26 years old),
Private Serhiy Peskarev (24 years old),
Private Albert Radnaev (24 years old),
Corporal Mykhailo Kashin (24 years old)
Corporal Andriy Bizyaev (33 years old),
Corporal Dmytro Serhiienko (27 years old),
Sergeant Nikita Akimov (26 years old).
As you can see, all of them are not conscripts and have long served in the armed forces. Venediktov said the suspects did not kill the Buchans, at least not yet, but tortured them. "They took unarmed civilians hostage, starved and thirsty, held them on their knees with their hands tied and their eyes closed, and mocked and beat them," she said.
People were beaten out with information about the location of the Armed Forces and the Defense Forces, and some were tortured for no reason at all, the Prosecutor General points out.
According to her, Russian servicemen threatened the prisoners with murder and even imitated the execution by firing in their direction.
Those of the suspects who contacted journalists not only denied their guilt, but stressed that they had nothing to do with the Russian army.
For example, Corporal Dmitry Sergienko told the Russian newspaper "Agency" that he left the service 3 years ago and works in the civilian sphere. Sergei Peskarev said the same. He also no longer seems to be an active-duty serviceman, as he resigned in 2019.
A couple of weeks later, two more suspects joined the top ten. The Ukrainian investigation established that Bayaskhalan Shultumov and Pavlo Aganayev, servicemen from Buryatia, namely the 5th Panzer Brigade, were looting in Ukraine.
They are suspected of illegally breaking into a private house in the village of Buzova, Buchansky District, in early March, where several Ukrainian families were hiding.
Russian servicemen threatened civilians with firearms and physical violence. Among the victims were women and children.
"They beat the men with the butt of a machine gun, arms and legs. In addition to bullying, looters' military armies confiscated $ 60,000 in people's savings," Venediktov said.
The suspects Shultumov and Aganayev did not respond to a request from the BBC News Ukraine to comment on the allegations.
Suspicion of mass murder
"The first suspect in the Bucha murders has been identified – the commander of the Russian National Guard, Sergei Kolotsei," Prosecutor General Venediktov wrote on her Facebook page on May 2.
She released a photo of the suspect. This is a screenshot from a video taken at a post office in the Belarusian city of Mozyr.
It was there that the Russian military, returning from Ukraine, made dimensional parcels to their homes in Russia. According to the Ukrainian investigation, the parcels contained items and equipment stolen by them from houses in Bucha and other cities of Kyiv region.
In the video from the post office, all soldiers are in Russian military uniform, except Kolocey. He is in an ordinary winter jacket and sends the parcel to the city of Ulyanovsk in Russia.
The Ukrainian investigation is convinced that this 35-year-old unremarkable man of typical appearance is a cold-blooded murderer of at least four unarmed residents of Bucha.
The text of the suspicion sent to Kolotsa states that he is a fighter of the Rosguard department in the Ulyanovsk region, and in the afternoon of March 18 he was at the intersection of Nazariya Yaremchuk and Yablunska streets in Bucha.
He allegedly ordered his subordinates to bring to him two local residents – Dmitry Shkurenkov and Maxim Kireev. They were brought to their knees, beaten and interrogated. Then, according to investigators, Kolotsei himself shot the prisoners in the head.
Fifteen minutes later, new detained Ukrainians, Oleksandr Chumak and Oleksandr Hutorovych, were brought to him. They were also killed by the Rosguard.
The only survivor is 32-year-old Volodymyr Lisovsky. This buchanka was beaten, imitated by his execution and forced to sniff corpses nearby. He survived but suffered a concussion, a broken skull and a tympanic membrane injury.
The Prosecutor's Office of Bucha informed Belarus about the suspicion under Art. 438 (violation of the laws and customs of war) of the Criminal Code. He faces life imprisonment.
Fatal mistake or not?
Kolotsei decided to go public and refute his suspicions of participating in the "Bucha massacre".
An account on his behalf appeared on the social network Instagram, but under the nickname "kalotskij". It publishes daily statements on behalf of Serhiy Kolotsei, stating that the person is not a serviceman of the Russian army, but works as an engineer at a refinery in Mozyr, Belarus.
Hometown, according to the suspect, he did not leave the last 2 years and, accordingly, could not be in Bucha in February-March this year.
As for staying at the local post office at the same time as the Russian soldiers, Kolotsei confirms this fact, but emphasizes that he simply sent the trunk lid from his car to the buyer in Ulyanovsk, Russia.
Serhiy Kolotsei did not respond to a request for comment for BBC News Ukraine. Nevertheless, we managed to communicate with his close friend Roman (their recent joint photo celebrating New Year's holidays is publicly available on social networks).
He stated that his friend was indeed a refinery engineer and had not left Belarus recently, and he himself had witnessed this.
"Yes, I saw (him), not every day, but very often. Our children go to the same kindergarten, and we communicate very closely with families. He is constantly at work, a maximum of two days off, like everyone else," said Roman .
Asked whether he had discussed the war in Ukraine with a friend and who Kolocey supported in the conflict, Roman said evasively.
"Whoever says that they are not discussing this is a liar. I can say one thing that many people do not like civilians killed and beautiful cities destroyed," he said.
In his opinion, the Ukrainian investigation made a mistake, and Kolocey is innocent. Now he and his family are receiving threats of physical violence from strangers, says a friend of the suspect.
Prosecutor Ruslan Kravchenko, who signed the suspicion of the Belarusian, did not satisfy the request of the BBC News Ukraine for comment, noting that "there is no time."
Slidstvo.Info journalist Dmytro Replyanchuk, who helped law enforcement officers establish Kolotsei's identity – this fact was also acknowledged by Prosecutor General Venediktov – said that he had tried unsuccessfully to communicate with the suspect.
According to the journalist, witnesses and victims from Bucha were previously identified on the video of the Belarusian. But now the Belarusian does not seem to want to communicate with them.
"Only after a confirmed conversation with him, and even better – his communication with witnesses and victims, we, as journalists, will be able to say more about his involvement or non-involvement. But for some reason he is not in direct contact," said Replyanchuk.
"I remembered his little women's pens"
BBC News Ukraine managed to talk to Volodymyr Lisovsky, the only survivor of Bucha, who just pointed out to investigators the involvement of Kolocei.
According to him, he recognized the suspect not only by his face on the video, but also by his hands.
"We conducted an investigative experiment and identification. That is, there are a number of circumstances on the basis of which I am convinced that it is him. Speaking of specifics, it is his hands. He has such unusual for a man small, such female hands, which he struck me in the face. I remembered them very well. There are other circumstances that I would not like to comment on, "the victim said.
According to Lisovsky, denying one's involvement is a well-established tactic for defending Kolocei.
"Well, what will he say? He admits that he is a war criminal, shot 4 people and tortured them?" – he asks rhetorical questions. He adds that 8 civilians were killed in the house where Kolotsy was allegedly located in Bucha, and about 20 more were found within a radius of 200 meters.
When the criminal beat Lisovsky, he was with an open face, the victim emphasizes.
The criminal did not say the reasons for his actions.
"He didn't explain anything, he just did what he did. I didn't really ask him who he was, because it could end very sadly for me," said Buchanets.
As for the dead, they were all from different parts of the town, but gathered in one place because they came to take water to the well. At that time, the water supply system in Bucha was no longer working.
Lisovsky is convinced that the shootings of civilians had no explanation and were chaotic.
For example, he tells the story of his grandfather, who rode his bicycle to the well every day. A photo of this murdered buchany, lying on the roadside right on his bicycle, flew all over the world media.
This grandfather drove for two weeks, they first examined him, and then got used to him. He waved to them, said "hello, boys!", And they waved to him. One day he waved to them in the same way. passed, and they shot him in the back of the head, "says Vladimir.
Lisovsky himself was engaged in business in Bucha, but has experience of being in the war in Donbass as a TV presenter in 2014-15.
We shot such a project "War at his own expense" and "Volunteers of the Goddess" with director Leonid Kanter (died in June 2018, – Ed.). Being there (in the Donbass, – Ed.) We could say that there is some "But in Bucha, it all depended on the leg of the man and the machine gun," he said, explaining the difference between the war in the east and the Bucha massacre.
Now Lisovsky, despite severe head injuries, has already completed treatment and joined the defense of Ukraine as part of a "volunteer formation".
"I have undergone treatment, surgery, and after a short rapid rehabilitation, I do not have the spiritual strength to sit at home and wait for it to end," he explains.
Prosecutor General Irina Venediktov, commenting on Kolocei's case on May 2 on a nationwide telethon, said that the investigation has a "strong evidence base" for the suspect.
"I do not want to give details, but everything is gathered for the case. We can be proud of this case," she said .
Want to get the most important news in the messenger? Subscribe to our Telegram or Viber !