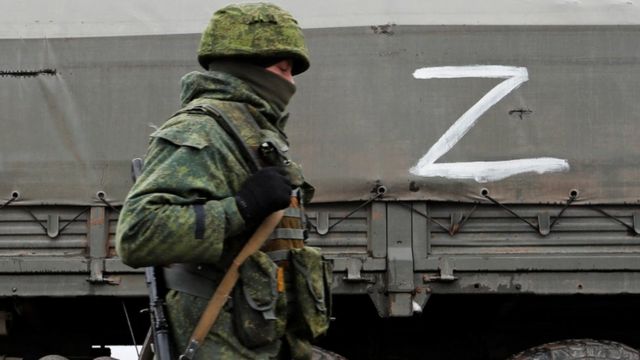 For the safety of the author, we publish this text anonymously.
I want to tell you what it's like to live in a "quiet" occupation, and how much our lives have changed in two months.
The Russians have occupied part of the Zaporozhye region and seem to plan to stay here as long as possible. There was no fighting in our village, we were besieged by Russian forces, which entered Melitopol and Tokmak and began to control all entrances and exits from towns and villages at checkpoints.
On February 24, I woke up at 5 am from powerful explosions from Melitopol. Until recently, it was unbelievable that this was a war. I am one of those people who believed that a full-scale invasion would never happen in the 21st century.
I remember the same day we arrived in Tokmak to withdraw cash. People stood in endless queues at pharmacies and ATMs, no one understood what had happened. I remember how the locals joked: Tokmak is a depressed city, you can not be afraid of missile strikes, everything has been destroyed for a long time. Nobody planned to leave, and where? Everyone was waiting for information on what would happen next.
On February 25, it became known that the Russian military was in Melitopol. I believed: they will not pass further, the land of Melitopol will become a grave for the enemy. But on February 26, a vehicle with the letter Z entered our village, and only then did I realize: "THIS IS WAR."
In the evening it was covered and bombed somewhere nearby. Light, water and communication disappeared in the village. The first night we slept in the basement. The hardest thing was to explain to the little son what was happening.
In his worldview, "war" is just a word, not horror, torture and death. I cried and scolded myself for recently transporting Bohdan from the Dnieper to the village due to a pandemic, because own housing is a considerable advantage over a rented apartment.
We were lucky, the power line was repaired the next day, and later water appeared. And we went to call the village on the hill, where sometimes you could catch a mobile network and tell yourself that we are alive.
In a few days the stores ran out of food. There was a lack of food. I counted how many cookies I could give Bogdan in a day, divided the apples in half, cut one half for the baby, and hid the other for later.
Another problem is drugs, or rather their absence. When I got sick, and then Bogdan, I also divided the flu pills (there were a limited number of them) in half, just like apples. I gave the pills to the baby, and she was treated with viburnum berries. It was horrible to die due to lack of medicine and inability to receive the necessary medical care. That's how my acquaintance died, whose disease worsened. I brought her food, and I couldn't help it.
When mobile communication resumed, I began looking for evacuation options. And here there was another problem – lack of fuel. It is not difficult to find a person who can drive you to the city, but how to refuel a car? Over time, gasoline went on sale at a price of 80 UAH per liter. Also in one of the shops began to import products and basic necessities, but it was 2-3 times more expensive.
It is difficult to withdraw cash in the occupied territories, payment by card is almost never accepted. But on social networks, there are many ads that offer services to transfer funds on cards in cash at a solid interest rate.
The Russian military is exacerbating the situation by blocking any humanitarian aid from Ukrainian-controlled territories. It seems that their desire is to bring people to exhausted obedience, to the readiness to sell their house for a piece of bread.
"Silent" occupation is when they do not bomb or shoot, but have power over everyone: they terrorize, destroy your freedom, degrade your dignity. You can't influence the situation, you can't change anything – this is the hardest thing in the occupation.
We did not enjoy mobile communication for long. The Russians shut down communications, the Internet and television. Russian TV channels began to broadcast. It is good that people periodically have wired internet. It was scary to be in an information vacuum. Helplessness is more debilitating than any grueling job.
When wired internet disappeared, my heart foretold something bad. For several days in a row, there were warnings about raids in various chat rooms. I was convinced that the Internet was "cut down" so that we would not warn each other.
The Russian military also reached our village. Several groups walked around the yards, conducted searches, and checked basements.
In the Dnieper I was engaged in various patriotic and volunteer activities. They wrote about me on the Antifascist website. When ATO / OOS members, patriots and activists began to disappear, and Russians with weapons were standing near my house, I was shaken as if in a trance.
I did not know how the visit of the Russian military would end, but when the doorbell rang, I went to open it. If I hadn't opened the door, they would have shot me. Behind the door stood three armed soldiers. One of them said that they should inspect my apartment to see if I was hiding anyone. I led him around the rooms, he hurriedly inspected everything and left.
In the first month of the occupation, it was difficult to comprehend the full extent of what had happened. I panicked, but hoped for a quick end to the war. After two months of occupation, there was a feeling – we were forgotten, all hopes for liberation are in vain. I wanted to die. I do not feel safe in my own home in my homeland…
The most difficult thing was to dare to evacuate. Evacuation is a "Russian" roulette even in the official humanitarian corridor. The Russians are violating agreements, shelling evacuation vehicles and gathering places, and taking civilians hostage. Not everyone gets to their destination.
But it is much worse to stay. And I agreed with my acquaintances that I would come with my son to Tokmak to look for ways to evacuate on the spot. In Tokmak, Russian soldiers met at every turn. Bogdan and I almost never went outside. If they went for groceries, I took a push-button phone with me (so they wouldn't take it away), dressed in black and tried not to attract attention.
The first attempt to evacuate failed, the Russians detained a convoy of cars at the checkpoint and ordered to go back. Someone went on a detour and was able to get to Zaporozhye, someone went on a detour and exploded on a mine. And we returned to Tokmak through the same checkpoints. Again searches, checks of documents, phones.
Friends shared the contacts of proven drivers who evacuated for a reward. It didn't matter if it was for money or not, I wanted to be in the free territory as soon as possible. Unfortunately, the exit from Zaporizhia was closed, the drivers could not return. It seemed that all my attempts to leave were doomed to failure. Suddenly one evening I meet a message in a telegram: there are seats in the van for women, children and the elderly. It's unbelievable luck, I'm packing again.
The next day at 6:30 an evacuation convoy left Tokmak. Everything was perceived as a terrible dream. At each checkpoint, Russian soldiers took something. The greatest value for them – cigarettes, bottled water, toilet paper, bread and alcohol.
When we got to the first Ukrainian checkpoint, at first there were doubts, and suddenly it was a pseudo-Ukrainian checkpoint, a provocation.
Our doubts were dispelled by a military man who spoke to us in Ukrainian. I could not hold back my tears, I wanted to hug that soldier, and all the other Ukrainian soldiers we met in the territory controlled by Ukraine.
If you have someone in the occupied territories, ask "how are you?" to those who stayed, share ways to leave and where to stay. If not for the support of friends, I would give up.
I wanted to live at home hoping for a quick deoccupation of our region and other occupied territories. But I thought about what they could do to me: capture, rape, mock, kill in front of my son. So I left home.
Why did I decide to stay in the Dnieper and do not feel the ability to go to European countries? Bohdan has intellectual disabilities and hyperdynamic syndrome. He is emotionally unstable, too fast and noisy, he wakes up at 5 am and does not calm him down until 10 pm. Any deviation from the usual ritual is accompanied by hysteria and aggression.
What mothers of children with mental disorders are going through is another hell they can't escape. They have had their own endless war for more than a year.
Often such families do not want to be evacuated due to lack of resources. For example, I barely mustered the strength to survive the evacuation from the occupied territories.
I do not undertake to compare who is worse. Millions of Ukrainian women around the world are now alone with their children. Yes, they are helped. they are supported. But women are tired of emigration, and experiences, and uncertainty.
And they get tired of children. Children are the most wonderful thing that can happen in life. But at the same time, the entire burden of caring for children falls primarily on women's shoulders.
Want to get top news in Messenger? Subscribe to our Telegram or Viber !