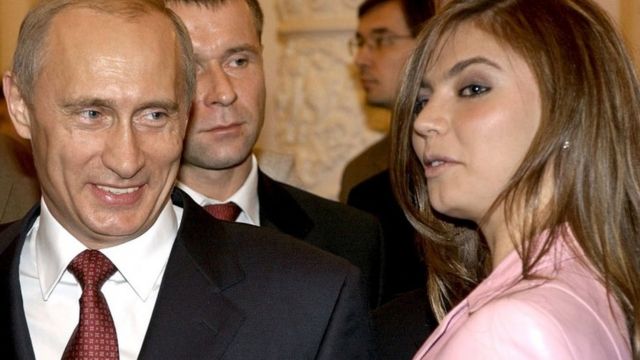 Russia is already under unprecedented sanctions for the war in Ukraine. But now the EU plans to use them against Alina Kabayeva, a former gymnast and Olympic champion and now a politician and media boss. And, according to rumors, the mistress of Vladimir Putin and the mother of several of his children.
The sanctions already imposed by the EU are aimed at punishing people close to Putin – oligarchs, politicians, officials who benefit from close relations with the Russian president.
Last month, the United States and Britain imposed sanctions on his daughters, 36-year-old Maria Vorontsova and 35-year-old Kateryna Tikhonova. These are Putin's daughters from his marriage to his ex-wife Lyudmila.
So far, Alina Kabayeva has managed to stay out of sanctions despite her alleged "status" as Putin's mistress. Although she had the opportunity to feel that something like this was approaching, a petition appeared on the Internet in March demanding her expulsion from her residence in Switzerland.
BBC sources have confirmed that she is on a new list of people against whom the EU intends to impose sanctions. According to AFP, sanctions against Kabayeva will be applied for her participation in spreading Kremlin propaganda, as well as for "close associations" with 69-year-old President Putin.
The draft document does not refer to Kabayeva as his partner, and proposals for sanctions against her have not yet been officially approved.
The Russian leader has always been very reticent about information about his personal life, and when asked about it, he rejected the question.
However, he unequivocally denied any relationship with Alina Kabayeva.
In 2008, the Moscow Correspondent reported that Putin was going to divorce his wife, Lyudmila, and marry Kabayeva. Both have denied Putin's plans. The newspaper was soon closed. And five years later, Putin and his wife, Lyudmila, announced their divorce.
While the Russian president denied ties to Kabayeva, she moved from a successful sports career to politics.
At the peak of her rhythmic gymnastics career, Alina Kabayeva was named the best in the world. One of the movements in gymnastics was even named in her honor. She was the team leader when Russia won every gold medal at the 2000 and 2016 Olympics.
Alina Kabayeva was born in 1983 and started doing rhythmic gymnastics at the age of four.
At one time, Kabayeva was called "the most flexible Russian woman."
Her debut on the international sports arena took place in 1996, and in 1998 she unexpectedly won European competitions.
At the 2000 Sydney Olympics, a hoop performance cost her dearly, and she only won bronze. Four years later, at the Athens Olympics, she won gold.
Until the end of her sports career, in addition to her Olympic medals, Alina Kabayeva received 18 awards in world competitions and 25 in European competitions.
Like other Russian athletes, Kabayeva did not shy away from doping habits, and in 2001 she was even stripped of her medal for being banned.
In 2007-2014, she was a member of the Russian Duma from the ruling United Russia party.
And in 2014 she headed the National Media Group, which owns almost all state media in Russia.
They all produced ruthless pro-Kremlin messages about the war in Ukraine, accused Ukrainians of shelling their own cities, and portrayed Russian soldiers as liberators.
Her position is said to have provided her with a considerable income. Leaks show that she earns about $ 12 million a year.
It is not known exactly how Putin and Kabayev met, but there is nothing unusual about the president meeting with the Olympic champion.
There is a photo from 2001, when Putin awarded Kabayev the Order of Friendship, one of the highest state awards.
There are rumors that Putin and Kabayev have children together. However, the information differs as to how much.
Swiss media reported that in 2015, in a luxury clinic near Lake Lugano, Kabayeva gave birth to a boy. And there is another boy in 2019.
However, the Sunday Times and the Wall Street Journal reported that she gave birth to twins in Moscow in 2019. Newspapers also give different information about how many children she has.
The Kremlin generally denies such data. In 2015, a Putin spokesman said that "information about the birth of a child whose father is Vladimir Putin is not true."
Ever since information about her relationship with Putin emerged, Alina Kabayeva herself has appeared in public or disappeared.
On the cover of Vogue magazine in 2011, she was photographed in a golden dress from the French fashion house Balmain. At the Winter Olympics in Sochi in 2014, she carried a torch.
Recently, in April, she appeared at a rhythmic gymnastics competition for juniors in Moscow, dispelling rumors that she was hiding somewhere. Some journalists noted that she had a wedding ring on her hand. At those competitions, Kabayeva supported the Russian invasion of Ukraine.
Since the beginning of the war in Ukraine, calls for sanctions against Kabayeva have not abated.
The Wall Street Journal has suggested that the United States is hesitant to impose sanctions on Kabayeva for fear that it will be such a "personal blow" to Putin that he could escalate the conflict.
However, the delay does not mean that Washington completely rejects the possibility of such sanctions. When a White House spokeswoman was asked in April why Kabayev was still not on the sanctions list, the response was: "No one is safe."
Want to get top news in Messenger? Subscribe to our Telegram or Viber !