Zhanna Bezpyatchuk
BBC News Ukraine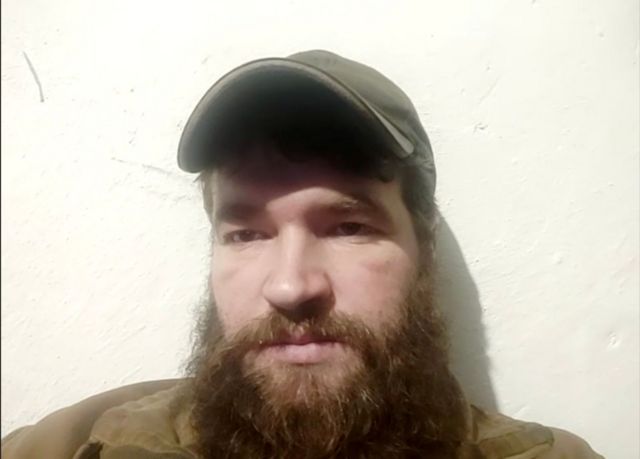 "Unreal feats in unreal conditions" and the fight against tanks with bar knives in hand. This is how the commander of the Azov Regiment, Sviatoslav Palamar, described Azovstal's defense in an interview with the BBC.
The Ukrainian military at Azovstal is completely surrounded by round-the-clock shelling and air strikes. If Ukraine and international organizations do not agree with Russia on a ceasefire and the withdrawal of Ukrainian fighters from the city, then their deaths are likely, Azov residents say.
According to Svyatoslav Palamar, they are not considering leaving hundreds of wounded soldiers and the bodies of the dead and making a breakthrough. And a small group of soldiers who dared to do so are considered traitors.
In addition, wounded soldiers die of infectious gangrene at Azovstal. There are not enough antibiotics in the hospital, and there is no possibility of amputation.
Therefore, the evacuation of the wounded is a top priority. As well as collecting the bodies of hundreds of dead.
BBC: What's going on at Azovstal right now?
Sviatoslav Palamar: Right now there are intense shelling, bombing from planes, artillery, the so-called "Snake Gorinichi" (jet demining systems that produce missiles to detonate mines – Ed. ). Over the last night, we have counted more than 25 sorties of bombs. These are, in particular, three strategic bombers, tanks, infantry, mortars, snipers, machine gunners and more.
This is a very difficult situation. There is no ceasefire. We do not know whether we will be able to take out the wounded today. Negotiations are underway. Will the agreements be fulfilled? It's hard to say.
The wounded must be evacuated as soon as possible. Today (May 8) many were killed and wounded again. These are the consequences of the actions of the troops of the Russian Federation. We no longer have surgical instruments. There is no possibility to provide qualified medical care.
Vladimir Putin ordered an end to the storming of Azovstal on April 21. Here is what he said then at a meeting with Defense Minister Sergei Shoigu:
I consider the proposed assault on the industrial zone inexpedient. I order to cancel… It is necessary to block the industrial zone in "Azovstal" so that the fly does not fly. saving the lives and health of our soldiers and officers. We should not climb into the catacombs and crawl underground at these industrial facilities. "
BBC: How many dead and wounded are currently at Azovstal?
SP: I will not announce the number of dead. Believe me, we are talking about hundreds of Ukrainian servicemen. About 600 people were injured. But that number is rising every day, as is the death toll.
BBC: Can we say that all this is a full-scale assault on Azovstal and that the plant is completely surrounded?
SP: We have been shouting about the environment since March 1. The most cynical thing is that they give us promises: "Guys, hold out until mid-March, and then there will be help." And nothing. "Hold on until April – and everything will be fine, cool." Again, nothing in the end.
We hope that thanks to journalists and politicians, not everyone, but those who are really trying to help, we can influence the world, the UN to organize the evacuation of the wounded and possible extraction (transfer of troops from enemy territory to the security zone through international mediation – Ed. ) military garrison, which is located here.
In my opinion, this garrison did more than it could. You understand the overwhelming strength of the enemy we are fighting.
Volodymyr Zelenskyi assures that the evacuation of the wounded and medics from Azovstal is currently being agreed upon. He stated this in his address on May 7.
In fact, we have withdrawn civilians from Azovstal and are currently preparing the second stage of the evacuation mission – the wounded and medics. Of course, if everyone fulfills the agreements. Of course, if there are no lies. Of course, we are working to withdraw all our troops defending Mariupol ".
When asked about the unblocking of Mariupol on May 8, Zelensky replied: "Today this is impossible. There are no heavy weapons in Ukraine to unblock by military means."
Evacuation of civilians
BBC: The Ukrainian military was involved in the withdrawal of civilians from the territory of Azovstal. What was the role of the military? Is it true that some of them died during this evacuation?
SP: I am very sorry that some politicians say that this is a successful operation.
Two days ago, three of our servicemen were killed during the ceasefire announced for the evacuation of civilians from Azovstal. The car, which was supposed to pick up civilians and take them to their destination, was hit by a MANPADS. One soldier was killed and six were injured. Two more servicemen were killed by bombs dropped from a drone. This was also the case during the ceasefire and evacuation.
After that, I was struck by the cynicism of our politicians, who said that everything went well. Hundreds of civilians were taken out, but not a word was said about the Ukrainian military, that they died in the process. No thanks were expressed to these people, who are simply doing their duty. They don't do it out of gratitude, but they need to be remembered. At the cost of their lives, they perform unrealistic, heroic deeds in unrealistic conditions.
During the evacuation talks, one of our politicians told one of our commanders, who has been in charge of the evacuation of Mariupol all this time and was involved in the evacuation: "You are doing some business there, but not what is needed." This commander had just come under fire and was nearly killed. This is an insult to the hero of Ukraine. This is very unpleasant. After that, a wound remains on the heart.
And the wound remains from the words that have already done everything possible to save people. Everything possible had to be done earlier. We have been calling for the evacuation of people since March 1. There are still thousands. Tens of thousands of people died under the rubble. We don't know how many there are. This is Mariupol, this is the price of such long actions.
BBC: We have heard from official reports that the UN and the Red Cross are evacuating.
SP: No international organization has come to the territory of Azovstal, no politician has stepped in to understand what is happening.
Special equipment did not come to the territory of Azovstal to disassemble, demine, etc. All this is done by the hands of Ukrainian servicemen under terrible, heavy fire, under a pile of unexploded ordnance, cluster bombs, under anti-personnel mines.
BBC: Is it possible to confirm that all civilians were indeed removed from Azovstal?
SP: I can't confirm anything. It will be possible to say that the evacuation of civilians has been completed only when someone really comes here by actions, and not in words to do what the Ukrainian military is doing.
Let them establish a real ceasefire, let the "blue helmets" or "white helmets" (international peacekeepers – Ed. ) Begin to dismantle the debris. Only then will we see what is really happening here, how many civilians have died.
We don't even know exactly how many military bodies we couldn't get out from under the rubble.
I believe that the Russian side also needs to collect its killed soldiers. This requires a ceasefire and an agreement between the two sides to collect the bodies of the dead. It's warm outside now. Bodies begin to decompose and poison everything.
"These soldiers deserve to be saved"
BBC: What do you need to do right now to save the military and civilians who could have stayed at Azovstal?
SP: Now we need to achieve a real ceasefire, to take the wounded out of here. It is extremely difficult for them, they die every day due to lack of treatment. There is no possibility to provide them with normal medical care. The next is extraction, ie withdrawal of the garrison either to the territory of a third country or to the territory of Ukraine.
These military, believe me, deserve it. These guys did the impossible in these extremely difficult conditions. Roughly speaking, guys with bar-knives throw themselves at planes and tanks. I do not know whether there have been precedents in history of such heroism.
When we hear that a Russian plane was shot down in Ukraine, a missile was shot down, our air defense worked, some ships were also shot down, we don't have that and we haven't had all these two and a half months.
All Russian planes, as they worked for us, still work. Ships were and are being fired from ships. No help.
BBC: Is it true that back in March the Ukrainian authorities offered you to leave Mariupol?
SP: It was a conversation. It was not an order. In March, it was about the encirclement of 14,000 troops of the Mariupol garrison. It is a circular defense and struggle in the environment. Getting out of such a cauldron would mean leaving 99% of the personnel on the battlefield. And to get out of there with the wounded and the bodies of the dead meant to lose all personnel and stop the fight.
We were asked if we had such an opportunity. Of course, we said no, because we can't leave our wounded and the bodies of the dead. I believe that in order to save the situation, there is politics, there are negotiations.
This situation is critical. With each passing hour, it becomes even more critical. Let's see what else can be done for us. We are guided by the interests of the Ukrainian people. For us, the priority is the struggle.
Will we lay down our lives? We are all ready to die here.
BBC: Are there any threats or signs of infectious diseases such as cholera?
SP: Of course it can be. Insufficient nutrition, constant smoke, arson, combustion, rocket gases are noticeable.
BBC: How many times a day do you eat? Do you have drinking water?
SP: Sometimes once a day, sometimes without food. As when. We stretch everything we have, share.
Some water supplies are still available. In addition, we have technical water that we boil and drink. Somehow.
BBC: Is gangrene caused by a lack of antibiotics and the inability to amputate the main cause of death among the wounded?
SP: Our servicemen die every day from serious injuries. We do not have enough antibiotics, dressings, we do not have fresh air. Our hospital is being bombed.
We have a lot of injuries. We have a lot of people killed as a result of the bombing. The situation is simply catastrophic.
The wounded must be evacuated immediately. This, in turn, requires our Commander-in-Chief to make every effort to reach out to all international organizations to assist our soldiers. Believe me, they deserved it. We hope to reach an agreement.
In all armies of the world, according to the Geneva Conventions, it is customary not to shoot in the hospital. Though mobile, though stationary. We have a different situation. But we hope that thanks to the intervention of a third party it will be possible to settle and evacuate the wounded, non-combatants. These are doctors who also need help.
BBC: There is information that some soldiers from the command of the 36th Marine Brigade made a breakthrough. What is known about this?
SP: The situation now at Azovstal could have been better, if not for some traitors who left their brothers and went to the so-called "breakthrough". We consider it a shameful act – to leave our people at the plant and break through in a small group, it is unclear where, substituting all the defenders of Mariupol, but above all their people and fighters. They also left all their wounded and dead to chance.
This is an act for which we have no forgiveness. These are the people who framed the entire garrison.
We make our choice in favor of the state and the country, not ourselves. We do not put our lives above the interests of our country.
BBC: Many in Ukraine fear that provocations and a new wave of mass bombings may occur on May 9. Do you expect Azovstal to be the main target?
SP: The bombing is going on right now. They happen all night. Bombed with phosphorus bombs every night. It is a pity that we are constantly told: "Tomorrow we will help you." So it was in March, so it was in April, in May. And no one has done anything all this time.
In just one night, we counted about 60 air strikes dropping two or three high-explosive bombs. To this is added naval artillery. This is the territory of only one plant. Imagine the number of casualties, injuries and destruction.
A couple of rockets are arriving in the Ukrainian city – we say that this is a tragedy. And ten times more people arrive in one night. Air defense does not help us. None.
That is, it looks like the disposal of the enemy's combat kit on the territory of the Azovstal plant. This is how we view it. Well, then don't tell us, "We'll help you." Say, "Guys, sorry, come on," For now. "
Nevertheless, we hope that our government, the president, and politicians will be able to influence the international community. We hope that, thanks to journalists and civil society, we will be able to put pressure on the enemy and achieve a ceasefire. After that, people could be evacuated.
Want to get the most important news in the messenger? Subscribe to our Telegram or Viber