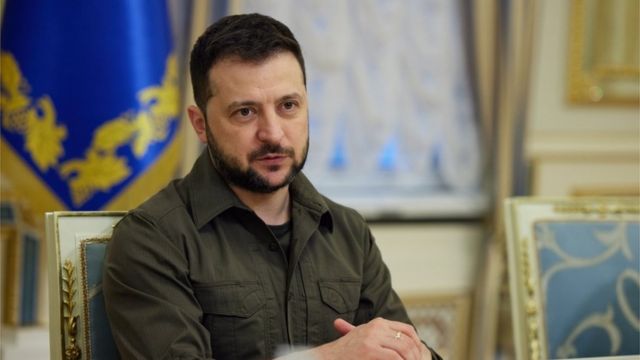 At a joint press conference with Canadian Prime Minister Justin Trudeau, President of Ukraine Volodymyr Zelensky stated that it was impossible to unblock Mariupol by military means.
"Today it is impossible. In Ukraine, there are no heavy weapons to unblock by military means," he said.
When Zelensky was asked whether Ukraine had sufficiently prepared Mariupol for the Russian invasion, Zelensky said that his diplomatic efforts had helped remove all civilians from Azovstal.
"The Russian army, military and political leadership do not want to allow the military to leave," he added, commenting on the fact that the Ukrainian military remains blocked at the plant.
He added that representatives of Turkey, Israel, Switzerland and France, as well as the UN and the ICRC had been invited to the talks, but that Russia was ready to exchange troops only if they were prisoners of war for other prisoners of war.
Zelensky's statement was made that day, and the Ukrainian military at Azovstal reiterated that they were preparing to die if Ukraine and international organizations did not agree to withdraw the Mariupol garrison from the city in the event of a ceasefire.
According to the fighters, the authorities are procrastinating with their help, forgetting that they were the ones who removed civilians from Azovstal during the evacuation.
"May remain civilians"
At the same time, the leadership of the Azov National Guard regiment does not rule out that civilians may still remain on the territory of the Azovstal plant in besieged Mariupol.
This was stated at a press conference by Deputy Regiment Commander Svyatoslav Palamar.
According to him, several hundred civilians have been evacuated from the plant over the past three days. On May 7, the Ukrainian leadership announced that the operation had been completed successfully, and all civilians had been removed from Azovstal.
But Azov admits that this is not the case.
"Have all civilians been evacuated? We can't say for sure," Palamar said.
According to him, people may be trapped at the plant, and there is no appropriate equipment to disassemble them.
The deputy commander of the regiment also noted that three "Azovs" were killed and six were wounded in three days of evacuation.
"Azovstal is currently under intense shelling. Last night we counted 25 sorties by Russian aircraft, including 3 strategic bombers," Palamar said.
He added that the plant fires artillery, tanks, mortars and storms Russian infantry every day.
"Captivity is death"
Azov staff officer Ilya Samoilenko, who also took part in the video conference, said that several thousand civilians were hiding at Azovstal at the beginning of the war.
They were placed as far as possible from the military positions in the bunkers. But this did not help, as Russia dropped unmanned aerial bombs on the plant.
"Nobody expected us to last that long. I didn't expect it," Samoilenko said.
Samoilenko also added that he could not say how many fighters were still on Azovstal, but said that several hundred fighters had been wounded. He also rejected Russia's offer to lay down arms.
"We have known all this time that the Azov Regiment has no high chance of surviving if we are taken prisoner, and surrendering to us is unacceptable. We cannot give such a gift to the Russians," he said. that for the soldiers of the Azov Regiment, captivity is death. "
Want to get top news in Messenger? Subscribe to our Telegram or Viber !