Catherine Pallag
For BBC News Ukraine, Transcarpathia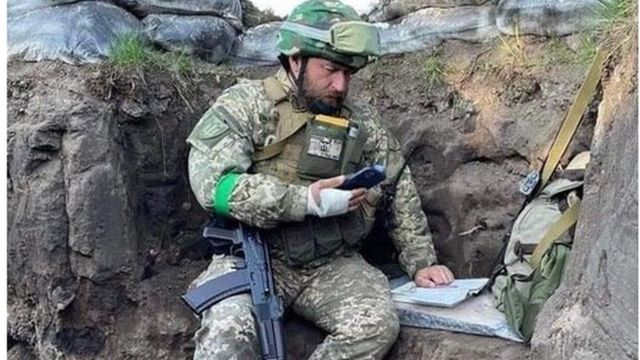 The other day, photos of the Ukrainian military from the front line began to be spread on social networks. The one with the weapon in hand holds a smartphone in his hand. Next to it is a notebook and a pen.
This is Fedor Shandor, a fighter of the 101st Transcarpathian Troop Brigade. He is also a professor at Uzhhorod National University, Doctor of Philosophy, Head of the Department of Sociology and Social Work of Uzhhorod National University.
In a photo from the trench, he is lecturing to his students under fire.
On the day of the full-scale invasion, Fedor spent three couples and went to the military registration and enlistment office.
Now the doctor of sciences is at the forefront. Despite the constant shelling, he did not miss a single pair. Twice a week after the night shift he is Professor Fedor Fedorovich, the rest of the time he is a shooter Shandor.
"On the eve of the war, I said it would not be"
Fedor Shandor is a local celebrity in Transcarpathia. He conducts excursions, organizes intellectual games and "Uzhgorod regatta" – an annual rafting on the river Uzh on homemade decorated structures. He is also a deputy of the regional council and president of the Transcarpathian tourist organization. Wherever you are, a bow tie over a checkered shirt is the same.
On the eve of the Russian attack on February 23, Sandor played an intellectual game.
"We argued a lot about whether there would be a war. I was sure not. After all, there is no logic in this war, there is no idea in it," – said Fedor Shandor in an interview with BBC News Ukraine.
He admits that this misconception was based on sociological research and expert opinion: "I did a comparative analysis for myself. There was everything: there was a rattling of weapons, there was intimidation, there was an information war, but I did not expect such a war. It is nonsense. this is the last argument. "
The professor learned about the war at 6 am.
That day he spent three couples, one of them – the psychology of mass behavior. "The students were shocked, and so were we, we didn't talk about the war. We even drank traditional coffee with the teachers in silence," he said. He admits that in the first days he did not understand what would happen next.
"There was zero experience, except for military tourism"
After work, the professor changed into a sports suit and went to the military registration and enlistment office.
He says he has not had any combat experience so far: "I did not serve because I immediately went to graduate school. In addition to hiking and military tourism – experience" zero ". Here 90% of people like me: the president of the regional football federation , guides and fishermen, civil servants ".
According to Shandor, he did not see the war as he had imagined it: "Small arms are needed from lost Buchanan executioners to clean up looters. positions ".
He says that one of his main tasks is to dig a deep trench so that powerful artillery does not destroy the front line.
"At first, all hands were covered in blood from inexperience, but now we will teach whoever you want," says the professor.
"Now students are uncomfortable to miss money"
From April 11, Professor Sandor and his team of Troy on the front line. According to him, he did not stop teaching. From the beginning of the pandemic, training was conducted remotely, so some of my colleagues did not even guess that Fedor Fedorovich was lecturing from the trenches.
Sandor gives 6 lectures a week, the schedule agreed with the military leadership. At night – on duty, and in the morning sits down in a dugout and "connects" to students.
According to the professor, the shelling in the Izium direction, where he serves, does not stop for an hour. He also gives lectures to the sounds of enemy artillery.
"I like to see students, so please turn on the cameras, please do not sleep. Mine is also almost always on," he says.
Fedor Sandor says that since he has been at war, students have studied harder: "They are just uncomfortable skipping lectures. They understand where I am, so they have to get out of bed."
"He's on the front line, and we're protecting him from behind"
Iryna is a third-year student at Uzhhorod National University, studying sociology and social work. Her father went to the front with the teacher.
We hear shelling during Fedor Fedorovich's lectures, but we are used to it. When the shelling is strong, he apologizes and disconnects, but we continue the lesson in a few minutes. During the lectures he is responsible for our safety. When we have an air alarm – he asks to go to the shelter, it is necessary. "
According to Irina, the students are volunteers: "Fedor Fedorovich is on the front line, and we are protecting him from behind."
Fedor Shandor's military philosophy
Under the sounds of enemy shelling, Sandor reflects: "Now we see the consequences of thirty years of Russian education. Russian education is to dig trenches in the Red Forest, Russian education is to shell nuclear power plants, museums and temples."
Fedor Shandor is preparing for the exam period and tests. He says there will be no obstacles. The teacher evaluates according to the "Bologna system", so most students have already scored a satisfactory number of points for them.
"I torture them before exams," the professor smiles.
The doctor of philosophy says that knowledge of sociology, psychology and other sciences helped only when emotions died down and the ego was subdued: "In the beginning there were conflicts, we lived in civilian life. Here you have to live in brotherhood. The army definitely changes people."
The professor also thinks about the fear of death. It is acknowledged that to some extent it is felt by everyone at the forefront.
"Important processes took place in Ukraine"
Sandor says that the world has clearly defined the rules of the game – and this is also the merit of Ukraine.
The unity of Ukrainians that the whole world admires today is one of the most important transformations that has taken place during the full-scale invasion, he said.
In addition to self-identification and a common goal, the catalyst for this process Fedor Shandor calls internal pendulum migration: "We have become Ukrainians, not Easterners, not Westerners, ten million pendulum migration… people saw each other, rubbed."
The doctor of philosophical sciences believes that Ukraine will win and have everything it wants.
"It will be a long process, but we will have everything," Sandor said.
He also says that after the victory he first of all dreams of shaving: "I never wore a mustache, I don't like it, but I promised myself not to shave before the victory."
Sandor promised his students to win by the fall, so that they could meet in the auditoriums of Uzhhorod National University on September 1.
Want to get top news in Messenger? Subscribe to our Telegram or Viber !