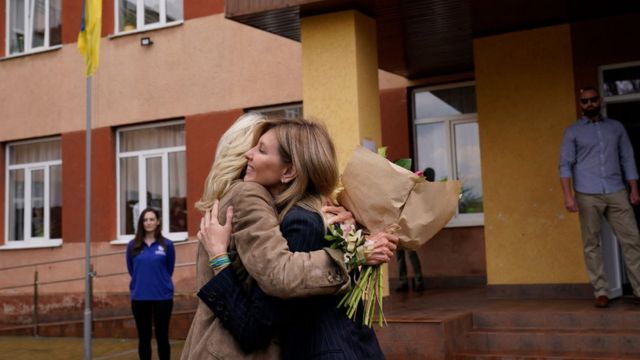 On Sunday, Jill Biden paid a visit to Slovakia and paid an previously unannounced trip to Ukraine.
"I wanted to come on Mother's Day. I thought it was important to show the people of Ukraine that this war must be stopped, that this war is very brutal and that the people of the United States support the people of Ukraine," Jill Biden told reporters in Uzhgorod. which means her visit.
"I would like to thank you for this courageous step. We all understand what the arrival of the First Lady of the United States means during the war, when fighting is going on every day, when there are daily air raids, even today. We all feel your support," she said. question about the significance of this visit Elena Zelenskaya, who met the first lady of the United States in Uzhgorod.
Biden and Zelenska visited the Uzhhorod school №6.
It is used as a temporary shelter for 163 Ukrainian migrants (47 of them children).
There the first ladies met behind closed doors.
They also met with children who are in the shelter school and took part in an art class with them.
The wife of the President of Ukraine appeared for the first time at a public event since the beginning of the war.
Ms Biden's visit was not announced in advance for security reasons. After visiting the school, Ms. Biden returned to Slovakia.
Earlier, Ukraine was visited by US Secretary of Defense Lloyd Austin and State Department Anthony Blinken, as well as the Speaker of the US House of Representatives Nancy Pelosi. They came to Kyiv.
In recent weeks, Western politicians and artists have been coming to Ukraine regularly to show their support for Ukraine in its fight against Russian aggression.
Want to get top news in Messenger? Subscribe to our Telegram or Viber !