The BBC News Russian Service app is available for IOS and Android . You can also subscribe to our Telegram channel.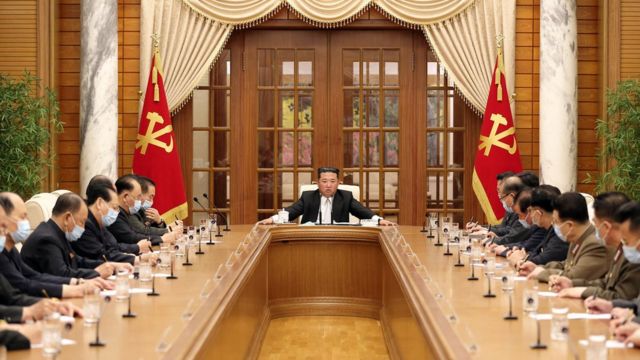 The North Korean authorities have reported the first cases of coronavirus infection in the country, according to the South Korean news agency Yonhap, citing North Korean media.
Cases of infection with the Omicron variant were reportedly detected in Pyongyang – tests were taken from residents with symptoms of Covid-19 on May 8.
After that, a "maximum emergency" regime was introduced throughout the country and a lockdown was announced. It is not known how many people have been infected.
North Korean leader Kim Jong-un ordered his subordinates to stop the spread of the virus and promised that the country would overcome the crisis, which, according to him, arose unexpectedly.
"In all counties and cities of the country, everyone blockade their region and securely close the paths for the spread of the malicious virus. We will overcome the sudden crisis and will certainly win," he said at a specially convened meeting of the Political Bureau of the Central Committee of the Workers' Party of the DPRK on Thursday.
Kim Jong-un also ordered to tighten control on the country's borders.
The DPRK authorities previously claimed that not a single case of coronavirus infection was registered in the country during the pandemic.
According to them, the complete closure of borders helped prevent the virus from entering the country, in particular. What other measures were in effect in the DPRK is unknown.
Pyongyang even refused to supply vaccines under the international Covax mechanism, and the drugs were distributed among other countries.
In July 2020, the country's first suspected case of coronavirus was reported in a defector who returned to his homeland, but there was no further information about his fate.
Experts expressed doubts that the DPRK managed to prevent the coronavirus from entering the country.