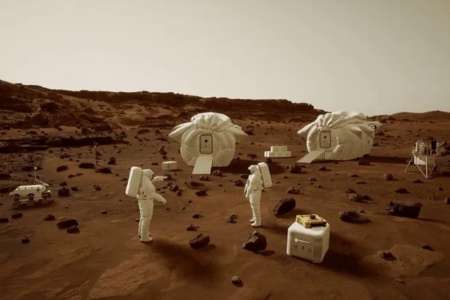 Challenge participants will have to create new scenarios for augmented reality (XR) Mars XR using the new Unreal Engine 5 (UE5). These technologies will help train future astronauts before flying to the Red Planet.
In the coming years, NASA intends to carry out manned missions to Mars. Ahead of these epic events, the US National Aeronautics and Space Administration (NASA) has teamed up with Epic Games, virtual reality studio Buendea and crowdsourcing platform HeroX to launch the MarsXR Challenge.
NASA is developing the Mars XR Operations Support System (XOSS) and has partnered with Buendea to create a complete Mars XR simulator powered by Epic's Unreal Engine 5 that will help train astronauts virtually before their actual flight to the Red Planet.
The realistic virtual reality environment developed by NASA and partners includes a full simulation of the salts (Martian days) and weather conditions of the Red Planet. More than 400 km² of another world's terrain is being developed, with its accurately simulated surface based on satellite images.
Developers are invited to participate in the NASA MarsXR Challenge to create new scenarios for the XOSS environment using UE5.
Challenges are divided into five categories, which include Set Up Camp, Research, Maintenance, Exploration, and the interestingly named Blow Our Minds.
Within each of the categories, participants will have to develop specific scenarios for preparing astronauts for future missions.
The prize fund of the competition is 70 thousand dollars (the amount will be divided into 20 different prizes). There will be four prizes in each category, and the winner in the absolute category will receive $6,000.
The NASA InSight station recorded a record powerful "marsquake" – a magnitude of 5