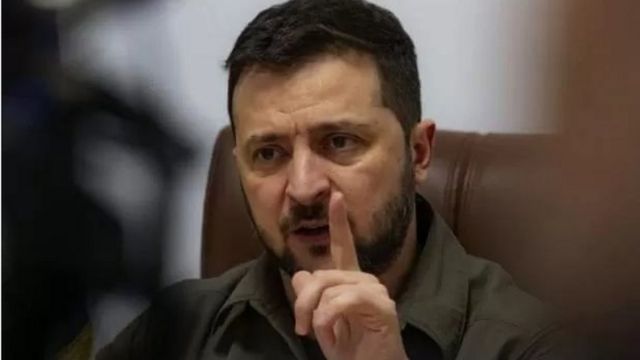 According to Volodymyr Zelensky, French President Emmanuel Macron has offered Ukraine to make significant concessions to persuade Russia to end the war.
He stated this in an interview with Porta a Porta of the Italian TV channel Rai 1.
Asked by the host if there was a risk that Russia, offended by Ukraine's defeat, would repeat the fate of Nazi Germany, which was also the result of dissatisfaction with the results of World War I, Zelensky spoke out against any appeasement of Russian President Vladimir Putin.
In particular, he commented on the policy of Macron, who regularly held long talks with Putin.
"We should not look for a way out for Russia, and Mr. Macron is doing it in vain, I think he has a wonderful experience that until Russia wants it, until it understands that it needs it, it will not look for anything, no exit, "Zelensky said.
According to the Ukrainian president, Macron wanted to achieve results in mediation between Kyiv and Moscow, but could not, and through Russia, not through Ukraine.
"And to offer me some things related to the concessions on our sovereignty, in order to save the face of President Putin … Look, it seems to me that this is not very correct on the part of certain leaders," Zelensky said.
"We are not ready to keep something for someone and lose our territories for it. It seems to me that this is completely unfair," he said.
He also said that Nazi Germany and Hitler were the result of Europe's peacemaking policy. And this is exactly the policy that the West, in his opinion, has pursued against Putin since 2014, when Russia annexed Crimea.
"And Emmanuel does not need to make certain diplomatic steps now. History does not forgive this," Zelensky stressed.
According to him, Putin no longer has the opportunity to save face, but he still has the opportunity to save Russia.
Azov and talks with Russia
Zelensky also said he was ready to talk to Putin, but "only with him, without any mediators. On the terms of dialogue, not on the terms of ultimatums."
He added that Ukraine wants peace, respect for sovereignty, territorial integrity, society and independence of Ukraine.
"At least get out of the territory you have been occupying since the 24th. This is the first clear step to talk about something. We do not hear the answer to this question," Zelensky said.
According to him, the more cases of blatant brutality of Russians, as in Bucha, Borodyanka or Mariupol, the less tolerant society will be to any negotiations with Russia.
He added that attempts are currently being made to rescue Ukrainian soldiers holding Azovstal in Mariupol, but this "depends on Russia."
And so far it is not possible to find a solution even for the wounded and dead.
Want to get top news in messenger? Subscribe to our Telegram or Viber !