Ilona Gromlyuk
BBC News Ukraine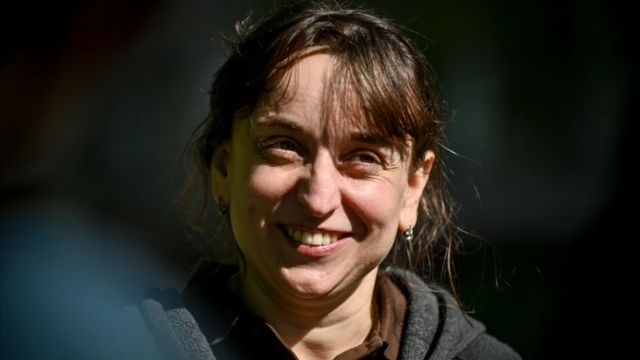 Children hiding at the Azovstal plant dreamed of their favorite food. Day after day, they drew in the bunker what they most wanted to eat – pizza, french fries, cakes.
Those drawings cut the heart of Natalia Babeush, who for more than two months in the dungeon prepared food for them from virtually nothing.
"They just slapped me with those pictures," said a 35-year-old woman from Mariupol.
A particularly persistent boy hung his picture of pizza over the place where Natalia slept.
"But the pizza was always in front of my eyes," the woman recalls.
In early May, Natalia was evacuated.
She took those children's drawings with her. In total, eight children depended on the woman. The oldest child was 17 years old, the youngest, the girl – only 2.5.
One boy was four, and he could not pronounce Natalia's name. "Let me be Aunt Soup," the woman told him, and the nickname has stuck to her ever since.
Jokingly, Natalia was called that even by adults who were also waiting for her for their portion of soup.
"I told them I would cook while she was alive"
"Bunker" soup from Auntie Soup is two cans of 30 liters.
Up to 40 people sat with her in the basement at different times, and that should have been enough for everyone. Adults received less than children.
There was a shortage of food, so despite air strikes, some dared to leave the basement without waiting for evacuation.
Natalia and her husband Volodymyr ran into the bunker in early March, when 20 people were sitting there.
The couple decided to flee to Azovstal when the shooting started in the yard of their house. Before the war, they worked at this plant. Natalia is a boiler driver, Volodymyr is an electrician.
They ran into the bunker, carrying only two cutlets and half a loaf of bread. They alone would not have survived.
But some families came here by car and had stocks of cereals. Those who came later had nothing, the woman said. The situation with products in Mariupol was getting worse.
The metallurgical plant turned out to be a good shelter. First, there were no problems with firewood – they are needed for various stoves, says Natalia. Secondly, there was water and cakes in the basements.
Under normal conditions, one cake is designed for three meals, the woman explains. There is canned food, a jar of buckwheat with stew, pearl barley – also with stew, as well as coffee, tea, pate and biscuits. The first days food was still cooked on the street fire.
Natalia admits that she does not like to cook, even in such conditions. But she has no children, and for this reason she decided that she was best suited for the role of a cook.
"My husband is an orphan, and I didn't want another child to lose his mother," the woman explains. "So I told people that while she was alive, I would cook."
Buckwheat, verguny and other recipes from the bunker
The war bombed Natalie's two makeshift kitchens. One was in the open air, and only the pan survived, and the other men were moved to another place, with a roof over their heads, but there also flew.
So later the woman began to cook in the dungeon, on the stairs. The men built something like a barbecue for Natalia, where she managed to cook not only soup, but also pancakes, potato pancakes and even desserts.
"Other women also helped, but in general I did not accept help – I knew that if I do it alone, everything will turn out well," says Natalia. In two months she came up with a bunch of recipes.
"We take canned food, some buckwheat, there is flour so that the cutlets do not fall apart, baking soda, vinegar – and it turns out a kind of buckwheat," – says Natalia.
She did the same with pearl barley and then rice, but without canned food. "I added a little sugar to the rice, it turned out something like rice, I don't even know what to call it," says the woman.
One day one of the people turned out to be sour milk, and it went, says Natalia, to "verguny" – these are Ukrainian delicacies made of unleavened dough that need to be fried.
Her childhood dreams of pizza and french fries did not give her peace. When four potatoes were found in the bunker, Natalia made potato pancakes for the children. Not French, but at least, she says.
And she also cooked pizza. I made pita bread in a dry pan and added canned food. Someone found a piece of cheese, peas. "The kids were thrilled. Pizza at war!" – Natalia remembers.
And once Natalia made a cake for the children: it was pancakes with jam in the middle.
"They themselves shouted that it was a cake, and it was difficult for us, adults, to understand that somewhere far away children eat cakes, and ours consider ordinary pancakes with jam to be a cake," the woman says.
No connection, no shower
Fortunately, people's stomachs did not revolt. "At least no one told me," the woman said.
We ate only once a day, at lunch. People in the bunker, says Natalia, tried to sleep more so as not to eat.
The rest of the day and in the evening they tried to drink only tea. Although the water was running out, soon only the technical one remained, which was boiled several times. Rainwater was also collected, the woman said.
The same water was used several times. It was possible to wash only when it was snowing. Natalia recalled that it happened on March 8. Later, only those who really needed it washed, she says.
According to the imagination, there was no common table in the bunker. Everyone huddled and ate where they slept. Instead of plates, says Natalia, people had trays, cups, and some had a newspaper.
Each bunker lived as a separate world. The Azov regiment said there were hundreds of civilians at the giant plant. Among the military in the basements lay the wounded and dead.
Natalia and her wards did not know about it, the bunkers were isolated from each other. There were no injuries, but some people had disabilities and were insulin-dependent, she said.
People had no connection. They even turned off the phones, it didn't make sense to keep them on, says Natalia. The woman was guided by the clock on her hand.
"No one could tell my parents where I was," she said.
The military, the woman said, rarely visited them. They brought the children a little sweet. Each time the adults asked the soldiers when they would be evacuated. "Soon," they replied, but no one knew for sure.
"The earth walked underfoot, hope disappeared"
Meanwhile, food became less and less. "I was afraid to look into children's eyes once and say that we will no longer have breakfast, lunch or dinner," says Natalia.
In the bunker, she and her husband tried to entertain people. Vladimir is an electrician, and while they sat without light, he made flashlights for children. Natalia invented various competitions for them.
The city was almost gone, and Azovstal remained the only shelter for the people. In the last days before the evacuation, the plant was stormed by tanks, artillery, ships, and even phosphorus bombs.
"We were 3-4 meters underground, but it was loud, the ground was walking underfoot," says Natalia.
According to her, people believed that they would be elected. But she herself was gradually losing hope. She even wrote her parents' phones under her jacket in case she was found dead in the bunker.
"There was no certainty that you would wake up alive in the morning. Shells flew into some bunkers. We got directly into the generator, part of the bunker was damaged," Natalia later told Public reporters in Zaporizhia.
She was evacuated. The military, he recalls, ran in and said they had 5 minutes to assemble.
Natalia asked the children in advance for permission to take away their drawings. And she took with her a spoon, which she took from home before being on Azovstal.
On the way to Ukraine, people passed the so-called filtration camps, but Natalia does not want to talk about it.
Half a serving of five
Now the woman and her husband are in western Ukraine.
There in the dining room Natalia asked to be filled with only half a portion. And then she sat and cried over that plate.
"In the bunker, this half could be fed to five," the woman explains.
Psychologists are working with Natalia and other evacuees. "But it takes time to open up and start talking," she says. "Now there is nothing but tears and emotions."
Despite this, Natalia finds the strength for an interview. Shows children's drawings to Ukrainian and Western journalists. In one video, the woman said she would take care of her for as long as she could.
Natalia says she keeps in touch with the people she was in the bunker with. She even created a viber channel called "Bunker Azovstal", where evacuees learn where to get help, look for each other, communicate and learn other information from Natalie.
Those months changed her outlook on life. "We don't understand the value of bread and water," she said.
Natalia tries to rest and has no plans. But she still has one.
She admits that she started writing a book, a small survival manual that anyone could carry with them in any war.
Want to get top news in Messenger? Subscribe to our Telegram or Viber !