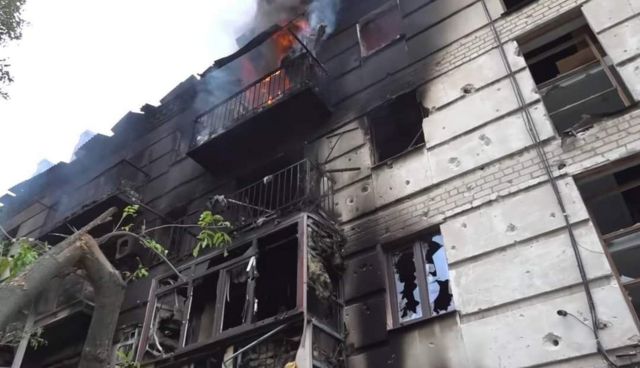 The shelling and clashes in Luhansk region do not stop. The Russian army is attacking Severodonetsk and Lysychansk. Practically destroyed by shelling Rubizhne and Popasna.
Serhiy Haidai, the head of the Luhansk Regional State Administration , told about it.
More than 11,000 houses in the Luhansk region have been partially or completely destroyed.
"According to preliminary estimates, 3,188 high-rise buildings and 8,100 private estates were partially or completely destroyed," Gaidai said.
He noted that the cities of Luhansk region are destroyed according to the Mariupol scenario – more than 60 houses per day.
The second Mariupol
"Rubizhne divided the fate of Mariupol. The industrial city was completely destroyed, there are no surviving buildings, many houses cannot be restored. There are cemeteries in the yards," the head of the OBA said.
Before the war, more than 60,000 people lived here. To date, some of them have been evacuated to safe cities in Ukraine, others have been taken to Russia or the occupied territories, and some are being held hostage in the city's basements, Gaidai said.
The head of the OBA showed a photo of the destroyed city and added that Rubizhne will have to be built almost from scratch.
"Infrastructure destroyed"
Russia has destroyed 348 infrastructure facilities, shut down 3,408 enterprises in Luhansk region, Gaidai wrote in a telegram channel . projects, 15 social institutions, 37 health care institutions and 62 cultural institutions, as well as 6 administrative buildings, 7 railway stations and 35 life support facilities. "
According to Gaidai, thousands of individual entrepreneurs have lost their businesses in the region and are unable to work. 3,408 enterprises, including 479 industrial ones, were shut down. "The estimated total amount of direct losses due to the Russian aggression is 3.1 billion hryvnias," the head of the OVA summed up.
Russia, on the other hand, has announced its intention to "liberate" the territory of the self-proclaimed "Luhansk People's Republic" in the near future and is setting up a headquarters to rebuild Donbass.
Earlier, Russia said it was seeking to expand the borders of the self-proclaimed "republics" in eastern Ukraine to the administrative borders of Donetsk and Luhansk regions.
The fiercest battles between Russia and Ukraine are currently taking place in these areas.
Want to get the most important news in the messenger? Subscribe to our Telegram or Viber !