The recording of the AMD event that kicked off Computex 2022 featured a demo of the Ryzen 7000 series processor in Socket AM5 in Ghostwire: Tokyo . An engineering sample of the 5nm processor reached frequencies from 5.2 to 5.5 GHz " over multiple cores " using liquid cooling. The company claims that it was not subjected to forced overclocking.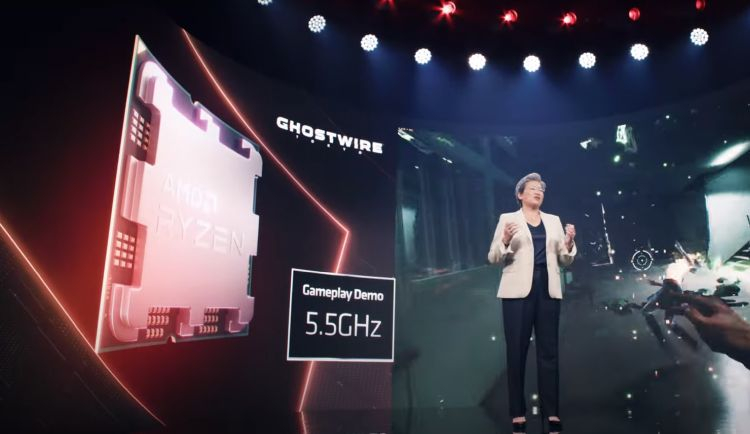 If the fact of using a maintenance-free Asetek liquid cooling system with a 280 mm radiator and two 140 mm fans was revealed at the stage of studying the AMD press release, then the description of the number of active cores in these modes was made by the director of technical marketing Robert Hallock (Robert Hallock) during an interview with PCWorld after the event that opened Computex 2022.
The main issues were the availability of additional, manual overclocking of the processor and the number of cores that worked at the indicated frequencies. The first question was answered in the negative by Robert Hallock – he stated that the sample of the Ryzen 7000 processor demonstrated its "natural frequencies" in the specified game, which ranged from 5.2 to 5.5 GHz. Note, by the way, that on the page of the AMD website dedicated to the events of Computex 2022, for processors with the Zen 4 architecture, the frequency value in the Max Boost mode is more than 5.0 GHz. This implies that within the specified range, one processor core is guaranteed to operate under the appropriate load pattern.
Returning to the topic of the number of active cores, Hallock added that a significant part of them reached frequencies from 5.2 to 5.5 GHz, and at some moments all processor cores worked at some of the frequencies in this range. Much will depend on the cooling conditions, the nature of the load and the capabilities of a particular motherboard. To prepare a demonstration at Computex 2022, the company used a reference board based on the AMD X670 chipset and two 2 × 16 GB DDR5-6000 (CL30) RAM modules.
If you notice an error, select it with the mouse and press CTRL + ENTER.