Walmart, a well-known retail chain in the United States, has announced its intention to expand the delivery area of its goods by drones. The company expects drone deliveries to 34 cities in Arizona, Arkansas, Florida, Texas, Utah and Virginia by the end of the year. The service will be available to a total of 4 million households – back in November last year, the service was provided only to residents of one city in Arkansas.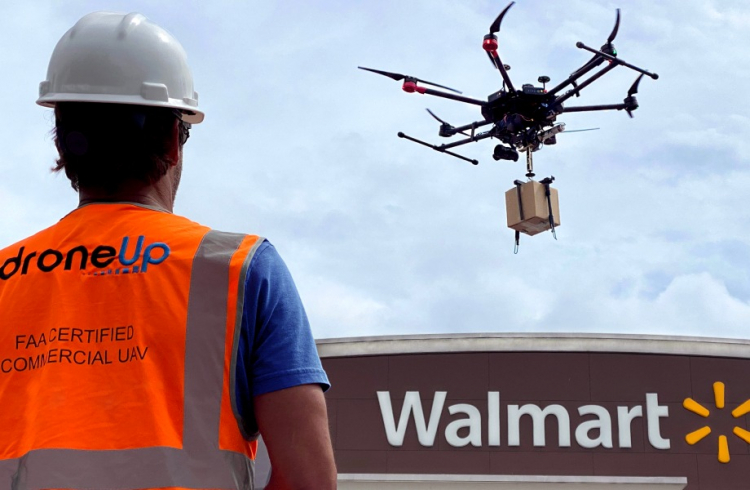 Walmart says those living within drone range will be able to order items weighing up to 10 pounds (about 4 kg) between 8 am and 8 pm. Each delivery will cost customers $ 3.99, the operator of the drones is the company DroneUp, one of whose investors is Walmart itself. After the retail chain receives an order, employees complete it and place the box in a drone, after which the pilot directs it to the buyer and drops it on the lawn near the house.
According to the company, hundreds of deliveries have already taken place within a few months, and the expansion of the business will allow more than a million deliveries by drones annually. It was assumed that people would use the new service for emergency purchases. It turned out that the service is very popular among fast food lovers.
If plans to expand the business are successful, Walmart will become the undisputed leader in unmanned aerial delivery in the United States. Although courier services like FedEx and UPS are also considering similar services, things have not yet progressed beyond experimentation. Alphabet owns the Wing service, which has already made hundreds of thousands of deliveries worldwide, but the company has not yet announced plans for further expansion. The Amazon network has been working on the air delivery project for years, but has not yet succeeded and it is not known when it will start offering its own services. At the same time, Amazon intends to implement a different scheme, which does not provide for drone operators at all, UAVs will be controlled by autonomous systems. This provides some advantage in the long run, since Walmart with its "remote" pilots will have a harder time scaling the business.
The Walmart system still has some limitations. According to The Verge, the law requires deliveries to be made within line of sight of the base, so stores must have tall control towers. In addition, the delivery radius is just over 2 km and, of course, DroneUp will have to hire more and more operators as the service scales.
If you notice an error, select it with the mouse and press CTRL + ENTER.