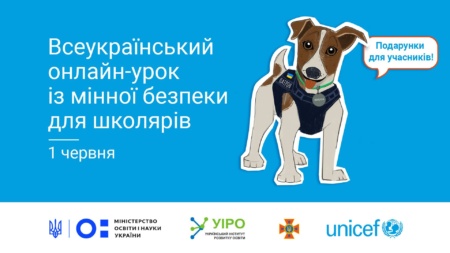 On June 1, Ukraine and the entire civilized world celebrate International Children's Day – taking this opportunity, the Ministry of Education and Science of Ukraine drew attention to the vital mine safety and organized online lessons for schoolchildren to tell them how to behave safely and protect themselves, their friends and relatives.
This is a joint initiative of the UIRO, MES, UNICEF, the Ministry for the Reintegration of the Temporarily Occupied Territories, the State Emergency Service and the National Police. Lesya Yurchyshyn, the best civic education teacher of the Global Teacher Prize Ukraine 2020, was involved in the project, who, together with a mine safety specialist, told the basic rules of mine safety using interactive tasks and cartoons.
Both broadcasts for students in grades 1–4 and students in grades 5–11 have already taken place, however, recordings of both lessons are available on the UNICEF Ukraine YouTube channel. And we simply have to share this content, because this information can save children's lives.
"Today, there is a danger of encountering explosive objects everywhere where hostilities have been or are still being fought. Therefore, it is so important for children to know how to distinguish between such objects, what danger to fear and how to save their lives.

MON
From the lesson, children can learn:
how to distinguish explosive objects;

where danger may lie in wait;

how to make your walks safe and what rules to follow;

what signs warn us of danger.
https://www.youtube.com/watch?v=jqcvIodVuN8
https://www.youtube.com/watch?v=EQtzoak4HSg
Recently, the State Emergency Service launched a mobile application "Reminder of Ukraine" for reporting about mining and explosive objects.
"Rozmіnuvannya Ukraina" – application of the State Emergency Service for reporting about mining and explosive objects