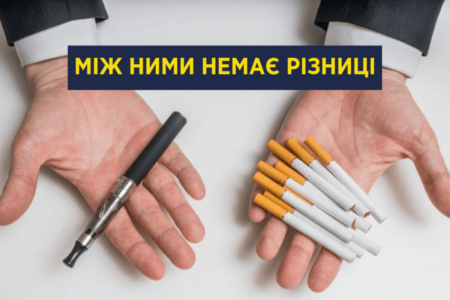 On the occasion of World No Tobacco Day, which was celebrated on May 31, the Ministry of Health of Ukraine recalled the ban on smoking electronic cigarettes and similar devices in public places – new anti-tobacco legislation will come into force on July 11. The ban also applies to hookahs and the use of ashtrays.
Recall that in December 2021, the Rada finally equated electronic cigarettes and tobacco heating devices (for example, IQOS and glo) with ordinary tobacco products – the corresponding changes were adopted by law No. 4358 . The document is primarily aimed at regulating electronic devices for smoking in accordance with the European integration of Directive 2014/40/EU and the WHO Framework Convention on Tobacco Control. The ban on the sale of heating devices to children under 18 has already been in effect since January 2022, and in a month and a half, new restrictions will work in practice.
This means that smoking of electronic cigarettes and vapes will be prohibited on the premises and near healthcare facilities, sports and educational institutions, on the territory and inside catering establishments, as well as in cultural institutions (for example, cinemas and theaters). This prohibition concerns the premises of public authorities, hostels, airports (except for specially designated places), playgrounds, railway stations and bus stations, public transport stops. It is also forbidden to smoke electronic devices for heating tobacco in elevators, underground passages, public transport and taxis.
The law also restricts the use of advertising to promote tobacco products and smoking devices.
In the places covered by the ban, an appropriate sign should be placed – "Smoking, living, smoking tyutyunovy, electronic cigarettes, attachments for keeping tyutyunovykh virobiv without their burning, hookahs are fenced!". For violations, restaurant business owners and business entities may face a fine – you can complain to the administration of the institution, as well as contact the police and the State Food and Consumer Service.
This law also provides for a ban on flavored tobacco and roll-your-own tobacco, but the rule will not come into force until July 2023. From January 2024, manufacturers will also be required to display health warnings on e-cigarettes and tobacco heating devices, which must cover 30% of the packaging area. On "traditional" cigarettes, this label should be 65%.
The World Health Organization (WHO) estimates that more than 8 million people worldwide die every year from tobacco-related illnesses.
Tobacco use is one of the main risk factors for non-communicable diseases (cardiovascular disease, diabetes, cancer, chronic obstructive pulmonary disease and mental health disorders), which is responsible for almost 84% of all deaths in Ukraine. Every year, 85,000 Ukrainians die from diseases caused by smoking.
According to WHO, about 20% of adolescents aged 13-15 smoke e-cigarettes. It is also known that the majority of underage smokers (80%) started such addiction with the use of tobacco heating devices. At the same time, smoking is twice as dangerous for children as it is for adults. For example, a lethal dose for an adult is one pack of cigarettes, for a teenager – half a pack.
Smoking is also a key risk factor for morbidity among noncommunicable diseases, which account for 91% of all premature deaths.