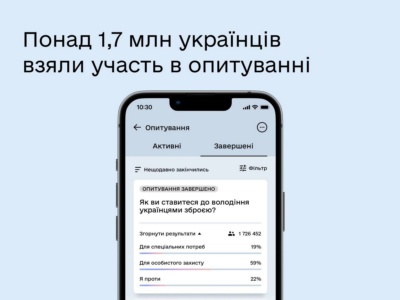 The Diya app has completed an online survey on civilian firearms trafficking. On the result of the vote, which lasted seven days from May 25, told in Mintsifra.
Shortly before Russia's invasion of Ukraine, parliament voted in the first reading for bill No. 5708, which provides for the right to civilian firearms. But the question of how exactly to own it has not yet been resolved. To continue work on the bill, the Minister of Internal Affairs of Ukraine Denis Monastyrsky decided to ask the opinion of Ukrainians on this issue.
This is only the fourth survey in the Diya application, however, it has become the most massive as expected. In just a week, 1726452 Ukrainians took part in it.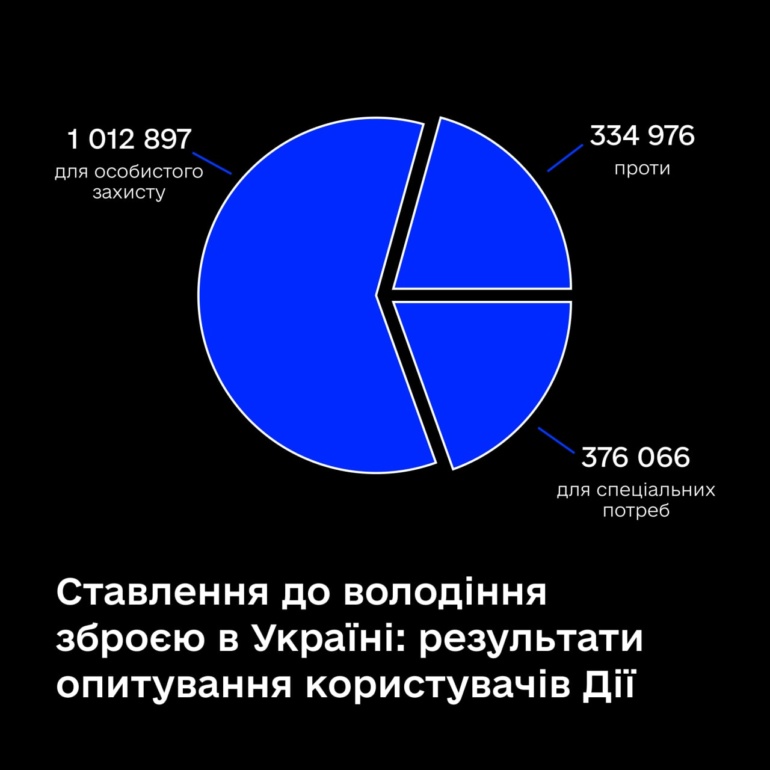 Diya gun ownership survey results:
59% – believe that all citizens who meet the requirements of the law can have a gun and freely carry it with them in public places;

22% – note that pistols should categorically not be circulated among the civilian population;

19% – noted that all citizens who comply with the law can have pistols and use them only in shooting ranges or shooting ranges.

In this case, it is forbidden to carry weapons with you.
These results will be submitted to the Ministry of the Interior for further evaluation.
"Thank you for your activity. Such involvement is an indicator that we are moving in the right direction. Not every state today can communicate with its citizens in three clicks. This is an unprecedented case of direct e-democracy.

Mintsifra
Mintsifra also announced new polls in Diya.
***
Online surveys in Diya appeared in early February 2022 . This is a new service for the development of e-democracy in the country, which has been tested with a limited circle of participants since the end of last year . A survey among users of "Diya" will help the authorities to find out the opinion of people, and the team – to develop new services. In the future, the Ministry of Digital Development plans to implement online elections . The Ministry of Digital Development has been tirelessly talking about the system of electronic elections, which will allow voting online, over the past few years – work in this direction has been ongoing since at least 2020.