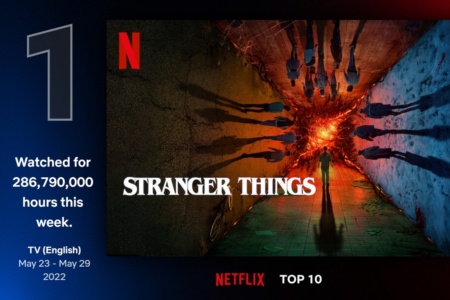 On May 27, the first part of the fourth season of the sci-fi series Stranger Things created by the Duffer brothers was released on Netflix on May 27 – as expected, the high-profile and long-awaited premiere was marked by a record for the number of hours watched.
In less than a week, viewers spent 286.79 million hours on the series – this is the best start. As usual, the statistics include both first views and repeat views.
The continuation of the series Stranger Things takes the first position in the regional Ukrainian top of the most popular Netflix shows over the past week (the anthology Love, Death and Works is in second place). All in all, the sequel to Stranger Things took first place in terms of views on Netflix in 93 countries – and this also became a record. Against the backdrop of the release of the fourth season, previous seasons of Stranger Things also returned to the weekly top. In other words, astrologers announced the week of "Very strange things."
There is no doubt that in the end, the fourth season of Stranger Things will overtake the second season of The Bridgertons and lead the overall rating in the number of hours watched (in the first 28 days of release).
Another high-profile premiere of the week is the Obi-Wan Kenobi miniseries starring Ewan McGregor on rival Disney+. The Star Wars Show

The events in it unfold 10 years after Revenge of the Sith. There are six episodes in total, and the last one will be released on June 22, it started on the same day as Stranger Things and showed the best start. At the same time, Disney does not provide specific viewing data, and Loki and The Mandalorian hold the lead in the overall standings.
On July 1, the final two episodes of the fourth season of Stranger Things will premiere on Netflix. The series has already been renewed for a fifth season, which will conclude the current story arc. By the way, back in 2017, the Duffer brothers reported that they were planning at least four or five seasons. In February, they hinted at a possible spin-off for the show.
Trailer of the other part of the fourth season of the series "Divni Diva" / Stranger Things is pushing the turn of the Catcher of the Rose