Freelancehunt conducted a study and compiled a portrait of a Ukrainian freelancer during the war. According to the company, the freelancing market has recovered, is growing and working. The main reasons are that thanks to freelancing: you can quickly find a specialist without having to hire him; there are many free professionals with extensive experience who are ready to start performing tasks almost immediately; while prices in other niches are rising, in freelancing, due to competition, they remain at pre-war levels; freelancers have more experience in solving problems that will help businesses survive in a crisis and recover.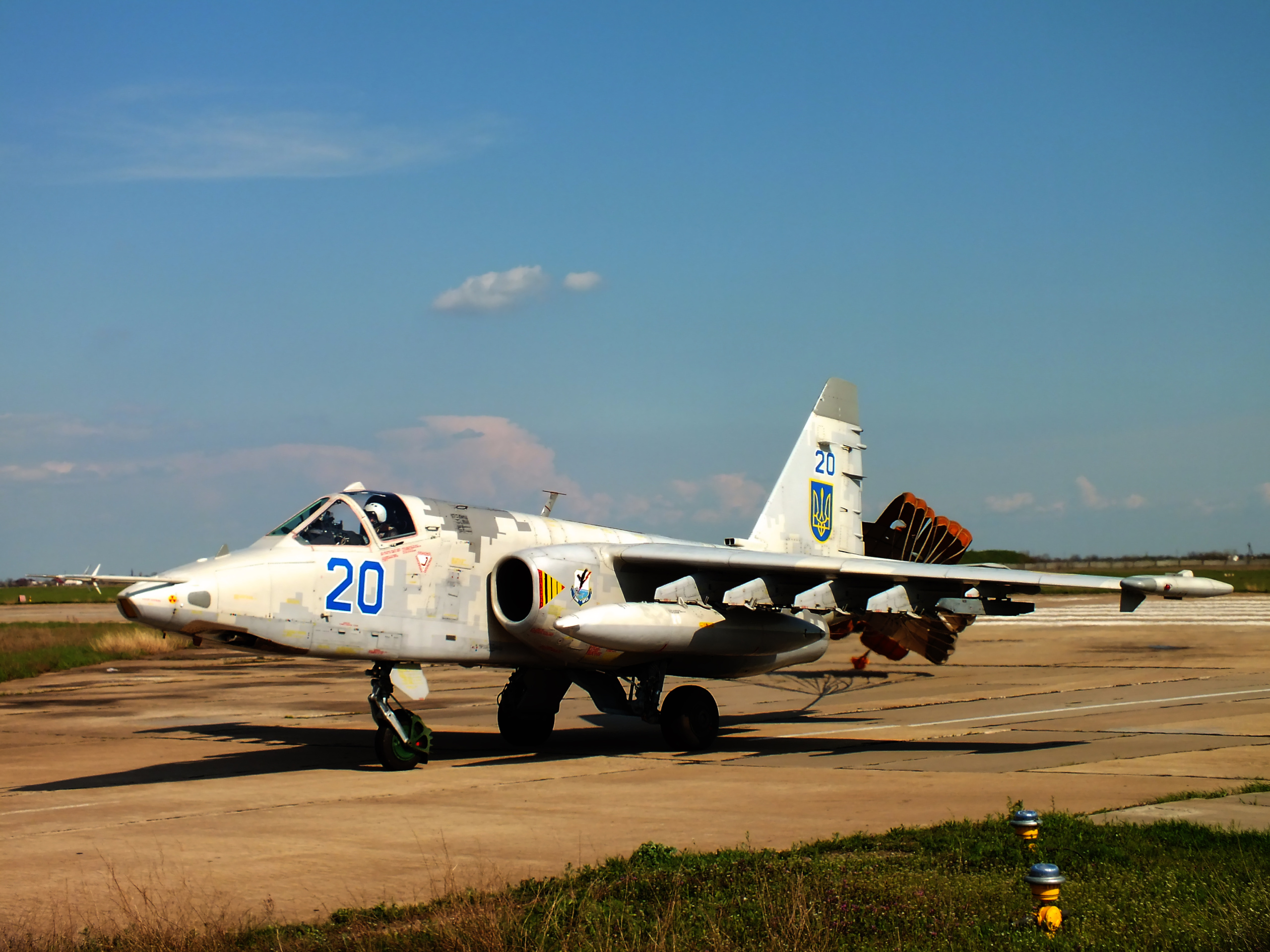 According to the survey, the age of the average freelancer is from 24 to 35 years. Performers under the age of 23 choose the following categories: audio and video – 36.79%, translations – 32.86%, design and art – 28.91%, programming – 28.09%. Representatives of the older generation (48+) prefer to work in the category "Mobile applications" – they turned out to be 18.18%.
36.18% of specialists have been freelancing for more than 5 years, 20.82% – 2 years. Last year, there were 6% of newcomers, this year – 18.01%. Such positive dynamics only proves that freelancing is actively gaining popularity. 16.77% of respondents indicated that they work up to 1 year, and 8.22% – 1 year.
43.78% of freelancers are married or married, up from 39% last year. In a relationship – 28.19% and without a couple – 28.02%. Most of all "family freelancers" develop mobile applications (63.64%), are engaged in promotion (52.54%) and administration (50%). 38.57% of translators and 29.61% of copywriters take their time with relationships. 39.07% of performers have children, and 60.93% have postponed this issue until later.
Take away the skills and knowledge in the IT sphere, without getting involved in the work
REGISTER!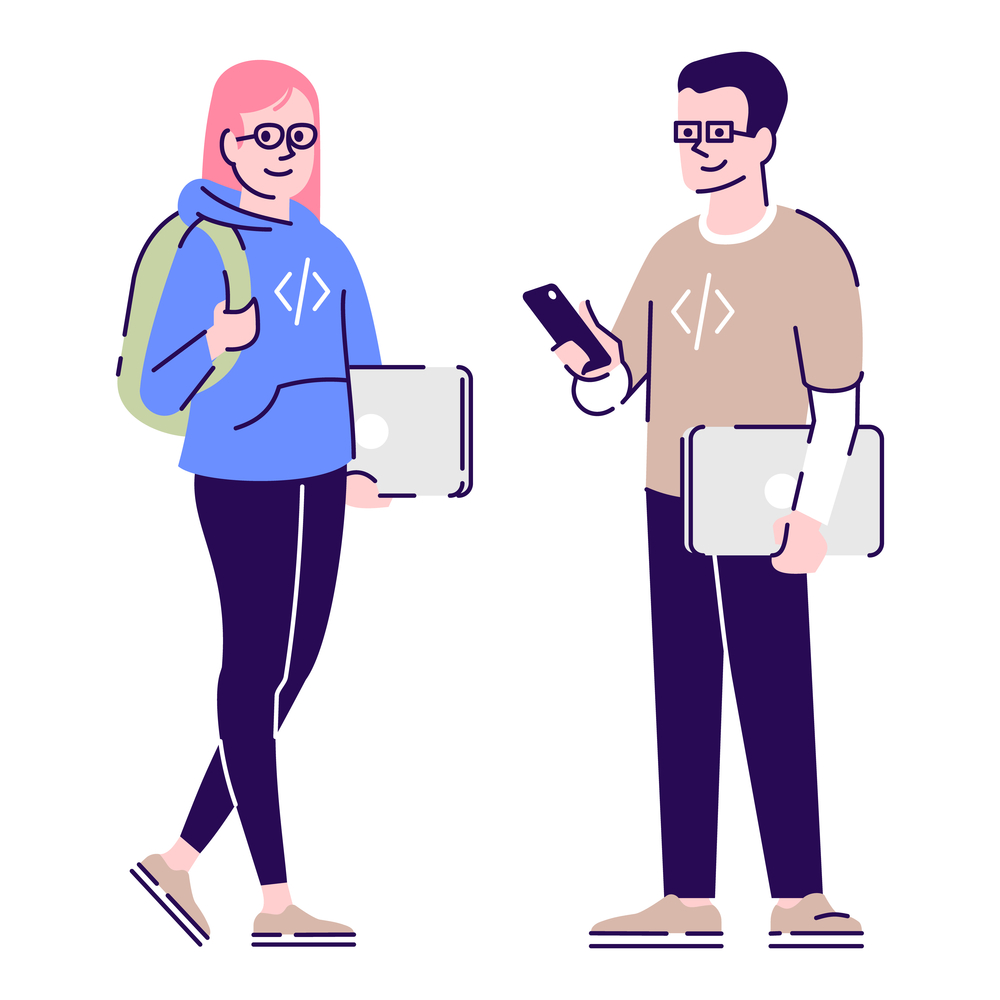 Last year, 39% of women worked as freelancers, this year – already 47.95%, men – 52.05%. The increase in the number of girls may be due to martial law: the men went to the front, and many women left the country. The probability of keeping a job for this category is minimal, so freelancing becomes a salvation and a new source of income. Programming turned out to be an exclusively male profession. Among specialists in this category, 90.74% are men. Girls are the most in the category "Translations" (75.71%) and "Working with texts" (75.83%).
Compared to last year, the percentage of performers with higher education increased from 49% to 51.15%. 8.72% of freelancers have several higher educations, and 2.14% have a scientific degree. 10.69% of students, in addition to getting a new profession, already earn money on freelance. Most often, such performers are found in the following categories: design and art – 30%, programming – 28.95%, work with texts – 16.84%. 11.31% of specialists have incomplete higher education, 6.42% have secondary education, 9.57% graduated from technical school or college.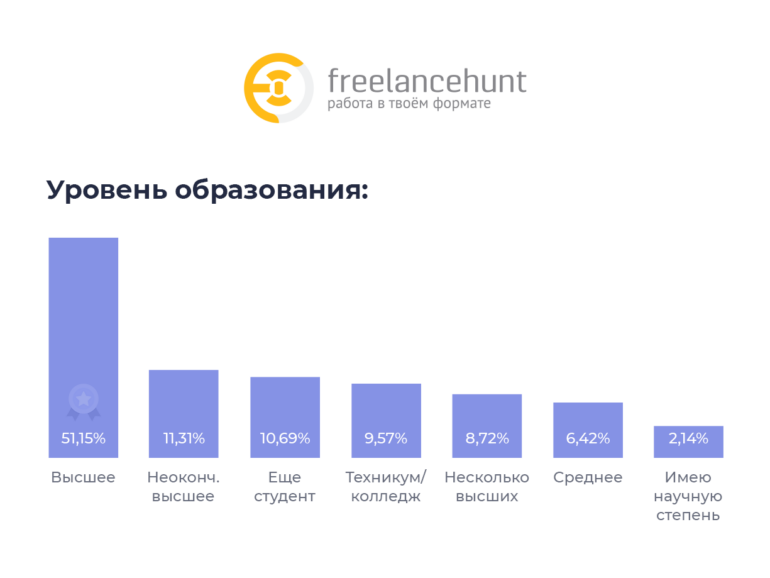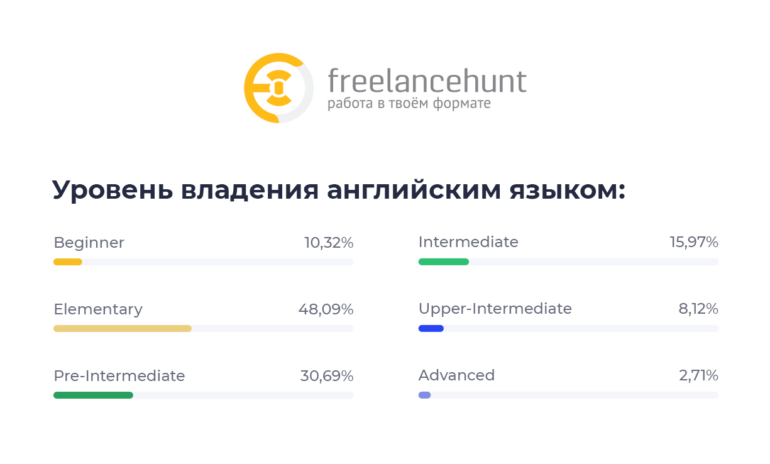 Almost half of freelancers (48.09%) know English at the Elementary level – they can speak and understand some phrases in English. 30.69% – at the Pre-Intermediate level: they can communicate in "simple" language and understand the interlocutor in a familiar situation. 10.32% of performers do not speak a foreign language, and only 2.71% speak quickly and perceive it well by ear. At the Intermediate level, 15.97% of freelancers speak English, Upper-Intermediate – 8.12%.
The cat remains the unchanging leader among pets — 39.22% of freelancers own it. Another popular pet is a dog, which 22.96% of performers have. 3.25% of specialists like to solve business problems of customers in the company of parrots, and 3.62% like fish. Among the rare but interesting pets, the performers indicated: Degu squirrel; gophers; meerkats; servals; spiders; snakes; eublefars. 27.84% of performers noted that they do not have pets.
This is not to say that freelancers are workaholics, as only 5.57% work more than 60 hours a week. Among them are programmers, copywriters and designers. 43.49% of specialists devote up to 20 hours a week to freelancing, and 21.16% – up to 30. Artists for whom freelancing is the only source of income work more hours a week: up to 20 hours – 34.55%, 20 -30 hours – 20.41%, 30-40 hours – 19.84%, 40-50 hours – 12.54%, 50-60 hours – 4.9%, 60+ hours – 7.75%.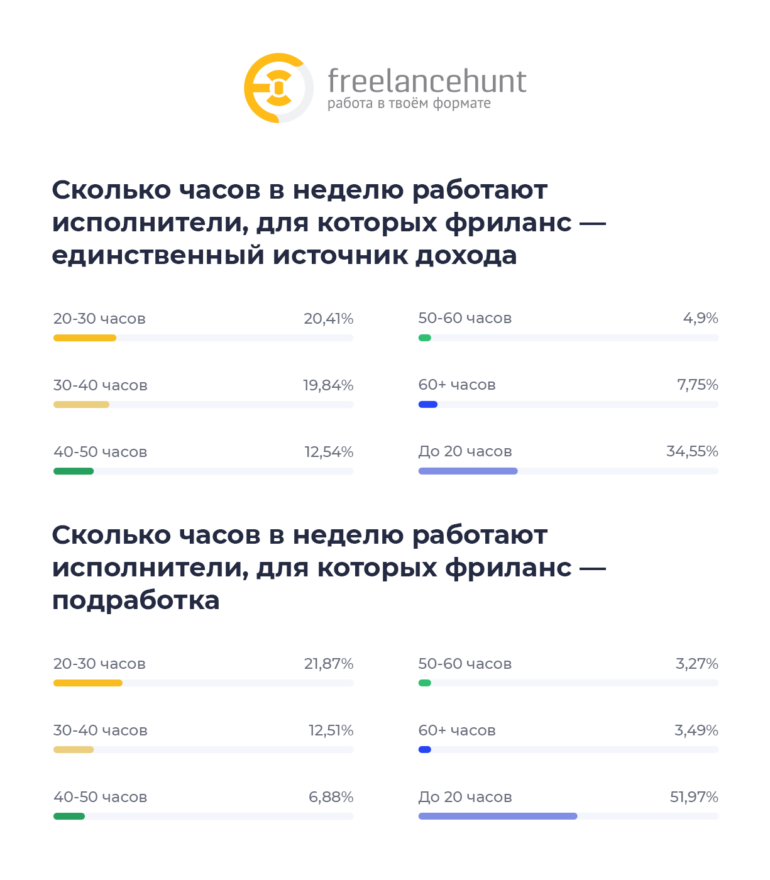 Specialists who still have additional income or use freelance work as a part-time job, work mostly up to 20 hours a week – 51.97% of them turned out to be. At the same time, 21.87% of performers devote 20-30 hours to freelancing, 12.51% – 30-40 hours, 6.88% – 40-50 hours, 3.27 – 50-60 hours, and only 3.49% – more 60 hours.
40.91% of freelancers rated their skill level as Middle. Senior turned out to be 30.33% and slightly less than Junior – 28.76%. The most common format of work is independent, it is preferred by 85.88% of performers. If we talk about the team, then the situation is as follows: 9.77% work in a team of 2-4 employees; 2.65% – 11+ employees; 1.69% – 5-10 employees.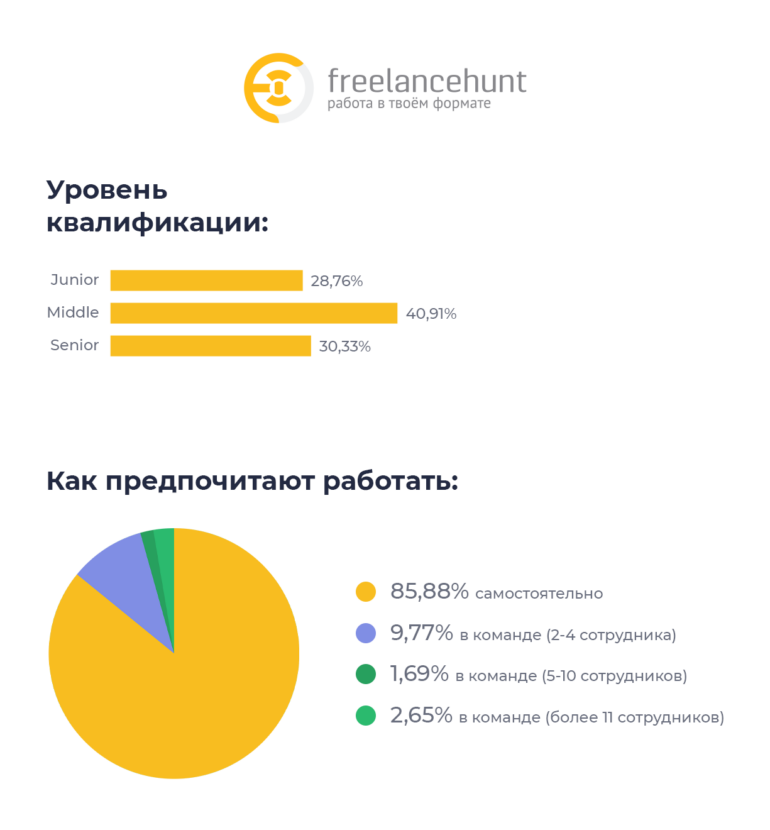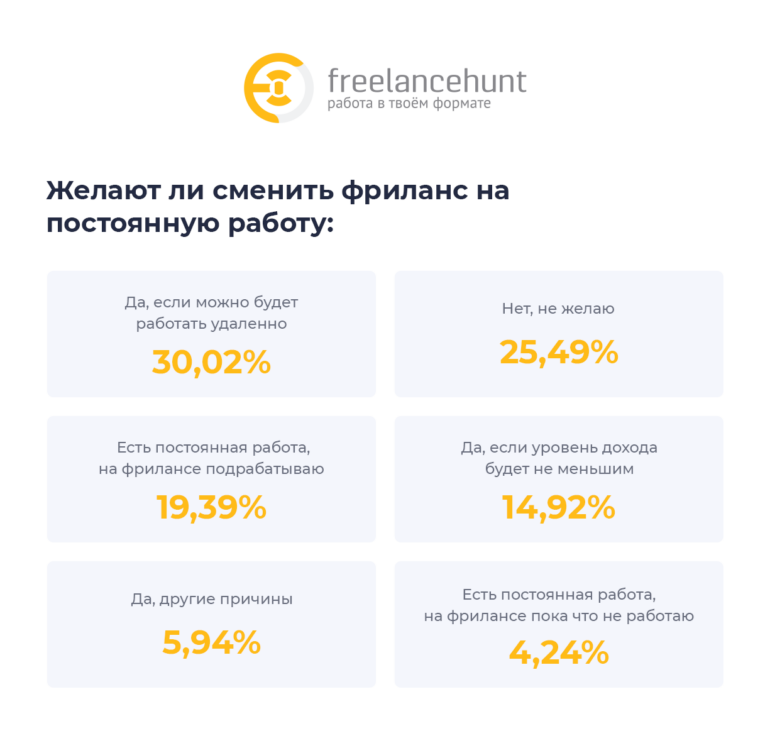 If it is possible to work remotely, then 30.02% of freelancers would agree to switch to full-time, 14.92% – provided that the income level is no less than it is now, and 5.94% decided not to indicate the reason. Among the respondents, 19.39% already have a permanent job, they only work part-time on freelance, and 4.24% so far are completely devoted only to full-time. 25.49% of specialists appreciated all the advantages of remote work and do not even think about exchanging it for a permanent job.
33.09% of performers work in the "Design and Art" category, 18.63% – "Working with texts" and 18.23% – "Programming". As for the other categories, the rating looks like this: promotion – 6.64%; audio and video – 5.97%; services – 5.57%; transfers – 3.94%; architecture and engineering – 3.77%; administration – 2.25%; outsourcing and consulting – 1.29%; mobile applications – 0.62%.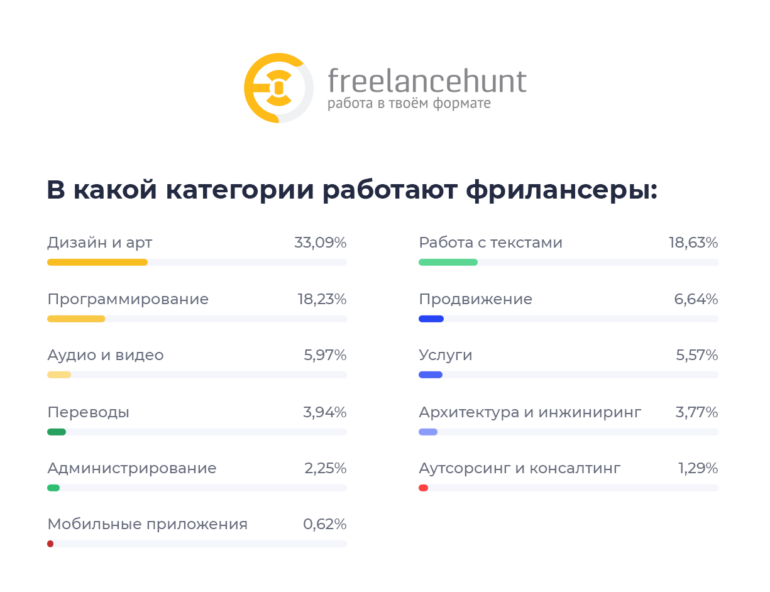 Since the beginning of the war, 66.52% of freelancers had their income level reduced. This is a normal practice, as in general, many enterprises have temporarily or permanently stopped working. Designers, copywriters and programmers most often talk about a decrease in earnings. For 24.93% of performers, the income remained the same, and for 8.55% it even increased. It was mainly programmers and designers who managed to improve their financial condition in such a difficult time.
For 49.72% of respondents, freelancing has become the only source of income, 50.28% have other opportunities to earn money. Most freelancers (74.79%) earn up to $500 per month, and only 1.35% manage to earn $3,000 or more. The latter are mainly programmers, designers and promotion specialists.
15.76% of performers have an average income of up to $1000, 6.13% of freelancers earn $1000-2000, and 1.97% of specialists in the range of $2000-3000. 70.17% say they are dissatisfied with the level of income at the moment. It is worth noting that Freelancehunt is actively working to increase the number of projects, enter new markets and attract foreign customers. Accordingly, performers have more opportunities to increase their earnings. 29.83% of freelancers do not complain about their income.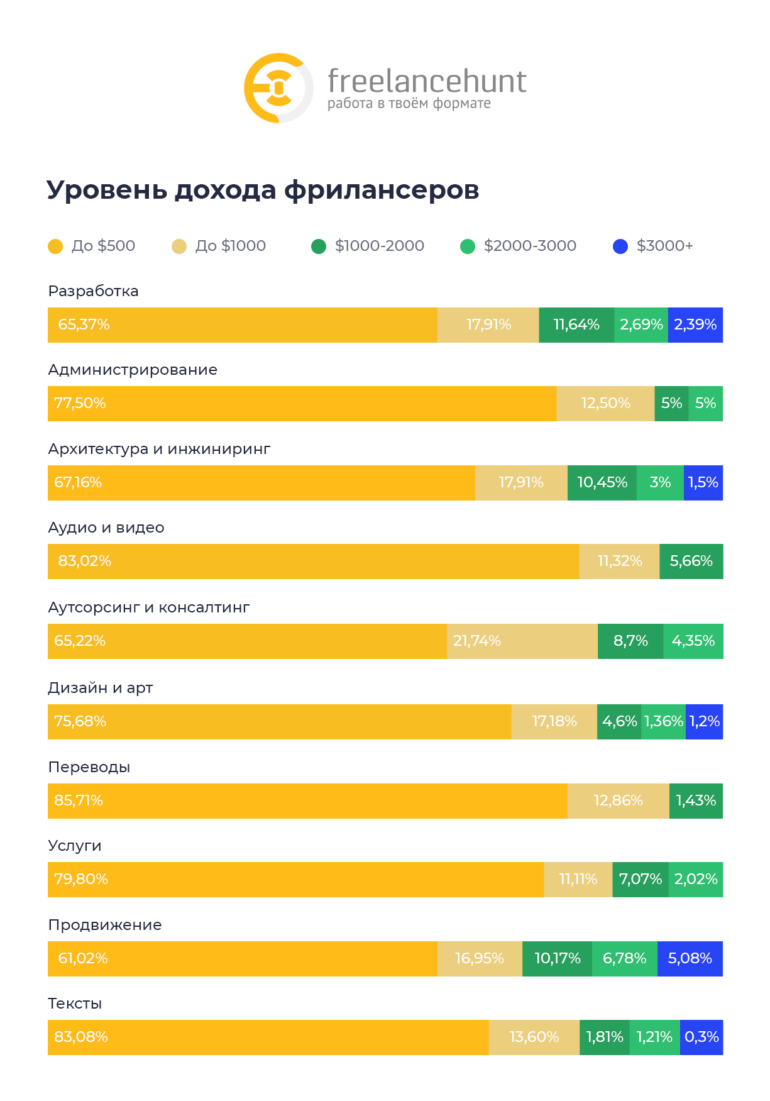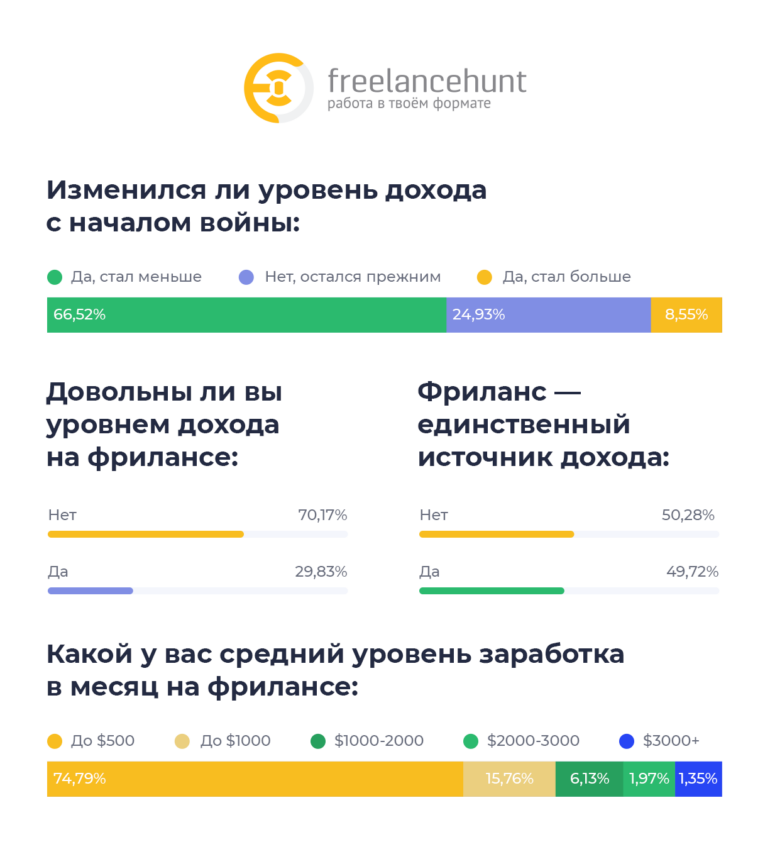 With the start of the war, 67.3% of freelancers had their workload changed — there were fewer projects. Such dynamics is observed mainly by 33.78% of designers, 18.31% of copywriters, 15.72% of programmers. The number of projects has not changed for 24.65% of performers and, conversely, increased for 8.05%. All these data were taken for the first 4 months of the war. At the very beginning, the market sank very much and we will talk about what is happening to it now below.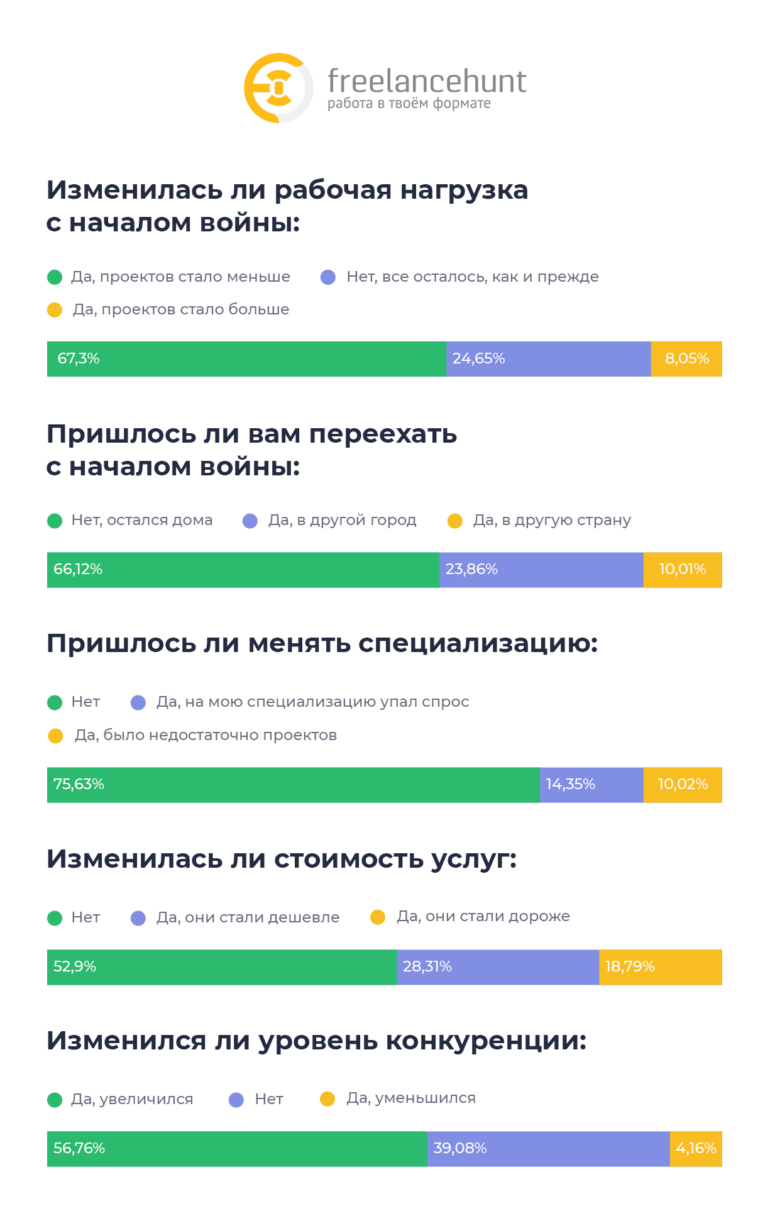 75.63% of freelancers continue to work in their area of specialization. 14.35% of performers had to change it due to a drop in demand for services, and another 10.02% due to an insufficient number of projects in their categories. 52.9% did not change the price of their services, while 28.31% of the cost of services became less, and 18.79% – more. Specialists of different categories (56.76%) observe an increase in the level of competition, but 39.08% believe that it has remained the same, and 4.16% even noticed its decrease.
If we talk about new skills, then experts note that such soft skills have become in demand: to be able to experiment and try new things; the ability to sell yourself; communication skills; leadership competencies. The performers also mention the importance of a foreign language for entering new markets, as well as the ability to pull themselves together when the news background leaves much to be desired, but you need to keep working.
With the outbreak of a full-scale war, 66.12% of freelancers stayed at home, 23.86% had to move to another city or region, and 10.01% left the country altogether. Continuing to work, specialists help their country in every possible way: they are engaged in volunteering; provide support and assistance to refugees; help the IT army; donate to help the army; continue to pay taxes.
According to a study by Freelancehunt, it can be concluded that the freelance market in Ukraine has recovered and will continue to grow with the advent of autumn. The volume of orders has reached pre-war levels, and the turnover of the safe is already 25% higher compared to the previous year. The company also noted an increase in demand for the services of website and application developers. The number of long-term projects (2-4 months), where competition is low, has also grown.
Source: freelancehunt