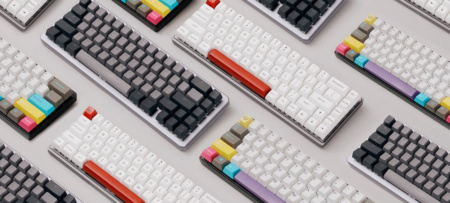 We have collected the top ten, in our opinion, mechanical keyboards in Ukraine. In addition, we figured out how to choose a keyboard, what types of mechanical switches, formats and sizes, connection types and interfaces are.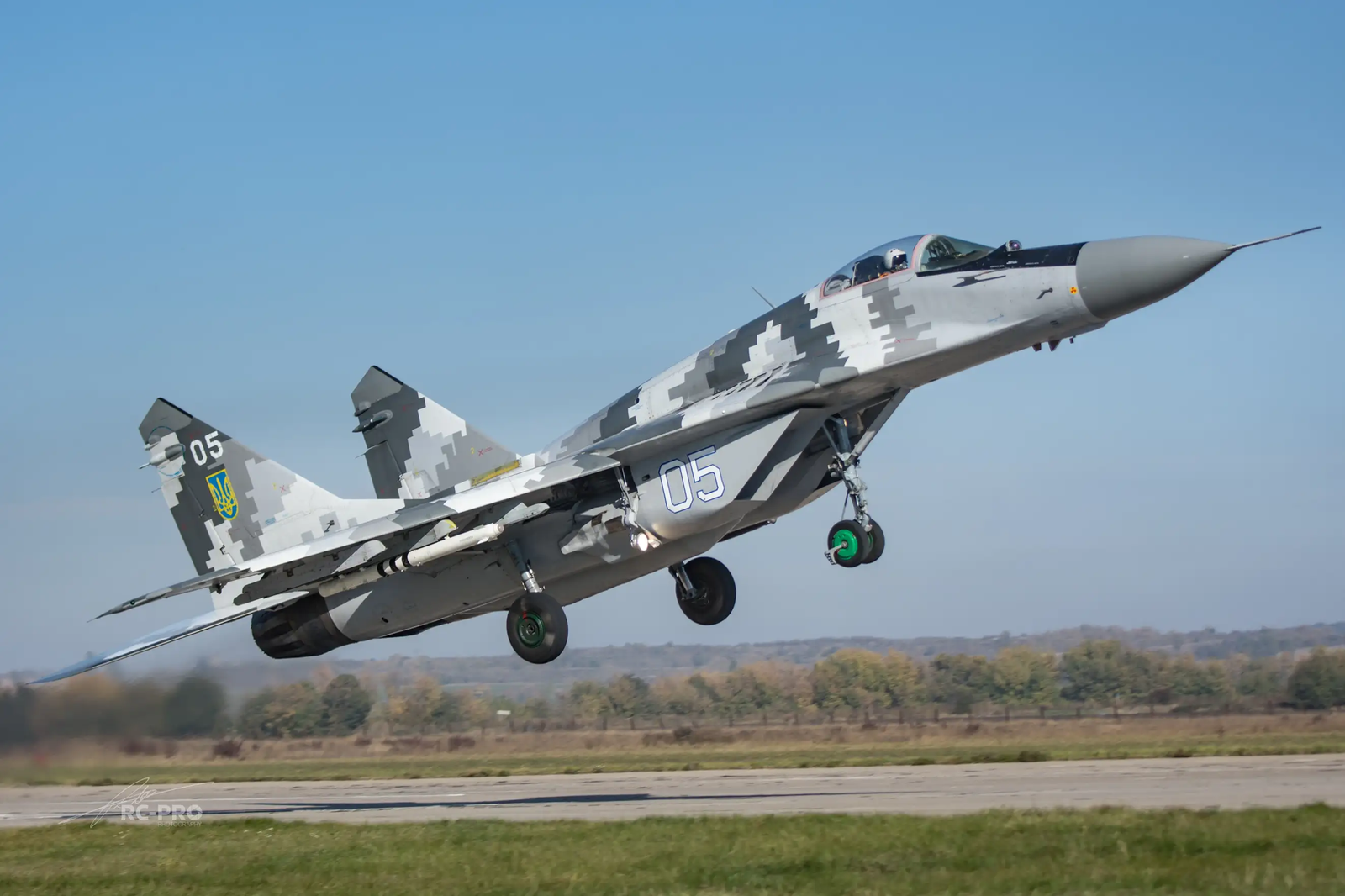 How to choose a keyboard
No PC is complete without a keyboard. But if we study the characteristics of processors and video cards almost under a microscope, then we usually take the keyboard that comes across. Sometimes without even imagining that there are different types of them according to the type of connection, format and mechanism of the keys. Only by understanding these differences, you can choose the right "board" for specific tasks. Therefore, we dwell on the parameters of the keyboards in more detail.
Keyboard types
According to the design of the keyboard switches, they are divided into membrane, mechanical, scissor, touch and optical. The first two are the most common.
Membrane keyboards are simpler and therefore cheaper. They are compact, quiet, and due to the hermetic design they are not afraid of water and dust. However, they have a short service life and low sensitivity. Contact closure in membrane keyboards occurs only at the very end of the keystroke. This design feature requires you to tighten the brush more with each press. And with fast printing, it leads to the "falling out" of letters from the text.
Learn important technologies for the tester at hand, and get $1300 already through the robot
REGISTER!
Mechanical keyboards allow for more precise typing and are better suited for extended use. Unlike their membrane cousins, they have a slow response time, a crisp tactile response and increased typing speed. All these qualities of "mechanics" are due to the fact that under each key there is a real electric button, or switch, with a switch, contacts and a metal spring that provides the return of the button. In this case, the contacts close in the middle of the movement, and the moment of operation is well felt tactilely. This gives you better control, reduces typing errors, and allows you to put in less effort.
Optical-mechanical keyboards have become a further development of mechanical ones. The principle of operation is similar, but instead of closing the contacts, pressing is fixed when the light beam is interrupted. Due to this, a fast response is achieved, which is especially important for gaming models.
Types of mechanical switches
Separately, it is worth mentioning the possibility of choosing switches for individual needs. Manufacturers, the most famous of which is the German company Cherry, produce several types of switches. Visually, they can be distinguished by the color of the stock.
Cherry MX Red (Linear)

– Features the lowest actuation force and the same button travel from start to finish, which is convenient for repeated taps in games. Popular with gamers, but lack tactile punch and audio feedback, making typing difficult.

Cherry MX Brow n (tactile)

– have a tactile impact and an almost silent click. Therefore, they are appreciated by those who work with texts and appreciate silence. Suitable for gamers who value accuracy over speed.

Cherry MX Blue (tactile, clicky)

– have both a tactile impact and a distinctly audible click, which makes the keyboard look like a typewriter. Due to the high pressing force, they are less suitable for games.

Cherry MX Silent Red (linear)

– quiet linear switches. Dampers are installed inside their case, which significantly reduce the noise level when pressed.
To the advantages of mechanical keyboards, you can also add an order of magnitude greater durability compared to membrane keyboards, support for six or more parallel clicks, stable operation and ease of maintenance. And their main disadvantages are the high price and noise from the keys.
Keyboard format and dimensions
Depending on the size and number of keys, keyboards come in several formats. A typical computer keyboard with a numeric keypad, cursor keys, and an F1-F12 function pad has a 100% format. The most popular compact keyboard format is called TKL (Ten-Keys-Less), or 80%. As the name implies, it does not have a digital block. The creators of the 60% keyboards went even further by removing the number pad, the arrows and everything above them, as well as the F-keys. Who needs such stripped-down keyboards? Minimalist lovers and gamers to have more options for placing the keyboard on the table.
Connection type and interface
By type of connection, keyboards can be wired and wireless. The absence of wires in the latter makes it easy to move the workplace, connect to a TV or tablet. At the same time, wired models do not depend on recharging and provide lower delays.
Design
According to the execution of the case, mechanical keyboards are classic, frameless and gaming. Classic cases are strict rectangles in which the base is covered from above with a lid. In a frameless case, also known as a "skeleton", the switches are mounted directly on the base of the keyboard and are not covered by anything. This makes it easier to clean the device and makes the backlight diffuse and airy. Gaming cases are usually characterized by aggressive design and many additional controls.
What else to consider when choosing a keyboard
Key height

. Depending on the height of switches and buttons, keyboards can be standard or low profile. The latter combine low height and relatively quiet pressing with a clear tactile response.

The backlight

allows you to play and work in low light conditions. So if you're working on a project late into the night, the backlit keyboard will make your work comfortable. You should pay attention to whether there is a backlight adjustment, whether it is possible to change the color scheme and highlight individual blocks of keys. Note that RGB lighting gives the best visual effect in a frameless case.

Stabilizers

keep long keys, such as Shift, vertical when pressed and prevent them from skewing. The best stabilizers are Costar and Cherry. In quality keyboards, they are usually lubricated at the factory.

Button markings

. This point is important because most keyboards are thrown away not because of breakage, but because of erased letters on the keys. The most durable marking technologies are multi-layer casting and engraving. The most unstable are painting and thermal printing.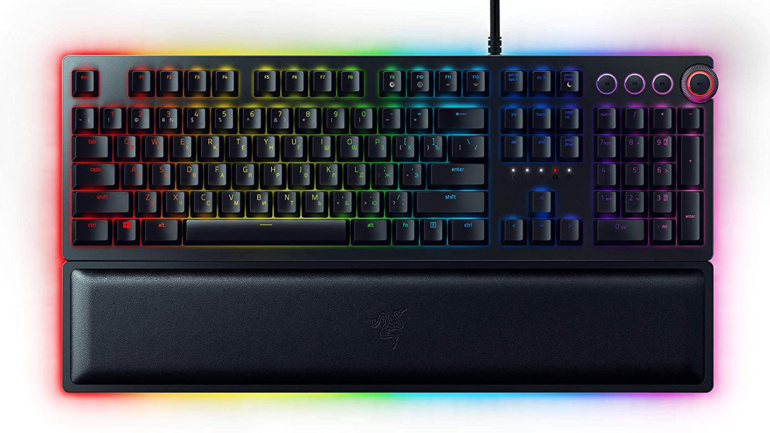 Best Mechanical Keyboard Overall
Interface: USB
Backlight: RGB Razer Chroma with 16.8 million colors
Switch Type: Opto-mechanical, clicky Razer Purple or linear Razer Red
Razer's flagship model is powered by in-house developed opto-mechanical switches. Thanks to this, a high speed of pressing is achieved, and the service life is doubled. Each switch is equipped with a metal frame to stabilize the cap during movement. This made it possible to significantly reduce the lateral backlash of the rods. At the disposal of users is a set of 104 keys, as well as 4 multimedia buttons and a multifunctional digital wheel that allows you to adjust everything from brightness to volume.
The aluminum case of the keyboard is made in the "skeleton" format, its mounting plate serves as the upper part of the structure, on which the switches are installed. A massive artificial leather wrist rest is connected to the front of the case. Yes, it does connect. The fact is that, in addition to the keys, the perimeter of the keyboard and the stand are illuminated. The proprietary Chroma system controls the lighting in 58 zones around the perimeter and under each of the 104 switches. And for each of them, the color and glow effects can be adjusted separately!
Like all recent Razer models, the Huntsman Elite supports macros and key remapping. Its built-in memory can store up to 5 profiles with settings. And the HiperShift system adds an additional function to each key without changing the main one.
Pros: new Razer switches, good ergonomics, comfortable palm rest, effective lighting, additional block of multimedia buttons
Cons: no additional USB port and headphone jack, some symbols are painted on the caps and are not highlighted.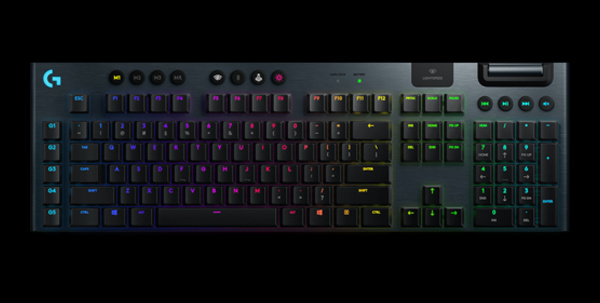 The best wireless low profile mechanical keyboard
Interface: USB, Bluetooth, LIGHTSPEED
Backlight: RGB backlight LIGHTSYNC
Switch Type: Flat GL Tactile by Kailh
The Logitech G915 combines LIGHTSPEED 1ms wireless connectivity, the latest LG Tactile switches with soft tactile feedback, and per-key customizable RGB backlighting. All this is packaged in an ultra-thin metal case with a thickness of 22 millimeters. To the left of it is a block of five additional keys that can be configured in a convenient way for you. And at the top right are four media buttons and a corrugated metal volume control cylinder. In general, we can say that the developers did not spare the buttons: there are 122 of them in the device!
The keyboard can be connected to two different devices at the same time, such as a tablet and a PC. And then switch between them with the touch of a button. LIGHTSYNC technology allows you to synchronize the backlight with mice, speakers and other Logitech devices.
Pros: elegant design, large set of additional buttons, 3 connection types
Cons: no wrist rest, Cyrillic characters are in the same row as Latin characters and are highlighted weaker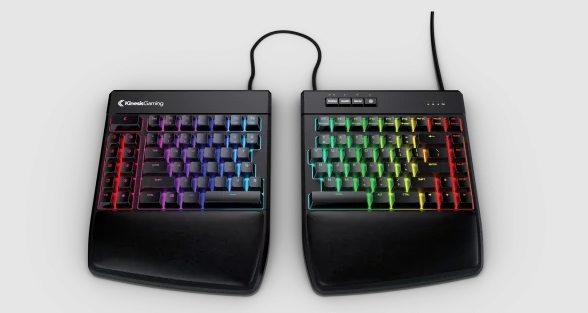 The best ergonomic mechanical keyboard
Interface: USB
Backlight: RGB customizable
Switch Type: Cherry MX
We can say that Kinesis Freestyle Edge is two keyboards connected by a wire, or one of two halves connected by a wire. This unusual format allows you to position your hands in the most convenient way. But it will take time to get used to. Especially when you consider that there are two spaces here, and some keys, such as Delete, have moved to positions that are completely unusual for them.
Otherwise, it's a quality device with 10 macro keys, support for custom profiles, and customizable RGB lighting for each button. Customers can choose from the Freestyle Edge variant with Cherry MX Red, MX Blue, or MX Brown switches.
Pros: 10 macro keys, best-in-class ergonomics, comfortable wrist rest
Cons: you will have to get used to the unusual format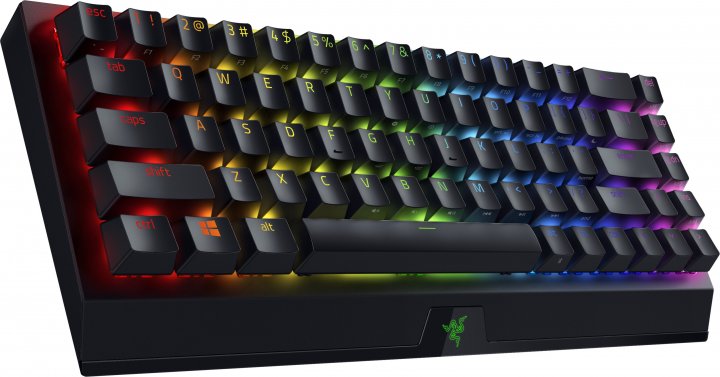 Best mechanical 65% keyboard
Interface: USB, Bluetooth or 2.4 GHz
Backlight: RGB
Switch Type: Silent Linear Razer Yellow
The Razer BlackWidow V3 Mini is a 65% aluminum wireless gaming keyboard. Without the top function row and number pad, it nevertheless retained the arrows and some of the navigation buttons: Page UP, Page Down, Insert and Delete. Their presence allows you to comfortably play and work despite the compact size of the keyboard.
Like our top pick, the BlackWidow V3 Mini features Razer Chroma RGB lighting with 16.8 million colors and tons of effects. Razer HyperSpeed wireless technology provides interesting opportunities. When connected via a 2.4 GHz channel, one dongle can be used to pair two devices at once. For example, keyboards and mice.
Pros: Quiet switches, spectacular lighting with fine tuning
Cons: When using the backlight, the battery life is reduced to 17 hours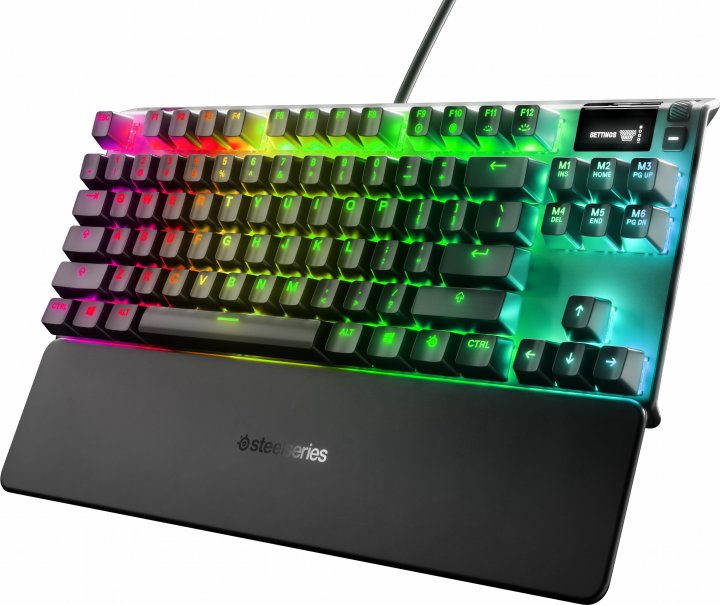 The best all-round mechanical keyboard
Interface: USB
Backlight: RGB
Switch Type: Adjustable Magnetic Omnipoint
The novelty from SteelSeries is not only considered one of the best for typing, but also offers users a whole range of non-standard solutions. Chief among them are the Omnipoint magnetic switches. They differ from conventional switches in that the moment of operation is determined by a sensor that measures the magnetic field. This opens up a unique opportunity to customize the sensitivity of the keys for yourself.
Recall that in Cherry MX Red, Black and Brown switches, the actuation point is approximately in the middle of the key travel. So if the full travel of the key is 4 mm, then the switch will work after you drown it by 2 mm. In the case of Omnipoint, this indicator can be adjusted from 0.4 to 3.6 mm.
For example, for games where you need the fastest possible reaction, set it to 1. This will be an analogue of the MX Speed Silver short stroke. You need to type the text – in a couple of clicks you change it to 2. It turns out that instead of one keyboard, in fact, you get two with different characteristics!
The design of the model looks concise. The aluminum body is built according to a frameless scheme. A plastic palm rest is attached to it on magnets. Above the digital panel, the attention is drawn to the OLED display with a resolution of 128×40 pixels. Using a proprietary utility, you can display additional information or pixel images on it.
Pros: ability to adjust the actuation point of the switches, smooth key travel
Cons: branded palm rest, the use of a small display is questionable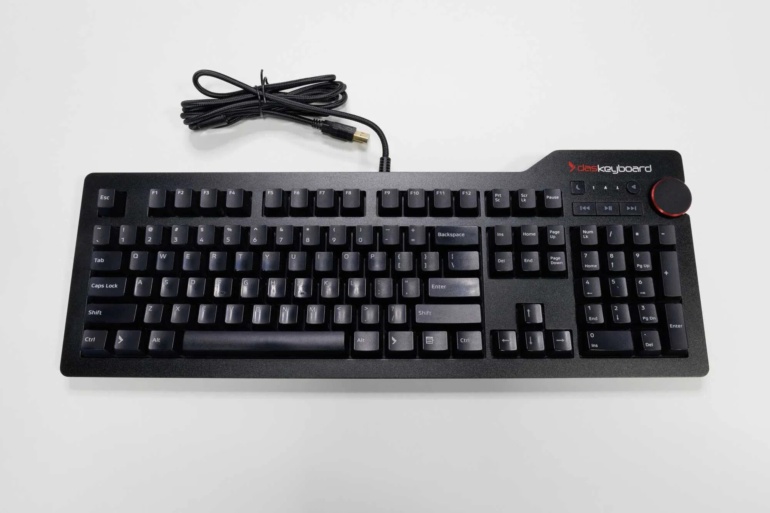 The best mechanical keyboard with an iconic design
Interface: USB
Backlight: no
Switch Type: Cherry MX Brown
Metadot Corporation released the Das Keyboard 4 back in 2014. But thanks to its strict design and time-tested construction, it still allows you to get a pleasant typing experience today without the bright backlighting and other frills inherent in gaming keyboards.
It's basically a full-sized keyboard with a set of multimedia keys, a large volume rocker on the right side, and two USB 3.0 ports. Its striking feature is the magnetic ruler, which is attached under the body and replaces the unreliable folding legs, raising the keyboard 4 degrees above the table.
Pros: hub for 2 USB 3.0 ports, convenient volume wheel, indestructible stand with magnets
Cons: there is no palm rest in the kit, regular keycaps are quickly overwritten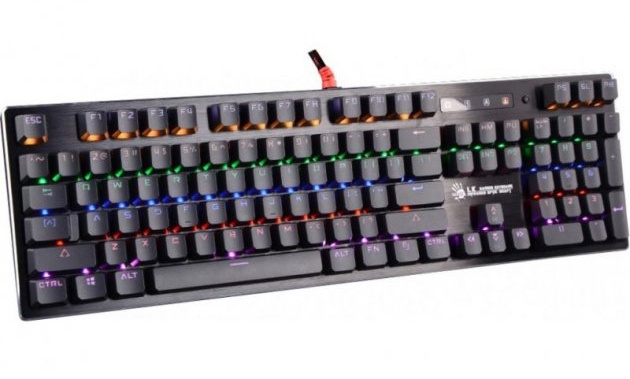 The best budget mechanical keyboard for gamers
Interface: USB
Backlight: RGB
Switch Type: Opto-mechanical LK Optic Switch
Can a full-size mechanical keyboard for gamers be inexpensive? Engineers from A4tech proved that this is real. Externally, the 820R is unremarkable: classic layout, frameless body. But if you look under the hood, a different picture opens up.
The main highlight of the model is the use of fast optical-mechanical Light Strike switches. Thanks to them, high speed of clicks is achieved and delays are reduced, which positively affects the results in dynamic games. If you add full-fledged RGB backlighting to each button here, then the price of a little over $70 seems quite reasonable.
Pros: fast optical switches, full-fledged N-Key Rollover, liquid drainage system, a set of interchangeable keycaps
Cons: slippery retractable legs, uncomfortable software

Best value for money mechanical keyboard
Interface: USB
Backlight: RGB
Switch Type: Logitech GX Brown by Kailh
Logitech G512 Carbon is made in an open skeleton case with an aluminum top panel. There are 104 keys in a rather rare US ISO layout, a USB connector, and a wire in a fabric braid. The keyboard comes with multiple GX switches, unlimited rollover support, and built-in profile storage.
Pros: durable design, branded switches with a long service life, additional USB port
Cons: no wrist rest, additional symbols are painted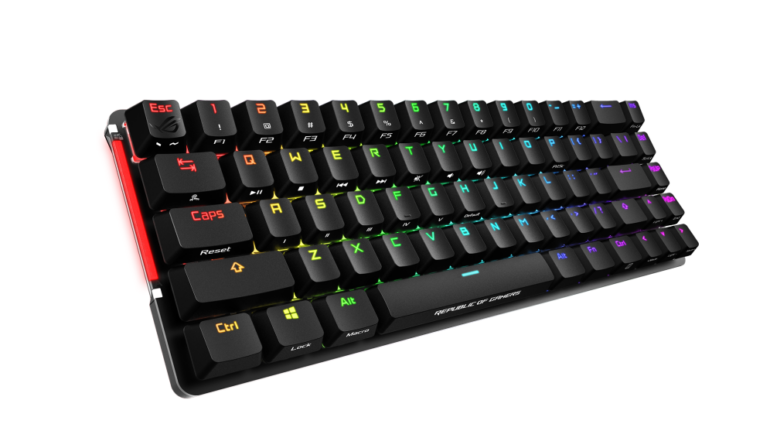 Mechanical keyboard with innovative design
Interface: USB, WiFi
Illumination: RGB with support for proprietary Aura Sync technology
Switch Type: Linear Cherry MX Red
If you ever thought about taking the keyboard with you on the road, then the compact ASUS ROG Falchion in 65% format is perfect. As if guessing about such a train of thought, the manufacturer supplies the device complete with a translucent plastic cover that is convenient for transportation. Another feature of this model is the built-in touch panel on the left side of the case. It is enough to swipe your finger over it to change the sound level or perform another programmed action.
Pros: special protective case, touch-sensitive volume control panel,
Cons: lack of Cyrillic alphabet, reduced number of function keys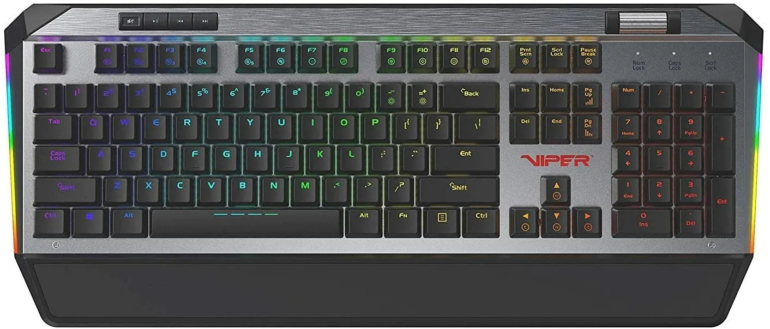 Waterproof mechanical keyboard
Interface: USB
Backlight: RGB
Switch Type: Linear Kailh Box Red
The angular case of the Patriot Viper V765 made of light aluminum combined with black keys looks like a retro stylization. At the same time, the keyboard has an extensive set of modern features, including Kailh Box Red quick switches. They are distinguished by a small activation force combined with tactile information content. And a nice bonus is IP56 dust and moisture protection, which makes the Viper V765 much more tenacious compared to conventional mechanical keyboards.
Among the nice features of the model, we note a convenient volume control wheel, wide options for customizing RGB backlighting and a removable magnetic palm rest for comfort during long gaming sessions. Players will be able to remap all device keys except for Win and Fn. At the same time, macro commands up to 47 characters long can be attached to them.
Pros: Quick response switches, brush holder, IP56 waterproof
Cons: weak stabilizers for long keys