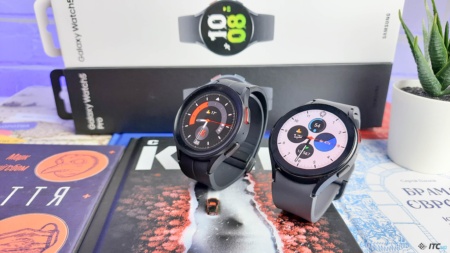 At the end of August, we were translating a review of the Samsung Galaxy Watch 5 by The Verge. Now, these wrist gadgets have been officially released in Ukraine, so we have the opportunity to test not only this model, but also the older version of the Galaxy Watch 5 Pro . In the material below, we talk about all the pros and cons, share our experience of use and first impressions.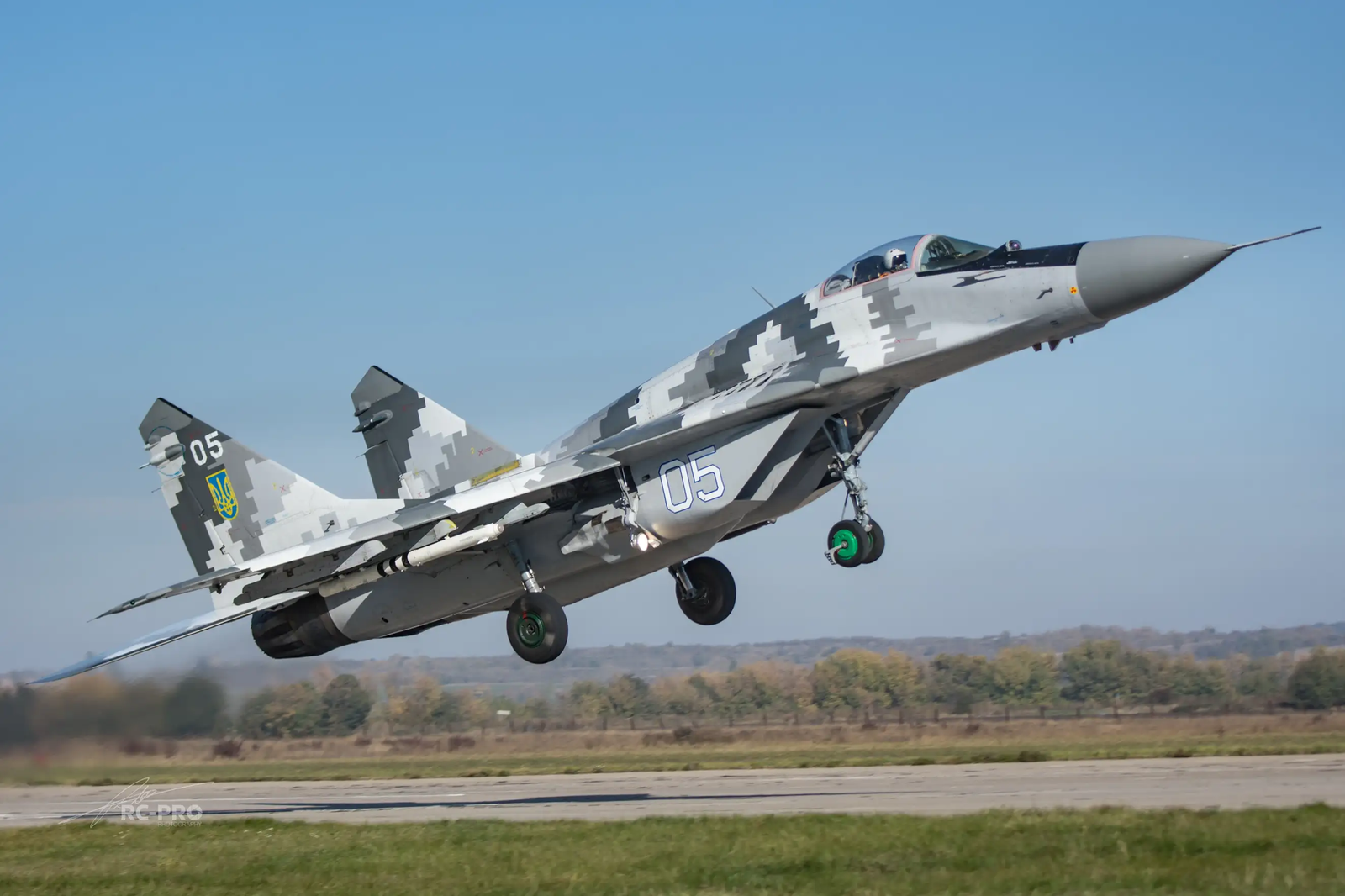 Specifications Samsung Galaxy Watch 5 and Watch 5 Pro
| | | |
| --- | --- | --- |
| | Samsung Galaxy Watch 5 | Samsung Galaxy Watch 5 Pro |
| Display | 1.19 or 1.36 inches, Super AMOLED, 396 by 396 or 450 by 450 pixels, 330 ppi | 1.36 inches, Super AMOLED, 450 by 450 pixels, 330 ppi |
| CPU | Exynos W920 | Exynos W920 |
| RAM | 1.5 GB | 1.5 GB |
| Built-in memory | 16 GB | 16 GB |
| Connection | 2G, 3G, 4G, LTE | 2G, 3G, 4G, LTE |
| satellite navigation | A-GPS, GPS | A-GPS, GPS |
| NFC | There is | There is |
| Bluetooth | 5.2LE | 5.2LE |
| Battery | 284 mAh – 40 mm, 410 mAh – 44 mm. Has fast charging | 590 mAh Has fast charging |
| autonomy | Three days with intensive use | One and a half days with intensive use |
| Operating system | WearOS 3.5 | WearOS 3.5 |
| Water resistance | 5 ATM, IP68 | 5 ATM, IP68 |
| Case dimensions | 40 mm, 44 mm | 45 mm |
| Dimensions | 40.4 x 39.3 x 9.8 mm – 40 mm, 44.4 x 43.3 x 9.8 mm – 44 mm | 45.4 x 45.4 x 10.5mm |
| The weight | 29 grams – 40 mm, 32.6 grams – 44 mm | 46 grams |
| Price | UAH 9,999 40 mm, UAH 10,999 44 mm | 16 999 UAH |
Packaging and equipment
The Samsung Galaxy Watch 5 and Watch 5 Pro come in long, narrow boxes in black and white.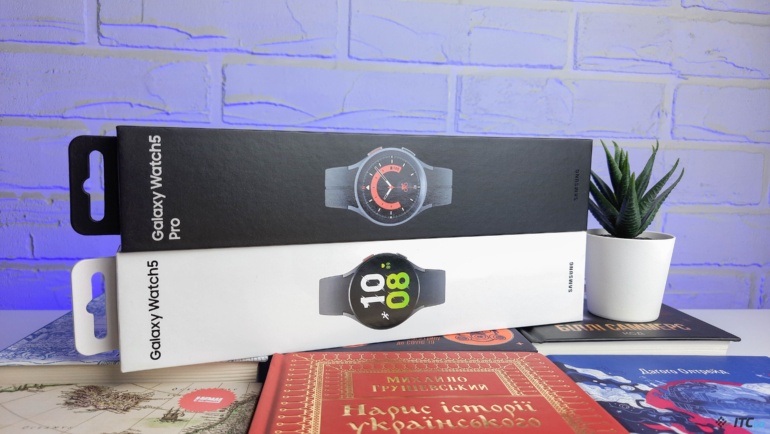 Inside: the watch itself, a USB C charging cable with a round magnetic pad, and instructions.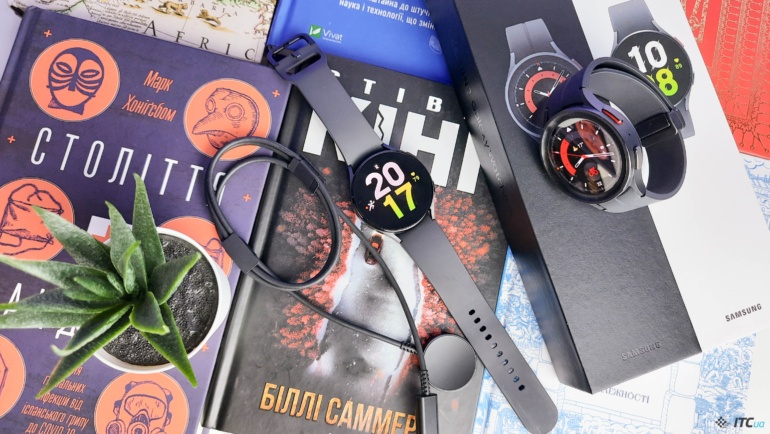 Design and materials
The Samsung Galaxy Watch 5 and Watch 5 Pro differ from the previous generation in appearance. The most important change is that the physical basel on the case was removed for the new products and replaced with a virtual one.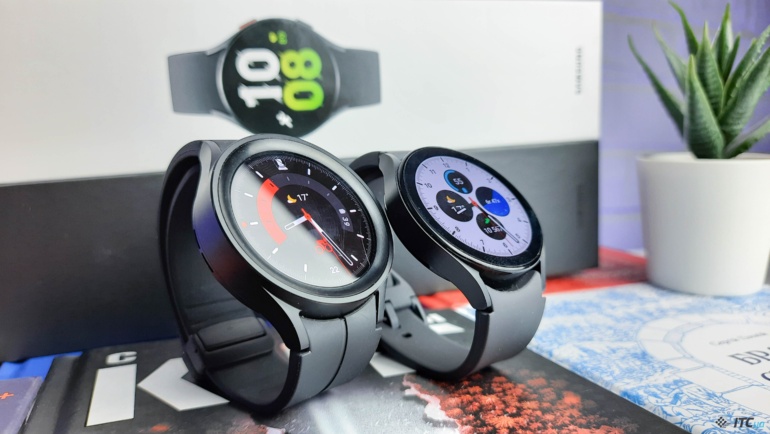 Samsung Galaxy Watch 5 received a round design and a medium thickness of the case with smooth, even edges around the dial.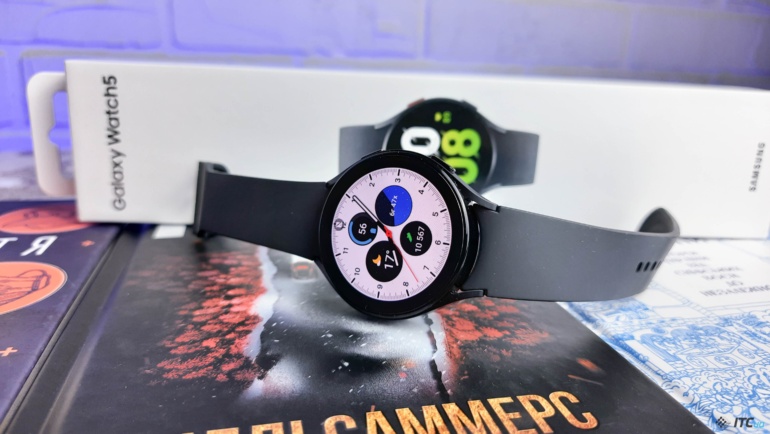 The Samsung Galaxy Watch 5 Pro has added a smooth notch and a bump-resistant bezel to protect the display. The body of this model is much thicker due to the increased battery.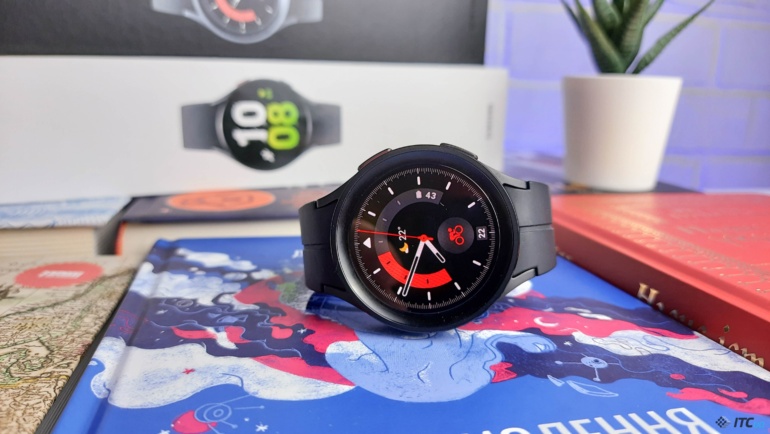 The Samsung Galaxy Watch 5 comes in 40mm and 44mm, while the Watch 5 Pro only has one 45mm option. The straps of the models are also different: the younger version has a more classic version with a trench coat, while the older version has a more complex magnetic clasp. Both versions of the straps are 20mm and are easily interchangeable with other branded or third-party models. The material of the straps is soft and pleasant to the touch matte silicone.
The case of the Samsung Galaxy Watch 5 40 and 44 mm is made of aluminum. But the Watch 5 Pro has a more durable titanium case. True, only the main parts of the cases are made of aluminum and titanium.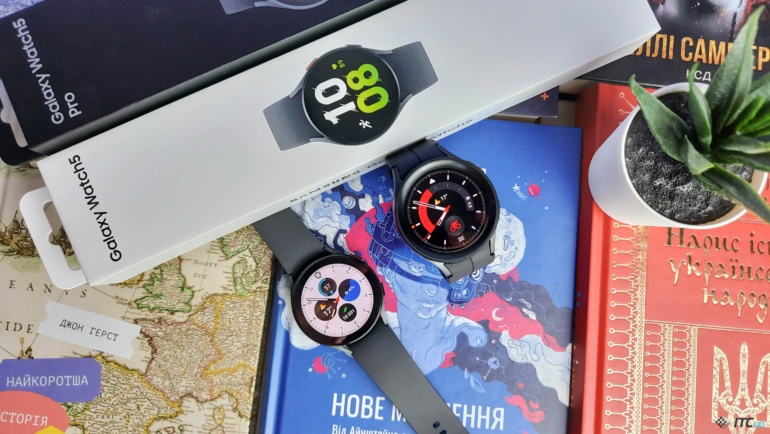 At the back, this is a regular matte plastic with a round glass "island", under which the sensor is placed. Such material is easily dirty and quickly scratched. There is also a speaker here. On the right side there is a microphone and two buttons with built-in sensors. With their help, ECG and body composition are measured.
Both models received protection against water according to the IP68 standard. This means that you can swim, shower and swim in them, but you can't dive deep.
The Samsung Galaxy Watch 5 looks compact and is more comfortable to wear than the older model. There is a less thick body, a standard comfortable strap that fits snugly to the hand.
Due to its thicker body, the Samsung Galaxy Watch 5 Pro feels and looks more massive, and the strap does not fit the hand at all in the places where it is attached to the case.
To be fair, I want to note that compared to competitors, the Galaxy Watch 5 Pro case is not much thicker and is quite comfortable to wear. This refers to a comparison with the usual version of the smart watch.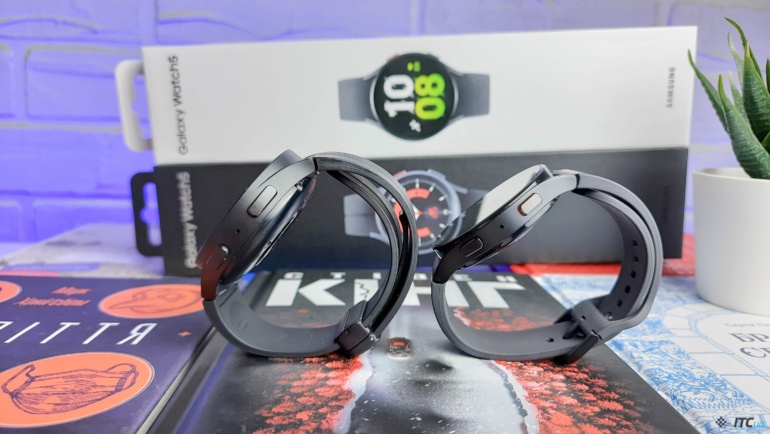 Filling
Samsung Galaxy Watch 5 and Watch 5 Pro received the same stuffing as the previous generation of the manufacturer's smartwatches. Both models are powered by the proprietary Exynos W920 chip, they have 1.5 GB of RAM and 16 GB of internal memory. Of the modules, smart watches are equipped with NFC, GPS and LTE. The sensor used is a brand new generation BioActive.
Display Samsung Galaxy Watch 5 and Watch 5 Pro
The screens of the Samsung Galaxy Watch 5 and Watch 5 Pro are protected by durable sapphire glass with an oleophobic coating. Despite its presence, the displays of models collect fingerprints very quickly, so you either have to endure a slapped screen or constantly wipe it.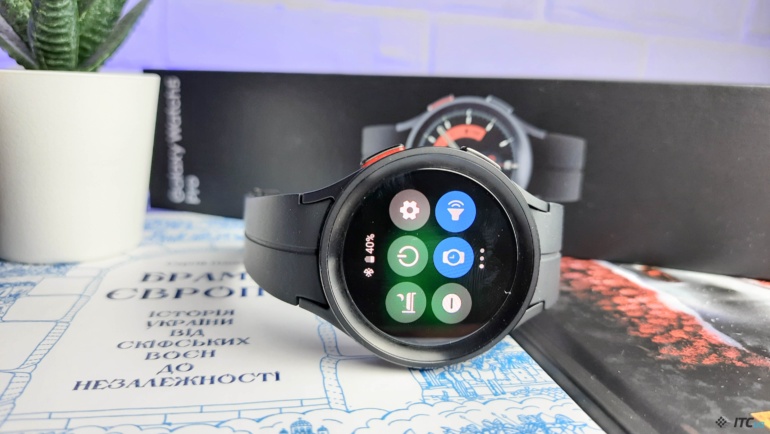 The Samsung Galaxy Watch 5 has a 40 mm 1.19-inch display, Super AMOLED matrix, resolution of 396 × 396 pixels, 330 ppi. The Samsung Galaxy Watch 5 has a 44mm 1.36-inch screen with a resolution of 450 by 450 pixels, the same ppi value and the same matrix. The Samsung Galaxy Watch 5 Pro has the same specs as the 44mm Watch 5.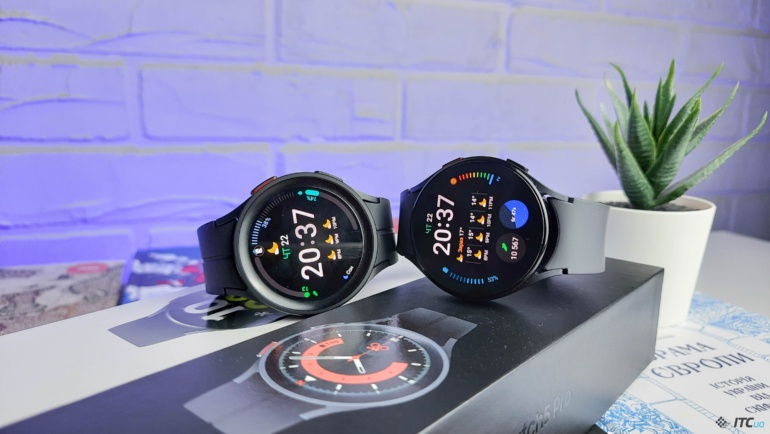 The displays of both new products are bright and perfectly visible in direct sunlight. There is auto-brightness, which slightly slows down when the ambient light changes, but quickly corrects itself and provides a comfortable brightness for the eyes.
The screen of novelties looks cool and detailed. Pixels and other small flaws are not visible at all.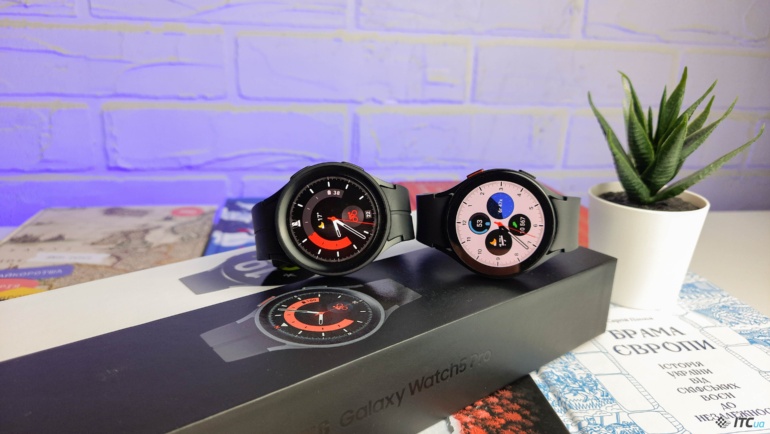 Samsung Galaxy Watch 5 and Watch 5 Pro received the Always-On-Display function. Unlike other models, where AOD leaves only a small part of the screen active, in the new watch (more precisely, in many watch faces), this is implemented somewhat differently.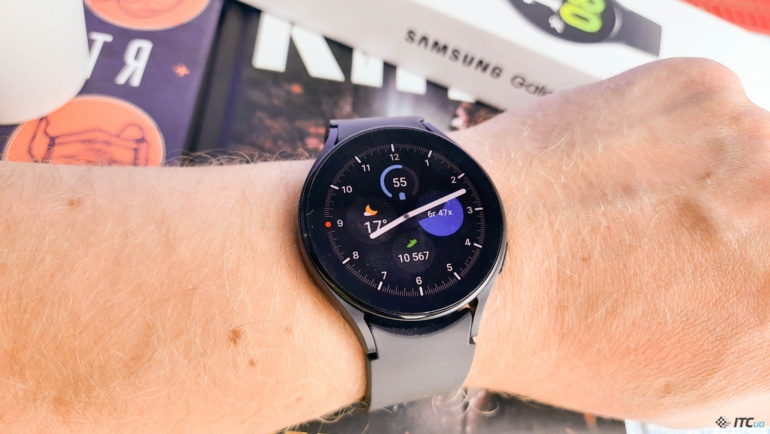 When Always-On-Display is enabled, most of the useful information remains on the screen. This is very convenient for daily wear, but, most likely, consumes the battery even more actively than the usual AOD in a fitness watch, where there is a minimum of information on the display with a thin watch frame or numbers.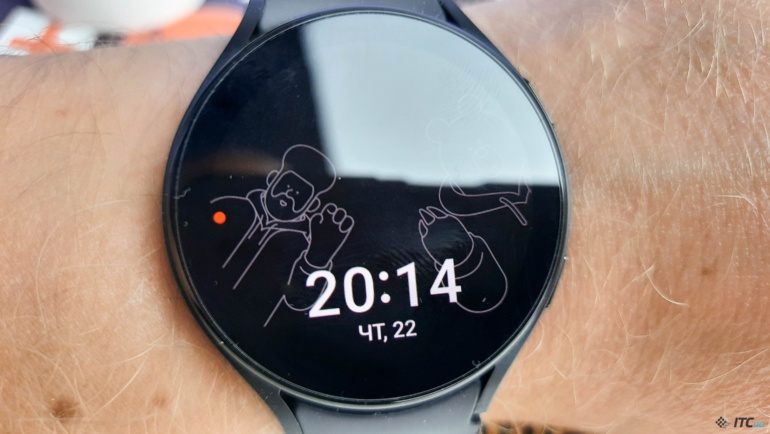 Functionality and interface
Samsung Galaxy Watch 5 and Watch 5 Pro are full-fledged smart watches with an operating system. They can often be used separately from a smartphone, especially when playing sports and if you want to accurately track the route. There is also a complete list of functions that are duplicated by three applications.
In the news, there is a Play Market with a list of applications that can be installed on the watch. Of course, there are not as many of them as on a smartphone, but enough to make the use of a wrist gadget as versatile and comfortable as possible.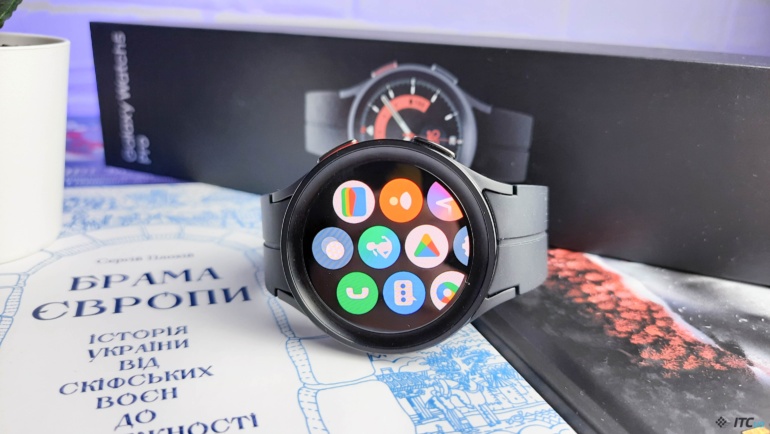 The built-in store itself is poor in design and selection of programs, but compared to the previous generation, it has become better, because the Samsung Galaxy Watch 5 and Watch 5 Pro are no longer as tied to branded applications as they were in the previous generation. Users can install third-party apps, including Google Wallet and Spotify, and replace the built-in Bixby voice assistant with Google Assistant.
Like other smartwatches, the Samsung Galaxy Watch 5 and Watch 5 Pro are controlled by swipes. In addition to this, the models have a pair of side buttons and a virtual bezel – by swiping a finger along the edge of the screen in different directions, the user, as it were, copies the functionality of the removed physical base and quickly flips through menu items, widgets, and more.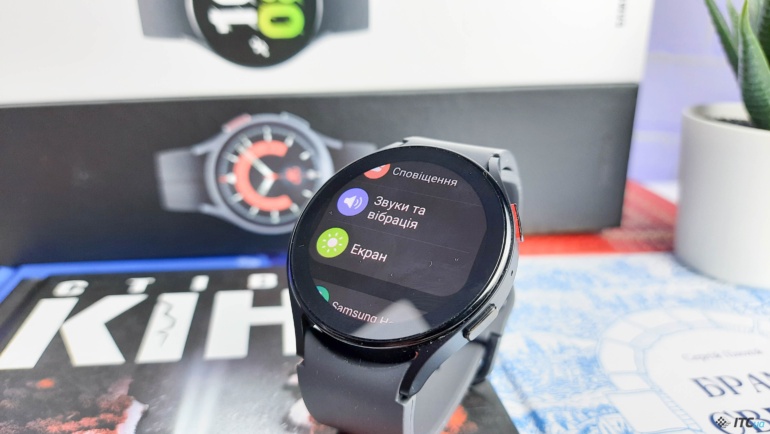 It is worth noting that during the week of testing the watch, I was not used to it, and after a day or two, I completely stopped using the virtual basel. Its scrolling is too fast, and it is very sensitive. Of course, you can set a goal and get used to it, get used to it, but I see no reason to do this, because standard swipes and two buttons are enough for me. But users of the Galaxy Watch 4, who actively used the physical base, are likely to find themselves without it, as without hands. Therefore, for them this is a big minus and a significant point, so as not to switch to a new generation.
The top side button returns the watch to the main screen. The bottom button takes a "step back" in any application or menu.
Swipe up from the bottom opens the menu with applications. Swipe down from top to bottom gives access to the curtain with quick access to various functions. It resembles a functional shutter in a smartphone. From here you can turn on / off the sound and vibration, AOD, Do not disturb, Night mode, Flashlight, Power saving, screen lock while swimming, Airplane mode, GPS and more.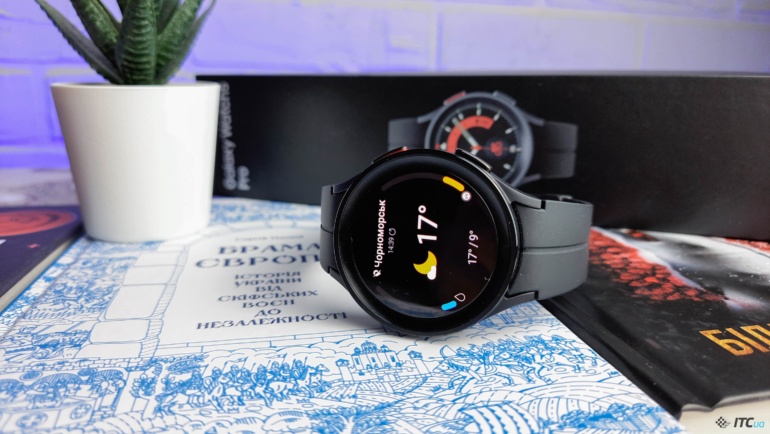 Widgets scroll from right to left with swipes. Their location and number changes immediately. Swiping from left to right opens the notifications section. Here you can not only view messages, but also reply to them with a sufficiently large number of template messages.
A long press of the main screen brings up a menu where you can replace it with another one, download it from the store and customize it for yourself. Incoming notifications are shown as a bright orange dot on the left side of the display. So the user always sees that he has unread messages or something like that.
It is convenient that YouTube notifications show a full-fledged intro from the video, messages from Telegram chat with a user or group avatar. Fonts are crisp and easy to read. If desired, their style and size can be changed in the settings.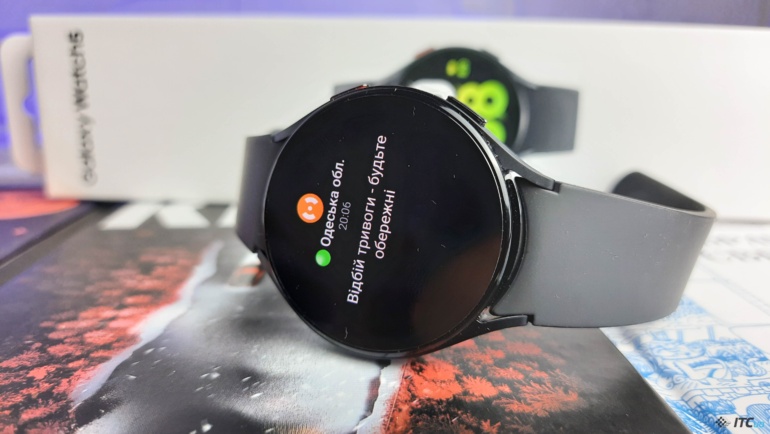 Samsung Galaxy Watch 5 and Watch 5 Pro do not slow down during use. They work smoothly and clearly, do not hang and do not fail. The animation is natural and realistic, which indicates a fairly high screen refresh rate.
The Samsung Galaxy Watch 5 and Watch 5 Pro also come with additional security features. If desired, you can put a PIN code or pattern on them. The watch will ask for the installed protection if it is removed from the hand. They understand when they are removed, so if you try to use them out of hand, then every time they will ask for a PIN or pattern.
Connecting to a smartphone and software
Samsung Galaxy Watch 5 and Watch 5 Pro connect to your smartphone quickly and easily. As soon as you turn them on and bring the phone up, a beautiful animated window appears on its screen with a connection request. We confirm and the wrist gadget connects to the smartphone and can already receive calls, notifications and messages. Detailed settings and personal preferences are enabled/disabled on the watch itself through the menu or through the Wear app.
The Samsung Galaxy Watch 5 and Watch 5 Pro run WearOS 3.5. Additionally, there is a proprietary One UI Watch 4.5 shell. The style of the interface and menu is very reminiscent of One UI in previous models and on Samsung smartphones – the same style, fonts, design and icons.
Branded watch apps are very convenient as well as informative, but the main inconvenience is that they are apps and not an app. That is, to fully work with the Samsung Galaxy Watch 5 and Watch 5 Pro and use all the functions of the watch, you will need three programs at once: Wear, Healt and Health Monitor.
With the help of the first application, the screen, dials, alerts and notifications, ringtones and calls, and so on are configured. The second helps track physical activity, stress, the number of steps taken, measure heart rate, blood oxygen, sleep, and so on. And with the help of the third, the pressure is measured and an ECG is done.
On the one hand, Samsung smart watches have many different features. On the other hand, the possibilities are so diverse that they could not be combined into one application, but divided into three. It will be very unusual for users of fitness watches, for example, the same Amazfit or Xiaomi, because they use only one application or several alternatives.
It is worth noting that the use of three different programs is not a feature of the Samsung Galaxy Watch 5 and Watch 5 Pro. The same situation was with the previous generation.
Health and sports features
The Samsung Galaxy Watch 5 and Watch 5 Pro are equipped with a BioActive sensor. He can measure pulse and blood oxygen saturation, analyze sleep, do ECG and analyze body composition. There is also a skin temperature sensor, but it is locked as a separate tool and is now used for hours for more accurate sleep tracking. We did not forget about stress control, the number of steps taken and the distance.
Please note that blood pressure and ECG measurements are available only when the watch is connected to Samsung smartphones. These features are not available on other Android/iOS devices.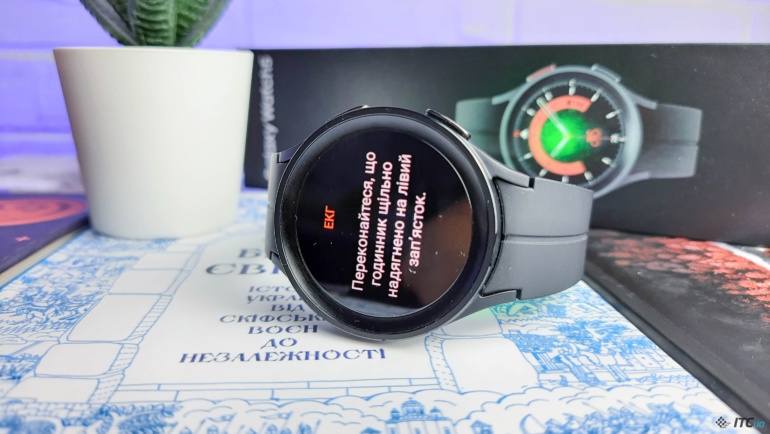 The measurement accuracy of various indicators was compared between new products, as well as a conventional pharmacy pulse oximeter, Amazfit GTS 2 and Amazfit Neo. The Samsung Galaxy Watch 5 and Watch 5 Pro are more accurate at detecting steps, although like both other models they often mistake heavy hand movements for steps, but at least they do it less.
I was pleased with the accuracy of measuring the pulse and blood oxygen saturation. Although in some foreign reviews I saw complaints about the Galaxy Watch 5, I didn't have any. For the most part, they coincided with the data of the pulse oximeter.
Samsung Galaxy Watch 5 and Watch 5 Pro can track 90 sports modes. Some of them (walking, running, swimming and exercise equipment) they determine automatically. From personal experience, I was convinced that when walking and running, the watch really automatically turns on the recording of a run or walk, and also offers to record the route, shows the total time of the lesson, calories burned, heart rate, distance traveled and other useful indicators. They also automatically detect the end of the session and end the session.
Autonomy Samsung Galaxy Watch 5 and Watch 5 Pro
The 40mm Samsung Galaxy Watch 5 is equipped with a 284mAh battery. The 44 mm version received a 410 mAh battery. The Samsung Galaxy Watch 5 Pro has a 590 mAh battery.
Compared to the previous generation, the batteries are larger. The manufacturer claims 24 hours for the first version, 50 hours for the second and 80 hours for the third. At the same time, for Watch 5 Pro they also promise 20 hours of work with always-on GPS.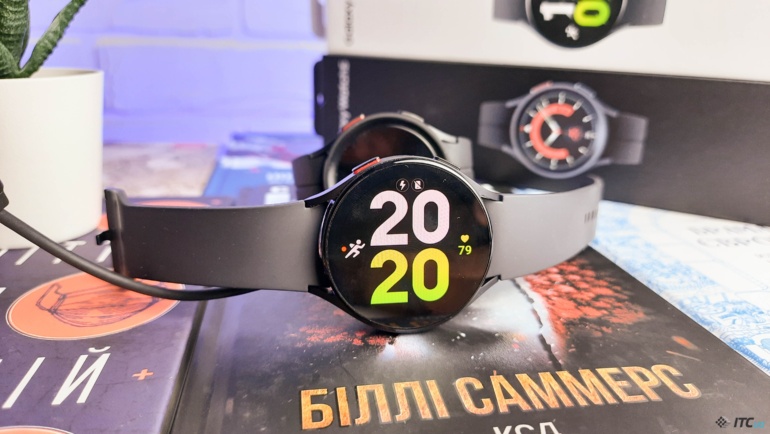 Our review turned out to be Samsung Galaxy Watch 5 44 mm and Galaxy Watch 5 Pro, so we will only talk about them after use. So, in active mode with AOD turned on, with GPS turned on for several hours, with measuring heart rate and sleep quality, with periodic ECG measurements, with talking on the watch and responding to messages and notifications, the watch lasted a day and a half on a single charge. With the same scenario of using the Galaxy Watch 5 Pro, they worked for three days.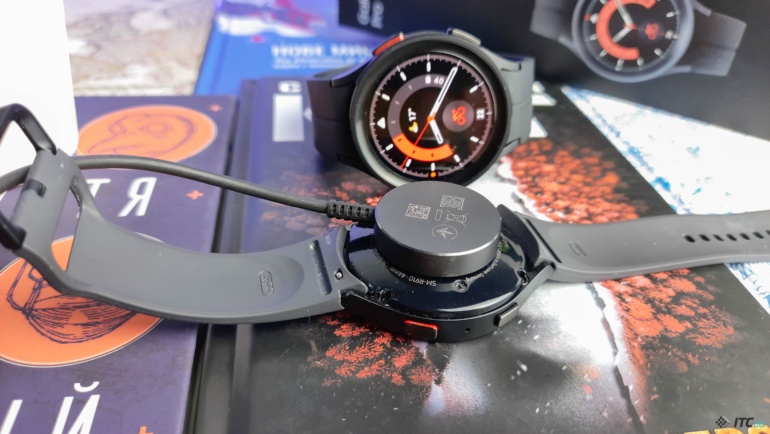 If you disable AOD, you can add half a day for the Galaxy Watch 5 and a day for the older model. It's also strange that the minimum screen activity after touch is worth 15 seconds. You can do more, but you can't do less. Many other competitor models have a minimum activity time of 5 seconds. I don't know why they didn't do the same in Samsung smart watches. I think this increased their work time by an hour, or even several hours.
Samsung Galaxy Watch 5 and Watch 5 Pro received faster bundled charging. From 0 to 100%, the regular version charges in an hour and a half, and 50% in about half an hour. It will take about two hours to fully charge the Watch 5 Pro.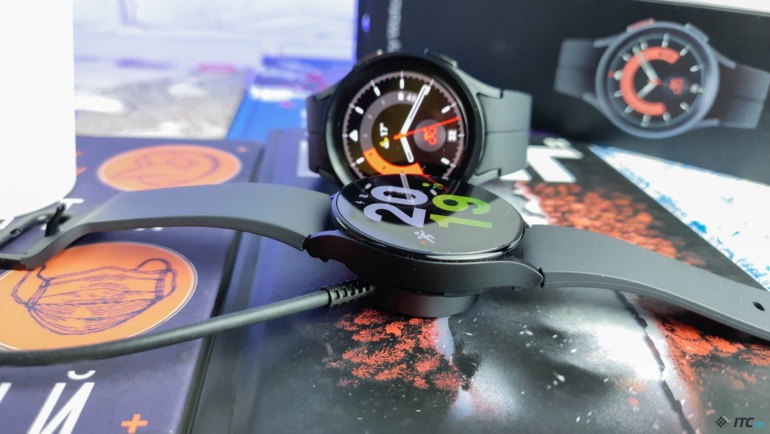 Cost and competitors
Samsung Galaxy Watch 5 40 mm is sold in Ukraine at a price of 9999 hryvnia. For the 44 mm option, they ask for 10,999 hryvnia, and the Galaxy Watch 5 Pro costs 16,999 hryvnia. For such money, new products have many competitors, including Samsung Galaxy Watch 4 Classic 46 mm and Samsung Galaxy Watch 4 44 mm , which can now be taken for 11,300 and 7,300 hryvnias, respectively. Those who love hiking and active lifestyles are more suitable Garmin Instinct Solar Tactical Edition , and they cost a couple of thousand less than the Pro version.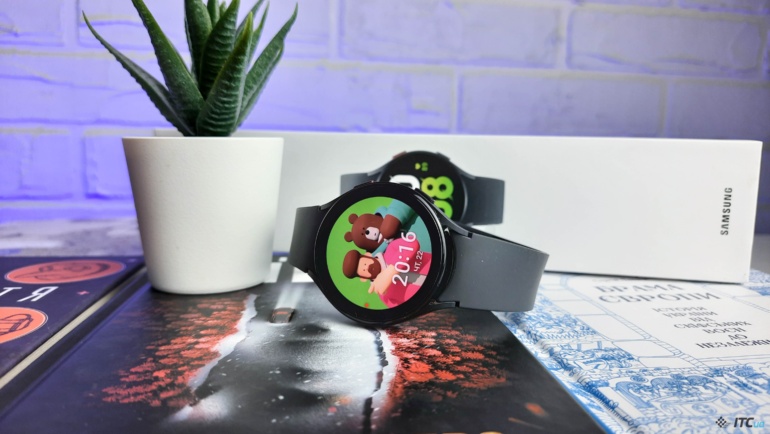 Samsung Galaxy Watch 5 and Galaxy Watch 5 Pro presented for testing by Stylus