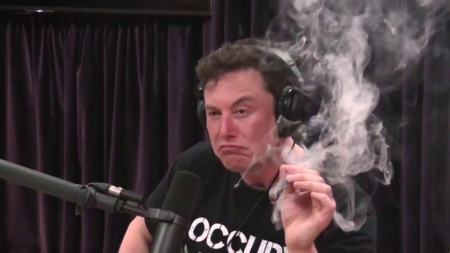 Elon Musk published another poll on his Twitter page, in which he outlined his vision of ending the Russian-Ukrainian war by signing a peace agreement. The eccentric businessman named four main conditions that, in his opinion, will help end the war.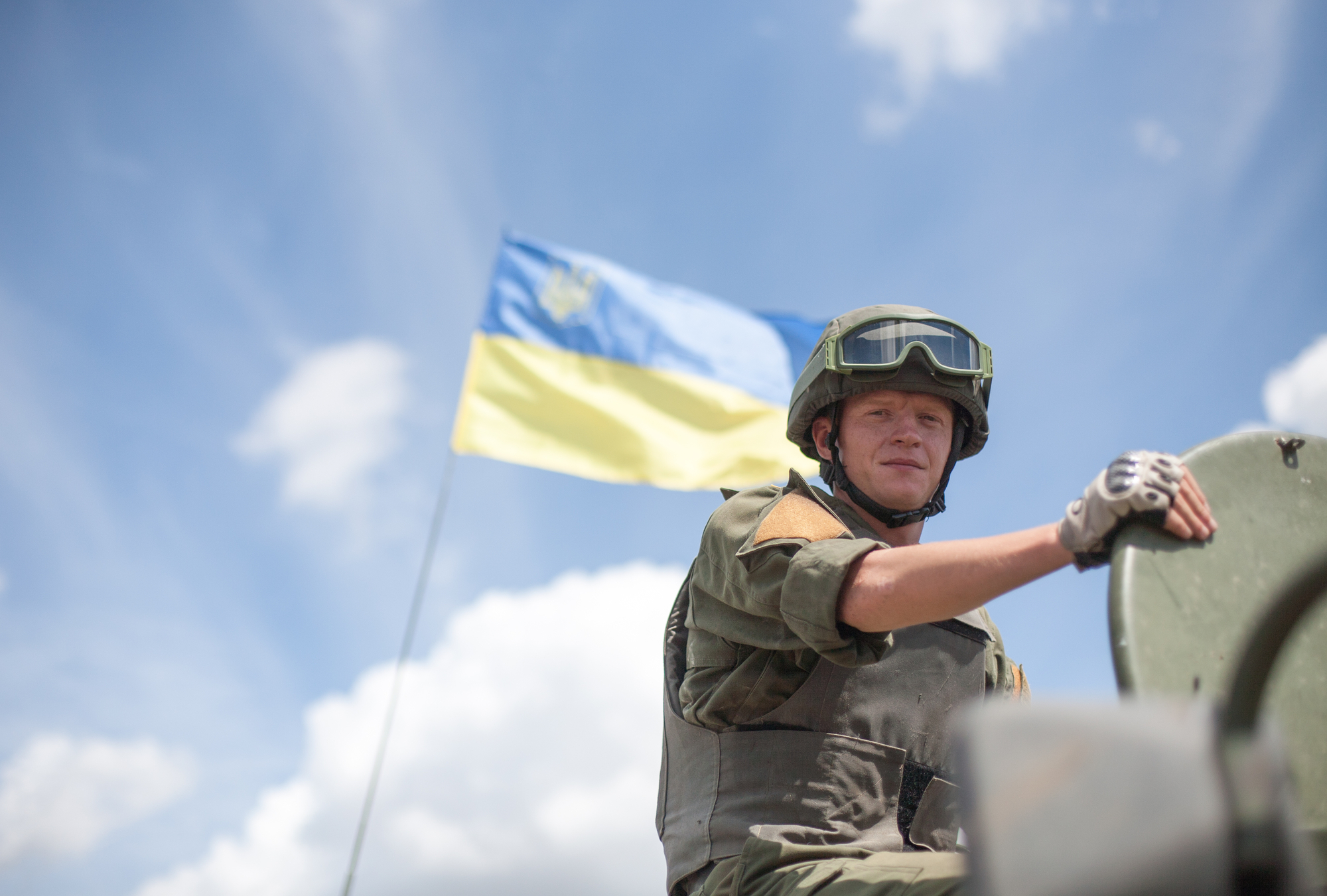 Updated [21:04]: Elon Musk, in response to a flurry of criticism and negativity, launched … another poll: "People living in Donbass and Crimea should decide for themselves whether they want to be part of Ukraine or Russia"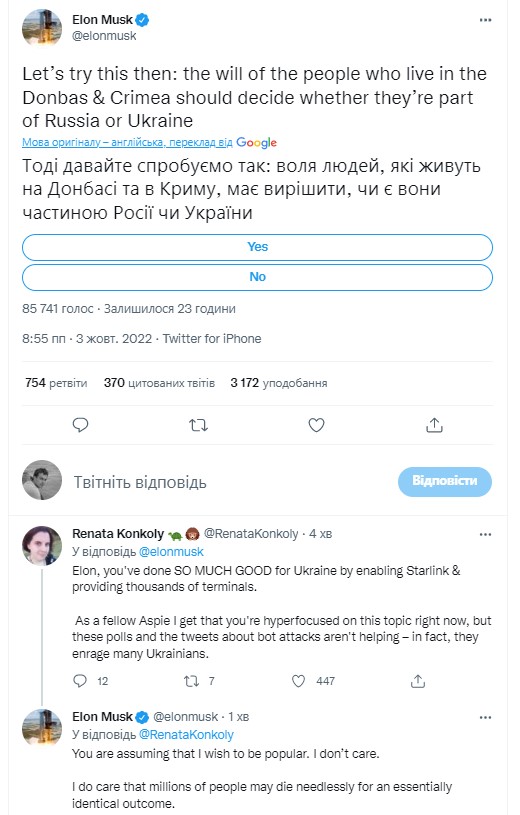 === news text before update ===
Invest in the popular Java programming language at an hour that is convenient for you, and earn $1,000 per cob of career
REGISTER!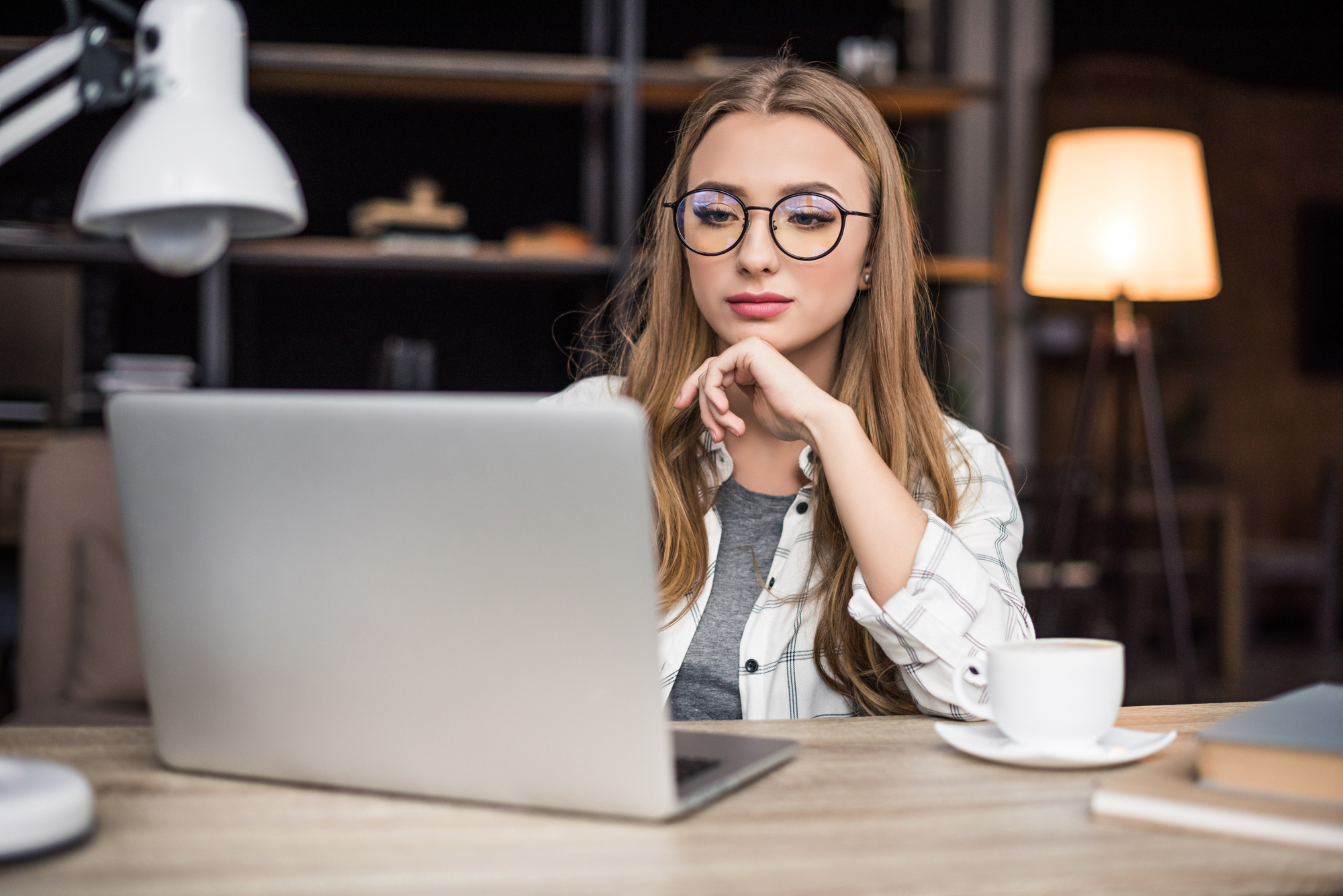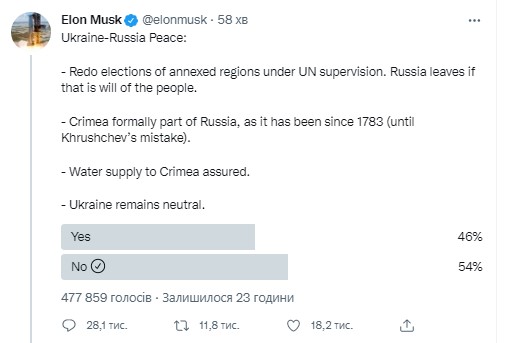 Here are the requirements:
Local elections in annexed regions under UN oversight.

Russian troops will leave the territory of Ukraine if the people so decide.

Crimea is formally part of Russia, as it has been since 1783 ("before Khrushchev's mistake").

Ukraine provides water supply to Crimea.

Ukraine remains neutral (refuses to join NATO).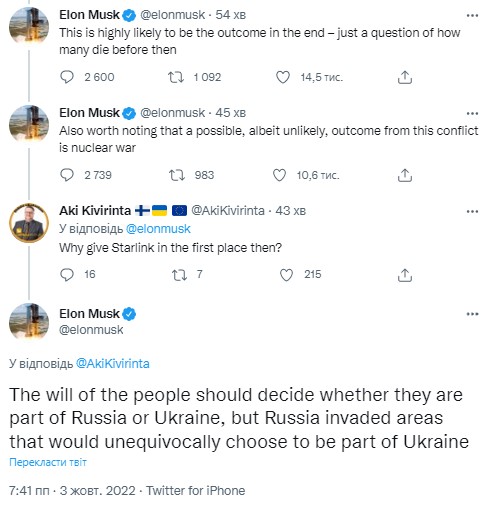 Musk once again recalled the risk of starting a nuclear war, although he called this scenario unlikely – it was previously reported that in May the businessman insisted on postponing the agreement to buy Twitter, because he feared that a new world war would begin with the Russian invasion of Ukraine.
This very strange poll and named by Elon Musk, who has so far actively supported Ukraine, the conditions expectedly caused a flurry of criticism and a storm of negative emotions. As rightly pointed out on Twitter, Musk should conduct a poll: "Are you ready to give up Alaska, the historical territory of Russia before 1867, in order to appease Putin?" At the same time, the billionaire and the richest man in the world said that there was a "strong bot attack on this poll."
For complete justice, you need to carry out an experiment: "Who are ready to see Alaska, the historical territory of Russia until 1867, in order to appease the journey?"

— Shaw on UkrTV? (@sho_po_ukrtwi) October 3, 2022
At this point, about 500 thousand Twitter users have taken part in the scandalous poll – 54% disagree with Musk. There are still 23 hours left before the end of the survey.
As you know, last week Ukraine applied to join NATO on an accelerated basis, and Ukrainian President Volodymyr Zelensky said that Ukraine would not hold any negotiations with Russia as long as Putin remains the president of Russia. In addition, earlier the top political leadership of Ukraine has repeatedly repeated that the only way to end the war is the surrender of Russia, with all the ensuing consequences (complete liberation of the territory of Ukraine, payment of reparations and indemnities, etc.).
First reactions
Mykhailo Podolyak, adviser to the head of the President's Office, proposed the best peace plan: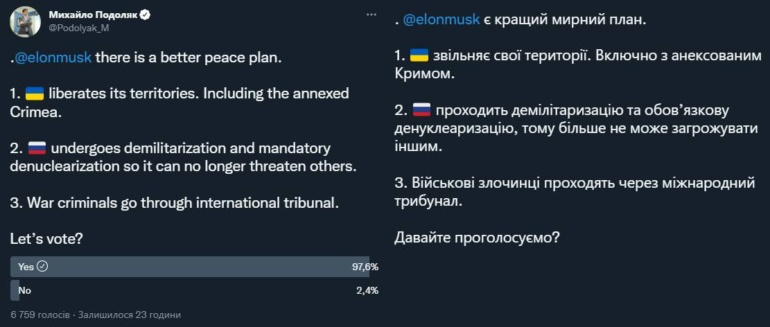 Former Ukrainian Ambassador to Germany Andriy Melnik did not hold back his emotions and answered Elon Musk not very diplomatically.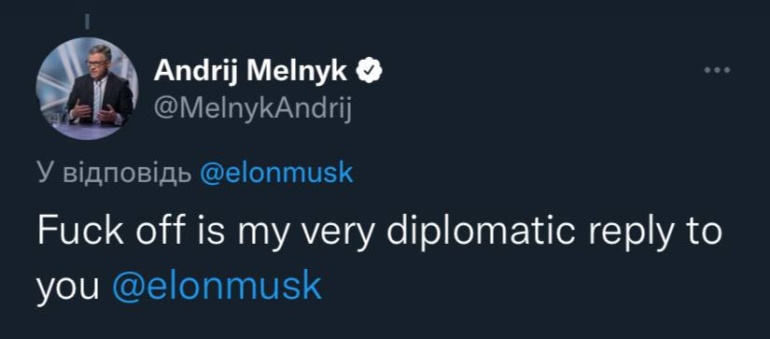 The senior adviser to the US Congress did not stand aside Pavel Masarenko Paul Massaro: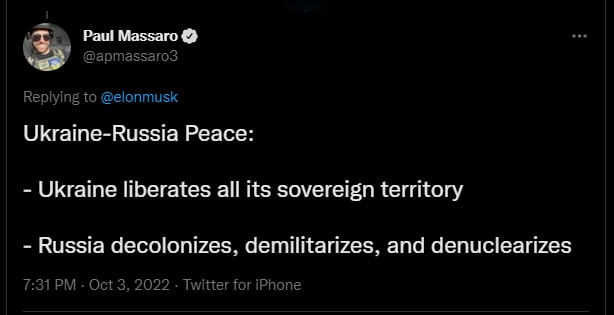 Amid these strange statements, Tesla shares have already fallen by 8.5%.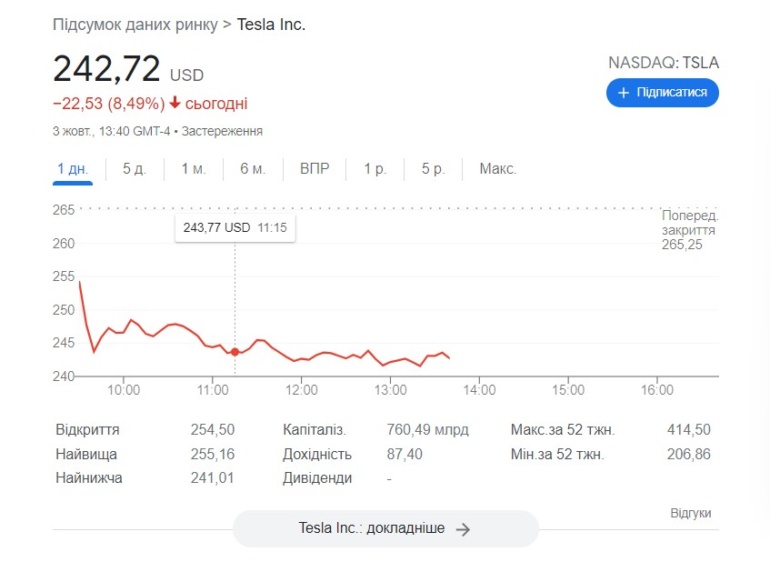 Until Elon Musk deleted the poll, and given how the scandal is gaining momentum, the likelihood of this is very high.