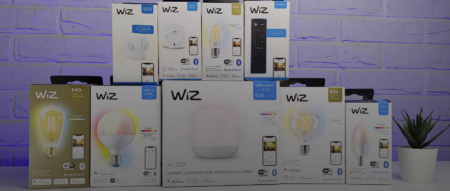 Most of our readers are familiar with the concept of "smart home", an integral part of which is smart lighting. Most likely, many have a robot vacuum cleaner, a security system with sensors, a smart air conditioner, a heater, a smart light bulb or a table lamp that can be controlled from a smartphone. A significant part of smart lighting in Europe for several years now is the WiZ brand, whose products offer simple and intelligent lighting for everyone.
In this partner material with WiZ, we analyze the line of smart light bulbs, sockets and lamps, create a smart home and talk in detail about the experience of using the company's program, as well as the line of devices.
Project partner?


The appearance of WiZ on the market
WiZ is a brand of Signify

the new name of Philips Lighting, which entered the European market in 2020. WiZ offers users affordable smart lighting that is controlled and connected via Wi-Fi.
The company's products include smart lamps and spotlights, smart incandescent lamps, table lamps, various smart sockets, LED strips, motion sensors, and more.
WiZ lamps come in three main types: smoked, white (heat temperature adjustable from warm 2700K to cold 6500K) and full-color LED lamps. The latest models are able to do everything that other bulbs can do, but can additionally shine in a full spectrum of colors with millions of shades to choose from.
The working time of WiZ lighting, depending on the model, is 15–25 thousand hours. If we assume that the light bulb will burn for eight hours a day on average, then it will last for at least five years, and at most – for eight and a half.
WiZ smart lighting, its operation and connection
For review and tests, we received the following WiZ devices: smart bulbs G95 G.E27 and G95 G.E27 LED, C 37 C.E14, ST 64 ST.E27 and A60 A.E27, the Hero LED Light table lamp, as well as the remote control WiZmote, Smart Plug and Motion Sensor.
This is only a small part of the huge list of models of lamps, lamps and other products that WiZ has. WiZ models of light bulbs and other lighting are enough to literally hang any home, office or cafe. It all depends on the capabilities of your router. However, modern models often support connection to 300 Wi-Fi devices, so you should not worry. Lamps are presented with the four most popular sockets: E27, E14, GU10 and B22.
Many different lamps, light bulbs, lamps and other WiZ devices are sold in Ukraine. A bunch of them, for example, on Rozetka. I would like to note that the company's price tags are more than pleasant and very competitive. Of course, a smart light bulb is more expensive than a regular LED, but just compare the prices with other manufacturers – and you'll see for yourself.
WiZ devices support the well-known industry standard Matter. It was created by the Connectivity Standards Alliance (CSA), formerly known as the Zigbee Alliance. The standard is designed to facilitate the operation of many compatible products of different brands and platforms. It provides greater privacy, data protection and ease of use.
All WiZ products already support this standard by default, and from the second half of 2023 all new WiZ smart lighting devices will have the Matter logo on the packaging.
WiZ does not have a general control unit, as in Philips Hue smart lighting. The "brains" of the system are the proprietary WiZ application, which is available both on Google Play and the App Store. At the same time, a new version of the WiZ V2 program, which I used, is currently in beta testing. Both versions are working and available, but the latter has problems with the display of the Ukrainian letter y, which will be fixed soon.
For ease of control, if you don't carry your smartphone with you everywhere, there is the aforementioned WiZmote remote control.
All WiZ devices connect easily and quickly. In the case of light bulbs, they must first be screwed into the sockets, the lamp should be connected to the network, the smart socket should be inserted into a regular socket, the side button should be pressed on the motion sensor, and the power button on the remote control.
For more convenient use of the application, it is recommended to select the rooms where WiZ products will be installed: bedroom, kitchen, corridor, bathroom, balcony, and so on. Before adding a new device, first select the room where it will be used. I will say in advance that it is really more convenient to control the lighting in each room. If you have one, for example, a large office or coworking space, then just add everything to one panel.
Next, we connect to our Wi-Fi network and add each of the necessary gadgets in turn, following the simplest instructions on the screen. If you have a dual-band router, choose the 2.4 GHz network. If the automatic connection does not work, the program will offer a manual connection option and describe each step in detail.
Pay attention to the setting to use the last active mode when turning on lights and lamps. I left it active – it's convenient for me when all the lamps are lit as I originally set them up. And if necessary, I change the settings of this or that lighting. But if you don't want to keep the last active mode, disable this feature.
WiZ products cannot provide dynamic lighting for installation behind TVs and monitors. However, they can do much more. Lamps and lamps of the manufacturer have a smooth color change, brightness adjustment, thermal temperature change, various lighting modes, including many ready-made presets – both static and with changes in brightness and colors.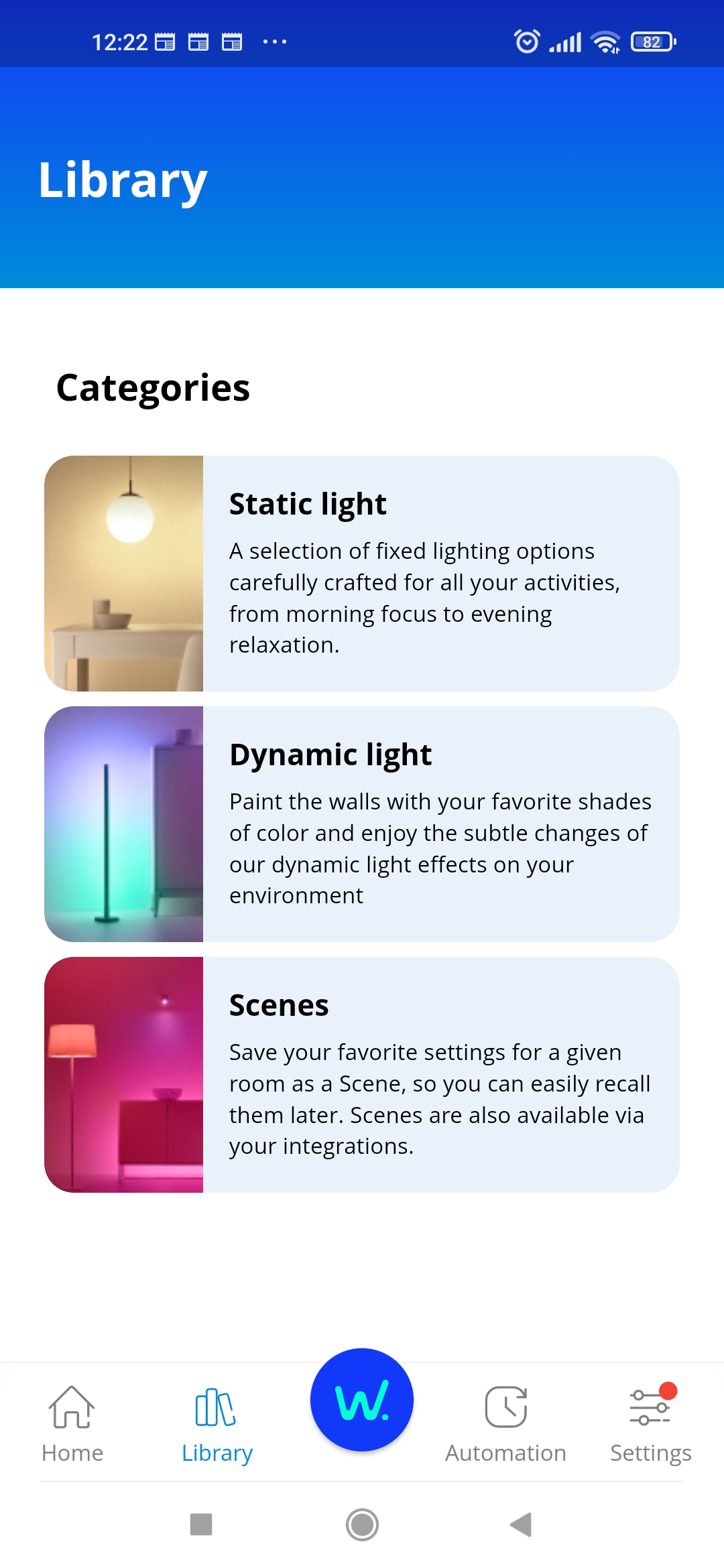 For example, in the "Forest", "Ocean" or "Fireplace" modes, the lamps pleasantly and atmospherically change certain color spectrums, smoothly transitioning from one to another. There are also sleep and wake-up modes that turn on within half an hour, automatically increasing or decreasing the brightness of the light depending on the mode. If desired, you can create and save custom presets.
Through the program, you can also set different lighting modes and configure switching scenarios. For example, turn on the floor lamp in the room at 18:00 every day or only on weekends at 12:00.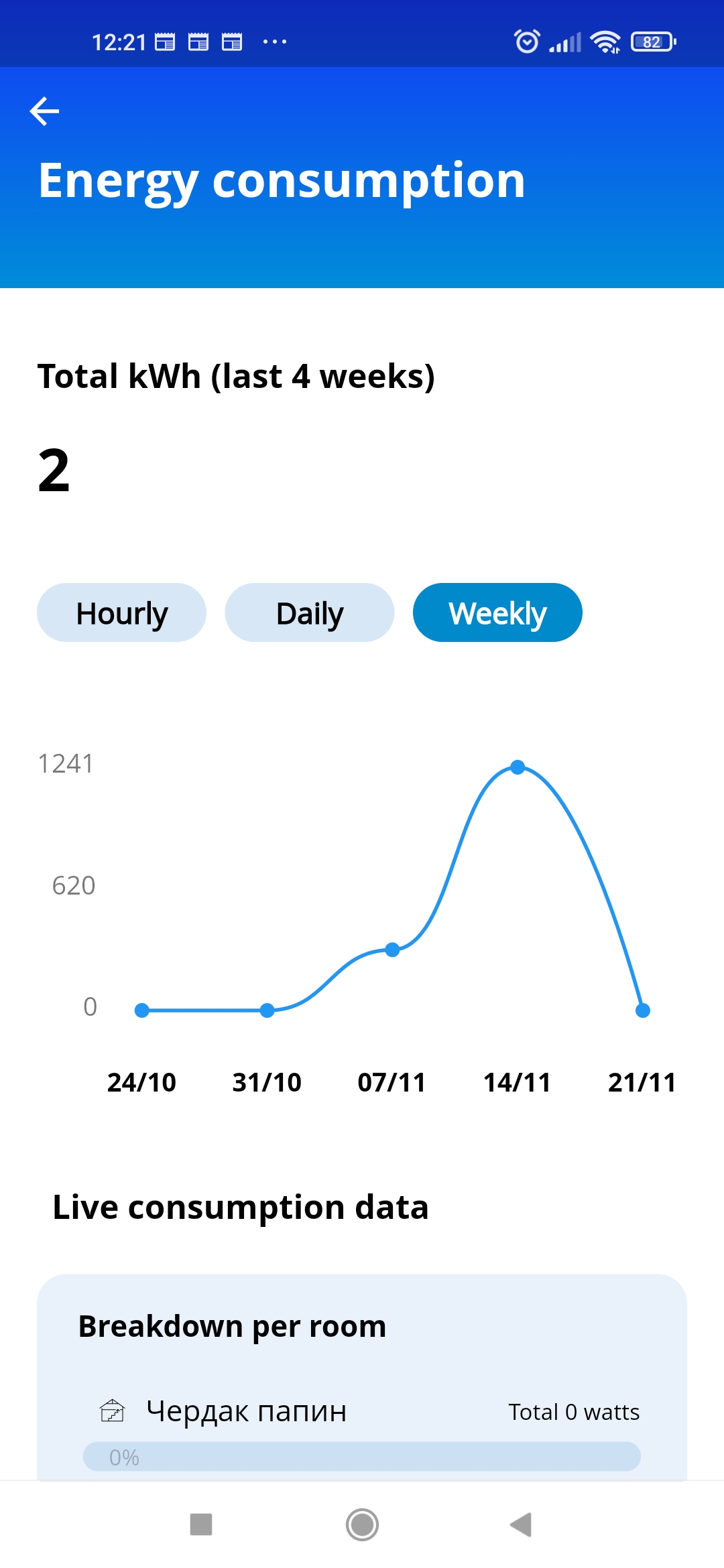 More options for WiZ smart lighting
Experience of use
Let's start with the smart lamp WiZ Hero LED Light. It is a small barrel-shaped white model with maximally rounded shapes and corners. The lamp is made of matte plastic that is pleasant to the touch. There is a small WiZ inscription on the front and bottom.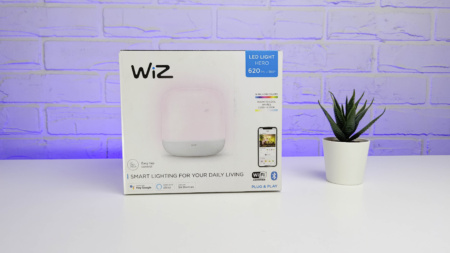 On the back, we see a connector for connecting a removable network cable and an on/off button. The lamp also understands touch – two taps on the upper part turn it on or off.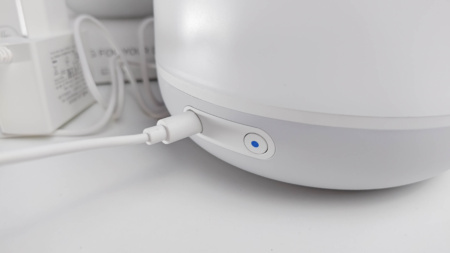 Hero LED Light fits perfectly into almost any interior. Its small size and neutral color allow you to place the lamp on a windowsill, bookshelf, table or kitchen counter.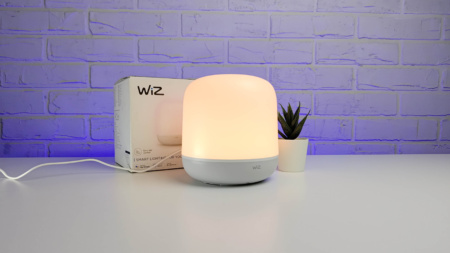 The light of the model is bright enough to be used as a cozy main light instead of a more neutral chandelier. This is exactly what I did during the tests in my kitchen. When you don't need a lot of light, it's easy to make the lamp darker, choose one of the ready-made modes or user presets.
However, you should be prepared for careful maintenance of the lamp. After all, dust and other traces of use are visible almost immediately on the white matte plastic. For example, fingerprints on the body from touches and others.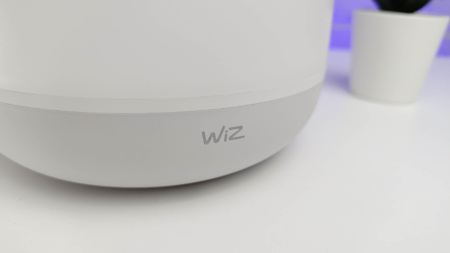 G95 G.E27 and G95 G.E27 LED, C 37 C.E14, ST 64 ST.E27 and A60 A.E27 light bulbs performed well. They are all different shapes and for two popular plinth options, so I used them in several floor lamps and one of the ceiling chandeliers in different rooms.
Example of G95 G.E27 LED lighting:
Example of lighting C 37 C.E14:
Example of lighting G95 G.E27: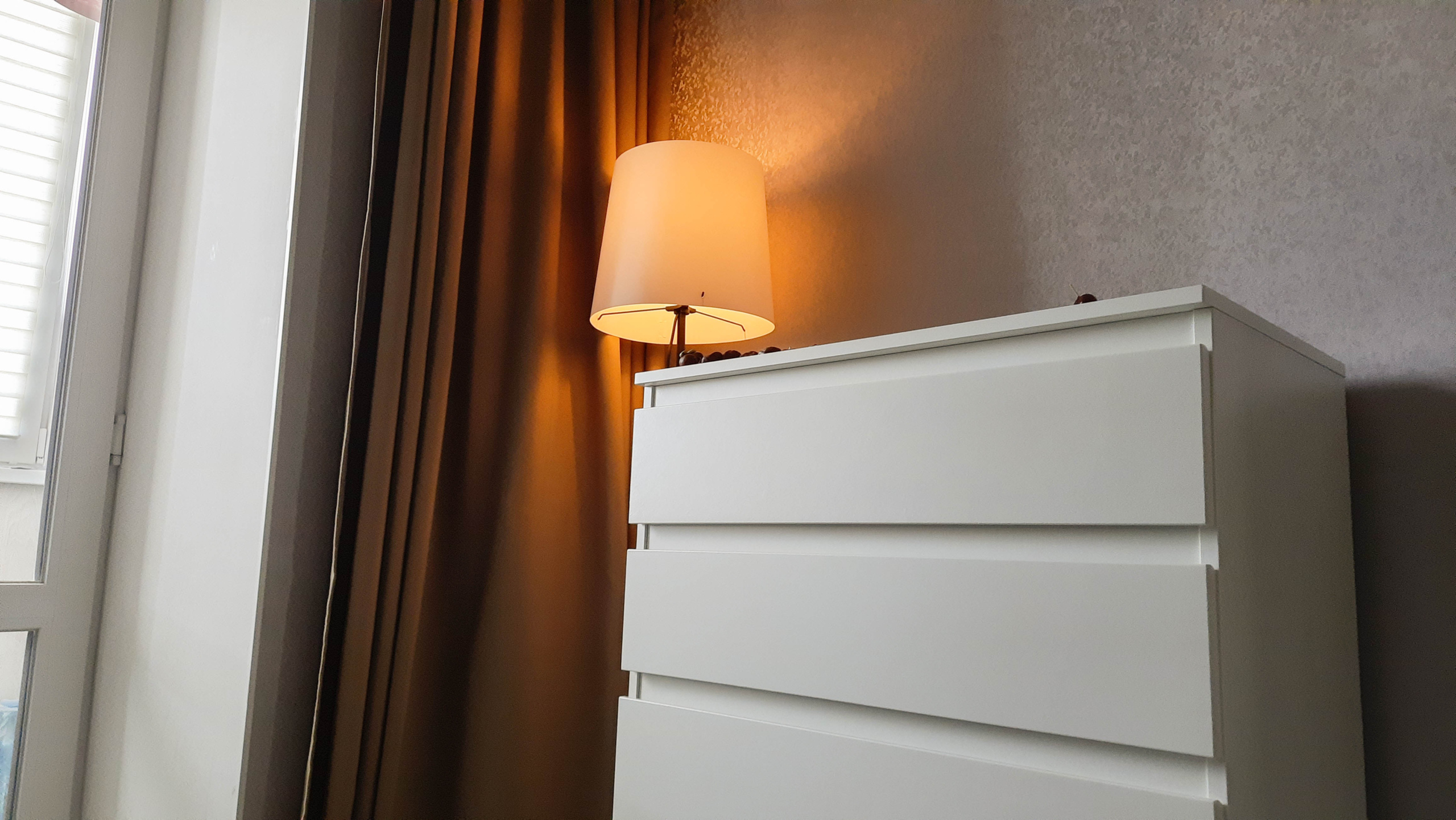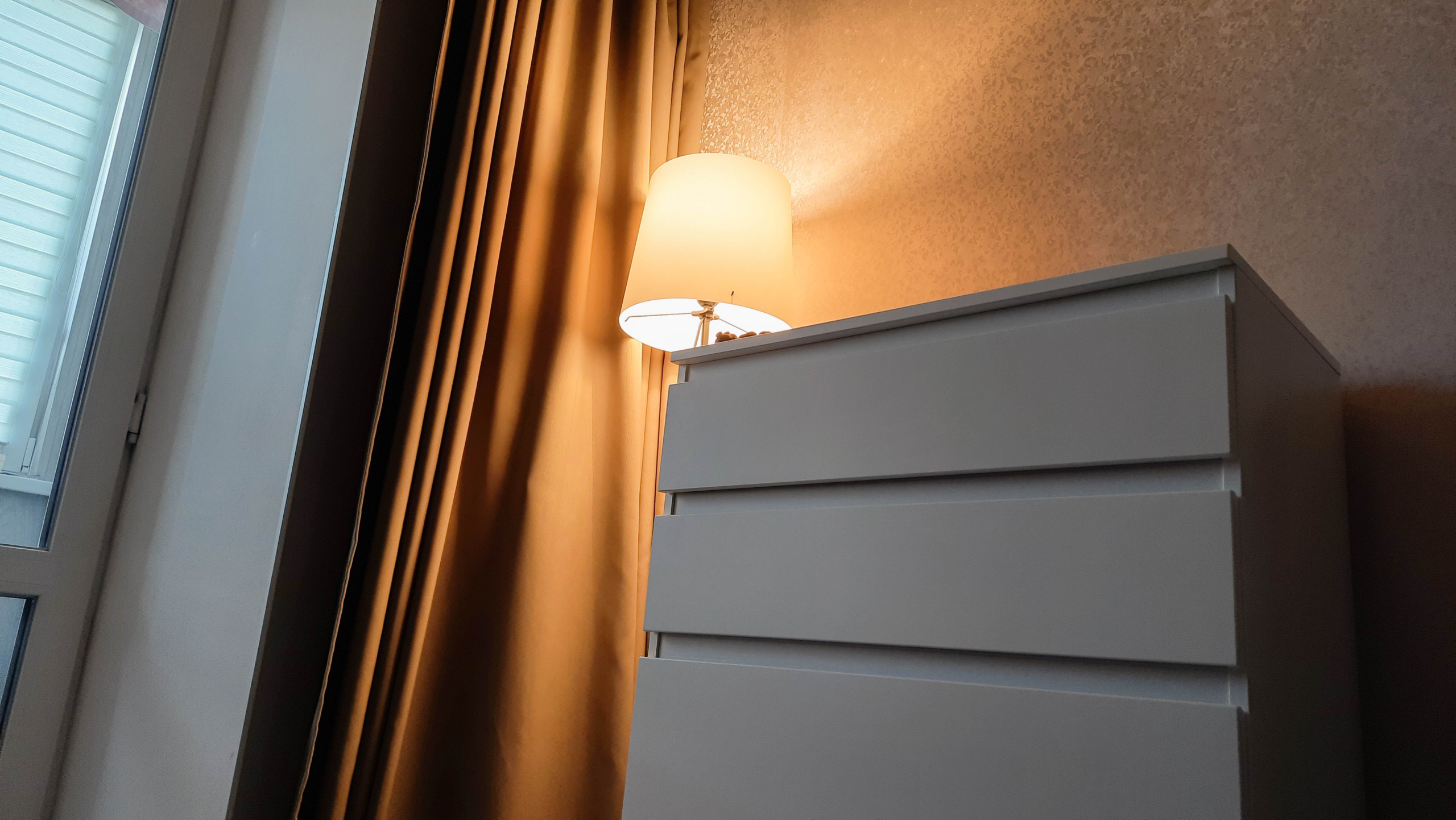 It is easy and simple to control the models through the program or the remote control. In the tests, I tried a lot of presets, turned sliders and changed the lighting temperature. As a result, I most often used the functions of natural warm light, "Fireplace", "Focus" and "Cozy" modes.
It is convenient to change modes from the remote control. For example, the floor lamp burns with a warm light at normal brightness, and when my son went to sleep, I reduced the brightness to the minimum or switched to another mode. The same is available in the app and is just as conveniently toggled.
It is worth remembering that lamps and lights are connected to the Wi-Fi program, so their reaction to your actions is often delayed. For example, if you turn on a floor lamp with a WiZ lamp, it will turn on almost instantly, just like a regular light bulb. The delay can be up to a second.
But if you activate a lamp or light bulbs through a remote control or program, the delay for any command is different, from one to 10 seconds. As I understand it, it all depends on your internet speed.
In my case, the maximum delay was 10 seconds. But only once. Most of the time, it takes a few seconds, and you get used to it after a week. These are small things compared to what such intelligent lighting gives in return.
Also, keep in mind that the maximum brightness of smart lamps may be lower than that of some conventional LED lamps or "housekeepers". I compared with an LED lamp with a claimed consumption of 10 watts, which shone like 100 watts. In this case, the brightness was the same. But when compared with 12- or 15-watt lamps, smart lighting will be dimmer.
You can see WiZ smart lighting devices on the website.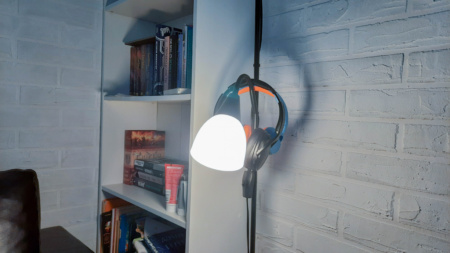 To be fair, it should be said that 12 and 15 W LED lamps will be too much for an ordinary apartment, house or even an office. And the 10-watt version is very bright, so I usually have such a lamp in one or two places, and the six- or eight-watt versions are most often used.
The WiZmote remote control looks like an ordinary miniature TV or set-top box remote control. It is made of ordinary matte plastic and equipped with a pair of triple buttons.
Ideally, it is better to keep it near the place where you often lie or sit. The remote control replaces the program, can turn on/off lighting, adjust brightness and color temperature, switch modes, and activate one of four backlight settings.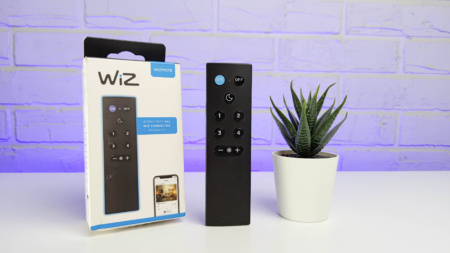 WiZmote is a great way out of the situation when you put your phone to charge in the kitchen, and you yourself are lying in the bedroom or in the living room. If you don't want to make unnecessary movements, but you need to do something with the light, the remote control comes to the rescue.
So you don't have to go for your smartphone and launch the program, and you can quickly and easily activate the desired mode, make the lighting brighter or darker, and so on.
The WiZ Motion Sensor looks like a compact square box with a rear mount, a sensor on the front cover and a button on the top end. The device works on two AAA batteries. They are promised to last several years under a normal usage scenario.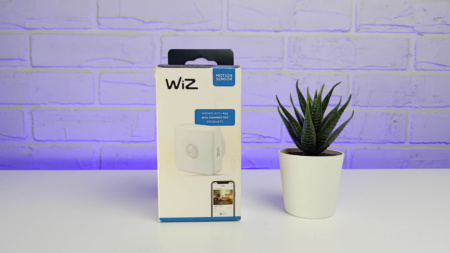 WiZ Motion Sensor captures movement at a distance of up to 7 meters. It must be placed on the wall or furniture above – so that there are no obstacles in front of it. The kit includes everything for mounting. The coverage area is 180 degrees.
The motion sensor not only turns on/off the lighting in the required room (for example, in the corridor when entering from the street), but is also responsible for adjusting the brightness of the lamps.
For tests, I wanted to install it in the hallway so that the light would automatically turn on when I or my family members came in from the street. But my hallway also has a door to the bathroom, so the light would turn on when we went there, and it was no longer necessary.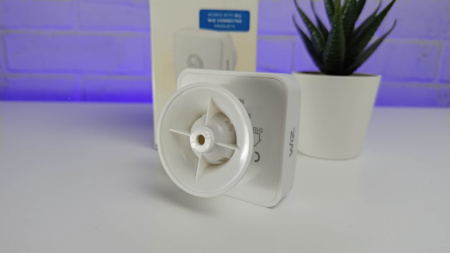 As a result, this sensor did not suit me because of the small size of the apartment and the tiny corridor. But adopt this idea if you have more room and there is no door to the bathroom in the hallway.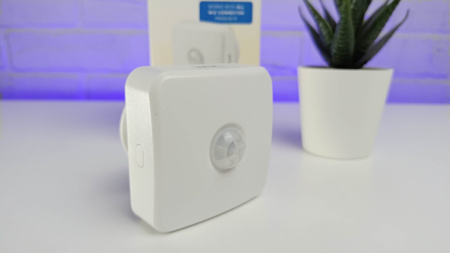 The sensor works quickly and clearly. You can install it on double-sided tape or screw it to the wall – everything you need is included.
The Smart Plug is inserted into a regular outlet, and from a distance it looks like a tee. The device is made of matte white plastic. An on/activation button is placed below.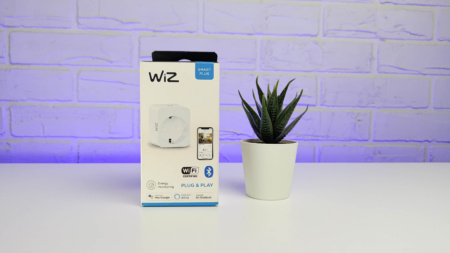 The use of a smart socket varies, and everyone can come up with their own scenario. I have been using several such gadgets in several places in the apartment for a long time.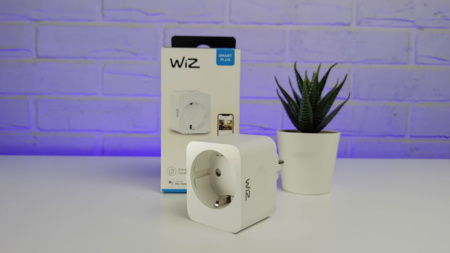 One of the most important is the outlet near the place where the wife puts the ironing board and where she turns on the iron. Now we don't ask ourselves, but have we turned off the iron when we leave the house. Through the program, you can see if it is active and what is connected. If you still forgot – in our practice this happened once, then you can calmly turn it off through the application and do not return home in a panic.
More WiZ smart lighting devices here.
Conclusions
The main advantage of WiZ smart lighting is a wide range of lamps, smart bulbs, sockets, sensors, LED strips, etc. All this variety of models is relatively inexpensive and will easily fit into any modern home, office or institution. It is easy to control WiZ smart lighting – the proprietary application provides extensive access and settings, and if desired, it is assisted by a compact and convenient remote control.
WiZ lamps and lamps can be attributed to the affordable segment of smart lighting, but at the same time they do not have a single "brain" like the more expensive Philips Hue series. They will not be suitable for creating dynamic scenes, for example, to be installed behind a TV to create the effect of presence.
At the same time, WiZ devices seamlessly integrate with other smart devices via IFTTT, as well as via Google Home or Samsung SmartThings. That is why WiZ is an excellent choice for those who appreciate the modern possibilities of smart Wi-Fi lighting, but do not want to spend a lot of money.
Project partner?


Select WiZ