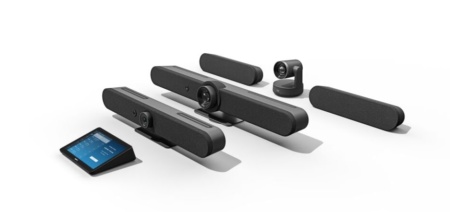 War, periodic power outages, economic and resource crises – all this changed the working conditions of Ukrainian business. Many teams found themselves in different cities or even countries, forced to work on blackout schedules and schedule meetings in literally any conditions.
Video communication remains extremely important for collaboration. Thanks to it, people can see and hear each other regardless of where they are.
The Logitech team talks about the modern solutions it has developed in the partner material. Among them is a universal video panel with modes and functions that create a picture like a movie and leave no one behind, a touch control panel for programs, a platform for controlling devices, a special camera for marker boards, etc.
Affiliate material?
Among the devices for video communication that Logitech produces are not only the usual web cameras, but also complex solutions designed for conducting video conferences.
A vivid example is the third-generation video conferencing system. They differ from the equipment of the previous generation in their complete autonomy. Thanks to the built-in operating system and popular applications for video communication, such as MS Teams, Zoom, Google Meet and others, the system can be used without connecting to a laptop or PC. Additional systems and accessories, such as Swytch, Tap Scheduler, Scribe and others, allow you to fully equip meeting rooms of any configuration.
Universal video panel Logitech Rally Bar for medium and large rooms

If you don't want to be distracted by switching cameras and microphones during a video meeting, or you need to see not only your interlocutors, but also your work chat at the same time, the Logitech Rally Bar solution is right for you. This is a universal all-in-one video panel designed for large and medium-sized conference rooms 10–25 people or more.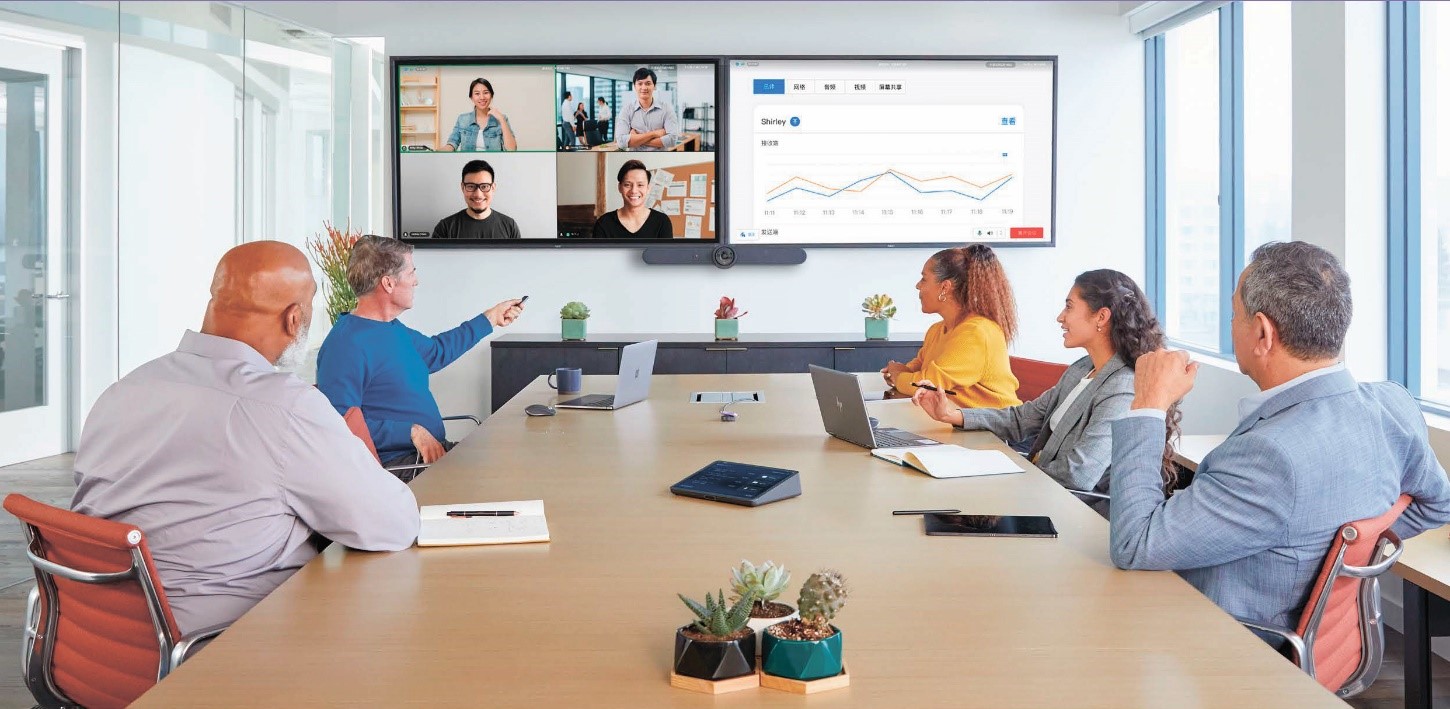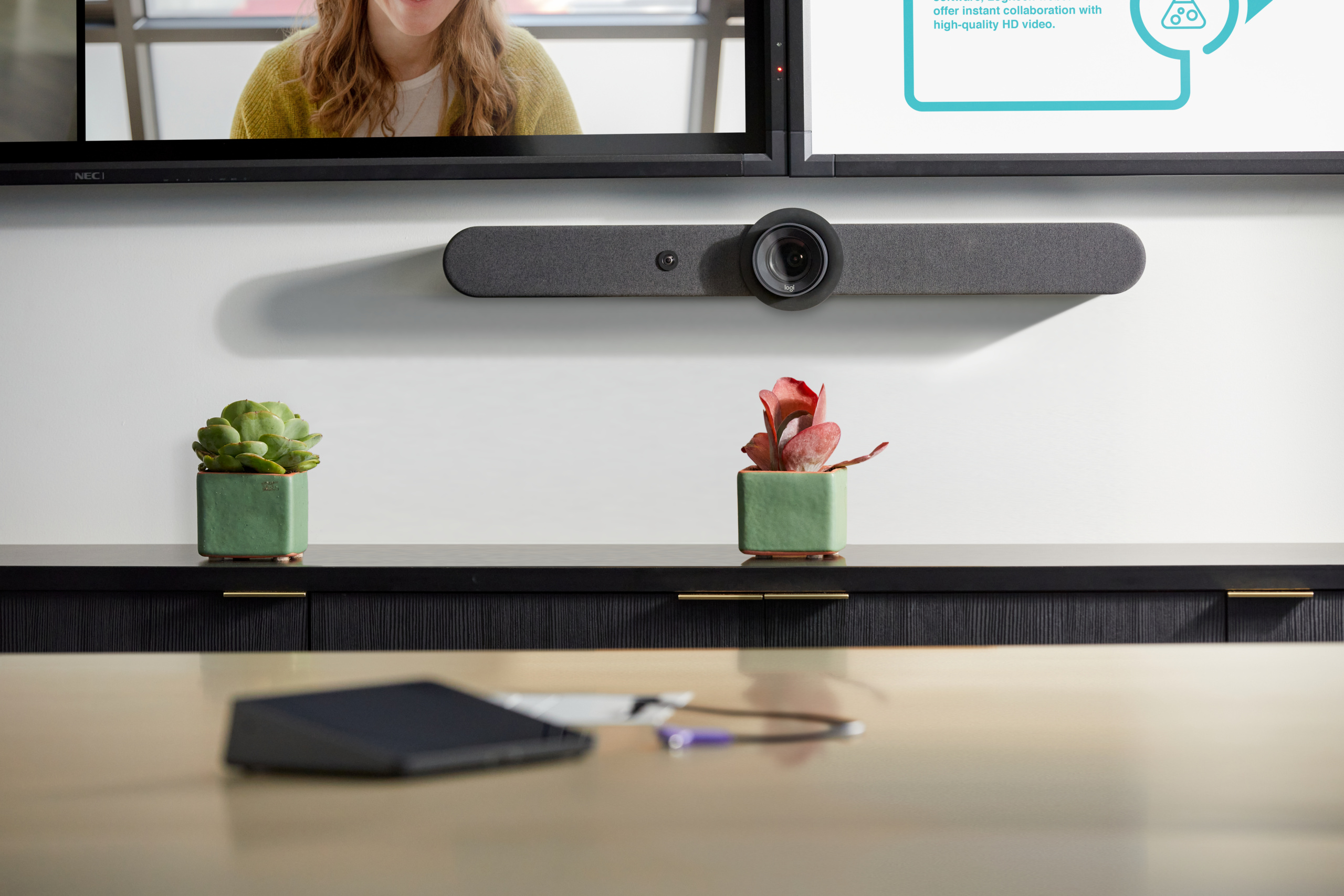 The built-in operating system allows you to use the device both autonomously with installed programs MS Teams, Zoom, Google Meet and so on, and as external equipment by connecting it to a laptop.
To ensure that none of the participants in the negotiations are left behind, the Logitech Rally Bar has a dual camera and RightSight 3 automatic framing technology. You can choose from several modes:
Speaker Viewso that the system focuses on the active speaker;
Group Viewthat everyone present in the room is visible on the video;
enable both modes at the same time to make communication more interactive.
The optical zoom and intelligent viewfinder provide cinematic quality images for video conferencing in medium to large rooms.
If you enable up to five additional omnidirectional remote microphones, you will provide the effect of presence to all participants of the negotiations from any corner of the room. Additional accessories and fasteners allow you to adapt the device to the design of any meeting room.
Learn more about the Logitech Rally Bar here
Video panel Logitech Rally Bar Mini for medium and small rooms
For smaller meeting rooms, you can choose the Logitech Rally Bar Mini. This is a video panel with the same capabilities as the Rally Bar, but designed with the specifics of the rooms in mind: it has a built-in powerful 4K camera with extra wide viewing angle of 120 degreesand the body of the device itself has been reduced. If necessary, the functionality can be expanded – if you install up to three microphones, the panel can be used in medium-sized rooms for 10-15 participants.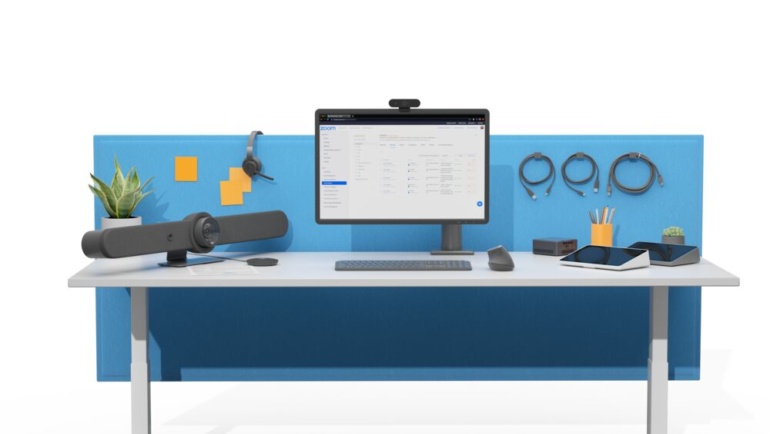 The Rally Bar Mini also has MS Teams, Zoom, Google Meet and more installed, and can be used as a peripheral.
Both the Rally Bar and the Rally Bar Mini can be equipped with a Logitech Tap touchpad. It allows you to conveniently manage built-in programs and launch conferences with one touch. In addition, the Tap IP modification is available with Power over Ethernet (PoE) power and the ability to connect via a Wi-Fi network.
You can also manage devices in the conference room on a single Logitech Sync platform. Remote monitoring and management of devices facilitates tasks such as updating the firmware of video communication devices and monitoring the load on meeting rooms. Sync is easily integrated into the customer's IT infrastructure thanks to the presence of an API.
More specs on the Logitech Rally Bar Min video bar here.
Logitech Swytch hub for switching between devices
If there are several devices for video communication, the Logitech Swytch hub will help to combine them in services such as Microsoft Teams Rooms and Zoom Room.
It allows you to use the audio-visual equipment of the meeting room with any program for organizing video communication, webinar or live broadcasting. Just run this service on your laptop and connect devices via Swytch.
The availability of universal USB Type-A/Type-C allows you to get rid of a lot of cables and wires, as well as charge devices without using a separate power supply.
Camera for marker boards Scribe
Those who work or study remotely often need to stream images from a whiteboard. The special Logitech Scribe camera is designed for this purpose. Participants will instantly see the images on their device screens.
This is especially useful in large meeting rooms or lecture halls: some of the participants sit in the back rows and cannot always see what the speaker is writing on the board.
And in the modern hybrid format of business and education, this innovation is indispensable. After all, most employees or students join the meeting precisely through video conferencing.
The unit is supplied with a mounting kit and is easy to install, and the 10m cable with special fixings allows it to be routed up, down or through the wall. It can be easily connected to the infrastructure of the conference hall or lecture room and the IT infrastructure of the organization. It is also compatible with the most popular video conferencing communication platforms.
You can buy a camera on the website
Logitech video meeting scheduler Tap Scheduler
To avoid overlaps in reserving rooms, help employees find the right space and be able to view meeting details, you will need Logitech Tap Scheduler.
This is a special planning panel for meeting rooms. It shows reserved or available space, has light indicators, and allows easy viewing of meeting details.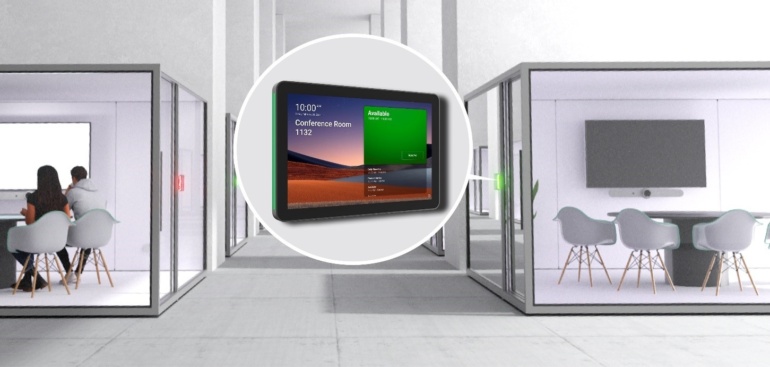 Thoughtful cable routing and included stands allow you to professionally install and quickly start using the Logitech Tap planner outside of any conference room.
Logitech solutions for video conferencing are suitable for working in rooms of almost any size and layout, they are easily integrated into the IT infrastructure. They are aimed at the current hybrid work environment, are easy to configure, manage and use, and provide a level playing field for every participant in virtual meetings.
Affiliate material?
Learn more about video conferencing solutions
This is affiliate material. Information for this article was provided by a partner.
The editors are responsible for stylistic compliance with editorial standards.
You can order material about you in the format of a PR article here.