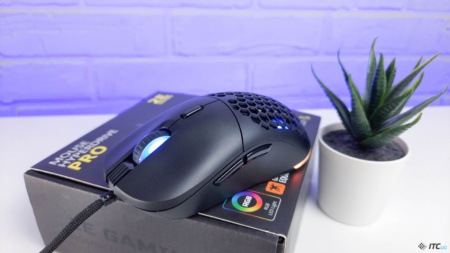 We received a fairly new 2E Gaming HyperDrive Pro gaming mouse for review. The model received a nice price tag, the popular PixArt 3389 sensor, a weight adjustment system and switches from Kailh. Among all these advantages, of course, there were some disadvantages. In the article below, you will find out whether the mouse is worth paying attention to, whether it has serious competitors, who will suit it, and who will not.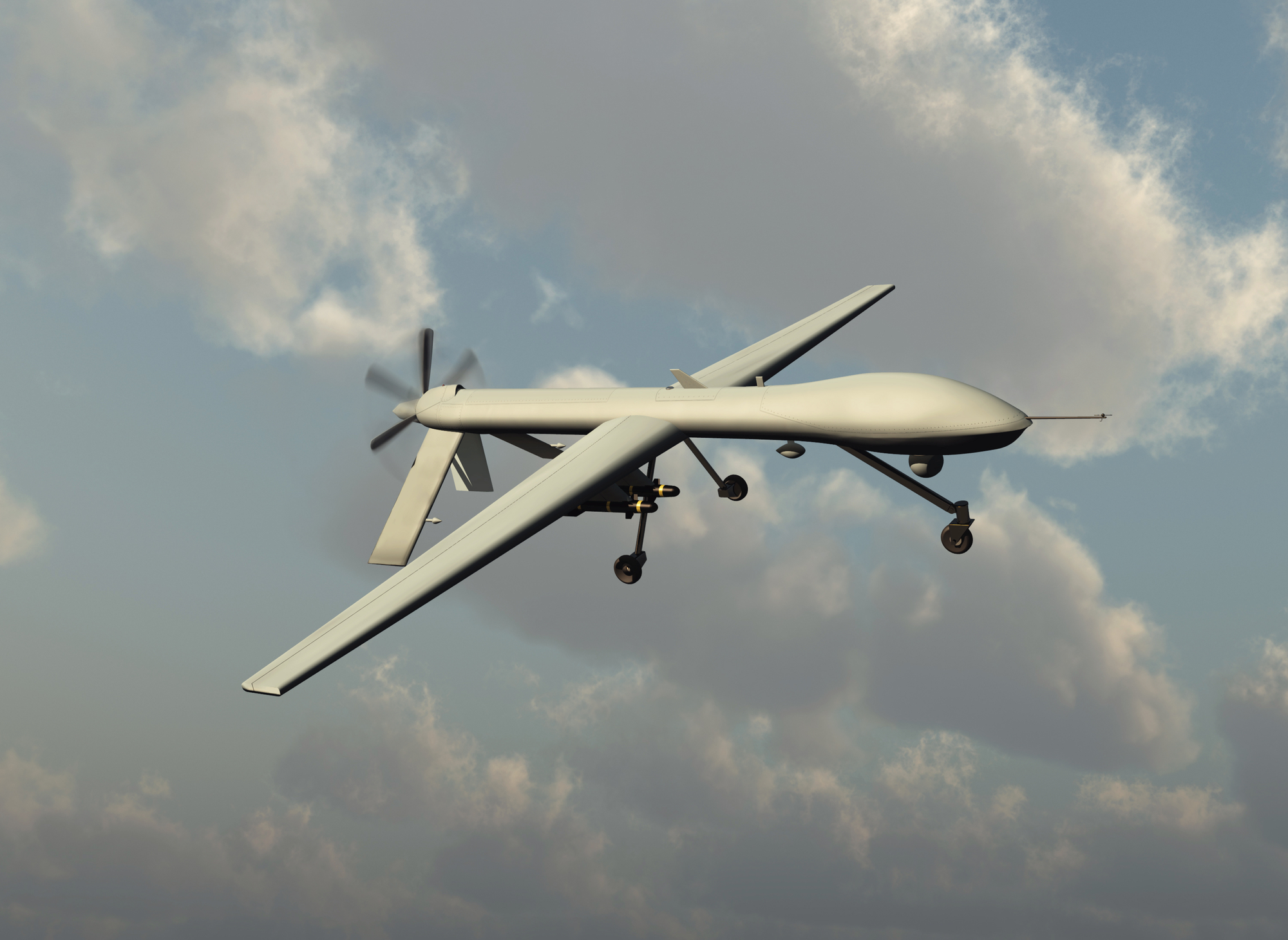 Technical characteristics of 2E Gaming HyperDrive Pro
| | |
| --- | --- |
| Connection type | Conductive |
| Connection interface | USB |
| Wire length | 1.8 meters |
| Switches | Kailh GM 8.0 (80 million clicks) |
| Sensor type | Optical |
| Model | PixArt3389 |
| DPI | 800/1600/2400/3600/5000/16000 |
| Adjustable DPI | 100-26000 (using software) |
| Acceleration | 50 G/sec |
| Survey frequency | 125-500-1000 Hz |
| Scan frequency | 12000 FPS |
| Number of buttons | 8 |
| Body material | Polycarbonate |
| Ergonomics | Symmetrical |
| Specifics | PTFE legs, RGB lighting |
| Dimensions | 64×124.5×42 mm |
| Weight | 75-100 grams |
Packaging and configuration of 2E Gaming HyperDrive Pro
The 2E Gaming HyperDrive Pro comes in a compact, square black box.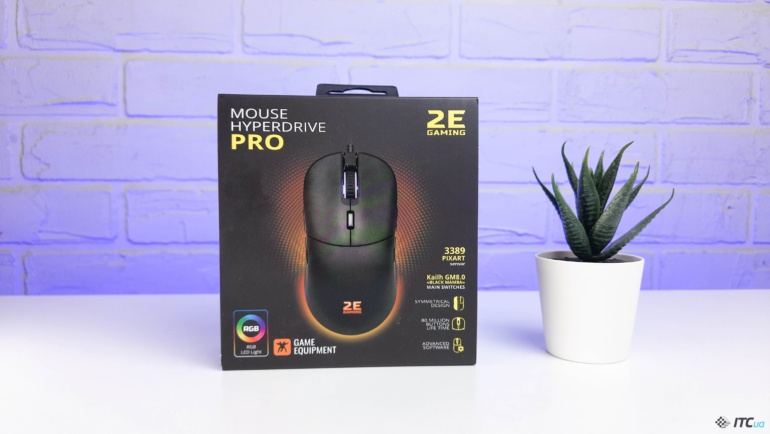 In the middle is the mouse itself, replaceable Teflon glides, an additional perforated cover, a set of loads, a set of side button covers, as well as manuals and documents.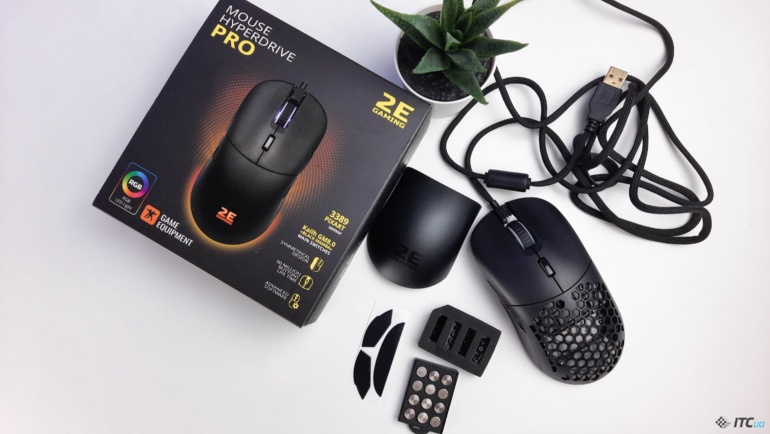 Design and ergonomics of 2E Gaming HyperDrive Pro
The model has a classic symmetrical shape, so it is suitable for left-handed and right-handed people.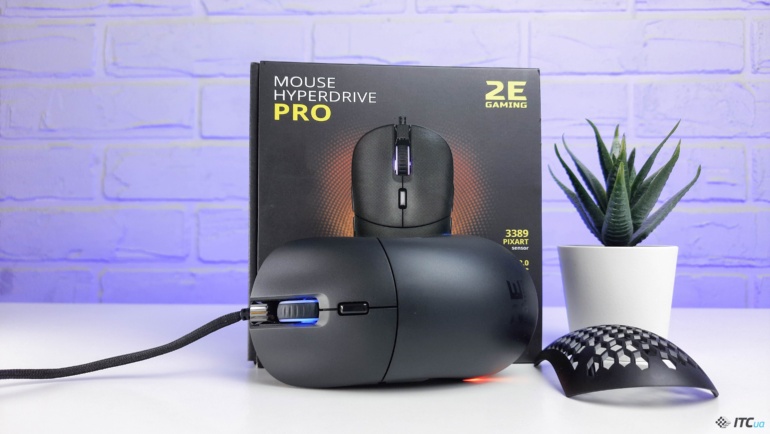 The body is made of matte plastic that is pleasant to the touch.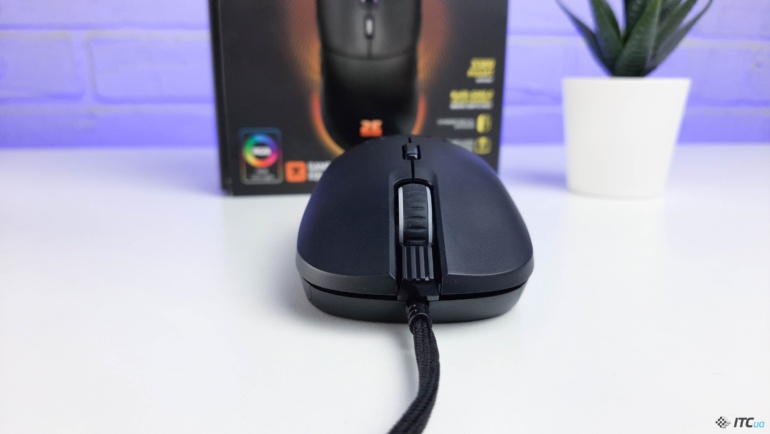 This material collects dust quickly and fingerprints are visible on it. At the same time, all this is very easy to erase and it is just simple to care for the mouse.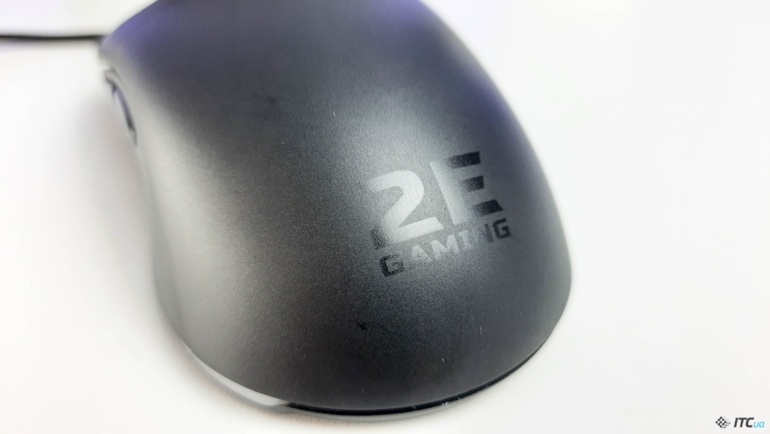 Two additional buttons were placed on the left side. They are easily removed and can be replaced with magnetic plugs. This may be necessary for shuls, who will be satisfied with a pair of the same buttons located on the right end of the case.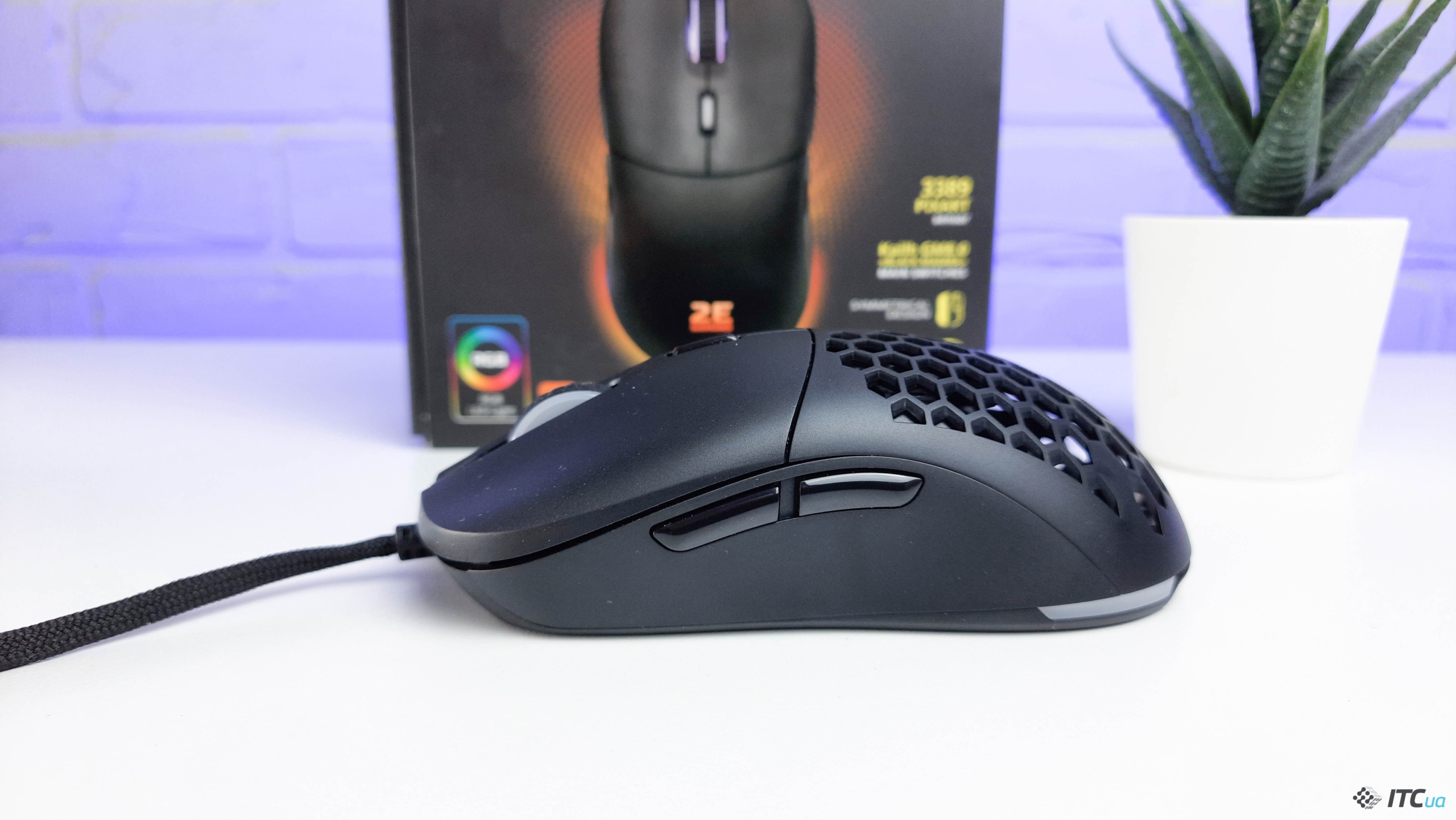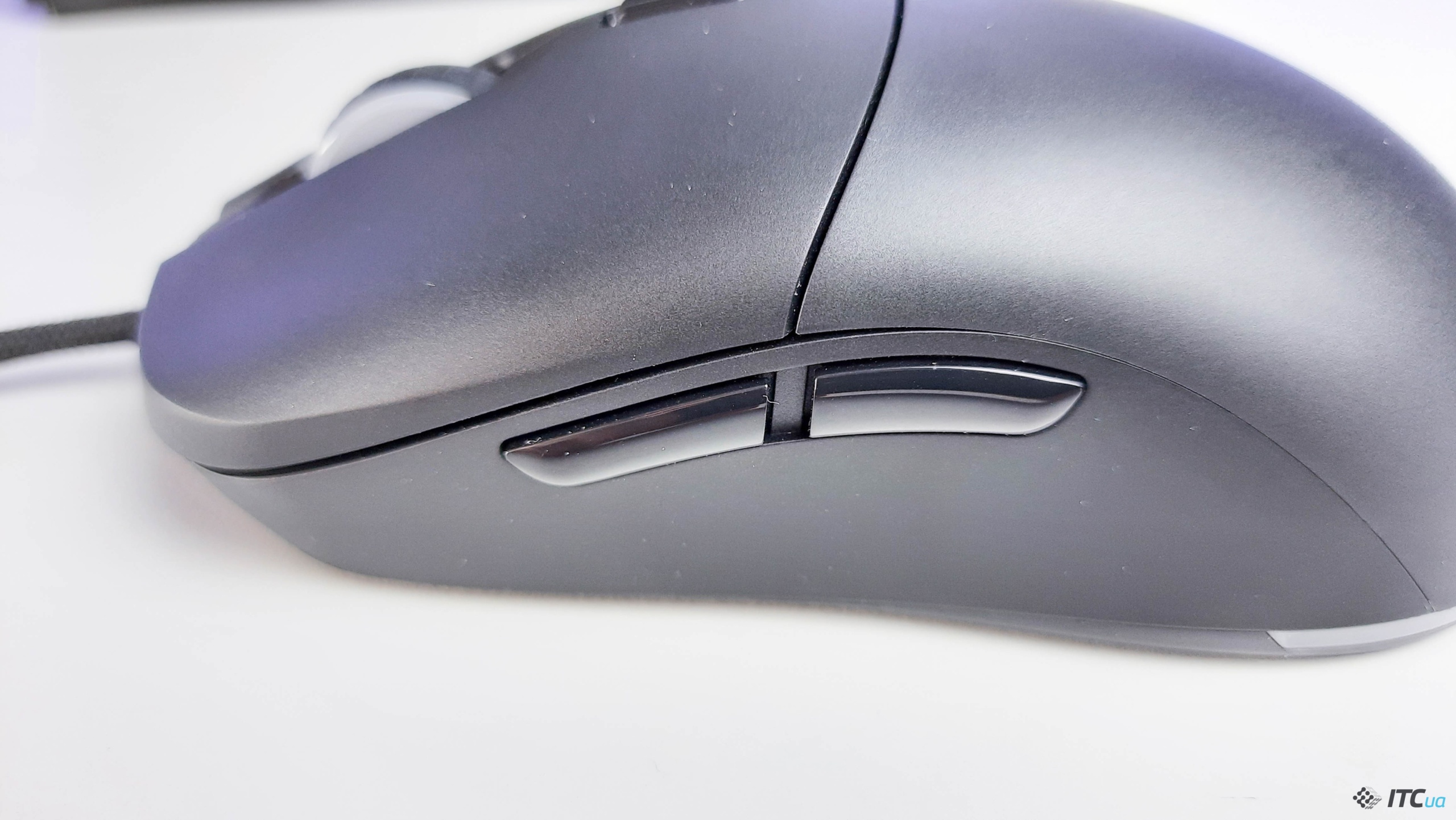 These two buttons can also be swapped with a pair of magnetic plugs. And this is already an option for right-handed people. In the mouse tests, I did so, because the buttons on the right side interfered with me during the game – I often accidentally pressed them.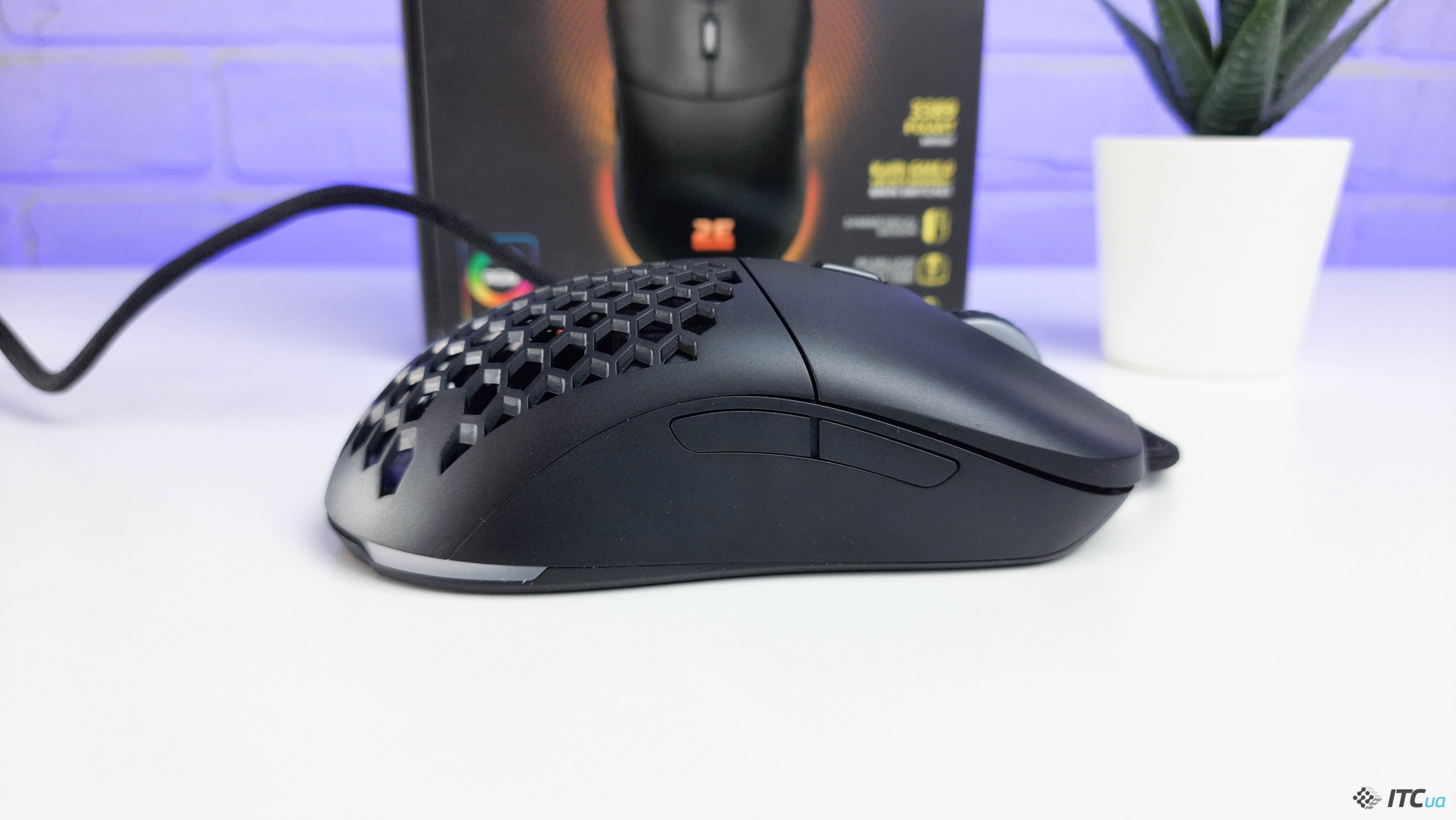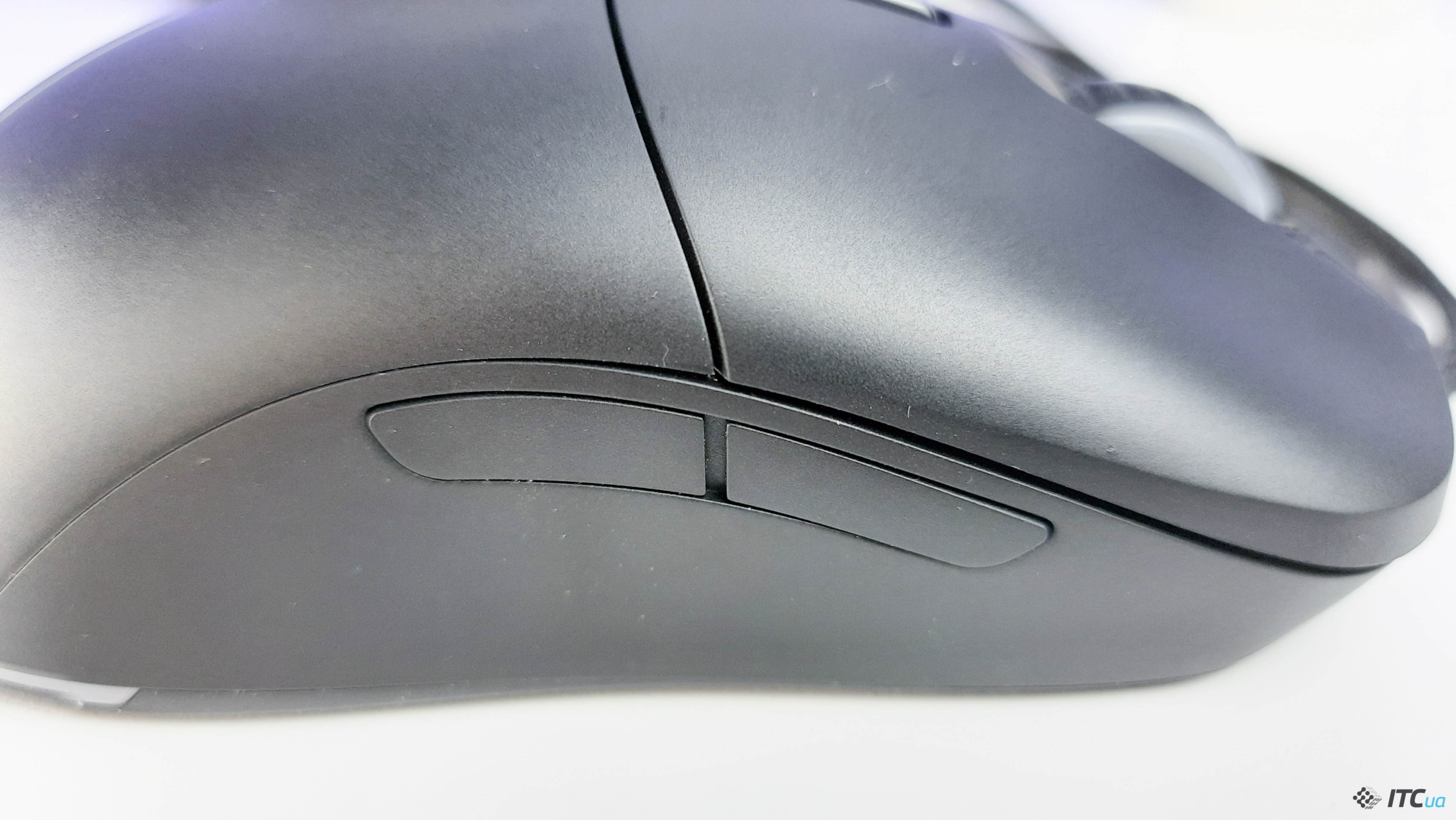 The mouse cable is soft paracord. Its length is 1.8 meters, it is quite flexible and does not interfere with games and work.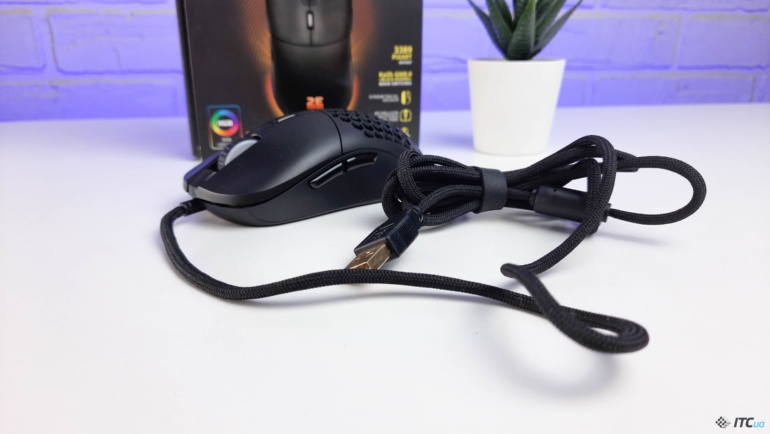 The main pair of buttons received comfortable depressions for fingers. Between them is a key that switches the DPI value and a medium-sized wheel with rubber notches. There is RGB lighting on the sides of the wheel.
The main part of the 2E Gaming HyperDrive Pro occupies a "belly".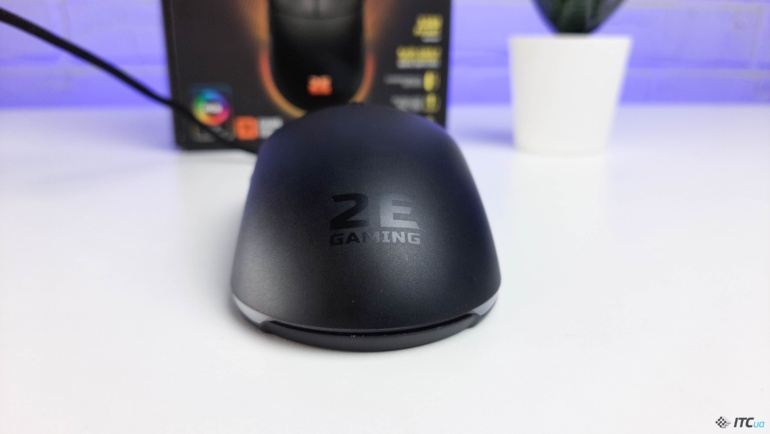 Its cover is removable (it is as easy as possible to be attached with one finger and firmly held in the case). If desired, it can be changed to a perforated version, which is two grams lighter (5 instead of 7).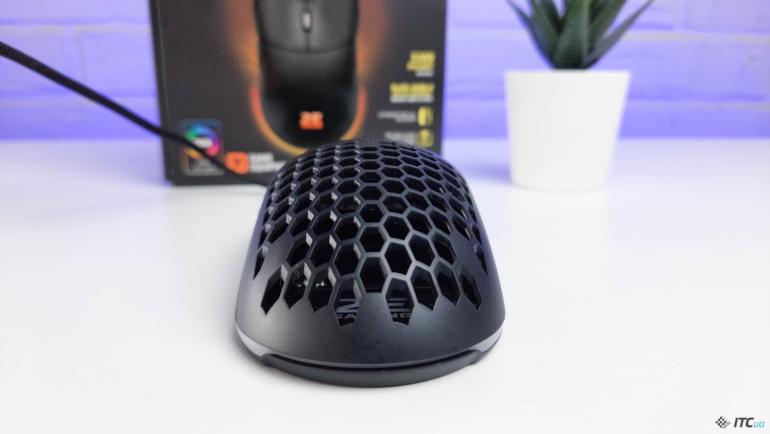 In this case, the user will also see the inscription 2E Gaming with RGB illumination inside the case.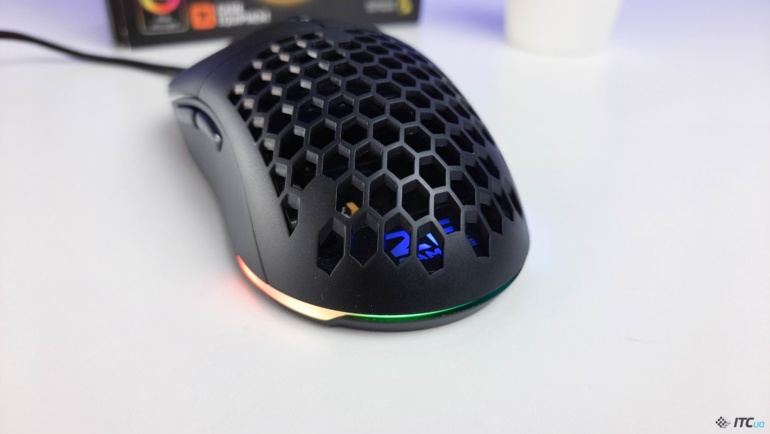 Under the cover there is a place to install a set of 12 weights. The weight of each is 1.5 grams. All this allows you to adjust the weight of the mouse very demandingly, removing or inserting loads from the platform.
With them and a regular cover, the 2E Gaming HyperDrive Pro weighs 100 grams. Without them and the perforated cover, the weight is reduced to 75 grams.
Directly under the cover, along the back contour of the mouse, a strip with RGB lighting was placed.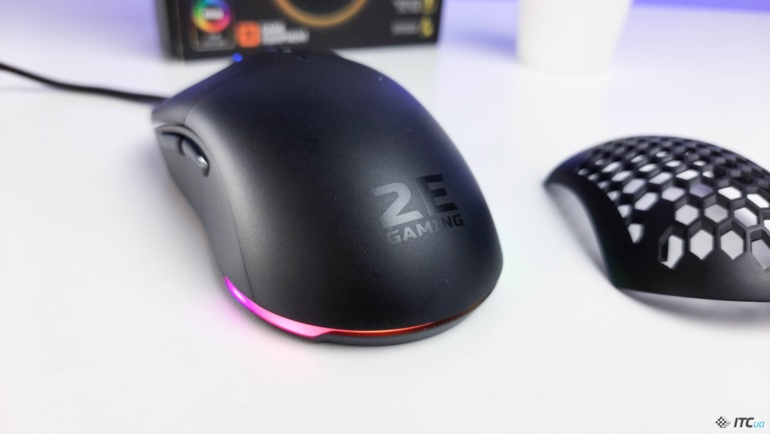 Most of the bottom of the model is occupied by perforation. There are also three large Teflon slides, a sticker with basic information about the model, a sensor and a button for switching RGB lighting modes.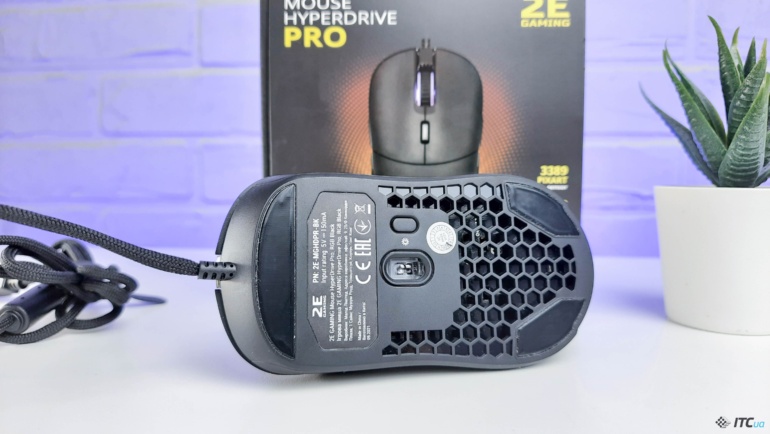 2E Gaming HyperDrive Pro functionality and sensor
The dimensions of the 2E Gaming HyperDrive Pro are 64×124.5×42 mm. It is a medium and compact model that fits all grip types and most hand sizes.
I already wrote about the rather rare opportunity to use a shulga mouse and right-handed people, and I will mention it again anyway. Because I consider this segment to be quite important, because little attention was paid to it and still is. I claim it as a scam.
Underneath the 2E Gaming HyperDrive Pro's main buttons are the popular and reliable Kailh GM 8.0 switches (the same found in the Hator Quasar Wireless and many other models). Their declared resource is 80 million clicks.
The sensor here is also very popular – PixArt 3389. This model is considered one of the standards of the gaming segment. It does not break, it is loved by both regular gamers and professional e-sportsmen, so the sensor is in many famous and not-so-famous models.
PixArt 3389 works great in 2E Gaming HyperDrive Pro. The sensor has many possibilities and settings, it really cannot be broken, it is comfortable to play games of various genres with it (tested in CS: GO, Valorant, Shaterrline, League of Legends, Dota 2, Cyberpunk 2077).
Users can adjust the sensitivity level from 100 to 26000 DPI. There is also a change in the polling frequency of the mouse (125-250-500-1000 Hz), which does a good job of solving the delay issue.
2E Gaming HyperDrive Pro is reliable and well assembled, does not crack or bend during use. Even the removable cover is firmly held, but the main buttons and the wheel are a little wobbly.
Keystrokes are crisp and loud with little travel. The side buttons are just under the thumb and are easy to press. They also have a small stroke.
The pair of side buttons on the other side bothered me personally, so I easily replaced them with a pair of magnetic plugs from the kit.
The scrolling wheel is soft with barely perceptible positions when rotating. In games, this is definitely a plus, but when viewing sites and working with documents, only a small part of the text or site will be hidden. Because of this, the wheel has to be turned quite often and quickly. If desired, this parameter can be tweaked in the proprietary utility. But the feeling of scrolling and smoothness are at the highest level, both in games and in Internet surfing.
Teflon glides are very standard here, and nothing more is needed. With them, the mouse slides super easily on the mat and other types of surfaces. If necessary, the kit includes a replacement kit.
Connection and software
2E Gaming HyperDrive Pro works via cable. No drivers or software are required for the first connection. But if desired, a proprietary utility with the same name is installed.
During installation, there are separate Ukrainian and Russian languages, but when selecting the first part of the interface and text, it is in Russian.
The utility itself is quite simple and functional. Here you can reassign all the buttons on the mouse, there is a profile editor, DPI change, backlight settings, other mouse parameters (sensitivity, scrolling speed, double-click speed) and polling frequency change.
Price and competitors
At a price of UAH 1,599 and with the popular PixArt3389 sensor, the 2E Gaming HyperDrive Pro model is itself a serious competitor to more expensive mice. For example, Xtrfy M4 RGB, which costs up to four thousand hryvnias, Asus ROG Keris, Cougar Dualblader, and so on.
At the same time, the PixArt3389 is such a popular sensor that it is also included in affordable gaming models, so this gives the 2E Gaming HyperDrive Pro many competitors in its class. For example, Hator Pulsar, Redragon Storm Elite, AOC AGM 700, Cougar Airblader, MSI Clutch GM41 are more affordable or at about the same price.
Pros:
adequate price, universal symmetrical body, suitable for left- and right-handed people, as well as for different types of grips and palm sizes, weight adjustment system, rich delivery set, popular Kailh GM 8.0 switches, proven PixArt 3389 sensor, RGB lighting, normal proprietary software , soft reliable paracord cable
Cons:
there are many competitors with the same switches and sensor, the utility is poorly translated into Ukrainian
Conclusion:
2E Gaming HyperDrive Pro is an unexpectedly cool and affordable gaming mouse with a convenient weight change system. The model has a pleasant RGB backlight, the popular and proven Kailh GM 8.0 switches, as well as a PixArt 3389 sensor. The mouse is well assembled, it is convenient to use, but still the wheel and a couple of main buttons are a little wobbly. The model "fits" perfectly in any palm, and is also suitable for left-handed and right-handed people. Those and others can use four side buttons at once. If not needed or in the way, two of them quickly change to magnetic plugs. 2E Gaming HyperDrive Pro has a lot of competitors, and even for the mouse, the proprietary utility was poorly translated into Ukrainian. But the last one is the easiest to fix. We recommend it for purchase, but before you do, check out other models with the same sensors and switches. Because there are a lot of them both in this, and in more expensive, and cheaper categories.