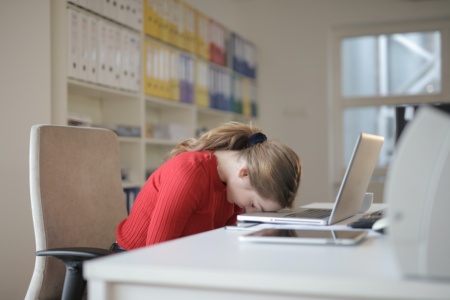 Due to large-scale missile attacks by the Russians in the fall, Ukraine faced a new challenge – blackouts. And if at first it seemed that work was impossible in such conditions, now the business is showing quite well – everything will be possible if you make a little more effort. Freelancehunt researched how performers react to power outages and how it affects their work.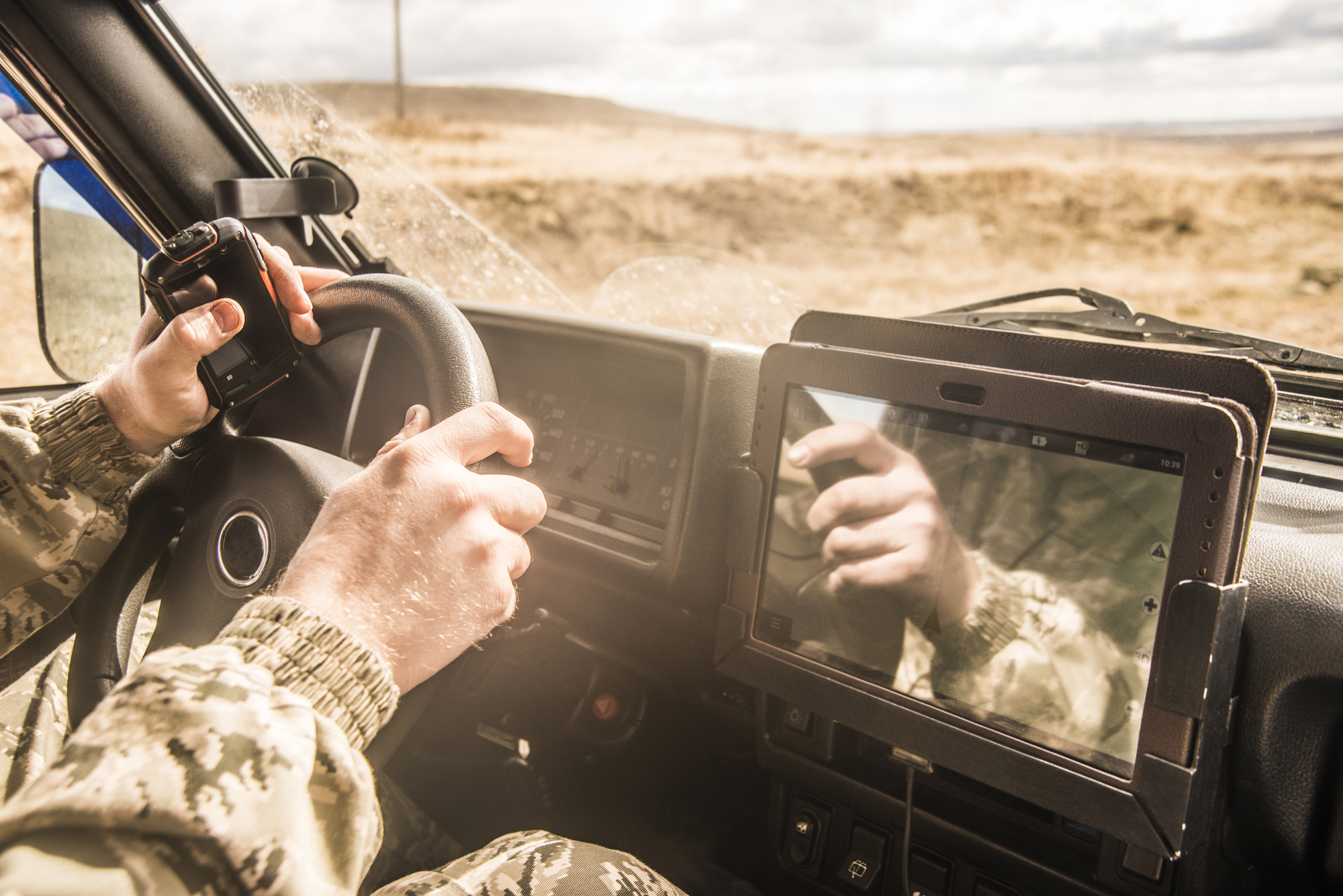 Almost 70% of freelancers continue to work actively even during blackouts, while 30.25% are waiting for electricity to return to their homes. In the harsh reality, where you have to work according to blackout schedules, the advantages of freelancing become more noticeable:
you can work when there is an opportunity – the main thing is to adhere to the deadline;
no need to waste valuable time when there is light on the way to the office;
work does not depend on the presence of the Internet or communication in the office, where the business cannot always provide it.
For 46.22% of freelancers, the number of orders did not change, for 43.49% it decreased, and for 10.29% it increased.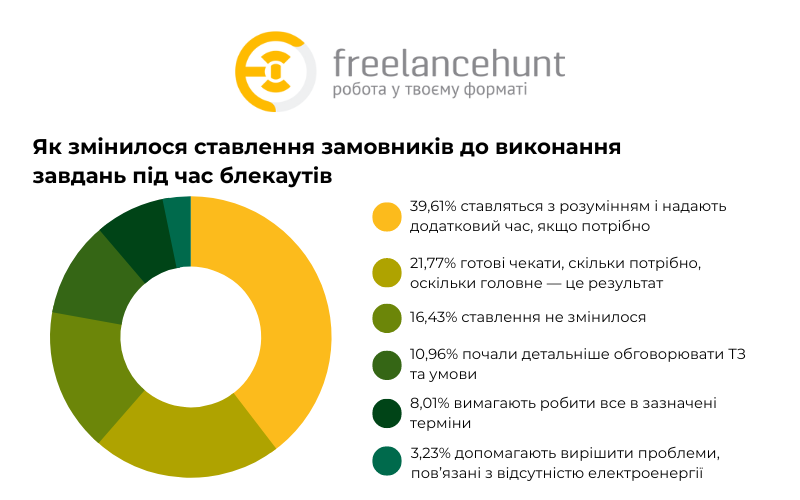 The situation with regular customers is somewhat different: 63.03% of performers continue to receive as many projects as before the blackout, 30.7% receive less, and 6.27%, on the contrary, receive more.
Factors affecting the decrease in the number of completed projects:
competition, as the rate of growth of new freelancers exceeds the demand for services;
the project execution time has increased (more time is now needed to discuss the details of the TOR, terms of cooperation, final acceptance of the task and making amendments).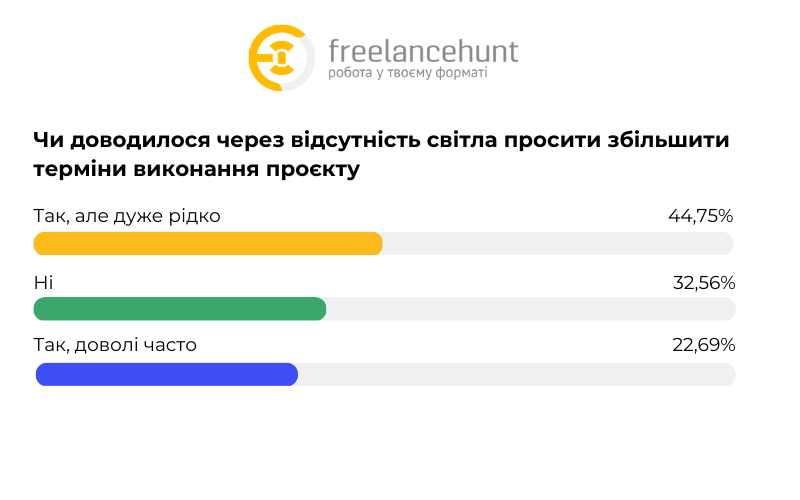 Completing the project on time is a quest for every modern freelancer from Ukraine. However, the numbers show that:
32.56% of performers do not need to postpone the deadlines;
44.75% asked to extend the deadline, but this is very rare;
22.69% have to postpone the deadline quite often.
39.61% of customers are understanding and give additional time if necessary, and 21.77% are ready to wait as long as necessary. Only 8.01% demand to do everything within the specified time. There are even customers who are so interested in obtaining a result that they offer their help in solving problems related to the lack of light – 3.23% turned out to be such.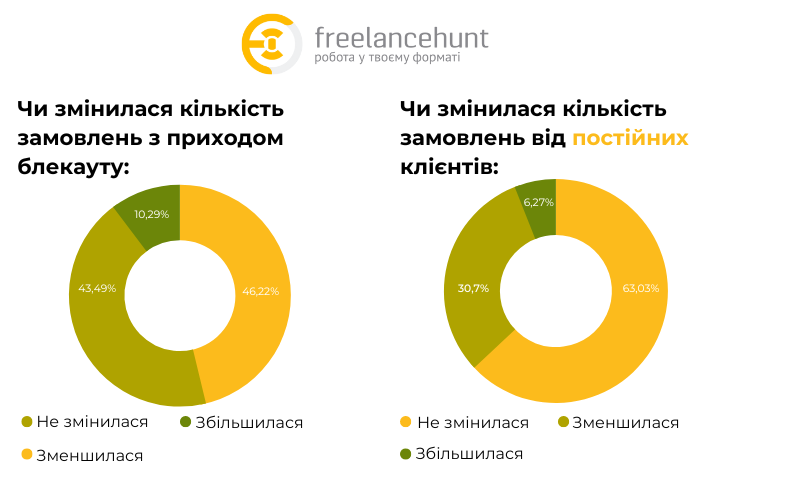 10.96% of entrepreneurs discuss TK and details in more detail. This is important because it is not always possible to give an answer or clarify something in time during the execution of the project. It is easier and more productive to immediately discuss in detail and reach a clear mutual understanding. Also, 16.43% of performers did not notice significant changes.
The main changes in the work of freelancers in numbers:
31.37% of freelancers adapted their work schedule for power outages;
18.82% began to spend more time completing tasks (due to the fact that after the next disconnection it is necessary to adjust to work again);
17.82% have to sell their services more often and better;
17.31% purchased the necessary equipment for comfortable work;
14.68% note that it has become more difficult to communicate with customers (they may reply late, not get in touch for a long time).
61.55% of freelancers note that customers continue to recommend them, as before, and 10.50% even began to recommend them more often. For entrepreneurs, freelancing remains a good opportunity to close various tasks quickly and inexpensively, so the demand for such services has remained, and during blackouts, it may even grow.