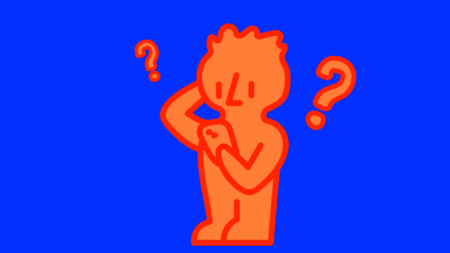 More than 6 million Ukrainians own cryptocurrencies. Who these people work for, what they are interested in, why they buy digital assets and what they expect from the cryptocurrency market – the EXMO.com team shares the results of the research in the partner material.
Affiliate material?
In 2022, Ukraine took third place in the rating of crypto acceptance by the population. According to the research company Tripple A, the percentage of citizens who own cryptocurrencies in our country increased by more than 2% over the year. Thus, at the beginning of 2022, 15.72% of the population had crypto assets. Despite the significant numbers, there are practically no new local studies of this audience on the cryptocurrency market in Ukraine.
We at EXMO.com decided to find out who is among them 6 millionwho keep cryptocurrencies in their wallets. In the research, we emphasized the demographics and interests of these people, asked them about the history of getting to know cryptocurrencies, what habits they have as crypto owners and what they think about the predictions for the new year.
We conducted a survey among Ukrainian users of our exchange. We received 863 questionnaires, cleaned them of duplicates and partially filled ones, and 647 quality results remained. The sample is not indicative of the whole of Ukraine, however, the results of the study make it possible to understand trends and capture common habits of the audience.
Learn more about EXMO.com
How old are Ukrainian crypto enthusiasts and how much do they earn?
There are much more male users of our exchange than female users. Out of 647 respondents, 607 are men. More than 42% of respondents are aged 35 to 44. The second largest group is people aged 45 to 54 years. Despite the prejudice that the cryptocurrency market is only a young audience, 6.6% of respondents said that they are over 55 years old. And four people wrote that they are retired.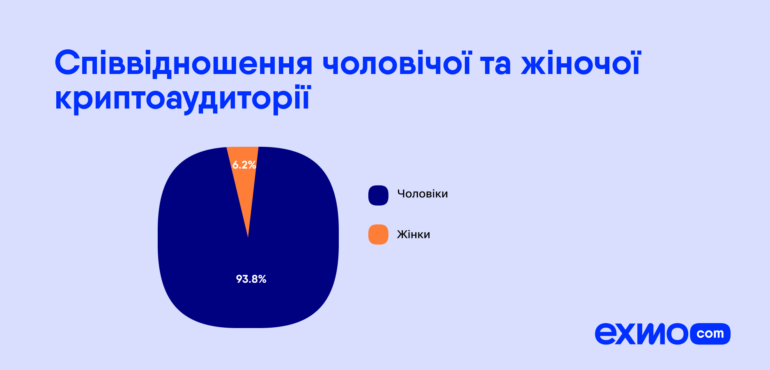 More than 60% of crypto-enthusiasts have university degrees. 22.5% of the audience had only a secondary education, and five of the interviewees have a scientific degree.
Most of those who invest in cryptocurrencies are employed in the IT and trading market. 15.9% of people work in construction, and more than 10% work in marketing. Three of the interviewees serve in the Armed Forces, three more work as teachers. 3% of the audience said they lost their jobs after the war started.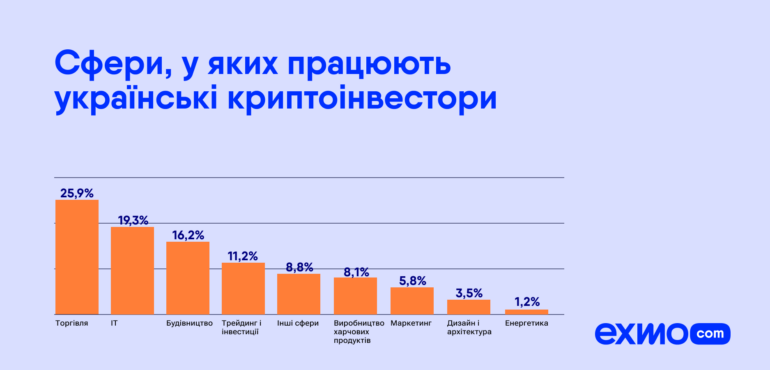 62.5% of the audience earns up to $1,000 per month. The second largest group receives from $1,000 to $2,999 monthly. The income of 27 of the respondents is from $3,000 to $4,999and the salary level of four respondents is more $10 thousand.
What are cryptocurrency owners interested in?
Technology, finance, entrepreneurship and sports are the main interests of the interviewees. About half of them are interested in football, while 35.2% of the audience is interested in boxing. 68% of respondents do sports, 30% of them run, 23% choose functional training, and 15% go to the gym.
68% of the audience said that they do not bet on sports and do not play in online casinos. At the same time, 32% wrote that they are active participants in one or two of these markets.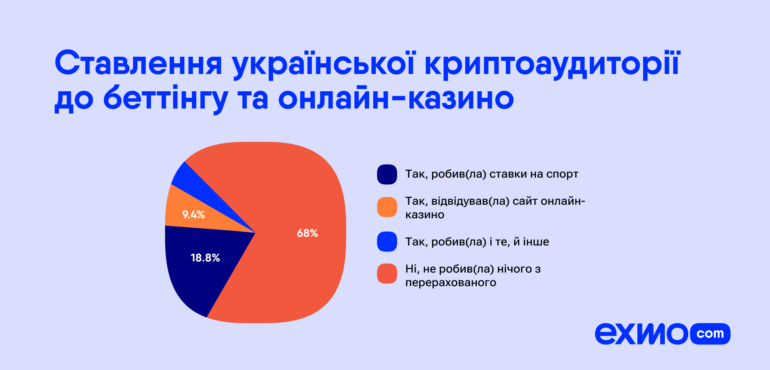 The crypto industry in Ukraine is moving more actively than gambling. Key companies of the game market estimate the potential audience of players at 2.2 million people. In February 2022, active participants in the gambling market were about 30–40% of this figure, i.e. up to 880,000 people. While the number of Ukrainians who own crypts reached 6.5 million.
As for computer and video games, the crypto audience is divided into those who are interested in gaming and those who are not interested in it. Games played by crypto enthusiasts include Counter Strike, Dota, Player Unknown's Battlegrounds, FIFA, and Grand Theft Auto.
Among social networks, Ukrainians in the crypt like YouTube and Telegram the most. Facebook and Instagram are used a little less. 33% of respondents like to scroll through the video feed on TikTok, about 27% use Twitter on a regular basis, and about 17% use the Discord platform.
Find your way into the crypt with EXMO.com
How and when they got into the crypt
13.6% of respondents said that they learned about cryptocurrencies more than 10 years ago. At the same time, only 6.6% of those who added them to their portfolio at the same time.
25.6% of respondents have been familiar with crypto for more than seven years, and 14.4% of those who purchased digital assets 7-10 years ago. Most (26.8%) of those surveyed became owners of cryptocurrencies in the period from 2015 to 2017.
After 2017, it became easier for the audience to buy crypto. If before people needed several years to decide to buy digital money, after 2017 the audience was ready to react faster.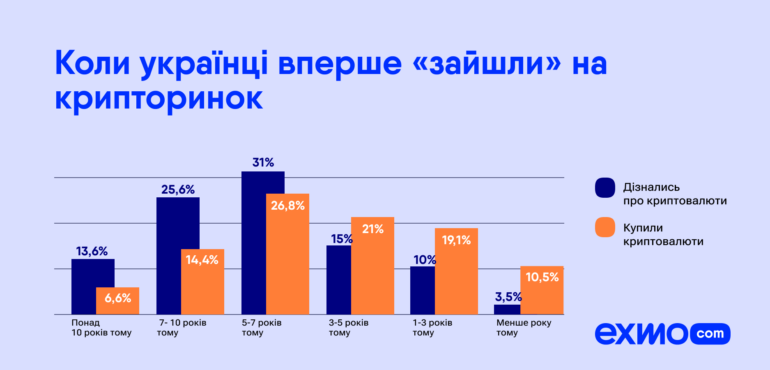 One of the most popular reasons to buy cryptocurrency is the desire to try something new. More than 46% of the audience chose this option. A little less (26.4%) of those who bought coins and tokens as a long-term investment. 17.4% wanted to make quick money by buying digital assets.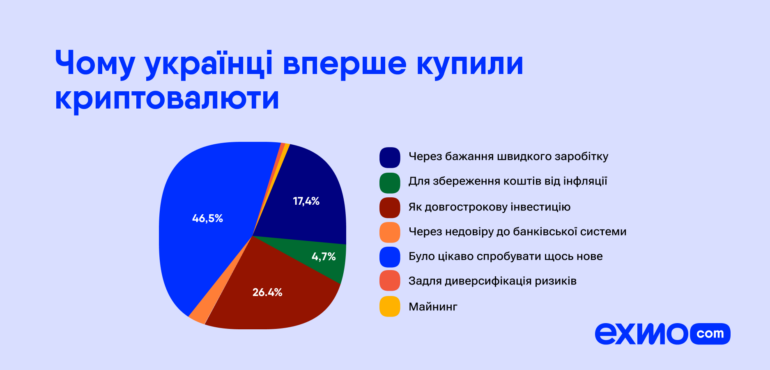 What are the habits of Ukrainian crypto investors
More than half of the respondents (56.6%) buy cryptocurrency with the money left after monthly expenses. 31.1% set aside a certain amount every month to purchase digital assets. 6.8% of the audience receives a salary in the crypt, 3.2% invested in it from the sale of valuable assets: real estate, cars, and so on, and 2.3% of respondents borrowed money to buy a crypt.

The frequency of buying cryptocurrencies varies. More people buying digital assets every month. The second large group invests in them several times a month. 17.9% of those who add new currencies to their portfolio once a quarter. A little less (13.1%) invest in cryptocurrencies annually.
Learn more about EXMO.com
Most owners of digital money perceive cryptocurrencies as a long-term investment. 28.3% of respondents are engaged in trading and cryptocurrencies are a source of additional or main income for them. 8.2% of people use crypto for savings. 14% of the audience consider this industry their hobby.
Word of mouth works best in the cryptocurrency market – more than 45% of respondents learned about bitcoin and other digital currencies from friends and acquaintances. In second place are those who heard about the crypt on social networks. There are also those who began to study the market after starting to work on it.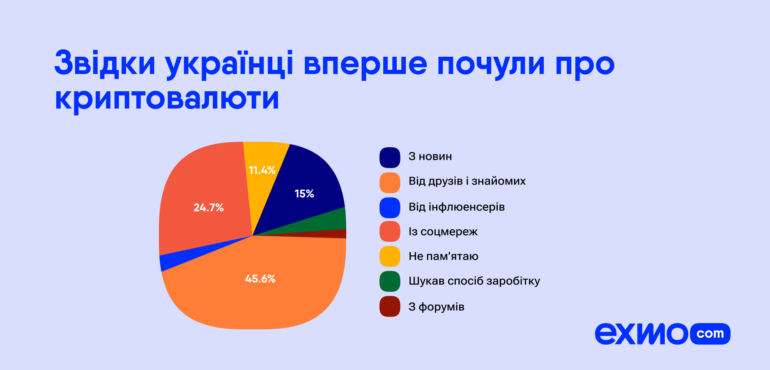 Most make investment decisions based on the technical analysis of the crypto project from analysts. It is also important for the audience to have news about the project, publicity of the team, as well as the opinion of acquaintances and influencers.
63.7% of traders keep less than 25% of their savings in cryptocurrencies. 19.5% of the audience – from 25 to 49%. More than half of the respondents keep their money on crypto exchanges. 5% choose cold wallets for this, and 38.8% of the audience divides their assets between the first and second option.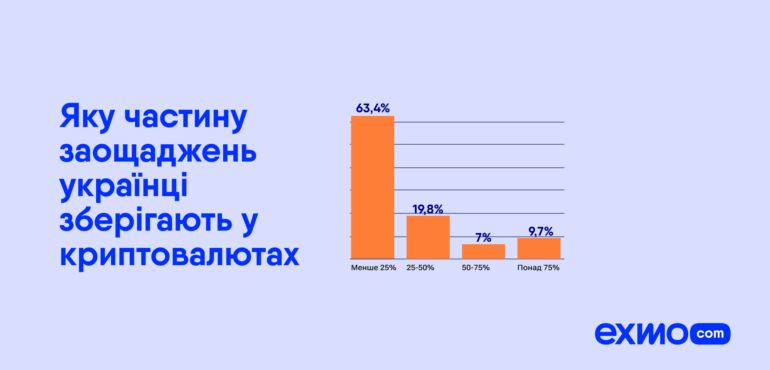 None of the respondents use one crypto exchange – the majority regularly use from two to five platforms. They choose exchanges based on reliability, user-friendliness of the interface and availability of interesting trading pairs. 35.8% pay attention to whether the company has licenses, 36% choose an exchange based on the size of trading commissions, and for 36.8% it is important how quickly the support team responds.
Bitcoin (BTC), Ethereum (ETH), Ripple (XRP), Cardano (ADA) and Dogecoin (DOGE) are among the top five cryptocurrencies stored in the wallets of Ukrainian cryptoholders.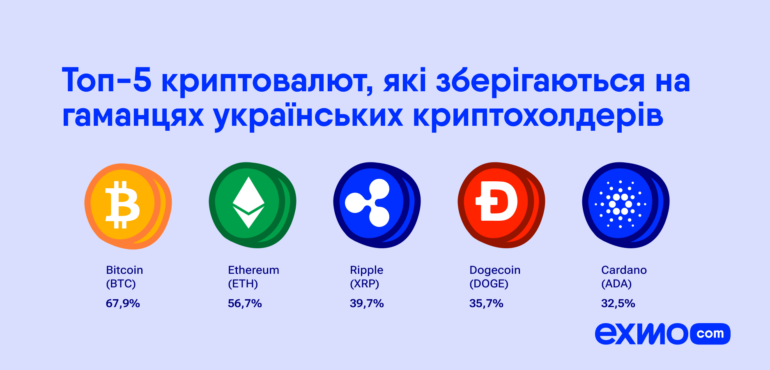 46.9% of the audience have kept cryptocurrencies for more than a year. 7.4% of people keep crypto in their wallet for about a year. Almost the same number (12.1% and 11.3%) of those who do not sell their assets for six months or during the quarter. 10.2% of respondents sell cryptocurrencies within a month of purchase.
64% of respondents said that they are not going to sell their crypto holdings, regardless of how much their value sinks. 30.3% of people plan to fully or partially lock in profits for portfolio returns from +100% to +1000%. 17% of the audience indicated that they are ready to withdraw money when the return will be between 50% and 100%.
It is clear from the survey that the crypto audience is used to fluctuations in the market and does not plan to record profits immediately after the price rises or losses after it falls. Similarly, with the fall in the value of cryptocurrencies, most people are patient with the decline of their portfolio and do not plan to sell assets even if the price drops significantly. Only 6.8% of people indicated that they would record a loss during a slump of more than 60%. The same number of those who are ready to sell assets after a 10% drop in their price.
Six of the respondents are not going to return to crypto-investment after the profit is fixed. At the same time, 46.3% are ready to buy cryptocurrencies again, and 52.5% plan to keep some on the balance sheet.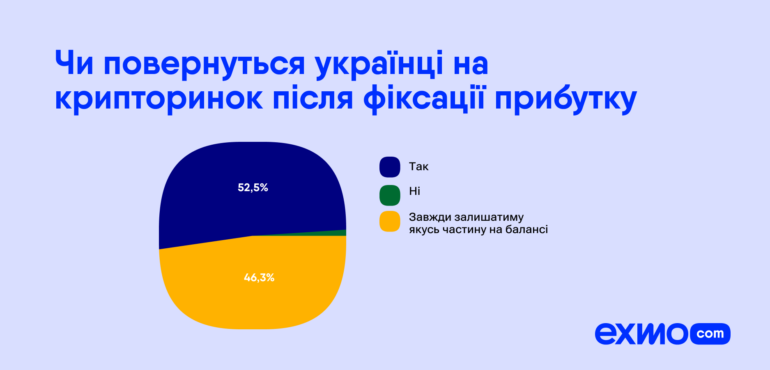 As for the state regulation of the crypto market, the opinions of crypto owners are divided. Most of the respondents (42%) are those who have a neutral attitude towards state regulation of cryptocurrencies. At the same time, 24.9% have a positive attitude towards it, and 33.1% wrote that they perceive it negatively.
Find your way into the crypt with EXMO.com
What to expect from Bitcoin in 2023
47.7% of Ukrainian crypto-enthusiasts predict that the value of bitcoin in 2023 may reach from $20,000 to $50,000. 19.5% believe that the price of the main cryptocurrency will cross the $50,000 mark and will probably rise to $100,000. Eight of the 647 respondents expect that Bitcoin will be worth more than $150,000 already this year. At the same time, 2.7% of respondents are negative: they predict that the value of bitcoin will fall below the $10,000 mark.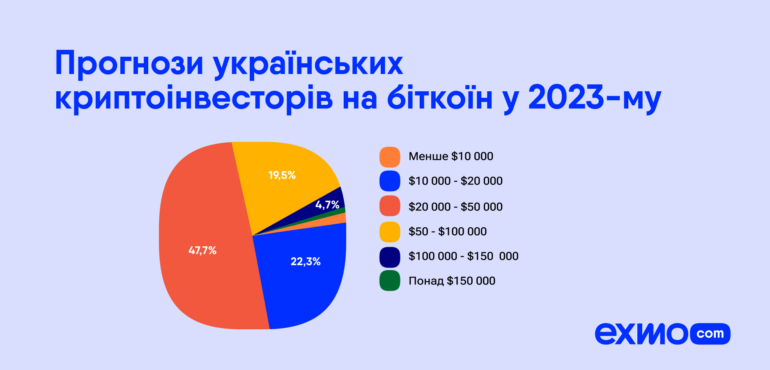 There are more and more crypto investors in Ukraine every year. Despite a very difficult year for all citizens of our country, Ukrainians remain optimistic about their investments in crypto: they believe that bitcoin will go up, and after fixing the profit, they do not plan to leave the crypto market forever, but will invest again. Buying new tokens and coins every month has become a habit for many Ukrainians.
The EXMO.com team believes that cryptocurrencies will penetrate even more actively into the lives of our citizens in 2023. During the war, Ukrainians managed to appreciate the biggest advantage of cryptocurrency translations – they can be done at any time and anywhere on the planet. Only in the first three months of the war, Ukraine received $125 million in crypto aid.
Affiliate material?
Find your way into the crypt with EXMO.com
This is affiliate material. Information for this article was provided by a partner.
The editors are responsible for stylistic compliance with editorial standards.
You can order material about you in the format of a PR article here.