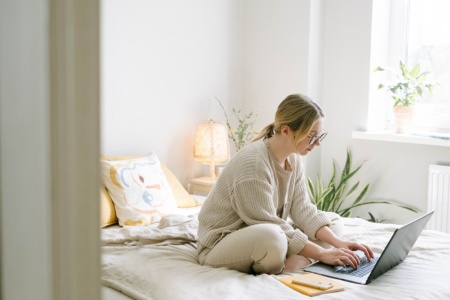 Many of the things we are used to now happen online. This applies to language learning. Distance English courses have many advantages: for example, they allow you to practice regularly and in a variety of ways.
If you have chosen this format of study, start by searching for the necessary program. They can vary in length, intensity, approach and theme. The team of the P12 English school in the partner material helps to understand such diversity.
Affiliate material?
Decide on goals and deadlines: why you are learning a language online, how quickly you need to reach the desired level, and so on
Modern foreign language schools are quite flexible: students with any schedule, workload and needs can find a suitable option to learn a language comfortably and effectively. For example, the P12 English school offers the following conditions for learning English online.
Below we will consider the most popular distance learning options and their features.
Variants of learning English online
Most often, English is taught online in complex programs. In a few months of study, a student can improve his knowledge by one level.
On such courses, you will gradually move along the program of the appropriate level and at the same time improve basic grammar and vocabulary, conversational skills. You'll usually have a few lessons a week, and you'll also attend conversation clubs or other activities.
Learn English at a time convenient for you
Popular types of online courses include:
Intense – allow you to quickly improve your knowledge, prepare for a certain event: an interview, moving or an exam. The student is required to fully immerse himself in the English-speaking environment, have enough time for classes, and work independently.
Weekend classes – in terms of the number of hours, they do not differ from classic programs, the load is evenly distributed on Saturday and Sunday.
conversational – suitable for students who need to improve their speaking skills, overcome the language barrier, and improve their pronunciation.
Profile – designed for specialists in certain professions. At the courses, they can improve their knowledge of terminology, acquire the necessary skills for work.
Business English – help to learn how to conduct business correspondence, communicate with clients and business partners, conduct presentations, etc.
On preparation for exams – designed for students who are preparing for IELTS, TOEFL and other international exams. They allow you to practice the skills and knowledge that will be tested on the exam.
Modern online schools, as a rule, allow you to choose a convenient class time, so that you can comfortably combine studies with work and leave free time for yourself and your loved ones.
Affiliate material?
Learn English at a time convenient for you
This is affiliate material. Information for this article was provided by a partner.
The editors are responsible for stylistic compliance with editorial standards.
You can order material about you in the format of a PR article here.