The fate of the ticket to the 1/8 finals of the Europa League will be decided in the second leg.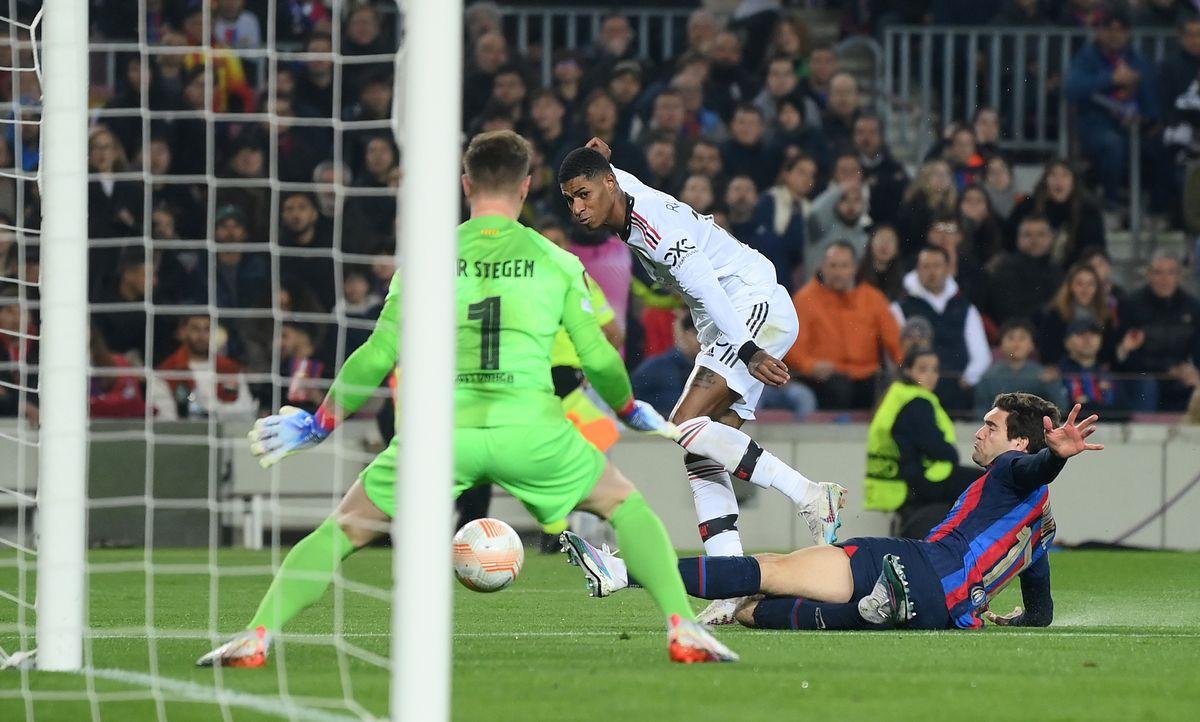 On Thursday, February 16, the first match of the Europa League playoffs was played between "Barcelona" and "Manchester United".
The match took place at the famous Camp Nou stadium and ended in a draw with a score of 2:2.
The teams played the first half without scoring. "Barcelona" created several dangerous moments near the goal of the "red devils", but it was not possible to realize them.
In the second half of the match, the Catalans still managed to take the lead – Marcos Alonso scored a goal in the 50th minute of the match. Assisted Spanish defender Rafinha.
In the 53rd minute, the players of "Manchester United" equalized the score in the match – English striker Marcus Rashford scored a goal.
In the 59th minute, the ball ricocheted off Barcelona's defender Jules Kunde and ended up in the Catalans' goal, which allowed the English club to take the lead. However, Manchester United players were not destined to leave Camp Nou as winners this evening. In the 76th minute, a goal from a pass by Kunde was scored by Rafinha to equalize the score.
"Barcelona" – "Manchester United" – 2:2
Goals: Alonso, 50, Rafinha, 76 – Rashford, 53, Kunde, 59 ag
"Barcelona": ter Stegen, Araujo, Alonso (Christensen, 67), Kunde, Alba (Balde, 67), Cassier (Fati, 67), de Jong, Pedri (Sergi Roberto, 41), Gavi, Lewandowski, Rafinha (Ferran Torres, 83) ) )
"Manchester United": De Gea, Van-Bissaka, Varane, Shaw, Malacia, Bruno Fernandes, Casemiro, Fred, Wehorst, Rashford, Sancho (Garnacho, 82)
Warning: Alba (30), Varane (43), Casemiro (65), Malacia (72), Gavi (73)
Match review:
It should be noted that Marcus Rashford became the first Manchester United player since 1999 to score a goal at Camp Nou. The last such player was Norwegian forward Ole Gunnar Solskjaer.
That year, in the Champions League final of the 1998/1999 season at the Catalan Stadium, Manchester United won against Bayern Munich, scoring two late goals – 2:1, with Teddy Sheringham and Ole Gunnar Solskjaer scoring.
Even earlier, in 1998, the "Red Devils" played with "Barcelona" at the "Camp Nou" and the game ended in a productive draw – 3:3.
We will remind, the return match between "Manchester United" and "Barcelona" will take place on February 23 in England at the "Old Trafford" stadium.