The concept of "bad" in the world of computer hardware is very specific. There are no bad things, but there are bad things for the money. Today, we'll look at the worst (least rational) desktop computer components you can buy in 2023. Let's talk about the most interesting categories, namely: processors, video cards, motherboards, drives.
Processors
Everything is very complicated with the CPU market. New processors are released every year and thereby change the rationality of certain models. It's hard to keep track of everything, and some potential buyers may be confused by the large selection, so let's take a look at the most affordable CPUs today.
Intel Core i9-11900T and other chips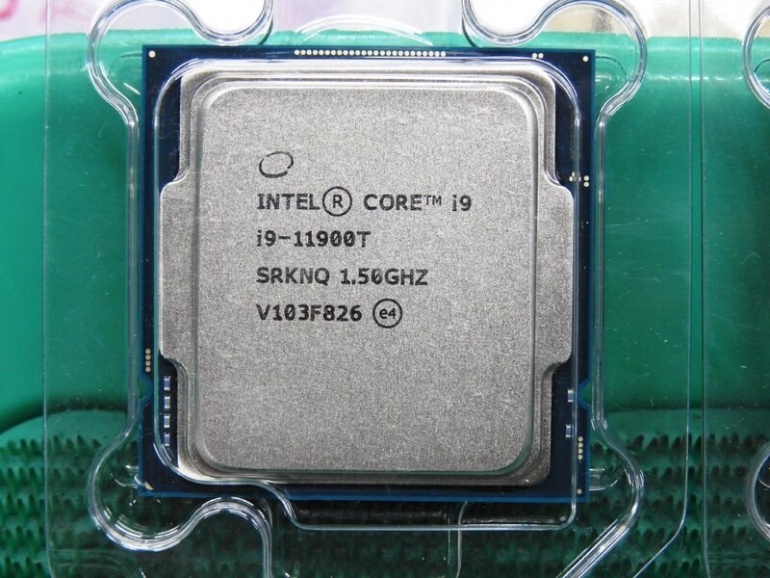 Processors with the T index are characterized by extremely low power consumption. A TDP of 35W looks surprisingly attractive, especially for top models. But at what price does the user get such a low thermal package? Consider the 11900T as an example, although this part of the article covers many CPUs with the letter T.
The performance of the flagship Intel Core i9-11900T is slightly higher than the average Intel Core i5-11400F. If you remove the power consumption limits from the i5, then the top i9 generally begins to lag behind. Compared to the real i9, i.e. 11900K, the "tishka" looks insignificant. At the same time, the price is not at all lower, and it is not easy to find them in Ukraine (fortunately).
Is it worth limiting yourself so much performance at a crazy cost? Intel Core i3, i5 do not consume very much, the regular versions can be cooled with a box cooler, although the T-versions do not lose much. The big problems with the i7-T and i9-T are cold cuts with Core i5 performance but at flagship prices.
Top processors of past generations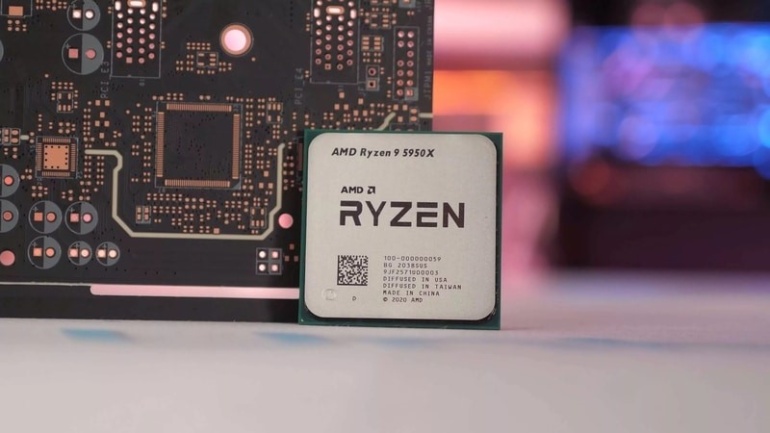 In general, buying the coolest stone for your platform is very cool. But it is necessary to monitor its relevance and price ratio. For example, the Ryzen 9 5950X is the most powerful CPU for AM4, but it costs more than the new Ryzen 9 7900, which is significantly faster and cooler.
In addition, AM5 is a new platform, new DDR5 memory (which can be purchased for the difference in the cost of processors) and future prospects. Consider another example from Intel. The top-end Intel Core i9-11900K will allow you to squeeze the most out of LGA1200, but against the background of LGA1700, it already looks meager. For its price (or cheaper), you can buy a successful Intel Core i5-13600K, which completely blows away the recent flagship.
Such dead-end upgrades are a big problem. If you don't make it to the upgrade window in time, it becomes unprofitable to upgrade your PC. Read more about upgrades of this type in our article:
Doing the right computer upgrade: how to spend money on PC upgrades wisely
HEDT processors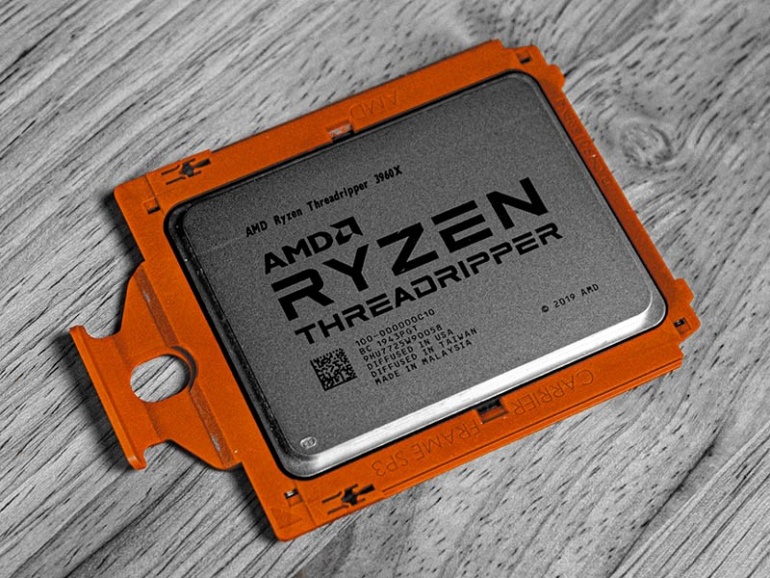 The High End Desktop segment has been out of date for a long time, but some naive fans still believe in its revival. For example, the conventional AMD Ryzen Threadripper 3960X no longer surprises with its performance, but the price is even better.
And the cost of the entire platform is too high – motherboards stand like a Boeing wing. The single-core performance of Threadrippers lags far behind modern desktop processors, and even in Multi Core, modern Ryzen 9 often perform better.
Let's consider one more example that shows that Intel's situation is not better. Intel Core i9-10900X on LGA2066 is already an outdated, overpriced and weak solution, especially against the desktop LGA1700. He will not be saved by a six-channel memory and some shamanism with overclocking.
You should not expect anything new and relevant in this segment. Even the manufacturers themselves "screw the bolt" on this matter, because they do not see the prospects. HEDT is completely dead and cannot be of interest to anyone but computer fanatics and collectors.
Old and not so old processors on the used market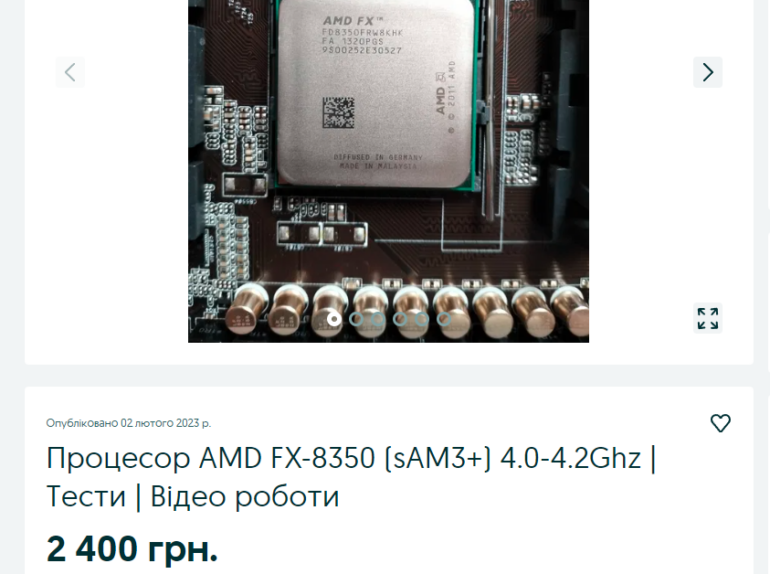 When impudent sellers ask for 3000-4000 hryvnias. for a conventional Intel Core i7-4770K or UAH 2,500. for AMD FX-8350 is abnormal. Even at half its cost, it's still a very questionable choice. Budget Ryzen 3/5 and Intel Core i3 are significantly more productive than the old flagships, while costing a little more.
In fact, you can often buy something at a good price on the used market. But avoid processors for such sockets (they are irrelevant and not worth the money):
AM2/AM2+/AM1 old garbage, immediately for disposal;
AM3/AM3+ slow, expensive and outdated Phenom and FX;
FM1/FM2/FM2+ weak APUs for playing videos on Youtube (sometimes without logs);
LGA775 old garbage, immediately for disposal;
LGA1156/1155/1150 are weak and not very relevant. You can take only flagships and then for 50-60% of the average market value;
LGA1151 are expensive and rare. Usually cost more than 10th generation processors. Terrible choice as of 2023;
LGA1366/2011 are old and cheap processors for which there are almost no quality and live motherboards. Suitable as a key ring;
LGA2066 are rare and inappropriately expensive processors, they can be considered only for collectors and techno-fetishists;
The above can be ignored only in exceptional circumstances. For example, when there is a need to buy a computer for undemanding tasks for funny money, and there is an opportunity to buy a conditional i7-3770K for UAH 800. or AMD A8-7680 (similar to A8-9600 with AM4) for UAH 400. Only in such a case, which is close to fiction, old age and irrelevance are covered by the price.
Motherboards
Just like with processors, there are obsolete and dead platforms. Let's consider the worst motherboards that can be purchased in stores in Ukraine and abroad.
LGA 1151 motherboards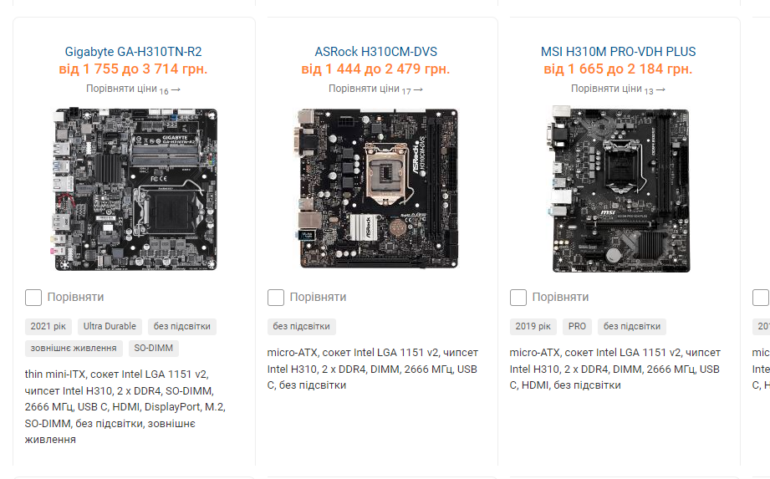 You can still buy new boards for socket 1151 in stores. This is one of the worst platforms to buy in 2023. Despite the low cost of H310 motherboards, the user will overpay when choosing a CPU and will get a poor performance-per-hryvnia ratio.
Intel Core i3/i5 for LGA1151 are very weak, because they do not have hyperthreading support. And older CPU models are very expensive, sometimes asking more for them than for modern options for LGA1200. Buying an LGA 1151 board is a huge mistake that the buyer will regret more than once.
HEDT motherboards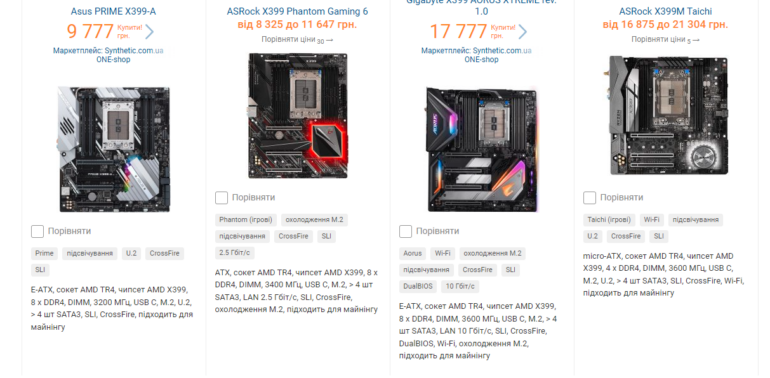 Like HEDT CPUs, motherboards are cheap and out of date. For their cost, it is better to buy a new AM5 or LGA1700 motherboard. AMD X399, AMD X299, Intel LGA 2066 platforms are very expensive and do not find a place in the modern world of computer components. They will interest only true enthusiasts who spend money on a PC as a hobby.
Fake motherboards from Aliexpress

Low-quality boards at insane prices – who even buys that? This niche market is similar to HEDT, but a very weak, poor quality and primitive HEDT. 3-4 years ago they still made any sense, but now LGA 2011v3 looks too weak for its money.
And this with a crazy % of board failures and a cheap component base. Even 100 W processors can heat up the power supply system of top "Huanans" to 80-100 degrees, when normal Asus, MSI, Asrock, Biostar, Gigabyte mid-range brand boards can easily withstand 150-250 W Intel Core i9.

You can't stutter about cheap garbage of the type with the names "klysri", "machinist", "jingsha" – these are pieces of textolite with attached capacitors for fans of technical hemorrhoids.
Poor quality is evident in everything, but it is not clear why the sellers are asking such crazy amounts. The price of these boards is no more than 50% of the current price lists on Aliexpress. In addition, the user receives the absence of any warranty and zero chance of repair. Buying Chinese counterfeit motherboards with chipsets is risky and irrelevant, and original X79/X99 motherboards are too expensive. Unfortunately, the days of LGA 2011 (and 2011 v3) have passed.
Video cards
This section will be of interest to potential gamers. Let's consider video cards that are highly discouraged to buy in 2023.
Office "plugs"

Currently, it is pointless to buy a video card just for outputting an image. Almost all office computers have integrated graphics. It's easier to buy an Intel Core i3-10100 than a 10100F and a discrete graphics card. They are used only in very rare cases. For example, when you need to connect many monitors to a PC.
The NVIDIA GT 1030 was once a good choice for budget computers, but now it costs too much for its performance. It is really a shame to pay UAH 4,000 for such a thing. Even the GDDR5 version is not worth this amount.
Older NVIDIA GT 730, GT 710, GT 210, as well as AMD R5 230, R7 240 and all their analogues do not make any sense for a home PC.
Outdated GTX series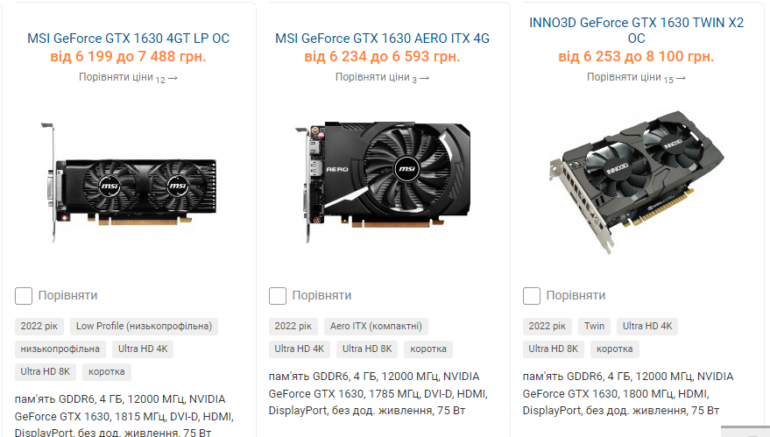 GTX 1630 is one of the worst video cards for its price. The performance of GTX 1050 Ti and the price of GTX 1650. NVIDIA's worst product in the last 10 years, which is impossible to disagree with.
GTX 1660 (all versions) were actively used to receive cryptocurrency. Only FRs (refurbished, refurbished versions) can be purchased in stores at attractive prices. The GTX 1660 Ti has a performance close to the RTX 3050, which is not bad. A normal (new, not used) GTX 1660 Super/Ti is almost the same as the RTX 3050.
A questionable option with old architecture, which is better to avoid. GTX 1660 Super cannot be called Super unprofitable nowadays, but it is not worth recommending such an adapter in 2023 either.
Refurbished RTX graphics cards

The same applies to other Factory Refurbished video cards. Refurbished RTX 2000, 3000 are attractive for the price, but everything is at your own risk and luck. There is no free cheese in the mousetrap, and the risks of repeated dump of the chip or memory remain.
AMD Radeon RX 6400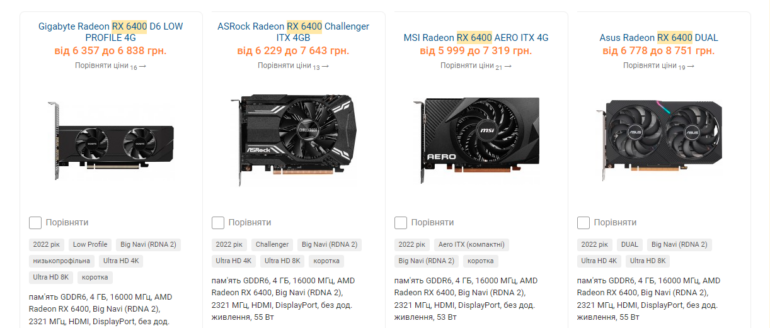 The late-comers RX 6400 and 6500 XT received a flurry of criticism for their high PCI-E profile requirements. Video cards work well only with PCI-E 4.0. Of course, not every budget gamer has such a motherboard and processor. Even Intel's 10th generation does not support this version of PCI-E.
Only four active PCI-E lanes and a narrow bus – Radeon produced unsuccessful graphics cards for upgrading prehistoric PCs. Still, the RX 6500 XT looks a lot better than the younger model. The difference in price between them is minimal, which cannot be said for performance. The RX 6500 XT is somehow suitable for a modern budget PC (PCI-E 4.0) and still has low power requirements. RX 6400 is the worst modern option from AMD.
Radeon RX 400, 500

A conditional "new" RX 580 is just a restored video card that has been in operation for a long time. Younger RX 550 models can still be bought new, and everything else is hot junk after repairs.
If by some miracle a new, packaged, not restored RX 580 is found, then the price will be high. You can buy such old dinosaurs in stores only if they ask for real pennies.
It is better to buy a 2.5 times more energy efficient RX 6500 XT than the mining destroyed RX 580 that the shops offer. For fans of old iron, it is better to search on the market, which we will talk about now.
Used video cards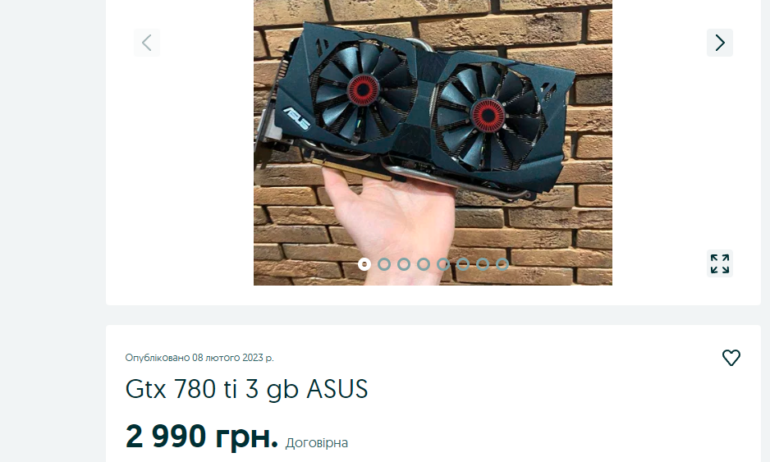 And what to do for those who do not have money for a new graphics adapter? Buying GT 1030 for UAH 4,000 is a bad option. Not much to add to the RX 6500 XT – and the base of the PC is old and UAH 7500 is still too expensive? Then it remains only to search for used components. This market is like a minefield of treasures – it contains many dangers, but it can reward the lucky ones.
Which NVIDIA video cards are not recommended to buy on second-hand sites:
The GTS-series and everything that does not support DX11 are unnecessary and unproductive garbage in our time, they should be disposed of immediately;
GTX 200, 400, 500 old, hot and outdated graphics cards with low memory and terrible performance;
GTX 600, 700, 900 are suitable for undemanding gamers. The main thing is to avoid models with a small amount of memory. The risks of breakdowns are high, you can buy them for only 40-50% of the average market value;
GTX 1000 were actively used in mining, the risks of failure are high in all except GTX 1050, GTX 1050 Ti. These models are the most reliable;
Which AMD Radeon video cards are not recommended to buy on second-hand sites:
HD 3000, 4000 and everything that does not support DX11 is unnecessary and very unproductive garbage in our time, they should be disposed of immediately;
HD 5000, 6000 is moderately durable, but weak. Performance will not be enough for modern games. The energy consumption of the top models is quite high, as are the risks of breakdowns, and the younger versions are much more reliable;
HD 7000 and R7 with 1GB of memory are absolute garbage. Models with 2-3 GB can be considered a risky option for budget PCs, but if the cost is very low. Performance at 1W is very poor;
R9s sell for pretty cheap, but they're still not worth buying. The top R9 models are very hot and demanding on the power supply. Cooling on them was weak and primitive. Risky and bad option to buy;
The RX 400, 500 have 1W better performance than the R9 and have all been used in mining, especially the 8GB destroyed versions. The risks are high, you can take a conditional RX 580 for only 30% of the cost of a new RX 6500 XT;
Accumulators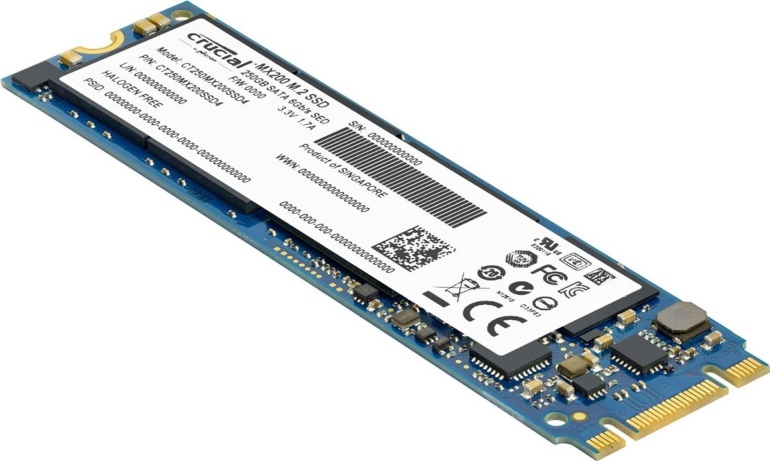 In a modern PC, only SSDs are used, very rarely HDDs are added for files and various garbage. In addition, solid-state prices have fallen sharply, which brings hard drives even closer to inevitable extinction.
Today, you can buy a Goodram CX400 SSD with 512 GB for UAH 1,000, or a DATO DS700 with 960 GB for UAH 1,700. Why slow and noisy HDDs in such conditions?
New hard drives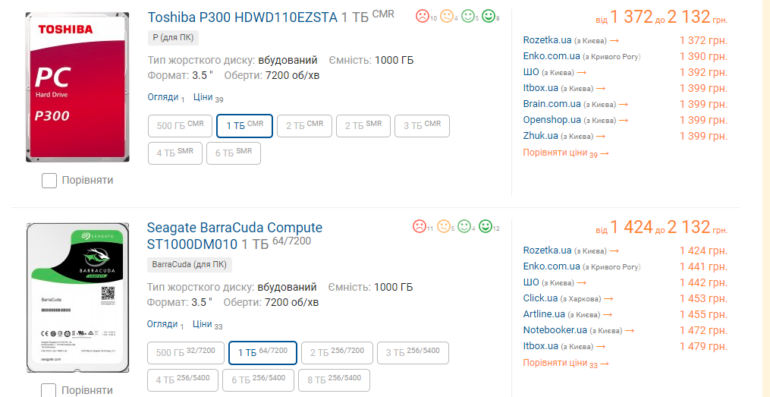 HDDs have indeed become very unprofitable in a certain range of prices and volumes. Large drives of 8-16 TB still have a right to exist, but only in the commercial sector. They offer a much better price per gigabyte of space and are heavily used in video surveillance systems and some servers.
Small HDDs (up to 3-4 TB) are absolute junk for their price. There is nothing worse than buying a 1-2 TB model for UAH 1,500-2,000. They offer terrible performance in terms of volume and price. If you decide to buy a new HDD, then avoid 500, 1000, 2000 GB models.
Used hard drives

The active expansion of SSDs has collapsed the value of HDDs on the secondary market. But some backward people do not realize this and try to sell HDD at the price of SSD. It is quite possible to buy 4 TB from adequate sellers for UAH 1,200–1,500.
Rational prices for used cars. HDD with 100% health (anything more expensive is not worth the money):
200 GB – 100-120 UAH (not worth buying);
500 GB – 250-300 UAH (not worth buying);
1000 GB – UAH 400-500 (doubtful purchase);
2000 GB – 800-1000 UAH (good buy);
4000 GB – 1300-1800 UAH (rational purchase);
6000 GB – 2200-2800 UAH (rational purchase);
10,000+ GB – 4,500-5,500 UAH (rational purchase);
Only large volume disks get the right to life, because they have a buffer of 128-256 MB and the best speed indicators. Consider models 2, 4, 6 and more TB, but at the rate of a little more than 40-50 kopecks. for 1 GB for secondary HDD (when 1 GB of a new SSD costs UAH 1.7).
At the same time, you must make sure that the disk is 100% healthy. If the HDD has clipped, broken, slow sectors, then the seller has no right to ask for more money than a small can of Pringles chips for that thing. A disk with bad health can "sprinkle" at any moment and will go to the trash.
100, 200, 300 GB models are garbage that is not worth having in a modern PC. 500 GB is also not enough, even 300 UAH is a shame to give. You can't even stutter about IDE HDD – it's already a rarity. The rationality of buying a second-hand vehicle. HDD with a very large volume is low, and for small disks it is absolutely zero.
Used SSDs
It's funny to see when sellers ask for used The SSD is more than what it costs in stores, and this happens often. As a rule, these drives are unprofitable in the secondary market. It's easier to order a new model in a store, a used buyer. SSD will save almost nothing. The difference between new and used SSD is too small to consider buying without warranty.
Conclusions
In fact, there are no absolutely terrible computer components, but there are those that have a poor ratio of performance, power consumption, reliability and price. Many of the categories in this article were successful in their time, but the market is changing rapidly.
We considered current and popular categories of computer components that are better not to put in your system unit. And this is not because they are bad technically, but because they are bad in 2023 for the money they are asking for. For example, the worst modern video card NVIDIA GTX 1630 could become a hit if it was sold for UAH 4,500-5,000.
It is better not to contact the market if you want to save your nerves: hot video cards with chip dumps, overpriced processors 10 years ago, Chinese fake server motherboards and hard drives with broken sectors. It is even easier to get confused here than with a new piece of hardware in a PC. All naive sellers (and there are many of them) who want to get money for prehistoric spare parts almost as if they were new and modern, it is better to send them in the direction of a Russian ship.
Modern realities shape the market in such a way that it is really profitable to buy new and current. And trying to chase legacy platforms can be expensive and irrational.